Abstract
Vertebrates exhibit patterned epidermis, exemplified by scales/interscales in mice tails and grooves/ridges on the human skin surface (microtopography). Although the role of spatiotemporal regulation of stem cells (SCs) has been implicated in this process, the mechanism underlying the development of such epidermal patterns is poorly understood. Here, we show that collagen XVII (COL17), a niche for epidermal SCs, helps stabilize epidermal patterns. Gene knockout and rescue experiments revealed that COL17 maintains the width of the murine tail scale epidermis independently of epidermal cell polarity. Skin regeneration after wounding was associated with slender scale epidermis, which was alleviated by overexpression of human COL17. COL17-negative skin in human junctional epidermolysis bullosa showed a distinct epidermal pattern from COL17-positive skin that resulted from revertant mosaicism. These results demonstrate that COL17 contributes to defining mouse tail scale shapes and human skin microtopography. Our study sheds light on the role of the SC niche in tissue pattern formation.
This is a preview of subscription content
Access options
Subscribe to Journal
Get full journal access for 1 year
We are sorry, but there is no personal subscription option available for your country.
Buy article
Get time limited or full article access on ReadCube.
$32.00
All prices are NET prices.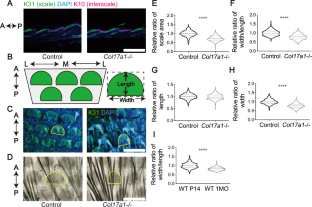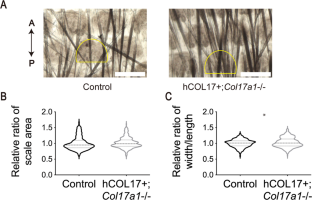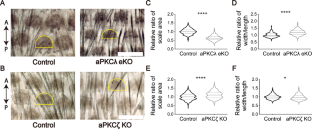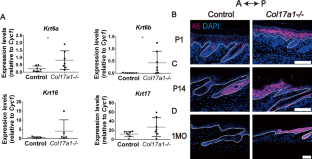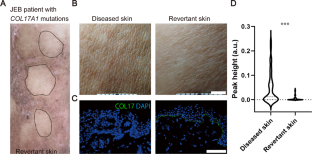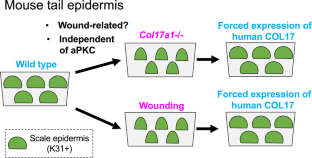 Data availability
The datasets used and/or analyzed during the current study are available from the corresponding author on reasonable request.
References
Natsuga, K. Epidermal barriers. Cold Spring Harb. Perspect. Med. 4, a018218 (2014).

Moreci, R. S. & Lechler, T. Epidermal structure and differentiation. Curr. Biol. 30, R144–R149 (2020).

Natsuga, K., Watanabe, M., Nishie, W. & Shimizu, H. Life before and beyond blistering: the role of collagen XVII in epidermal physiology. Exp. Dermatol. 28, 1135–1141 (2019).

Watt, F. M. & Fujiwara, H. Cell-extracellular matrix interactions in normal and diseased skin. Cold Spring Harb. Perspect. Biol. 3, a005124 (2011).

Brakebusch, C. et al. Skin and hair follicle integrity is crucially dependent on β1 integrin expression on keratinocytes. EMBO J. 19, 3990–4003 (2000).

Niculescu, C. et al. Conditional ablation of integrin alpha-6 in mouse epidermis leads to skin fragility and inflammation. Eur. J. Cell Biol. 90, 270–277 (2011).

Watanabe, M. et al. Type XVII collagen coordinates proliferation in the interfollicular epidermis. Elife 6, e26635 (2017).

Dekoninck, S. et al. Defining the design principles of skin epidermis postnatal growth. Cell 181, 604–620 (2020).

Gomez, C. et al. The interfollicular epidermis of adult mouse tail comprises two distinct cell lineages that are differentially regulated by Wnt, Edaradd, and Lrig1. Stem Cell Rep. 1, 19–27 (2013).

Sada, A. et al. Defining the cellular lineage hierarchy in the interfollicular epidermis of adult skin. Nat. Cell Biol. 18, 619–631 (2016).

Jones, P. H., Harper, S. & Watt, F. M. Stem cell patterning and fate in human epidermis. Cell 80, 83–93 (1995).

Kobayashi, Y. et al. Interplay between epidermal stem cell dynamics and dermal deformation. Npj Comput. Mater. 4, 1–9 (2018).

Wang, S. et al. Single cell transcriptomics of human epidermis identifies basal stem cell transition states. Nat. Commun. 11, 1–14 (2020).

López-Rovira, T., Silva-Vargas, V. & Watt, F. M. Different consequences of β1 integrin deletion in neonatal and adult mouse epidermis reveal a context-dependent role of integrins in regulating proliferation, differentiation, and intercellular communication. J. Investig. Dermatol. 125, 1215–1227 (2005).

Tanimura, S. et al. Hair follicle stem cells provide a functional niche for melanocyte stem cells. Cell Stem Cell 8, 177–187 (2011).

Matsumura, H. et al. Hair follicle aging is driven by transepidermal elimination of stem cells via COL17A1 proteolysis. Science 351, aad4395 (2016).

Liu, N. et al. Stem cell competition orchestrates skin homeostasis and ageing. Nature 568, 344–350 (2019).

Hirate, Y. et al. Polarity-dependent distribution of angiomotin localizes Hippo signaling in preimplantation embryos. Curr. Biol. 23, 1181–1194 (2013).

Nishie, W. et al. Humanization of autoantigen. Nat. Med. 13, 378–383 (2007).

Noguchi, N. et al. Atypical protein kinase C isoforms differentially regulate directional keratinocyte migration during wound healing. J. Dermatol. Sci. 93, 101–108 (2019).

Osada, S.-I. et al. Atypical protein kinase C isoform, aPKCλ, is essential for maintaining hair follicle stem cell quiescence. J. Investig. Dermatol. 135, 2584–2592 (2015).

Yuspa, S. H., Hawley-Nelson, P., Koehler, B. & Stanley, J. R. A survey of transformation markers in differentiating epidermal cell lines in culture. Cancer Res. 40, 4694–4703 (1980).

Nakamura, H. et al. Analysis of the COL17A1 in non-Herlitz junctional epidermolysis bullosa and amelogenesis imperfecta. Int. J. Mol. Med. 18, 333–337 (2006).

Yuen, W., Pas, H., Sinke, R. & Jonkman, M. Junctional epidermolysis bullosa of late onset explained by mutations in COL17A1. Br. J. Dermatol. 164, 1280–1284 (2011).

Nishimura, M. et al. Extracellular cleavage of collagen XVII is essential for correct cutaneous basement membrane formation. Hum. Mol. Genet. 25, 328–339 (2016).

Stouthamer, A., Nieboer, C., Van der Waal, R. & Jonkman, M. Normal expression of the 19‐DEJ‐1 epitope in two siblings with late‐onset junctional epidermolysis bullosa. Br. J. Dermatol. 144, 1054–1057 (2001).

Okada, M., Sumino, Y., Ito, H. & Kitahata, H. Spontaneous deformation and fission of oil droplets on an aqueous surfactant solution. Phys. Rev. E 102, 042603 (2020).

Niessen, M. T. et al. aPKCλ controls epidermal homeostasis and stem cell fate through regulation of division orientation. J. Cell Biol. 202, 887–900 (2013).

Helfrich, I. et al. Role of aPKC isoforms and their binding partners Par3 and Par6 in epidermal barrier formation. J. Investig. Dermatol. 127, 782–791 (2007).

Watanabe, M. et al. Type XVII collagen interacts with the aPKC‐PAR complex and maintains epidermal cell polarity. Exp. Dermatol. 30, 62–67 (2021).

McGrath, J. A. et al. Mutations in the 180–kD bullous pemphigoid antigen (BPAG2), a hemidesmosomal transmembrane collagen (COL17A1), in generalized atrophic benign epidermolysis bullosa. Nat. Genet. 11, 83–86 (1995).

Jonkman, M. F. & Pasmooij, A. M. Revertant mosaicism—patchwork in the skin. N. Engl. J. Med. 360, 1680–1682 (2009).

Nomura, T. Recombination-induced revertant mosaicism in ichthyosis with confetti and loricrin keratoderma. J. Dermatol. Sci. 97, 94–100 (2020).

Hopkinson, S. B. & Jones, J. C. The N terminus of the transmembrane protein BP180 interacts with the N-terminal domain of BP230, thereby mediating keratin cytoskeleton anchorage to the cell surface at the site of the hemidesmosome. Mol. Biol. Cell. 11, 277–286 (2000).

Koster, J., Geerts, D., Favre, B., Borradori, L. & Sonnenberg, A. Analysis of the interactions between BP180, BP230, plectin and the integrin α6β4 important for hemidesmosome assembly. J. Cell Sci. 116, 387–399 (2003).

Hopkinson, S. B., Baker, S. E. & Jones, J. Molecular genetic studies of a human epidermal autoantigen (the 180-kD bullous pemphigoid antigen/BP180): identification of functionally important sequences within the BP180 molecule and evidence for an interaction between BP180 and alpha 6 integrin. J. Cell Biol. 130, 117–125 (1995).

Aho, S. & Uitto, J. Direct interaction between the intracellular domains of bullous pemphigoid antigen 2 (BP180) and β4 integrin, hemidesmosomal components of basal keratinocytes. Biochem. Biophys. Res. Commun. 243, 694–699 (1998).

Schaapveld, R. Q. et al. Hemidesmosome formation is initiated by the β4 integrin subunit, requires complex formation of β4 and HD1/plectin, and involves a direct interaction between β4 and the bullous pemphigoid antigen 180. J. Cell. Biol. 142, 271–284 (1998).

Hamill, K. J., Hopkinson, S. B., Jonkman, M. F. & Jones, J. C. Type XVII collagen regulates lamellipod stability, cell motility, and signaling to Rac1 by targeting bullous pemphigoid antigen 1e to α6β4 integrin. J. Biol. Chem. 286, 26768–26780 (2011).

Natsuga, K. et al. Loss of interaction between plectin and type XVII collagen results in epidermolysis bullosa simplex. Hum. Mutat. 38, 1666–1670 (2017).

Tasanen, K., Tunggal, L., Chometon, G., Bruckner-Tuderman, L. & Aumailley, M. Keratinocytes from patients lacking collagen XVII display a migratory phenotype. Am. J. Pathol. 164, 2027–2038 (2004).

Nishie, W., Kiritsi, D., Nyström, A., Hofmann, S. C. & Bruckner-Tuderman, L. Dynamic interactions of epidermal collagen XVII with the extracellular matrix: laminin 332 as a major binding partner. Am. J. Pathol. 179, 829–837 (2011).

Kamaguchi, M. & Iwata, H. The diagnosis and blistering mechanisms of mucous membrane pemphigoid. Front. Immunol. 10, 34 (2019).

Morrow, A., Underwood, J., Seldin, L., Hinnant, T. & Lechler, T. Regulated spindle orientation buffers tissue growth in the epidermis. Elife 8, e48482 (2019).

Muroyama, A. & Lechler, T. Polarity and stratification of the epidermis. Semin. Cell Dev. Biol. 23, 890–896 (2012).

Poulson, N. D. & Lechler, T. Asymmetric cell divisions in the epidermis. Int. Rev. Cell Mol. Biol. 295, 199–232 (2012).

Niessen, M. T., Iden, S. & Niessen, C. M. The in vivo function of mammalian cell and tissue polarity regulators–how to shape and maintain the epidermal barrier. J. Cell Sci. 125, 3501–3510 (2012).

Tellkamp, F., Vorhagen, S. & Niessen, C. M. Epidermal polarity genes in health and disease. Cold Spring Harb. Perspect. Med. 4, a015255 (2014).

Vorhagen, S. & Niessen, C. M. Mammalian aPKC/Par polarity complex mediated regulation of epithelial division orientation and cell fate. Exp. Cell Res. 328, 296–302 (2014).

Byrd, K. M. et al. Heterogeneity within Stratified Epithelial Stem Cell Populations Maintains the Oral Mucosa in Response to Physiological Stress. Cell Stem Cell 25, 814–829 e816 (2019).

Has, C. et al. Mild clinical phenotype of Kindler syndrome associated with late diagnosis and skin cancer. Dermatology 221, 309–312 (2010).

de Almeida, H. L. Jr, Isaacsson, H., Guarenti, I. M., e Silva, R. M. & de Castro, L. A. S. Images in dermatology. An. Bras. Dermatol. 90, 581–584 (2015).

Grada, A., Mervis, J. & Falanga, V. Research techniques made simple: animal models of wound healing. J. Investig. Dermatol. 138, 2095–2105. e2091 (2018).

Falanga, V. et al. Full‐thickness wounding of the mouse tail as a model for delayed wound healing: accelerated wound closure in Smad3 knock‐out mice. Wound Repair Regen. 12, 320–326 (2004).

Aragona, M. et al. Defining stem cell dynamics and migration during wound healing in mouse skin epidermis. Nat. Commun. 8, 1–14 (2017).
Acknowledgements
We thank Ms. Megumi Takehara for their technical assistance. We also thank Professor Kim B. Yancey for providing K14-hCOL17 transgenic mice.
Author contributions
Y.W. performed the experiments, analyzed the data, interpreted the results, and wrote the manuscript. H.Kitahata analyzed the data, interpreted the results, and wrote the manuscript. H.Kosumi, M.W., Y.F., S.T., S.I.O., T.H., and W.N. performed the experiments and analyzed the data. M.N. and H.S. interpreted the results and supervised the study. K.N. designed the experiments, analyzed the data, interpreted the results, wrote the manuscript and supervised the study.
Funding
This work was funded by AMED to K.N. (20ek0109380h0003), the Lydia O'Leary Memorial Pias Dermatological Foundation to W.N., JST CREST (JPMJCR15D2) to M.N., and Five-star Alliance in NJRC Master. & Dev to H.Kitahata/M.N.
Ethics declarations
Competing interests
The authors declare no competing interests.
Ethics Approval and consent to participate
The institutional review board of the Hokkaido University Graduate School of Medicine approved all human studies described above (ID: 13-043). The study was conducted according to the principles of the Declaration of Helsinki. The participant provided written informed consent.
Additional information
Publisher's note Springer Nature remains neutral with regard to jurisdictional claims in published maps and institutional affiliations.
Supplementary information
About this article
Cite this article
Wang, Y., Kitahata, H., Kosumi, H. et al. Collagen XVII deficiency alters epidermal patterning. Lab Invest 102, 581–588 (2022). https://doi.org/10.1038/s41374-022-00738-2
Received:

Revised:

Accepted:

Published:

Issue Date:

DOI: https://doi.org/10.1038/s41374-022-00738-2