Featured
In this Review, the authors discuss the similarities and differences between intervertebral disc degeneration and osteoarthritis of the facet joint and argue that both diseases should be viewed as being part of the same molecular disease spectrum.

Noah Fine

Starlee Lively

Raja Rampersaud

In this Review, the authors discuss how emerging insights into the tissue-specific pathogenetic mechanisms underlying clinical heterogeneity in psoriatic arthritis support the need for tissue-based precision therapy for the disease.

Aurelie Najm

Carl S. Goodyear

Stefan Siebert

In this Perspective, the authors propose a model in which an imbalance of threat and soothing systems leads to hyperactivation of the brain's salience network, which, in conjunction with other mechanisms, contributes to fibromyalgia.

Ana Margarida Pinto

Rinie Geenen

José A. P. da Silva
Vincent Di Martino

Delphine Weil Verhoeven

Daniel Wendling

Alessandra Bettiol

Fatma Alibaz-Oner

Giacomo Emmi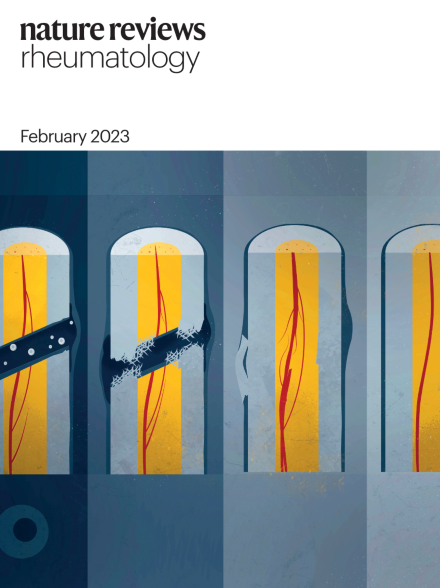 Announcements
Keep up to date with changes to the conference calendar this year and find out which meetings will be attended by the editors of Nature Reviews Rheumatology.

Finding it hard to navigate the flood of scientific literature? The Nature Reviews journals filter and highlight the most impactful research. Take a look at this animation to learn how Nature Reviews can help you stay up-to-date in your field

This online collection contains articles from Nature Reviews Rheumatology that describe aspects of the epidemiology of rheumatic diseases that between them are important contributors to global morbidity and mortality.
IL-37 can delay intervertebral disc degeneration in rats by regulating the NF-κB pathway and ameliorating the senescence phenotype of nucleus pulposus cells.

IKKε, an upstream regulator of the NF-κB signalling pathway, mediates cartilage degradation in a mouse model of osteoarthritis and is a potential therapeutic target.

New research suggests that impaired synovial lymphatic function contributes to the pathogenesis of age-related osteoarthritis and could represent a new therapeutic target.

The Key Advances in Rheumatology collection offers expert insight into the most important discoveries made each year, and is an essential resource for students, physicians and clinical researchers.