Abstract
General anesthesia (GA) can produce analgesia (loss of pain) independent of inducing loss of consciousness, but the underlying mechanisms remain unclear. We hypothesized that GA suppresses pain in part by activating supraspinal analgesic circuits. We discovered a distinct population of GABAergic neurons activated by GA in the mouse central amygdala (CeAGA neurons). In vivo calcium imaging revealed that different GA drugs activate a shared ensemble of CeAGA neurons. CeAGA neurons also possess basal activity that mostly reflects animals' internal state rather than external stimuli. Optogenetic activation of CeAGA potently suppressed both pain-elicited reflexive and self-recuperating behaviors across sensory modalities and abolished neuropathic pain-induced mechanical (hyper-)sensitivity. Conversely, inhibition of CeAGA activity exacerbated pain, produced strong aversion and canceled the analgesic effect of low-dose ketamine. CeAGA neurons have widespread inhibitory projections to many affective pain-processing centers. Our study points to CeAGA as a potential powerful therapeutic target for alleviating chronic pain.
Access options
Subscribe to Journal
Get full journal access for 1 year
$59.00
only $4.92 per issue
All prices are NET prices.
VAT will be added later in the checkout.
Tax calculation will be finalised during checkout.
Rent or Buy article
Get time limited or full article access on ReadCube.
from$8.99
All prices are NET prices.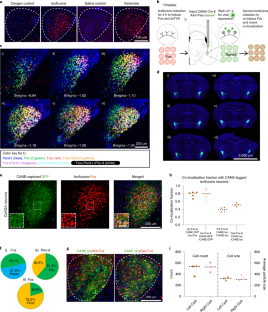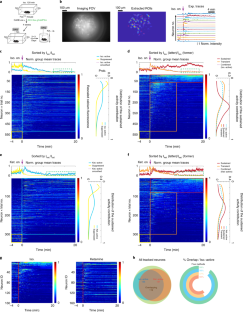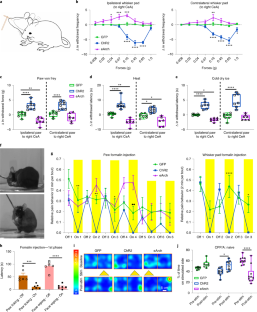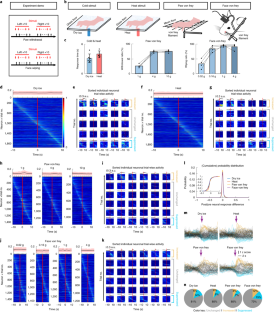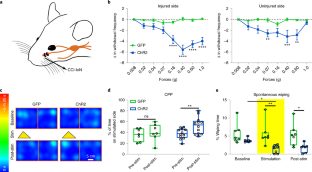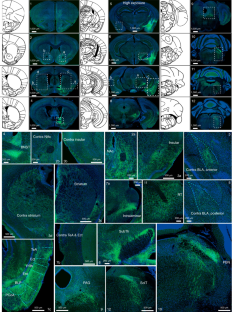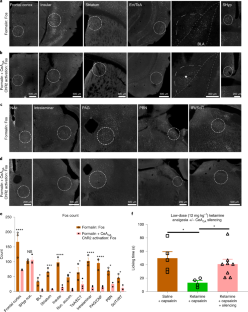 Data availability
All raw data described in this study are available from the corresponding authors upon reasonable request. All codes described in this study are available from the corresponding authors upon reasonable request. The MIN1PIPE code for processing miniscope imaging (correspondence should be addressed to Jinghao Lu, jinghao.lu@duke.edu) is available at: https://github.com/JinghaoLu/MIN1PIPE.
References
1.

Aranake, A. et al. Increased risk of intraoperative awareness in patients with a history of awareness. Anesthesiology 119, 1275–1283 (2013).

2.

Sebel, P. S. et al. The incidence of awareness during anesthesia: a multicenter United States study. Anesth. Analg. 99, 833–839 (2004).

3.

Bergman, S. A. Ketamine: review of its pharmacology and its use in pediatric anesthesia. Anesth. Prog. 46, 10–20 (1999).

4.

Sadove, M. S., Shulman, M., Hatano, S. & Fevold, N. Analgesic effects of ketamine administered in subdissociative doses. Anesth. Analg. 50, 452–457 (1971).

5.

Gorlin, A. W., Rosenfeld, D. M. & Ramakrishna, H. Intravenous sub-anesthetic ketamine for perioperative analgesia. J. Anaesthesiol. Clin. Pharmacol. 32, 160–167 (2016).

6.

Brown, E. N., Purdon, P. L. & Van Dort, C. J. General anesthesia and altered states of arousal: a systems neuroscience analysis. Annu. Rev. Neurosci. 34, 601–628 (2011).

7.

Jiang-Xie, L.-F. et al. A common neuroendocrine substrate for diverse general anesthetics and sleep. Neuron 102, 1053–1065 (2019).

8.

Haubensak, W. et al. Genetic dissection of an amygdala microcircuit that gates conditioned fear. Nature 468, 270–276 (2010).

9.

Kim, J., Zhang, X., Muralidhar, S., LeBlanc, S. A. & Tonegawa, S. Basolateral to central amygdala neural circuits for appetitive behaviors. Neuron 93, 1464–1479 (2017).

10.

Choi, H. M. T. et al. Third-generation in situ hybridization chain reaction: multiplexed, quantitative, sensitive, versatile, robust. Development 145, dev165753 (2018).

11.

Sakurai, K. et al. Capturing and manipulating activated neuronal ensembles with cane delineates a hypothalamic social-fear circuit. Neuron 92, 739–753 (2016).

12.

Rodriguez, E. et al. A craniofacial-specific monosynaptic circuit enables heightened affective pain. Nat. Neurosci. 20, 1734–1743 (2017).

13.

McCullough, K. M., Morrison, F. G., Hartmann, J., Carlezon, W. A. & Ressler, K. J. Quantified coexpression analysis of central amygdala subpopulations. eNeuro 5, ENEURO.0010-18.2018 (2018).

14.

Sadler, K. E. et al. Divergent functions of the left and right central amygdala in visceral nociception. Pain 158, 747–759 (2017).

15.

Ji, G. & Neugebauer, V. Hemispheric lateralization of pain processing by amygdala neurons. J. Neurophysiol. 102, 2253–2264 (2009).

16.

Baas, D., Aleman, A. & Kahn, R. S. Lateralization of amygdala activation: a systematic review of functional neuroimaging studies. Brain Res. Brain Res. Rev. 45, 96–103 (2004).

17.

Lu, J. et al. MIN1PIPE: A miniscope 1-photon-based calcium imaging signal extraction pipeline. Cell Rep. 23, 3673–3684 (2018).

18.

Sheintuch, L. et al. Tracking the same neurons across multiple days in Ca2+ imaging data. Cell Rep. 21, 1102–1115 (2017).

19.

Boyden, E. S., Zhang, F., Bamberg, E., Nagel, G. & Deisseroth, K. Millisecond-timescale, genetically targeted optical control of neural activity. Nat. Neurosci. 8, 1263–1268 (2005).

20.

Chow, B. Y. et al. High-performance genetically targetable optical neural silencing by light-driven proton pumps. Nature 463, 98–102 (2010).

21.

Huang, T. et al. Identifying the pathways required for coping behaviours associated with sustained pain. Nature 565, 86–90 (2019).

22.

Hunskaar, S. & Hole, K. The formalin test in mice: dissociation between inflammatory and non-inflammatory pain. Pain 30, 103–114 (1986).

23.

Basbaum, A. I., Bautista, D. M., Scherrer, G. & Julius, D. Cellular and molecular mechanisms of pain. Cell 139, 267–284 (2009).

24.

Ding, W. et al. An improved rodent model of trigeminal neuropathic pain by unilateral chronic constriction injury of distal infraorbital nerve. J. Pain 18, 899–907 (2017).

25.

Giglio, J. A. & Gregg, J. M. Development of mirror pain following trigeminal nerve injury: a case report and review of neuropathic mechanisms. Gen. Dent. 66, 27–32 (2018).

26.

Milligan, E. D. et al. Spinal glia and proinflammatory cytokines mediate mirror-image neuropathic pain in rats. J. Neurosci. 23, 1026–1040 (2003).

27.

Cai, Y.-Q., Wang, W., Paulucci-Holthauzen, A. & Pan, Z. Z. Brain circuits mediating opposing effects on emotion and pain. J. Neurosci. 38, 6340–6349 (2018).

28.

Han, S., Soleiman, M. T., Soden, M. E., Zweifel, L. S. & Palmiter, R. D. Elucidating an affective pain circuit that creates a threat memory. Cell 162, 363–374 (2015).

29.

Wang, D. et al. Functional divergence of Δ and μ opioid receptor organization in CNS pain circuits. Neuron 98, 90–108.e5 (2018).

30.

Corder, G. et al. An amygdalar neural ensemble that encodes the unpleasantness of pain. Science 363, 276–281 (2019).

31.

Levin-Arama, M. et al. Subcutaneous compared with intraperitoneal ketamine–xylazine for anesthesia of mice. J. Am. Assoc. Lab. Anim. Sci. 55, 794–800 (2016).

32.

Beecher, H. K. Pain in men wounded in battle. Bull. US Army Med. Dep. 5, 445–454 (1946).

33.

Petrovic, P., Kalso, E., Petersson, K. M. & Ingvar, M. Placebo and opioid analgesia-imaging a shared neuronal network. Science 295, 1737–1740 (2002).

34.

Benedetti, F. Placebo and endogenous mechanisms of analgesia. Handb. Exp. Pharmacol. 393–413 (2007).

35.

Eippert, F. et al. Activation of the opioidergic descending pain control system underlies placebo analgesia. Neuron 63, 533–543 (2009).

36.

Basbaum, A. I. & Fields, H. L. Endogenous pain control systems: brainstem spinal pathways and endorphin circuitry. Annu. Rev. Neurosci. 7, 309–338 (1984).

37.

Ossipov, M. H., Dussor, G. O. & Porreca, F. Central modulation of pain. J. Clin. Invest. 120, 3779–3787 (2010).

38.

Lau, B. K. & Vaughan, C. W. Descending modulation of pain: the GABA disinhibition hypothesis of analgesia. Curr. Opin. Neurobiol. 29, 159–164 (2014).

39.

Butler, R. K. & Finn, D. P. Stress-induced analgesia. Prog. Neurobiol. 88, 184–202 (2009).

40.

Wager, T. D., Scott, D. J. & Zubieta, J.-K. Placebo effects on human μ-opioid activity during pain. Proc. Natl Acad. Sci. USA 104, 11056–11061 (2007).

41.

Werka, T. & Marek, P. Post-stress analgesia after lesions to the central nucleus of the amygdala in rats. Acta Neurobiol. Exp. 50, 13–22 (1990).

42.

Duvarci, S. & Pare, D. Amygdala microcircuits controlling learned fear. Neuron 82, 966–980 (2014).

43.

Herry, C. & Johansen, J. P. Encoding of fear learning and memory in distributed neuronal circuits. Nat. Neurosci. 17, 1644–1654 (2014).

44.

Neugebauer, V. Amygdala pain mechanisms. Handb. Exp. Pharmacol. 227, 261–284 (2015).

45.

Parikh, D. et al. Stress-induced analgesia and endogenous opioid peptides: the importance of stress duration. Eur. J. Pharmacol. 650, 563–567 (2011).

46.

Wilson, T. D. et al. Dual and opposing functions of the central amygdala in the modulation of pain. Cell Rep. 29, 332–346 (2019).

47.

Yu, K. et al. The central amygdala controls learning in the lateral amygdala. Nat. Neurosci. 20, 1680–1685 (2017).

48.

Cui, Y. et al. A central amygdala-substantia innominata neural circuitry encodes aversive reinforcement signals. Cell Rep. 21, 1770–1782 (2017).

49.

Cai, H., Haubensak, W., Anthony, T. E. & Anderson, D. J. Central amygdala PKC-δ+ neurons mediate the influence of multiple anorexigenic signals. Nat. Neurosci. 17, 1240–1248 (2014).

50.

Venza, M. et al. The overriding of TRAIL resistance by the histone deacetylase inhibitor MS-275 involves c-myc up-regulation in cutaneous, uveal, and mucosal melanoma. Int. Immunopharmacol. 28, 313–321 (2015).

51.

Pang, D. et al. Polyphyllin II inhibits liver cancer cell proliferation, migration and invasion through downregulated cofilin activity and the AKT/NF-κB pathway. Biol. Open 9, bio046854 (2020).

52.

Faget, L. et al. Opponent control of behavioral reinforcement by inhibitory and excitatory projections from the ventral pallidum. Nat. Commun. 9, 849 (2018).

53.

Zamparo, I. et al. Axonal odorant receptors mediate axon targeting. Cell Rep. 29, 4334–4348 (2019).

54.

Hara, Y. et al. Anti-tumor effects of an antagonistic mAb against the ASCT2 amino acid transporter on KRAS-mutated human colorectal cancer cells. Cancer Med. 9, 302–312 (2020).

55.

Simon, C. M. et al. Stasimon contributes to the loss of sensory synapses and motor neuron death in a mouse model of spinal muscular atrophy. Cell Rep. 29, 3885–3901.e5 (2019).

56.

Van Segbroeck, M., Knoll, A. T., Levitt, P. & Narayanan, S. MUPET-Mouse ultrasonic profile extraction: a signal processing tool for rapid and unsupervised analysis of ultrasonic vocalizations. Neuron 94, 465–485.e5 (2017).

57.

Zhang, Y., Chen, Y., Liedtke, W. & Wang, F. Lack of evidence for ectopic sprouting of genetically labeled Aβ touch afferents in inflammatory and neuropathic trigeminal pain. Mol. Pain 11, 18 (2015).

58.

Zhang, Y. et al. Identifying local and descending inputs for primary sensory neurons. J. Clin. Invest. 125, 3782–3794 (2015).
Acknowledgements
We thank J. Takatoh for helping with optimizing image compression that retains good resolution and for designing the color scheme for projection data. We also thank V. Prevosto and P. Thompson for helping with statistics and R. Mooney, R.-R. Ji and members of the Wang lab for critical reading of this manuscript. We thank the Janelia GENIE project for making GCaMP6m sensor available to the research community. Correspondence for calcium imaging data processing codes should be addressed to Jinghao Lu (jinghao.lu@duke.edu). T.H. is supported by the NSF GRFP scholarship. Y.C. is supported by R01 DE027454. This work is supported by NIH DP1MH103908, a Holland-Trice Scholar award, a W. M. Keck Foundation grant, NIH R01 NS109947 and NIH R01 DE029342.
Ethics declarations
Competing interests
The authors declare no competing interests.
Additional information
Peer review information Nature Neuroscience thanks Gregory Corder, Nora McCall, Katelyn Sadler, Jessica Wojick and the other, anonymous, reviewer(s) for their contribution to the peer review of this work.
Publisher's note Springer Nature remains neutral with regard to jurisdictional claims in published maps and institutional affiliations.
Supplementary information
About this article
Cite this article
Hua, T., Chen, B., Lu, D. et al. General anesthetics activate a potent central pain-suppression circuit in the amygdala. Nat Neurosci 23, 854–868 (2020). https://doi.org/10.1038/s41593-020-0632-8
Received:

Accepted:

Published:

Issue Date: