Abstract
The histogenesis of pleomorphic adenoma (PA) of the salivary glands remains controversial. PAs are characterized by the transition of epithelial cells to spindled mesenchymal cells, known as epithelial-mesenchymal transition (EMT). The present study aimed to identify a major EMT-inducing transcription factor (EMT-TF) in PAs. Real-time PCR analysis of SNAIL, SLUG, ZEB1, and TWIST1 demonstrated that only SLUG was significantly upregulated in normal salivary glands and PAs. Combined in situ hybridization for SLUG and multiplex immunohistochemistry for CK19 and P63 revealed that SLUG was specifically expressed in the myoepithelial cells of normal salivary glands. In PAs, SLUG was expressed in neoplastic myoepithelial cells and stromal cells but not in the luminal cells lining the inner layers of tumor glands. SLUG expression showed no correlation with PLAG1 expression, and in vitro experiments demonstrated that PLAG1 suppression in primary cultured PA cells or PLAG1 overexpression in HEK 293 T cells did not affect SLUG levels, indicating that PLAG1 was not involved in the upregulation of SLUG in PAs. The suppression of SLUG expression in cultured PA cells resulted in a morphology change to a less elongated shape and attenuated tumor growth. In addition, SLUG downregulation led to increased E-cadherin and decreased N-cadherin and vimentin expression levels along with decreased migratory activity in cultured PA cells. These findings suggest that SLUG is a major TF that can induce EMT in PAs. In summary, SLUG is specifically and highly expressed in the myoepithelial cells and stromal cells of PAs and is a key regulator of EMT in PAs.
Access options
Subscribe to Journal
Get full journal access for 1 year
We are sorry, but there is no personal subscription option available for your country.
Buy article
Get time limited or full article access on ReadCube.
$32.00
All prices are NET prices.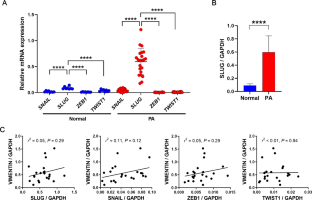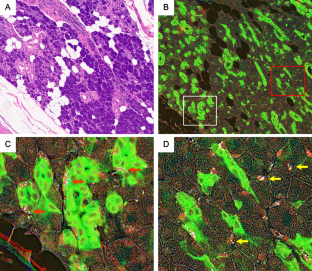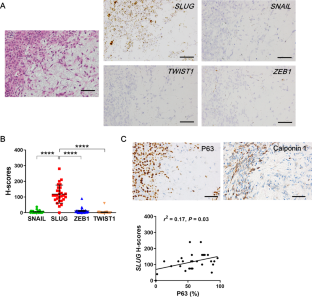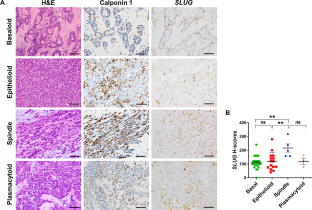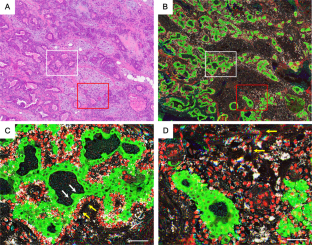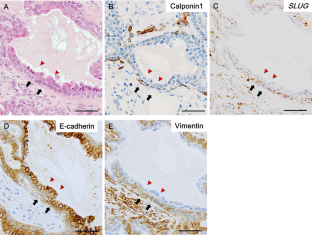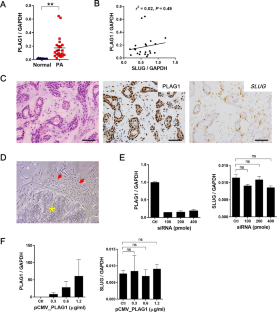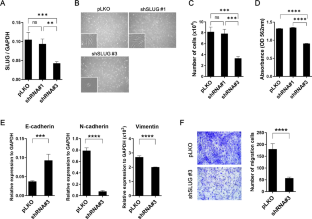 Data availability
The datasets used and/or analyzed during the current study are available from the corresponding author on reasonable request.
References
Barnes L., Eveson J., Reichart P., Sidransky D. World Health Organization classifications tumours. Pathology and genetics of head and neck tumours. (IARC, 2005).

Mendenhall, W. M., Mendenhall, C. M., Werning, J. W., Malyapa, R. S. & Mendenhall, N. P. Salivary gland pleomorphic adenoma. Am. J. Clin. Oncol. 31, 95–99 (2008).

Antony, J., Gopalan, V., Smith, R. A. & Lam, A. K. Carcinoma ex pleomorphic adenoma: a comprehensive review of clinical, pathological and molecular data. Head Neck Pathol. 6, 1–9 (2012).

Stenman, G. Fusion oncogenes in salivary gland tumors: molecular and clinical consequences. Head Neck Pathol. 7, 12–19 (2013).

Kas, K. et al. Promoter swapping between the genes for a novel zinc finger protein and β-catenin in pleiomorphic adenomas with t (3; 8)(p21; q12) translocations. Nat. Genet. 15, 170–174 (1997).

Geurts, J. M., Schoenmakers, E. F., Röijer, E., Stenman, G. & Van de Ven, W. J. Expression of reciprocal hybrid transcripts of HMGIC and FHIT in a pleomorphic adenoma of the parotid gland. Cancer Res. 57, 13–17 (1997).

Geurts, J. M. et al. Identification of NFIB as recurrent translocation partner gene of HMGIC in pleomorphic adenomas. Oncogene 16, 865–872 (1998).

Katabi, N. et al. PLAG1 immunohistochemistry is a sensitive marker for pleomorphic adenoma: a comparative study with PLAG1 genetic abnormalities. Histopathology 72, 285–293 (2018).

Mito, J. K., Jo, V. Y., Chiosea, S. I., Dal Cin, P. & Krane, J. F. HMGA 2 is a specific immunohistochemical marker for pleomorphic adenoma and carcinoma ex‐pleomorphic adenoma. Histopathology 71, 511–521 (2017).

Savera, A. T. & Zarbo, R. J. Defining the role of myoepithelium in salivary gland neoplasia. Adv. Anat. Pathol. 11, 69–85 (2004).

Aigner, T., Neureiter, D., Völker, U., Belke, J. & Kirchner, T. Epithelial–mesenchymal transdifferentiation and extracellular matrix gene expression in pleomorphic adenomas of the parotid salivary gland. J. Pathol. 186, 178–185 (1998).

Triantafyllou, A. et al. Functional histology of salivary gland pleomorphic adenoma: an appraisal. Head Neck Pathol. 9, 387–404 (2015).

Puisieux, A., Brabletz, T. & Caramel, J. Oncogenic roles of EMT-inducing transcription factors. Nat. Cell Biol. 16, 488–494 (2014).

Pardis, S., Zare, R., Jaafari-Ashkavandi, Z., Ashraf, M. J. & Khademi, B. Twist expression in pleomorphic adenoma, adenoid cystic carcinoma and mucoepidermoid carcinoma of salivary glands. Turk. Patoloji Derg. 32, 15–21 (2016).

Matsumoto, Y. et al. Transcription factors related to chondrogenesis in pleomorphic adenoma of the salivary gland: a mechanism of mesenchymal tissue formation. Lab. Investig. 96, 16–24 (2016).

Shen, M., Wen, Y., Hua, C. & Xiao, J. The expression of Twist in salivary adenoid cystic carcinoma and its clinicopathological significance. Chin. J. Clin. Oncol. 9, 187–192 (2010).

Kim, Y. H. et al. Evaluation of the radiation response and regenerative effects of mesenchymal stem cell‐conditioned medium in an intestinal organoid system. Biotechnol. Bioeng. 117, 3639–3650 (2020).

Jang, B. G. et al. Expression profile of LGR5 and its prognostic significance in colorectal cancer progression. Am. J. Pathol. 188, 2236–2250 (2018).

Maruyama, S. et al. Establishment and characterization of pleomorphic adenoma cell systems: an in-vitro demonstration of carcinomas arising secondarily from adenomas in the salivary gland. BMC Cancer 9, 247 (2009).

Kim, Y. et al. Small molecule-mediated reprogramming of human hepatocytes into bipotent progenitor cells. J. Hepatol. 70, 97–107 (2019).

Park, J. H. et al. Radiation-Activated PI3K/AKT Pathway Promotes the Induction of Cancer Stem-Like Cells via the Upregulation of SOX2 in Colorectal. Cancer. Cells 10, 135 (2021).

Kusafuka, K., Yamaguchi, A., Kayano, T. & Takemura, T. Immunohistochemical localization of members of the transforming growth factor (TGF)‐β superfamily in normal human salivary glands and pleomorphic adenomas. J. Oral Pathol. Med. 30, 413–420 (2001).

Enescu, A., Enescu, A. Ş., Florou, C. & Petrescu, F. E-cadherin and α-SMA expression in the epithelial-mesenchymal transition of salivary glands pleomorphic adenomas. Rom. J. Morphol. Embryol. 55, 1383–1387 (2014).

Devi A., et al. Potential immmunohistochemical markers to characterize epithelialmesenchymal transition in pleomorphic adenoma. J. Exp. Ther. Oncol. 13, 1–7 (2019).

Guo, W. et al. Slug and Sox9 cooperatively determine the mammary stem cell state. Cell 148, 1015–1028 (2012).

Voz, M. L. et al. Microarray screening for target genes of the proto-oncogene PLAG1. Oncogene 23, 179–191 (2004).

de Brito, B. S. et al. Loss of expression of Plag1 in malignant transformation from pleomorphic adenoma to carcinoma ex pleomorphic adenoma. Hum. Pathol. 57, 152–159 (2016).

Rotellini, M., Palomba, A., Baroni, G. & Franchi, A. Diagnostic utility of PLAG1 immunohistochemical determination in salivary gland tumors. Appl. Immunohistochem. Mol. Morphol. 22, 390–394 (2014).

Debiec-Rychter, M. et al. Histologic localization of PLAG1 (pleomorphic adenoma gene 1) in pleomorphic adenoma of the salivary gland: cytogenetic evidence of common origin of phenotypically diverse cells. Lab. Investig. 81, 1289–1297 (2001).

Lee, J. H. et al. PLAG1, SOX10, and Myb expression in benign and malignant salivary gland neoplasms. J. Pathol. Transl. Med. 53, 23 (2019).

Matsuyama, A., Hisaoka, M., Nagao, Y. & Hashimoto, H. Aberrant PLAG1 expression in pleomorphic adenomas of the salivary gland: a molecular genetic and immunohistochemical study. Virchows Arch. 458, 583–592 (2011).

Van Keymeulen, A. et al. Distinct stem cells contribute to mammary gland development and maintenance. Nature 479, 189–193 (2011).

Plaks, V. et al. Lgr5-expressing cells are sufficient and necessary for postnatal mammary gland organogenesis. Cell Rep. 3, 70–78 (2013).

Prater, M. D. et al. Mammary stem cells have myoepithelial cell properties. Nat. Cell Biol. 16, 942–950 (2014).

Tata, A. et al. Myoepithelial cells of submucosal glands can function as reserve stem cells to regenerate airways after injury. Cell Stem Cell 22, 668–683. e666 (2018).

Lynch, T. J. et al. Submucosal gland myoepithelial cells are reserve stem cells that can regenerate mouse tracheal epithelium. Cell Stem Cell 22, 653–667. e655 (2018).

Kwak, M., Alston, N. & Ghazizadeh, S. Identification of stem cells in the secretory complex of salivary glands. J. Dent. Res. 95, 776–783 (2016).
Acknowledgements
We sincerely appreciate Professor Woo Ho Kim of Superbiochips for his help with the combined RNA in situ hybridization and immunohistochemical analysis.
Funding
This research was supported by the Bio & Medical Technology Development Program of the National Research Foundation (NRF) funded by the Korean government (MSIT) (No. 2021R1C1C1011172) (to B.J.), (NO. 2020R1I1A1A01069168) (to H.K.) and research fund of Hanyang University (HY-202000000002704) (to J.K.M).
Ethics declarations
Competing interests
The authors declare no competing interests.
Ethics approval
This study was approved by the Institutional Review Board of JNUH (2019–04–007). Institutional Review Board confirmed that informed consent for FFPE samples was waived because of the retrospective nature of the study, while informed consent was obtained for the primary culture of PA cells. All procedures were in accordance with the ethical standards of the Helsinki Declaration of 1964 and later versions.
Additional information
Publisher's note Springer Nature remains neutral with regard to jurisdictional claims in published maps and institutional affiliations.
Supplementary information
About this article
Cite this article
Kim, H., Lee, S.B., Myung, J.K. et al. SLUG is a key regulator of epithelial-mesenchymal transition in pleomorphic adenoma. Lab Invest 102, 631–640 (2022). https://doi.org/10.1038/s41374-022-00739-1
Received:

Revised:

Accepted:

Published:

Issue Date:

DOI: https://doi.org/10.1038/s41374-022-00739-1