Abstract
The scientific interest in the biology of white adipose tissue (WAT) has increased since the discovery of leptin in 1994. The description of the product of the gene obese (ob) demonstrated the role of adipose tissue in the physiopathology of obesity-related diseases, and helped to increase the identification of numerous other adipokines, many of a pro-inflammatory nature. It has become increasingly evident that WAT-derived adipokines can be considered as a hub between obesity-related exogenous factors, such as nutrition and lifestyle, and the molecular events that lead to metabolic syndrome, inflammatory and/or autoimmune conditions, and rheumatic diseases. In this Review, we will discuss the progress in adipokine research, focusing particular attention to the roles of leptin, adiponectin, resistin, visfatin, and other recently identified adipokines in inflammatory, autoimmune and rheumatic diseases.
Key Points
Adipokines are soluble factors produced prevalently by white adipose tissue that have emerged as modulators of inflammation and the immune response

Although definitive conclusions are awaited, recent evidence points to involvement of adipokines in relevant degenerative diseases such as rheumatoid arthritis and osteoarthritis

Although many functions of these molecules remain to be investigated, adipokines stand at the interface between metabolism and immunity in modulating not only inflammation, but also immune and autoimmune reactivity
Relevant articles
Open Access articles citing this article.
Ricardo Jair Ramírez-Carreto

,

Yesica María Rodríguez-Cortés

…

Anahí Chavarría

Cellular and Molecular Neurobiology Open Access 20 March 2023

Jacopo Ciaffi

,

Elena Borlandelli

…

Francesco Ursini

La radiologia medica Open Access 04 September 2022

Atqah AbdulWahab

,

Mona Allangawi

…

Manjunath Ramanjaneya

Translational Medicine Communications Open Access 13 February 2020
Access options
Subscribe to this journal
Receive 12 print issues and online access
$189.00 per year
only $15.75 per issue
Rent or buy this article
Get just this article for as long as you need it
$39.95
Prices may be subject to local taxes which are calculated during checkout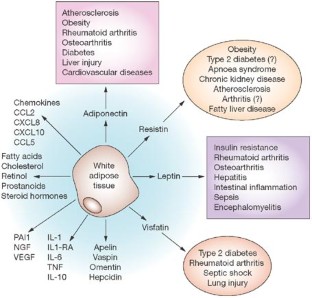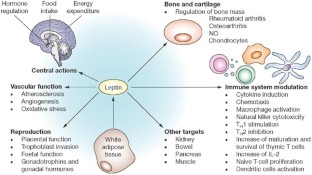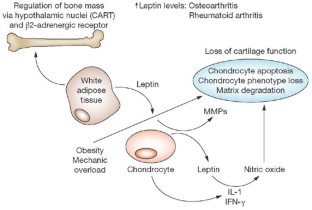 References
Zhang Y et al. (1994) Positional cloning of the mouse obese gene and its human homologue. Nature 372: 425–432

Otero M et al. (2005) Leptin, from fat to inflammation: old questions and new insights. FEBS Lett 579: 295–301

Fantuzzi G (2005) Adipose tissue, adipokines, and inflammation. J Allergy Clin Immunol 115: 911–919

Hotamisligil GS et al. (1993) Adipose expression of tumor necrosis factor-alpha: direct role in obesity-linked insulin resistance. Science 259: 87–91

Tilg H et al. (2006) Adipocytokines: mediators linking adipose tissue, inflammation and immunity. Nature Rev Immunol 6: 772–783

Dayer JM et al. (2006) Adipose tissue has anti-inflammatory properties. Ann NY Acad Sci 1069: 444–453

Otero M et al. (2006) Towards a pro-inflammatory and immunomodulatory emerging role of leptin. Rheumatology (Oxford) 45: 944–950

Fruhbeck G (2006) Intracellular signalling pathways activated by leptin. Biochem J 393: 7–20

Gualillo O et al. (2002) Leptin promotes the tyrosine phosphorylation of SHC proteins and SHC association with GRB2. Mol Cell Endocrinol 190: 83–89

Howard JK et al. (1999) Leptin protects mice from starvation-induced lymphoid atrophy and increases thymic cellularity in ob/ob mice. J Clin Invest 104: 1051–1059

Matarese G et al. (2005) Leptin in immunology. J Immunol 174: 3137–3142

Faggioni R et al. (2001) Leptin regulation of the immune response and the immunodeficiency of malnutrition. FASEB J 15: 2565–2571

De Rosa et al. (2007) A key role of leptin in the control of regulatory T cell proliferation. Immunity 26: 241–255

Otero M et al. (2006) Changes in plasma levels of fat-derived hormones adiponectin, leptin, resistin and visfatin in patients with rheumatoid arthritis. Ann Rheum Dis 65: 1198–1201

Toussirot E et al. (2007) The contribution of adipose tissue and adipokines to inflammation in joint diseases. Curr Med Chem 14: 1095–1100

Fraser DA et al. (1999) Decreased CD4+ lymphocyte activation and increased interleukin-4 production in peripheral blood of rheumatoid arthritis patients after acute starvation. Clin Rheumatol 18: 394–401

Bernotiene E et al. (2006) The role of leptin in innate and adaptive immune response. Arthritis Res Ther 8: 217–226

Gualillo O (2007) Further evidence for leptin involvement in cartilage homeostases. Osteoarthritis Cartilage 15: 857–860

Otero M et al. (2003) Synergistic induction of nitric oxide synthase type II: in vitro effect of leptin and interferon-gamma in human chondrocytes and ATDC5 chondrogenic cells. Arthritis Rheum 48: 404–409

Otero M et al. (2005) Signalling pathway involved in nitric oxide synthase type II activation in chondrocytes: synergistic effect of leptin with interleukin-1. Arthritis Res Ther 7: R581–R591

Simopoulou T et al. (2007) Differential expression of leptin and leptin's receptor isoform (Ob-Rb) mRNA between advanced and minimally affected osteoarthritic cartilage; effect on cartilage metabolism. Osteoarthritis Cartilage 15: 872–883

Iliopoulos D et al. (2007) Epigenetic regulation of leptin affects MMP-13 expression in osteoarthritic chondrocytes: possible molecular target for osteoarthritis therapeutic intervention. Ann Rheum Dis [doi:10.1136/ard.2007.069377]

Oh DK et al. (2007) Adiponectin in health and disease. Diabetes Obes Metab 9: 282–289

Kadowaki T et al. (2005) Adiponectin and adiponectin receptors. Endocr Rev 26: 439–451

Matsuzawa Y (2006) Therapy Insight: adipocytokines in metabolic syndrome and related cardiovascular disease. Nat Clin Pract Cardiovasc Med 3: 35–42

Schaffler A et al. (2003) Adipocytokines in synovial fluid. JAMA 290: 1709–1710

Sada KE et al. (2006) Altered levels of adipocytokines in association with insulin resistance in patients with systemic lupus erythematosus. J Rheumatol 33: 1545–1552

Ehling A et al. (2006) The potential of adiponectin in driving arthritis. J Immunol 176: 4468–4478

Lago R et al. (2007) Adiponectin induces nitric oxide synthase type 2 and pro-inflammatory cytokines in chondrocytes. Ann Rheum Dis 66 (Suppl 11): 142

Steppan CM et al. (2001) The hormone resistin links obesity to diabetes. Nature 409: 307–312

Harsch IA et al. (2004) Resistin levels in patients with obstructive sleep apnoea syndrome—the link to subclinical inflammation? Med Sci Monit 10: CR510–CR515

Reilly MP et al. (2005) Resistin is an inflammatory marker of atherosclerosis in humans. Circulation 111: 932–939

Lehrke M et al. (2004) An inflammatory cascade leading to hyperresistinemia in humans. PLoS Med 1: e45

Bokarewa M et al. (2005) Resistin, an adipokine with potent proinflammatory properties. J Immunol 174: 5789–5795

Senolt L et al. (2007) Resistin in rheumatoid arthritis synovial tissue, synovial fluid and serum. Ann Rheum Dis 66: 458–463

Fukuhara A et al. (2005) Visfatin: a protein secreted by visceral fat that mimics the effects of insulin. Science 307: 426–430

Jia SH et al. (2004) Pre-B cell colony-enhancing factor inhibits neutrophil apoptosis in experimental inflammation and clinical sepsis. J Clin Invest 113: 1318–1327

Moschen AR et al. (2007) Visfatin, an adipocytokine with proinflammatory and immunomodulating properties. J Immunol 178: 1748–1758

Tatemoto K et al. (1998) Isolation and characterization of a novel endogenous peptide ligand for the human APJ receptor. Biochem Biophys Res Commun 251: 471–476

Daviaud D et al. (2006) TNFalpha up-regulates apelin expression in human and mouse adipose tissue. FASEB J 20: 1528–1530

Xu H et al. (2003) Chronic inflammation in fat plays a crucial role in the development of obesity-related insulin resistance. J Clin Invest 112: 1821–1830

Hida K et al. (2005) Visceral adipose tissue-derived serine protease inhibitor: a unique insulin-sensitizing adipocytokine in obesity. Proc Natl Acad Sci USA 102: 10610–10615

Park CH et al. (2001) Hepcidin, a urinary antimicrobial peptide synthesized in the liver. J Biol Chem 276: 7806–7810

Bekri S et al. (2006) Increased adipose tissue expression of hepcidin in severe obesity is independent from diabetes and NASH. Gastroenterology 131: 788–796

Fleming RE (2007) Hepcidin activation during inflammation: make it STAT. Gastroenterology 132: 447–449

Pietrangelo A et al. (2007) STAT3 is required for IL-6-gp130-dependent activation of hepcidin in vivo. Gastroenterology 132: 294–300

Schaffler A et al. (2005) Genomic structure of human omentin, a new adipocytokine expressed in omental adipose tissue. Biochim Biophys Acta 1732: 96–102

Gerwick L et al. (2007) Gene transcript changes in individual rainbow trout livers following an inflammatory stimulus. Fish Shellfish Immunol 22: 157–171

de Souza Batista CM et al. (2007) Omentin plasma levels and gene expression are decreased in obesity. Diabetes 56: 1655–1661

Kuperman DA et al. (2005) Dissecting asthma using focused transgenic modeling and functional genomics. J Allergy Clin Immunol 116: 305–311

Karsenty G (2006) Convergence between bone and energy homeostases: leptin regulation of bone mass. Cell Metab 4: 341–348
Acknowledgements
Part of the research described in this Review was supported by the Spanish Ministry of Health through the Fondo de Investigación Sanitaria, Instituto de Salud Carlos III (contracts PI05/0525, PI030115, PI050419, PI060919 and G03/152), by the Spanish Ministry of Education & Science (BFU 2005) and/or by the Xunta de Galicia. The work of O Gualillo and F Lago is funded by the Instituto de Salud Carlos III and the Xunta de Galicia (SERGAS) through a research staff stabilization contract. The authors would like to thank R Gomez Bahamonde for his help with drawing tables and figures. Désirée Lie, University of California, Irvine, CA, is the author of and is solely responsible for the content of the learning objectives, questions and answers of the Medscape-accredited continuing medical education activity associated with this article.
Ethics declarations
Competing interests
The authors declare no competing financial interests.
About this article
Cite this article
Lago, F., Dieguez, C., Gómez-Reino, J. et al. Adipokines as emerging mediators of immune response and inflammation. Nat Rev Rheumatol 3, 716–724 (2007). https://doi.org/10.1038/ncprheum0674
Received:

Accepted:

Issue Date:

DOI: https://doi.org/10.1038/ncprheum0674