Abstract
Pericytes are positioned between brain capillary endothelial cells, astrocytes and neurons. They degenerate in multiple neurological disorders. However, their role in the pathogenesis of these disorders remains debatable. Here we generate an inducible pericyte-specific Cre line and cross pericyte-specific Cre mice with iDTR mice carrying Cre-dependent human diphtheria toxin receptor. After pericyte ablation with diphtheria toxin, mice showed acute blood–brain barrier breakdown, severe loss of blood flow, and a rapid neuron loss that was associated with loss of pericyte-derived pleiotrophin (PTN), a neurotrophic growth factor. Intracerebroventricular PTN infusions prevented neuron loss in pericyte-ablated mice despite persistent circulatory changes. Silencing of pericyte-derived Ptn rendered neurons vulnerable to ischemic and excitotoxic injury. Our data demonstrate a rapid neurodegeneration cascade that links pericyte loss to acute circulatory collapse and loss of PTN neurotrophic support. These findings may have implications for the pathogenesis and treatment of neurological disorders that are associated with pericyte loss and/or neurovascular dysfunction.
Access options
Subscribe to Journal
Get full journal access for 1 year
$59.00
only $4.92 per issue
All prices are NET prices.
VAT will be added later in the checkout.
Tax calculation will be finalised during checkout.
Rent or Buy article
Get time limited or full article access on ReadCube.
from$8.99
All prices are NET prices.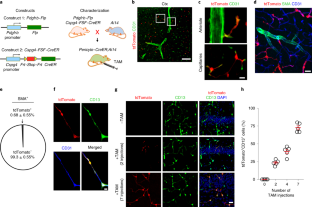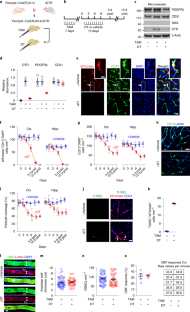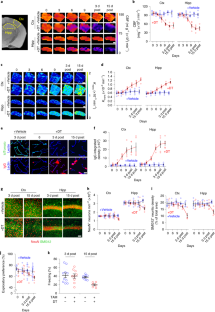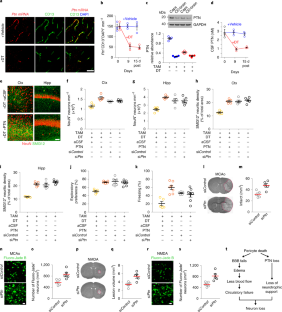 Data availability
The data that support the findings of this study are available from the corresponding author upon request.
References
1.

Sweeney, M. D., Zhao, Z., Montagne, A., Nelson, A. R. & Zlokovic, B. V. Blood-brain barrier: from physiology to disease and back. Physiol. Rev. 99, 21–78 (2019).

2.

Sweeney, M. D., Ayyadurai, S. & Zlokovic, B. V. Pericytes of the neurovascular unit: key functions and signaling pathways. Nat. Neurosci. 19, 771–783 (2016).

3.

Gaengel, K., Genové, G., Armulik, A. & Betsholtz, C. Endothelial-mural cell signaling in vascular development and angiogenesis. Arterioscler. Thromb. Vasc. Biol. 29, 630–638 (2009).

4.

Bell, R. D. et al. Pericytes control key neurovascular functions and neuronal phenotype in the adult brain and during brain aging. Neuron 68, 409–427 (2010).

5.

Armulik, A. et al. Pericytes regulate the blood–brain barrier. Nature 468, 557–561 (2010).

6.

Daneman, R., Zhou, L., Kebede, A. A. & Barres, B. A. Pericytes are required for blood-brain barrier integrity during embryogenesis. Nature 468, 562–566 (2010).

7.

Sagare, A. P. et al. Pericyte loss influences Alzheimer-like neurodegeneration in mice. Nat. Commun. 4, 2932 (2013).

8.

Montagne, A. et al. Pericyte degeneration causes white matter dysfunction in the mouse central nervous system. Nat. Med. 24, 326–337 (2018).

9.

Ma, Q. et al. Blood-brain barrier-associated pericytes internalize and clear aggregated amyloid-β42 by LRP1-dependent apolipoprotein E isoform-specific mechanism. Mol. Neurodegener. 13, 57 (2018).

10.

Peppiatt, C. M., Howarth, C., Mobbs, P. & Attwell, D. Bidirectional control of CNS capillary diameter by pericytes. Nature 443, 700–704 (2006).

11.

Hall, C. N. et al. Capillary pericytes regulate cerebral blood flow in health and disease. Nature 508, 55–60 (2014).

12.

Mishra, A. et al. Astrocytes mediate neurovascular signaling to capillary pericytes but not to arterioles. Nat. Neurosci. 19, 1619–1627 (2016).

13.

Kisler, K. et al. Pericyte degeneration leads to neurovascular uncoupling and limits oxygen supply to brain. Nat. Neurosci. 20, 406–416 (2017).

14.

Sweeney, M. D., Sagare, A. P. & Zlokovic, B. V. Blood–brain barrier breakdown in Alzheimer disease and other neurodegenerative disorders. Nat. Rev. Neurol. 14, 133–150 (2018).

15.

Zehendner, C. M. et al. Traumatic brain injury results in rapid pericyte loss followed by reactive pericytosis in the cerebral cortex. Sci. Rep. 5, 13497 (2015).

16.

Ghosh, M. et al. Pericytes are involved in the pathogenesis of cerebral autosomal dominant arteriopathy with subcortical infarcts and leukoencephalopathy. Ann. Neurol. 78, 887–900 (2015).

17.

Sengillo, J. D. et al. Deficiency in mural vascular cells coincides with blood–brain barrier disruption in Alzheimer's disease. Brain Pathol. 23, 303–310 (2013).

18.

Halliday, M. R. et al. Accelerated pericyte degeneration and blood-brain barrier breakdown in apolipoprotein E4 carriers with Alzheimer's disease. J. Cereb. Blood Flow. Metab. 36, 216–227 (2016).

19.

Winkler, E. A. et al. Blood–spinal cord barrier breakdown and pericyte reductions in amyotrophic lateral sclerosis. Acta Neuropathol. 125, 111–120 (2013).

20.

Niu, F., Yao, H., Zhang, W., Sutliff, R. L. & Buch, S. Tat 101-mediated enhancement of brain pericyte migration involves platelet-derived growth factor subunit B homodimer: implications for human immunodeficiency virus-associated neurocognitive disorders. J. Neurosci. 34, 11812–11825 (2014).

21.

Cuttler, A. S. et al. Characterization of Pdgfrb-Cre transgenic mice reveals reduction of ROSA26 reporter activity in remodeling arteries. Genesis 49, 673–680 (2011).

22.

Zhu, X. et al. Age-dependent fate and lineage restriction of single NG2 cells. Development 138, 745–753 (2011).

23.

Buch, T. et al. A Cre-inducible diphtheria toxin receptor mediates cell lineage ablation after toxin administration. Nat. Methods 2, 419–426 (2005).

24.

Vanlandewijck, M. et al. A molecular atlas of cell types and zonation in the brain vasculature. Nature 554, 475–480 (2018).

25.

Sagare, A. P., Sweeney, M. D., Makshanoff, J. & Zlokovic, B. V. Shedding of soluble platelet-derived growth factor receptor-β from human brain pericytes. Neurosci. Lett. 607, 97–101 (2015).

26.

Zeisel, A. et al. Brain structure. Cell types in the mouse cortex and hippocampus revealed by single-cell RNA-seq. Science 347, 1138–1142 (2015).

27.

Trost, A. et al. Brain and retinal pericytes: origin, function and role. Front. Cell. Neurosci. 10, 20 (2016).

28.

Feil, R., Wagner, J., Metzger, D. & Chambon, P. Regulation of Cre recombinase activity by mutated estrogen receptor ligand-binding domains. Biochem. Biophys. Res. Commun. 237, 752–757 (1997).

29.

Madisen, L. et al. A robust and high-throughput Cre reporting and characterization system for the whole mouse brain. Nat. Neurosci. 13, 133–140 (2010).

30.

Yamaizumi, M., Mekada, E., Uchida, T. & Okada, Y. One molecule of diphtheria toxin fragment A introduced into a cell can kill the cell. Cell 15, 245–250 (1978).

31.

Parkhurst, C. N. et al. Microglia promote learning-dependent synapse formation through brain-derived neurotrophic factor. Cell 155, 1596–1609 (2013).

32.

Bell, R. D. et al. Apolipoprotein E controls cerebrovascular integrity via cyclophilin A. Nature 485, 512–516 (2012).

33.

Berthiaume, A.-A. et al. Dynamic remodeling of pericytes in vivo maintains capillary coverage in the adult mouse brain. Cell Rep. 22, 8–16 (2018).

34.

Park, D. Y. et al. Plastic roles of pericytes in the blood–retinal barrier. Nat. Commun. 8, 15296 (2017).

35.

Ogura, S. et al. Sustained inflammation after pericyte depletion induces irreversible blood–retina barrier breakdown. JCI Insight 2, e90905 (2017).

36.

Lin, S.-L., Kisseleva, T., Brenner, D. A. & Duffield, J. S. Pericytes and perivascular fibroblasts are the primary source of collagen-producing cells in obstructive fibrosis of the kidney. Am. J. Pathol. 173, 1617–1627 (2008).

37.

Stefanska, A. et al. Interstitial pericytes decrease in aged mouse kidneys. Aging 7, 370–382 (2015).

38.

Yue, F. et al. A comparative encyclopedia of DNA elements in the mouse genome. Nature 515, 355–364 (2014).

39.

Gong, S. et al. A gene expression atlas of the central nervous system based on bacterial artificial chromosomes. Nature 425, 917–925 (2003).

40.

Krellman, J. W., Ruiz, H. H., Marciano, V. A., Mondrow, B. & Croll, S. D. Behavioral and neuroanatomical abnormalities in pleiotrophin knockout mice. PloS One 9, e100597 (2014).

41.

Asai, H., Morita, S. & Miyata, S. Effect of pleiotrophin on glutamate-induced neurotoxicity in cultured hippocampal neurons. Cell Biochem. Funct. 29, 660–665 (2011).

42.

Dugas, J. C. et al. A novel purification method for CNS projection neurons leads to the identification of brain vascular cells as a source of trophic support for corticospinal motor neurons. J. Neurosci. 28, 8294–8305 (2008).

43.

Keller, A. et al. Mutations in the gene encoding PDGF-B cause brain calcifications in humans and mice. Nat. Genet. 45, 1077–1082 (2013).

44.

Ishii, Y. et al. Mouse brains deficient in neuronal PDGF receptor-beta develop normally but are vulnerable to injury. J. Neurochem. 98, 588–600 (2006).

45.

Zheng, L. et al. Neuroprotective effects of PDGF against oxidative stress and the signaling pathway involved. J. Neurosci. Res. 88, 1273–1284 (2010).

46.

Zeisel, A. et al. Molecular architecture of the mouse nervous system. Cell 174, 999–1014.e22 (2018).

47.

Sabbagh, M. F. et al. Transcriptional and epigenomic landscapes of CNS and non-CNS vascular endothelial cells. eLife 7, e36187 (2018).

48.

Zhang, Y. et al. An RNA-sequencing transcriptome and splicing database of glia, neurons, and vascular cells of the cerebral cortex. J. Neurosci. 34, 11929–11947 (2014).

49.

Sandberg, R. et al. Regional and strain-specific gene expression mapping in the adult mouse brain. Proc. Natl Acad. Sci. USA 97, 11038–11043 (2000).

50.

Nation, D. A. et al. Blood–brain barrier breakdown is an early biomarker of human cognitive dysfunction. Nat. Med. 25, 270–276 (2019).

51.

Foo, S. S. et al. Ephrin-B2 controls cell motility and adhesion during blood-vessel-wall assembly. Cell 124, 161–173 (2006).

52.

Zhu, X., Bergles, D. E. & Nishiyama, A. NG2 cells generate both oligodendrocytes and gray matter astrocytes. Development 135, 145–157 (2008).

53.

Sharan, S. K., Thomason, L. C., Kuznetsov, S. G. & Court, D. L. Recombineering: a homologous recombination-based method of genetic engineering. Nat. Protoc. 4, 206–223 (2009).

54.

Nikolakopoulou, A. M. et al. Astrocytic ephrin-B1 regulates synapse remodeling following traumatic brain injury. ASN Neuro. 8, 1–18 (2016).

55.

Li, G.-W., Burkhardt, D., Gross, C. & Weissman, J. S. Quantifying absolute protein synthesis rates reveals principles underlying allocation of cellular resources. Cell 157, 624–635 (2014).

56.

Wu, Z., Hofman, F. M. & Zlokovic, B. V. A simple method for isolation and characterization of mouse brain microvascular endothelial cells. J. Neurosci. Methods 130, 53–63 (2003).

57.

Ruck, T., Bittner, S., Epping, L., Herrmann, A. M. & Meuth, S. G. Isolation of primary murine brain microvascular endothelial cells. J. Vis. Exp. https://doi.org/10.3791/52204 (2014).

58.

Zhao, Z. et al. Central role for PICALM in amyloid-β blood–brain barrier transcytosis and clearance. Nat. Neurosci. 18, 978–987 (2015).

59.

Bell, R. D. et al. SRF and myocardin regulate LRP-mediated amyloid-β clearance in brain vascular cells. Nat. Cell Biol. 11, 143–153 (2009).

60.

Gauthier, S. A., Sahoo, S., Jung, S. S. & Levy, E. Murine cerebrovascular cells as a cell culture model for cerebral amyloid angiopathy: isolation of smooth muscle and endothelial cells from mouse brain. Methods Mol. Biol. 849, 261–274 (2012).

61.

Zhong, Z. et al. Protein S protects neurons from excitotoxic injury by activating the TAM receptor Tyro3-phosphatidylinositol 3-kinase-Akt pathway through its sex hormone-binding globulin-like region. J. Neurosci. 30, 15521–15534 (2010).

62.

Schildge, S., Bohrer, C., Beck, K. & Schachtrup, C. Isolation and Culture of Mouse Cortical Astrocytes. J. Vis. Exp. https://doi.org/10.3791/50079 (2013).

63.

Trost, A. et al. Neural crest origin of retinal and choroidal pericytes. Invest. Ophthalmol. Vis. Sci. 54, 7910–7921 (2013).

64.

Nikolakopoulou, A. M., Zhao, Z., Montagne, A. & Zlokovic, B. V. Regional early and progressive loss of brain pericytes but not vascular smooth muscle cells in adult mice with disrupted platelet-derived growth factor receptor-β signaling. PloS One 12, e0176225 (2017).

65.

Victor, M. B. et al. Generation of human striatal neurons by microRNA-dependent direct conversion of fibroblasts. Neuron 84, 311–323 (2014).

66.

Chen, K. et al. Synergic interaction between amyloid precursor protein and neural cell adhesion molecule promotes neurite outgrowth. Oncotarget 7, 14199–14206 (2016).

67.

Winkler, E. A. et al. GLUT1 reductions exacerbate Alzheimer's disease vasculo-neuronal dysfunction and degeneration. Nat. Neurosci. 18, 521–530 (2015).

68.

Iadecola, C. et al. SOD1 rescues cerebral endothelial dysfunction in mice overexpressing amyloid precursor protein. Nat. Neurosci. 2, 157–161 (1999).

69.

Park, L., Anrather, J., Girouard, H., Zhou, P. & Iadecola, C. Nox2-derived reactive oxygen species mediate neurovascular dysregulation in the aging mouse brain. J. Cereb. Blood Flow Metab. 27, 1908–1918 (2007).

70.

Barnes, S. R. et al. ROCKETSHIP: a flexible and modular software tool for the planning, processing and analysis of dynamic MRI studies. BMC Med. Imaging 15, 19 (2015).

71.

Montagne, A. et al. Blood-brain barrier breakdown in the aging human hippocampus. Neuron 85, 296–302 (2015).

72.

Barnes, S. R. et al. Optimal acquisition and modeling parameters for accurate assessment of low Ktrans blood-brain barrier permeability using dynamic contrast-enhanced MRI. Magn. Reson. Med. 75, 1967–1977 (2016).

73.

Ostergaard, L., Weisskoff, R. M., Chesler, D. A., Gyldensted, C. & Rosen, B. R. High resolution measurement of cerebral blood flow using intravascular tracer bolus passages. Part I: mathematical approach and statistical analysis. Magn. Reson. Med. 36, 715–725 (1996).

74.

Jiang, H., van Zijl, P. C. M., Kim, J., Pearlson, G. D. & Mori, S. DtiStudio: resource program for diffusion tensor computation and fiber bundle tracking. Comput. Methods Prog. Biomed. 81, 106–116 (2006).

75.

Kimura, R., Devi, L. & Ohno, M. Partial reduction of BACE1 improves synaptic plasticity, recent and remote memories in Alzheimer's disease transgenic mice. J. Neurochem. 113, 248–261 (2010).

76.

Sweatt, J. D. in Mechanisms of Memory 2nd edn, Ch. 4 (Elsevier, 2010).

77.

Mazziotti, R. et al. Mir-132/212 is required for maturation of binocular matching of orientation preference and depth perception. Nat. Commun. 8, 15488 (2017).

78.

Kisler, K. et al. In vivo imaging and analysis of cerebrovascular hemodynamic responses and tissue oxygenation in the mouse brain. Nat. Protoc. 13, 1377–1402 (2018).

79.

Zhu, D. et al. Protein S controls hypoxic/ischemic blood-brain barrier disruption through the TAM receptor Tyro3 and sphingosine 1-phosphate receptor. Blood 115, 4963–4972 (2010).

80.

Wang, Y. et al. An activated protein C analog with reduced anticoagulant activity extends the therapeutic window of tissue plasminogen activator for ischemic stroke in rodents. Stroke 43, 2444–2449 (2012).

81.

Guo, H. et al. Activated protein C prevents neuronal apoptosis via protease activated receptors 1 and 3. Neuron 41, 563–572 (2004).
Acknowledgements
The work of B.V.Z. is supported by the National Institutes of Health grants R01AG039452, R01NS100459, as well as R01AG023084, R01NS090904, R01NS034467, and the Foundation Leducq Transatlantic Network of Excellence for the Study of Perivascular Spaces in Small Vessel Disease reference no. 16 CVD 05.
Ethics declarations
Competing interest
The authors declare no competing interests.
Additional information
Publisher's note: Springer Nature remains neutral with regard to jurisdictional claims in published maps and institutional affiliations.
First co-authors: Angeliki M. Nikolakopoulou, Axel Montagne, Kassandra Kisler and Zhonghua Dai.
Senior co-authors: Zhen Zhao and Berislav V. Zlokovic.
Integrated supplementary information
Supplementary information
About this article
Cite this article
Nikolakopoulou, A.M., Montagne, A., Kisler, K. et al. Pericyte loss leads to circulatory failure and pleiotrophin depletion causing neuron loss. Nat Neurosci 22, 1089–1098 (2019). https://doi.org/10.1038/s41593-019-0434-z
Received:

Accepted:

Published:

Issue Date: