Abstract
The paraventricular nucleus of the thalamus (PVT) is increasingly being recognized as a critical node linking stress detection to the emergence of adaptive behavioral responses to stress. However, despite growing evidence implicating the PVT in stress processing, the neural mechanisms by which stress impacts PVT neurocircuitry and promotes stressed states remain unknown. Here we show that stress exposure drives a rapid and persistent reduction of inhibitory transmission onto projection neurons of the posterior PVT (pPVT). This stress-induced disinhibition of the pPVT was associated with a locus coeruleus-mediated rise in the extracellular concentration of dopamine in the midline thalamus, required the function of dopamine D2 receptors on PVT neurons, and increased sensitivity to stress. Our findings define the locus coeruleus as an important modulator of PVT function: by controlling the inhibitory tone of the pPVT, it modulates the excitability of pPVT projection neurons and controls stress responsivity.
Relevant articles
Open Access articles citing this article.
Violeta-Maria Caragea

,

Marta Méndez-Couz

&

Denise Manahan-Vaughan

Brain Structure and Function Open Access 24 August 2023

Roberta G. Anversa

,

Erin J. Campbell

…

Robyn M. Brown

Neuropsychopharmacology Open Access 20 July 2023

Kelsey M. Vollmer

,

Lisa M. Green

…

James M. Otis

Nature Communications Open Access 11 November 2022
Access options
Access Nature and 54 other Nature Portfolio journals
Get Nature+, our best-value online-access subscription
$29.99 / 30 days
cancel any time
Subscribe to this journal
Receive 12 print issues and online access
$209.00 per year
only $17.42 per issue
Rent or buy this article
Prices vary by article type
from$1.95
to$39.95
Prices may be subject to local taxes which are calculated during checkout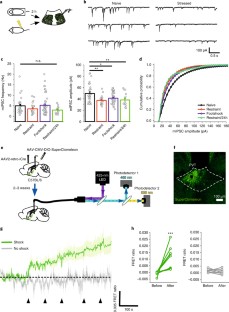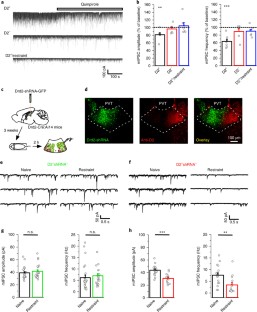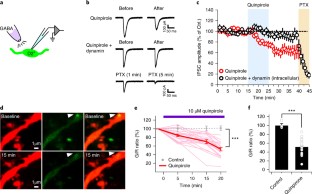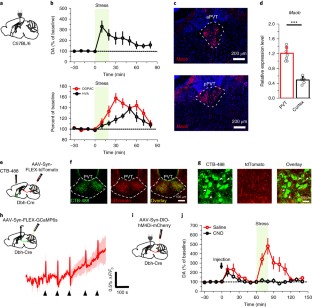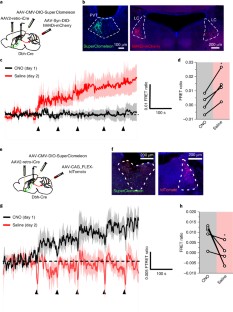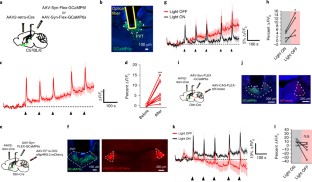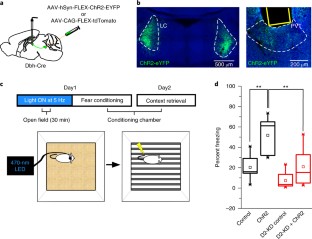 References
Vertes, R. P., Linley, S. B. & Hoover, W. B. Limbic circuitry of the midline thalamus. Neurosci. Biobehav. Rev. 54, 89–107 (2015).

Hsu, D. T., Kirouac, G. J., Zubieta, J. K. & Bhatnagar, S. Contributions of the paraventricular thalamic nucleus in the regulation of stress, motivation, and mood. Front. Behav. Neurosci. 8, 73 (2014).

Penzo, M. A. et al. The paraventricular thalamus controls a central amygdala fear circuit. Nature 519, 455–459 (2015).

Do-Monte, F. H., Quiñones-Laracuente, K. & Quirk, G. J. A temporal shift in the circuits mediating retrieval of fear memory. Nature 519, 460–463 (2015).

Zhu, Y., Wienecke, C. F., Nachtrab, G. & Chen, X. A thalamic input to the nucleus accumbens mediates opiate dependence. Nature 530, 219–222 (2016).

Do-Monte, F. H., Minier-Toribio, A., Quiñones-Laracuente, K., Medina-Colón, E. M. & Quirk, G. J. Thalamic regulation of sucrose seeking during unexpected reward omission. Neuron 94, 388–400.e4 (2017).

Arcelli, P., Frassoni, C., Regondi, M. C., De Biasi, S. & Spreafico, R. GABAergic neurons in mammalian thalamus: a marker of thalamic complexity? Brain Res. Bull. 42, 27–37 (1997).

Zhang, X. & van den Pol, A. N. Rapid binge-like eating and body weight gain driven by zona incerta GABA neuron activation. Science 356, 853–859 (2017).

Betley, J. N., Cao, Z. F., Ritola, K. D. & Sternson, S. M. Parallel, redundant circuit organization for homeostatic control of feeding behavior. Cell 155, 1337–1350 (2013).

Giber, K. et al. A subcortical inhibitory signal for behavioral arrest in the thalamus. Nat. Neurosci. 18, 562–568 (2015).

Bodor, A. L., Giber, K., Rovó, Z., Ulbert, I. & Acsády, L. Structural correlates of efficient GABAergic transmission in the basal ganglia-thalamus pathway. J. Neurosci. 28, 3090–3102 (2008).

Wanaverbecq, N. et al. Contrasting the functional properties of GABAergic axon terminals with single and multiple synapses in the thalamus. J. Neurosci. 28, 11848–11861 (2008).

Halassa, M. M. & Acsády, L. Thalamic inhibition: diverse sources, diverse scales. Trends Neurosci. 39, 680–693 (2016).

Del Castillo, J. & Katz, B. Quantal components of the end-plate potential. J. Physiol. (Lond.) 124, 560–573 (1954).

Redman, S. Quantal analysis of synaptic potentials in neurons of the central nervous system. Physiol. Rev. 70, 165–198 (1990).

Stevens, C. F. Quantal release of neurotransmitter and long-term potentiation. Cell 72 Suppl, 55–63 (1993).

Goldstein, J. M., Jerram, M., Abbs, B., Whitfield-Gabrieli, S. & Makris, N. Sex differences in stress response circuitry activation dependent on female hormonal cycle. J. Neurosci. 30, 431–438 (2010).

Ramikie, T. S. & Ressler, K. J. Mechanisms of sex differences in fear and posttraumatic stress disorder. Biol. Psychiatry 83, 876–885 (2018).

Grimley, J. S. et al. Visualization of synaptic inhibition with an optogenetic sensor developed by cell-free protein engineering automation. J. Neurosci. 33, 16297–16309 (2013).

Dong, X., Li, S. & Kirouac, G. J. Collateralization of projections from the paraventricular nucleus of the thalamus to the nucleus accumbens, bed nucleus of the stria terminalis, and central nucleus of the amygdala. Brain Struct. Funct. 222, 3927–3943 (2017).

Wimmer, R. D. et al. Thalamic control of sensory selection in divided attention. Nature 526, 705–709 (2015).

Dobbs, L. K. et al. Dopamine regulation of lateral inhibition between striatal neurons gates the stimulant actions of cocaine. Neuron 90, 1100–1113 (2016).

Floran, B., Floran, L., Sierra, A. & Aceves, J. D2 receptor-mediated inhibition of GABA release by endogenous dopamine in the rat globus pallidus. Neurosci. Lett. 237, 1–4 (1997).

Lalchandani, R. R., van der Goes, M. S., Partridge, J. G. & Vicini, S. Dopamine D2 receptors regulate collateral inhibition between striatal medium spiny neurons. J. Neurosci. 33, 14075–14086 (2013).

Li, S., Shi, Y. & Kirouac, G. J. The hypothalamus and periaqueductal gray are the sources of dopamine fibers in the paraventricular nucleus of the thalamus in the rat. Front. Neuroanat. 8, 136 (2014).

Kempadoo, K. A., Mosharov, E. V., Choi, S. J., Sulzer, D. & Kandel, E. R. Dopamine release from the locus coeruleus to the dorsal hippocampus promotes spatial learning and memory. Proc. Natl. Acad. Sci. USA 113, 14835–14840 (2016).

Takeuchi, T. et al. Locus coeruleus and dopaminergic consolidation of everyday memory. Nature 537, 357–362 (2016).

Gerfen, C. R., Paletzki, R. & Heintz, N. GENSAT BAC cre-recombinase driver lines to study the functional organization of cerebral cortical and basal ganglia circuits. Neuron 80, 1368–1383 (2013).

Abercrombie, E. D., Keller, R. W. Jr. & Zigmond, M. J. Characterization of hippocampal norepinephrine release as measured by microdialysis perfusion: pharmacological and behavioral studies. Neuroscience 27, 897–904 (1988).

Kirouac, G. J. Placing the paraventricular nucleus of the thalamus within the brain circuits that control behavior. Neurosci. Biobehav. Rev. 56, 315–329 (2015).

Moruzzi, G. & Magoun, H. W. Brain stem reticular formation and activation of the EEG. Electroencephalogr. Clin. Neurophysiol. 1, 455–473 (1949).

Cullinan, W. E., Herman, J. P., Battaglia, D. F., Akil, H. & Watson, S. J. Pattern and time course of immediate early gene expression in rat brain following acute stress. Neuroscience 64, 477–505 (1995).

Dallman, M. F. et al. Chronic stress-induced effects of corticosterone on brain: direct and indirect. Ann. NY Acad. Sci. 1018, 141–150 (2004).

Oh, W. C., Lutzu, S., Castillo, P. E. & Kwon, H. B. De novo synaptogenesis induced by GABA in the developing mouse cortex. Science 353, 1037–1040 10 (2016).

Chen, J. L. et al. Clustered dynamics of inhibitory synapses and dendritic spines in the adult neocortex. Neuron 74, 361–373 (2012).

Villa, K. L. et al. Inhibitory synapses are repeatedly assembled and removed at persistent sites in vivo. Neuron 90, 662–664 (2016).

Li, Y. et al. Orexins in the paraventricular nucleus of the thalamus mediate anxiety-like responses in rats. Psychopharmacology (Berl.) 212, 251–265 (2010).

Takada, M., Campbell, K. J., Moriizumi, T. & Hattori, T. On the origin of the dopaminergic innervation of the paraventricular thalamic nucleus. Neurosci. Lett. 115, 33–36 (1990).

Uematsu, A. et al. Modular organization of the brainstem noradrenaline system coordinates opposing learning states. Nat. Neurosci. 20, 1602–1611 (2017).

Berridge, C. W. & Waterhouse, B. D. The locus coeruleus-noradrenergic system: modulation of behavioral state and state-dependent cognitive processes. Brain Res. Brain Res. Rev. 42, 33–84 (2003).

Martins, A. R. & Froemke, R. C. Coordinated forms of noradrenergic plasticity in the locus coeruleus and primary auditory cortex. Nat. Neurosci. 18, 1483–1492 (2015).

Schmitt, L. I. et al. Thalamic amplification of cortical connectivity sustains attentional control. Nature 545, 219–223 (2017).

Sherman, S. M. Thalamus plays a central role in ongoing cortical functioning. Nat. Neurosci. 19, 533–541 (2016).

Sherman, S.M. & Guillery, R.W. Exploring the Thalamus. (Academic Press, Cambridge, MA, 2001).

McCall, J. G. et al. CRH engagement of the locus coeruleus noradrenergic system mediates stress-induced anxiety. Neuron 87, 605–620 (2015).

Bingham, B. et al. Early adolescence as a critical window during which social stress distinctly alters behavior and brain norepinephrine activity. Neuropsychopharmacology 36, 896–909 (2011).

Curtis, A. L., Lechner, S. M., Pavcovich, L. A. & Valentino, R. J. Activation of the locus coeruleus noradrenergic system by intracoerulear microinfusion of corticotropin-releasing factor: effects on discharge rate, cortical norepinephrine levels and cortical electroencephalographic activity. J. Pharmacol. Exp. Ther. 281, 163–172 (1997).

Skirzewski, M. et al. ErbB4 signaling in dopaminergic axonal projections increases extracellular dopamine levels and regulates spatial/working memory behaviors. Mol. Psychiatry https://doi.org/10.1038/mp.2017.132 (2017).
Acknowledgements
We thank T. Davidson (Stanford University) for his assistance in the design of the fiber photometry system and G. Augustine (Lee Kong Chian School of Medicine, Singapore) for the SuperClomeleon plasmid. This work was supported by the NIMH Intramural Research Program (M.A.P.), NICHD Intramural Research Program (A.B.), and NIH Grant MH107460 (H.-B.K.).
Ethics declarations
Competing interests
The authors declare no competing interests.
Additional information
Publisher's note: Springer Nature remains neutral with regard to jurisdictional claims in published maps and institutional affiliations.
Integrated supplementary information
Supplementary information
Supplementary Figures 1–15
About this article
Cite this article
Beas, B.S., Wright, B.J., Skirzewski, M. et al. The locus coeruleus drives disinhibition in the midline thalamus via a dopaminergic mechanism. Nat Neurosci 21, 963–973 (2018). https://doi.org/10.1038/s41593-018-0167-4
Received:

Accepted:

Published:

Issue Date:

DOI: https://doi.org/10.1038/s41593-018-0167-4