Abstract
Circular RNAs (circRNAs) produced from back-spliced exons are widely expressed, but individual circRNA functions remain poorly understood owing to the lack of adequate methods for distinguishing circRNAs from cognate messenger RNAs with overlapping exons. Here, we report that CRISPR–RfxCas13d can effectively discriminate circRNAs from mRNAs by using guide RNAs targeting sequences spanning back-splicing junction (BSJ) sites featured in RNA circles. Using a lentiviral library that targets sequences across BSJ sites of highly expressed human circRNAs, we show that a group of circRNAs are important for cell growth mostly in a cell-type-specific manner and that a common oncogenic circRNA, circFAM120A, promotes cell proliferation by preventing the mRNA for family with sequence similarity 120A (FAM120A) from binding the translation inhibitor IGF2BP2. Further application of RfxCas13d–BSJ-gRNA screening has uncovered circMan1a2, which has regulatory potential in mouse embryo preimplantation development. Together, these results establish CRISPR–RfxCas13d as a useful tool for the discovery and functional study of circRNAs at both individual and large-scale levels.
Access options
Subscribe to Journal
Get full journal access for 1 year
$259.00
only $21.58 per issue
All prices are NET prices.
VAT will be added later in the checkout.
Rent or Buy article
Get time limited or full article access on ReadCube.
from$8.99
All prices are NET prices.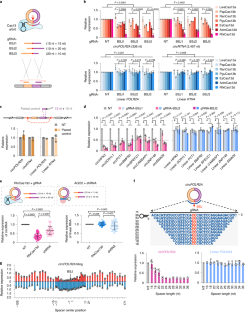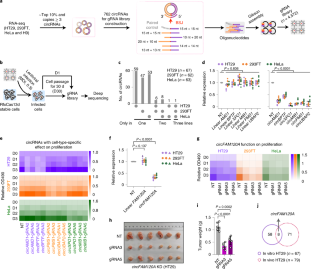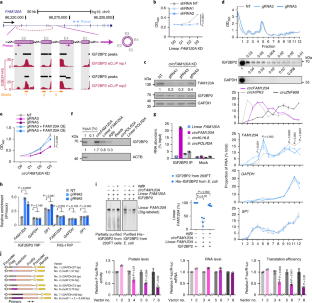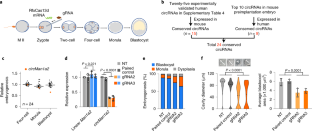 Data availability
All sequencing datasets have been deposited in NCBI GEO (GSE149690, GSE149691, and GSE149692) and National Omics Data Encyclopedia (OEP000887, OEP000888 and OEP000889). The total RNA sequences of human H9, FB and PA1 cell lines were downloaded from NCBI GEO (GSE73325). RNA-seq datasets of SH-SY5Y were downloaded from NCBI GEO (GSE65926). RNA-seq datasets of HepG2, K562 cell lines and 11 different human tissues were downloaded from ENCODE Project Consortium (https://www.encodeproject.org/). AGO2 PAR-CLIP and miRNA-seq datasets of HEK293 cells were downloaded from NCBI GEO (GSE43573 and GSE58127). IGF2BP2 of eCLIP–seq datasets in K562 cells was downloaded from NCBI GEO (GSE91445). The single-cell RNA-seq transcriptome datasets in mouse preimplantation embryos were from NCBI GEO (GSE53386). Source data are provided with this paper.
Code availability
The custom Perl and Shell scripts for the computational pipeline of Cas13d-mediated circRNA screen (CDCscreen) to identify negatively selected functional circular RNAs in this paper is available at https://github.com/YangLab/CDCscreen.
References
1.

Li, X., Yang, L. & Chen, L. L. The biogenesis, functions, and challenges of circular RNAs. Mol. Cell 71, 428–442 (2018).

2.

Chen, S. et al. Widespread and functional RNA circularization in localized prostate cancer. Cell 176, 831–843(2019).

3.

Guarnerio, J. et al. Oncogenic role of fusion-circRNAs derived from cancer-associated chromosomal translocations. Cell 166, 1055–1056 (2016).

4.

Legnini, I. et al. Circ-ZNF609 is a circular RNA that can be translated and functions in myogenesis. Mol. Cell 66, 22 (2017).

5.

Piwecka, M. et al. Loss of a mammalian circular RNA locus causes miRNA deregulation and affects brain function. Science 357, eaam8526 (2017).

6.

Zhang, Y. et al. The biogenesis of nascent circular RNAs. Cell Rep. 15, 611–624 (2016).

7.

Xia, P. et al. A circular RNA protects dormant hematopoietic stem cells from DNA sensor cGAS-mediated exhaustion. Immunity 48, 688–701 e687 (2018).

8.

Abudayyeh, O. O. et al. C2c2 is a single-component programmable RNA-guided RNA-targeting CRISPR effector. Science 353, aaf5573 (2016).

9.

East-Seletsky, A. et al. Two distinct RNase activities of CRISPR-C2c2 enable guide-RNA processing and RNA detection. Nature 538, 270–273 (2016).

10.

Shmakov, S. et al. Discovery and functional characterization of diverse class 2 CRISPR–Cas systems. Mol. Cell 60, 385–397 (2015).

11.

Konermann, S. et al. Transcriptome engineering with RNA-targeting type VI-D CRISPR effectors. Cell 173, 665–676 e614 (2018).

12.

Abudayyeh, O. O. et al. RNA targeting with CRISPR–Cas13. Nature 550, 280–284 (2017).

13.

Yan, W. X. et al. Cas13d Is a compact RNA-targeting type VI CRISPR effector positively modulated by a WYL-domain-containing accessory protein. Mol. Cell 70, 327 (2018).

14.

Cox, D. B. T. et al. RNA editing with CRISPR–Cas13. Science 358, 1019–1027 (2017).

15.

Hansen, T. B. et al. miRNA-dependent gene silencing involving Ago2-mediated cleavage of a circular antisense RNA. EMBO J. 30, 4414–4422 (2011).

16.

Chen, G. W., Shi, Y. T., Zhang, Y. & Sun, J. Y. CircRNA_100782 regulates pancreatic carcinoma proliferation through the IL6-STAT3 pathway. Onco. Targets Ther. 10, 5783–5794 (2017).

17.

Liu, C. X. et al. Structure and degradation of circular RNAs regulate PKR activation in innate immunity. Cell 177, 865–880 e821 (2019).

18.

Zhang, X. O. et al. Diverse alternative back-splicing and alternative splicing landscape of circular RNAs. Genome Res 26, 1277–1287 (2016).

19.

Li, W. et al. MAGeCK enables robust identification of essential genes from genome-scale CRISPR/Cas9 knockout screens. Genome Biol. 15, 554 (2014).

20.

Liu, S. J. et al. CRISPRi-based genome-scale identification of functional long noncoding RNA loci in human cells. Science 355, aah7111 (2017).

21.

Zheng, Q. P. et al. Circular RNA profiling reveals an abundant circHIPK3 that regulates cell growth by sponging multiple miRNAs. Nat. Commun. 7, 11215 (2016).

22.

Lee, M., Kim, E. J. & Jeon, M. J. MicroRNAs 125a and 125b inhibit ovarian cancer cells through post-transcriptional inactivation of EIF4EBP1. Oncotarget 7, 8726–8742 (2016).

23.

Mu, Y. C. et al. NUPR1 maintains autolysosomal efflux by activating SNAP25 transcription in cancer cells. Autophagy 14, 654–670 (2018).

24.

Vincent, E. E. et al. Mitochondrial phosphoenolpyruvate carboxykinase regulates metabolic adaptation and enables glucose-independent tumor growth. Mol. Cell 60, 195–207 (2015).

25.

Wallin, J. J. et al. Nuclear phospho-Akt increase predicts synergy of PI3K inhibition and doxorubicin in breast and ovarian cancer. Sci. Transl. Med. 2, 48ra66 (2010).

26.

Memczak, S. et al. Circular RNAs are a large class of animal RNAs with regulatory potency. Nature 495, 333–338 (2013).

27.

Bartolome, R. A. et al. IL13 receptor α2 signaling requires a scaffold protein, FAM120A, to activate the FAK and PI3K pathways in colon cancer metastasis. Cancer Res 75, 2434–2444 (2015).

28.

Li, Z. et al. An HMGA2–IGF2BP2 axis regulates myoblast proliferation and myogenesis. Dev. Cell 23, 1176–1188 (2012).

29.

Dai, N. et al. IGF2BP2/IMP2-deficient mice resist obesity through enhanced translation of Ucp1 mRNA and other mRNAs encoding mitochondrial proteins. Cell Metab. 21, 609–621 (2015).

30.

Huang, H. et al. Recognition of RNA N6-methyladenosine by IGF2BP proteins enhances mRNA stability and translation. Nat. Cell Biol. 20, 285–295 (2018).

31.

Zhou, C. et al. Genome-wide maps of m6A circRNAs identify widespread and cell-type-specific methylation patterns that are distinct from mRNAs. Cell Rep. 20, 2262–2276 (2017).

32.

Batista, P. J. et al. m6A RNA modification controls cell fate transition in mammalian embryonic stem cells. Cell Stem Cell 15, 707–719 (2014).

33.

Fan, X. et al. Single-cell RNA-seq transcriptome analysis of linear and circular RNAs in mouse preimplantation embryos. Genome Biol. 16, 148 (2015).

34.

Bultman, S. et al. A Brg1 null mutation in the mouse reveals functional differences among mammalian SWI/SNF complexes. Mol. Cell 6, 1287–1295 (2000).

35.

Bultman, S. J. et al. Maternal BRG1 regulates zygotic genome activation in the mouse. Genes Dev. 20, 1744–1754 (2006).

36.

Zhang, X. O. et al. Complementary sequence-mediated exon circularization. Cell 159, 134–147 (2014).

37.

Yin, Q. F. et al. Long noncoding RNAs with snoRNA ends. Mol. Cell 48, 219–230 (2012).

38.

Li, S. et al. Screening for circRNAs with functional potential using the RfxCas13d/gRNA library. Protocol Exchange https://doi.org/10.21203/rs.3.pex-1181/v1 (2020).

39.

Yang, L., Duff, M. O., Graveley, B. R., Carmichael, G. G. & Chen, L. L. Genomewide characterization of non-polyadenylated RNAs. Genome Biol. 12, R16 (2011).

40.

Wang, Y. et al. Genome-wide screening of NEAT1 regulators reveals cross-regulation between paraspeckles and mitochondria. Nat. Cell Biol. 20, 1145 (2018).

41.

Dong, R., Ma, X. K., Li, G. W. & Yang, L. CIRCpedia v2: an updated database for comprehensive circular RNA annotation and expression comparison. Genomics Proteom. Bioinforma. 16, 226–233 (2018).
Acknowledgements
We thank Chen and Yang laboratories for discussion. This work was supported by the Chinese Academy of Sciences (CAS) (XDB19020104), the National Natural Science Foundation of China (NSFC) (91940303, 31821004, 31725009) and the HHMI International Program (55008728) to L.-L.C. NSFC (31730111, 31925011, 91940306) to L.Y.; NSFC (31730062, 31821004) and the Shanghai Municipal Commission for Science and Technology (19411951800) to J.L.; NSFC (31801073) and the Youth Innovation Promotion Association CAS to W. X.
Ethics declarations
Competing interests
The authors declare no competing interests.
Additional information
Peer review information Nature Methods thanks the anonymous reviewers for their contribution to the peer review of this work. Lei Tang was the primary editor on this article and managed its editorial process and peer review in collaboration with the rest of the editorial team.
Publisher's note Springer Nature remains neutral with regard to jurisdictional claims in published maps and institutional affiliations.
Supplementary information
About this article
Cite this article
Li, S., Li, X., Xue, W. et al. Screening for functional circular RNAs using the CRISPR–Cas13 system. Nat Methods 18, 51–59 (2021). https://doi.org/10.1038/s41592-020-01011-4
Received:

Accepted:

Published:

Issue Date: