Abstract
In Alzheimer's disease, amyloid deposits along the brain vasculature lead to a condition known as cerebral amyloid angiopathy (CAA), which impairs blood–brain barrier (BBB) function and accelerates cognitive degeneration. Apolipoprotein (APOE4) is the strongest risk factor for CAA, yet the mechanisms underlying this genetic susceptibility are unknown. Here we developed an induced pluripotent stem cell-based three-dimensional model that recapitulates anatomical and physiological properties of the human BBB in vitro. Similarly to CAA, our in vitro BBB displayed significantly more amyloid accumulation in APOE4 compared to APOE3. Combinatorial experiments revealed that dysregulation of calcineurin–nuclear factor of activated T cells (NFAT) signaling and APOE in pericyte-like mural cells induces APOE4-associated CAA pathology. In the human brain, APOE and NFAT are selectively dysregulated in pericytes of APOE4 carriers, and inhibition of calcineurin–NFAT signaling reduces APOE4-associated CAA pathology in vitro and in vivo. Our study reveals the role of pericytes in APOE4-mediated CAA and highlights calcineurin–NFAT signaling as a therapeutic target in CAA and Alzheimer's disease.
Access options
Subscribe to Journal
Get full journal access for 1 year
$59.00
only $4.92 per issue
All prices are NET prices.
VAT will be added later in the checkout.
Tax calculation will be finalised during checkout.
Rent or Buy article
Get time limited or full article access on ReadCube.
from$8.99
All prices are NET prices.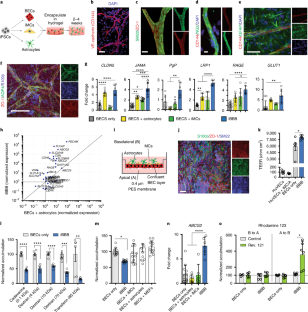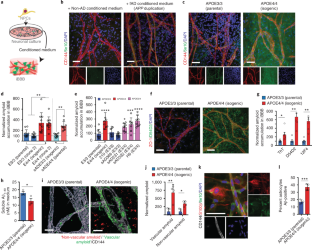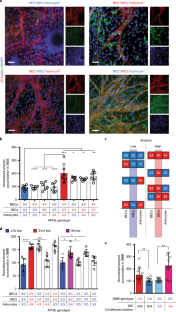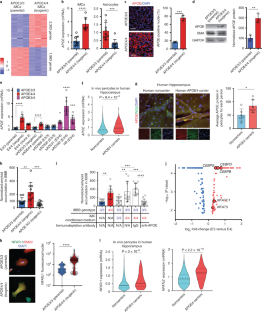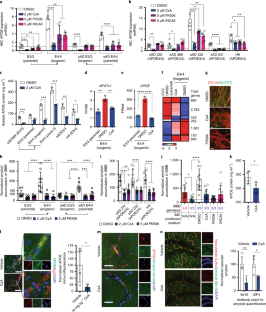 Data availability
All requests for raw and analyzed data and materials are promptly reviewed by the Massachusetts Institute of Technology, Technology Licensing Office to verify whether the request is subject to any intellectual property or confidentiality obligations. Patient-related data not included in the paper were generated as part of clinical trials and may be subject to patient confidentiality. Any data and materials that can be shared will be released via a Material Transfer Agreement. All raw and analyzed sequencing data can be found at the NCBI Sequence Read Archive (accession number: GSE125869).
References
1.

Andreone, B. J., Lacoste, B. & Gu, C. Neuronal and vascular interactions. Annu. Rev. Neurosci. 38, 25–46 (2015).

2.

Zlokovic, B. V. Neurovascular mechanisms of Alzheimer's neurodegeneration. Trends Neurosci. 28, 202–208 (2005).

3.

Iadecola, C. The neurovascular unit coming of age: a journey through neurovascular coupling in health and disease. Neuron 96, 17–42 (2017).

4.

Vemuri, P. et al. Vascular and amyloid pathologies are independent predictors of cognitive decline in normal elderly. Brain 138, 761–771 (2015).

5.

Ransohoff, R. M. How neuroinflammation contributes to neurodegeneration. Science 353, 777–783 (2016).

6.

Nation, D. A. et al. Blood–brain barrier breakdown is an early biomarker of human cognitive dysfunction. Nat. Med. 25, 270–276 (2019).

7.

Ringman, J. M. et al. Clinical predictors of severe cerebral amyloid angiopathy and influence of APOE Genotype in persons with pathologically verified Alzheimer disease. JAMA Neurol. 71, 878–883 (2014).

8.

Scheltens, P. & Goos, J. D. Dementia in 2011: microbleeds in dementia—singing a different ARIA. Nat. Rev. Neurol. 8, 68–70 (2012).

9.

Iadecola, C. The pathobiology of vascular dementia. Neuron 80, 844–866 (2013).

10.

Greenberg, S. M. et al. ϵ4 and cerebral hemorrhage associated with amyloid angiopathy. Ann. Neurol. 38, 254–259 (1995).

11.

Premkumar, D. R., Cohen, D. L., Hedera, P., Friedland, R. P. & Kalaria, R. N. Apolipoprotein E-epsilon4 alleles in cerebral amyloid angiopathy and cerebrovascular pathology associated with Alzheimer's disease. Am. J. Pathol. 148, 2083 (1996).

12.

Shinohara, M. et al. Impact of sex and APOE4 on cerebral amyloid angiopathy in Alzheimer's disease. Acta Neuropathol. 132, 225–234 (2016).

13.

Janzer, R. C. & Raff, M. C. Astrocytes induce blood–brain barrier properties in endothelial cells. Nature 325, 253–257 (1987).

14.

Armulik, A. et al. Pericytes regulate the blood–brain barrier. Nature 468, 557–561 (2010).

15.

Daneman, R., Zhou, L., Kebede, A. A. & Barres, B. A. Pericytes are required for blood–brain barrier integrity during embryogenesis. Nature 468, 562–566 (2010).

16.

Chow, B. W. & Gu, C. The molecular constituents of the blood–brain barrier. Trends Neurosci. 38, 598–608 (2015).

17.

Qian, T. et al. Directed differentiation of human pluripotent stem cells to blood–brain barrier endothelial cells. Sci. Adv. 3, e1701679 (2017).

18.

Patsch, C. et al. Generation of vascular endothelial and smooth muscle cells from human pluripotent stem cells. Nat. Cell Biol. 17, 994–1003 (2015).

19.

TCW, J. et al. An efficient platform for astrocyte differentiation from human induced pluripotent stem cells. Stem Cell Rep. 9, 600–614 (2017).

20.

Kumar, A. et al. Specification and diversification of pericytes and smooth muscle cells from mesenchymoangioblasts. Cell Rep. 19, 1902–1916 (2017).

21.

Armulik, A., Genové, G. & Betsholtz, C. Pericytes: developmental, physiological, and pathological perspectives, problems, and promises. Dev. Cell 21, 193–215 (2011).

22.

Attwell, D., Mishra, A., Hall, C. N., O'Farrell, F. M. & Dalkara, T. What is a pericyte?. J. Cereb. Blood Flow Metab. 36, 451–455 (2016).

23.

Vanlandewijck, M. et al. A molecular atlas of cell types and zonation in the brain vasculature. Nature 554, 475–480 (2018).

24.

He, L. et al. Single-cell RNA sequencing of mouse brain and lung vascular and vessel-associated cell types. Sci. Data 5, 180160 (2018).

25.

Bonomini, F., Francesca, B. & Rezzani, R. Aquaporin and blood–brain barrier. Curr. Neuropharmacol. 8, 92–96 (2010).

26.

Gautam, J., Zhang, X. & Yao, Y. The role of pericytic laminin in blood–brain barrier integrity maintenance. Sci. Rep. 6, 36450 (2016).

27.

O'Brown, N. M., Pfau, S. J. & Gu, C. Bridging barriers: a comparative look at the blood–brain barrier across organisms. Genes Dev. 32, 466–478 (2018).

28.

Urich, E., Lazic, S. E., Molnos, J., Wells, I. & Freskgård, P.-O. Transcriptional profiling of human brain endothelial cells reveals key properties crucial for predictive in vitro blood–brain barrier models. PLoS ONE 7, e38149 (2012).

29.

Zhao, Z., Nelson, A. R., Betsholtz, C. & Zlokovic, B. V. Establishment and dysfunction of the blood–brain barrier. Cell 163, 1064–1078 (2015).

30.

Strickland, L. A. et al. Plasmalemmal vesicle-associated protein (PLVAP) is expressed by tumour endothelium and is upregulated by vascular endothelial growth factor-A (VEGF). J. Pathol. 206, 466–475 (2005).

31.

Srinivasan, B. et al. TEER measurement techniques for in vitro barrier model systems. J. Lab. Autom. 20, 107–126 (2015).

32.

Deli, M. A., Ábrahám, C. S., Kataoka, Y. & Niwa, M. Permeability studies on in vitro blood–brain barrier models: physiology, pathology, and pharmacology. Cell Mol. Neurobiol. 25, 59–127 (2005).

33.

Seetharaman, S., Barrand, M. A., Maskell, L. & Scheper, R. J. Multidrug resistance-related transport proteins in isolated human brain microvessels and in cells cultured from these isolates. J. Neurochem. 70, 1151–1159 (1998).

34.

Zhang, Y. et al. An RNA-sequencing transcriptome and splicing database of glia, neurons, and vascular cells of the cerebral cortex. J. Neurosci. 34, 11929–11947 (2014).

35.

Israel, M. A. et al. Probing sporadic and familial Alzheimer's disease using induced pluripotent stem cells. Nature 482, 216–220 (2012).

36.

Chambers, S. M. et al. Combined small-molecule inhibition accelerates developmental timing and converts human pluripotent stem cells into nociceptors. Nat. Biotechnol. 30, 715–720 (2012).

37.

Shi, Y., Kirwan, P. & Livesey, F. J. Directed differentiation of human pluripotent stem cells to cerebral cortex neurons and neural networks. Nat. Protoc. 7, 1836–1846 (2012).

38.

Lin, Y. T. et al. APOE4 causes widespread molecular and cellular alterations associated with Alzheimer's disease phenotypes in human iPSC-derived brain cell types. Neuron 98, 1141–1154 (2018).

39.

Xu, Q. et al. Profile and regulation of apolipoprotein E (ApoE) expression in the CNS in mice with targeting of green fluorescent protein gene to the ApoE locus. J. Neurosci. 26, 4985–4994 (2006).

40.

Mathys, H. et al. Single-cell transcriptomic analysis of Alzheimer's disease. Nature 1, 1 (2019).

41.

Fryer, J. D. et al. Apolipoprotein E markedly facilitates age-dependent cerebral amyloid angiopathy and spontaneous hemorrhage in amyloid precursor protein transgenic mice. J. Neurosci. 23, 7889–7896 (2003).

42.

Kim, J. et al. Haploinsufficiency of human APOE reduces amyloid deposition in a mouse model of amyloid-β amyloidosis. J. Neurosci. 31, 18007–18012 (2011).

43.

Maloney, B., Ge, Y.-W., Alley, G. M. & Lahiri, D. K. Important differences between human and mouse APOE gene promoters: limitation of mouse APOE model in studying Alzheimer's disease. J. Neurochem. 103, 1237–1257 (2007).

44.

Reese, L. C. & Taglialatela, G. A role for calcineurin in Alzheimer's disease. Curr. Neuropharmacol. 9, 685–692 (2011).

45.

Gwack, Y. et al. A genome-wide Drosophila RNAi screen identifies DYRK-family kinases as regulators of NFAT. Nature 441, 646–650 (2006).

46.

Mulero, M. C., Aubareda, A., Schlüter, A. & Pérez-Riba, M. RCAN3, a novel calcineurin inhibitor that down-regulates NFAT-dependent cytokine gene expression. Biochim. Biophys. Acta 330–341, 2007 (1773).

47.

Lee, M. Y., Garvey, S. M., Ripley, M. L. & Wamhoff, B. R. Genome-wide microarray analyses identify the protein C receptor as a novel calcineurin/nuclear factor of activated T cells-dependent gene in vascular smooth muscle cell phenotypic modulation. Arterioscler. Thromb. Vasc. Biol. 31, 2665–2675 (2011).

48.

Orr, A. W., Hastings, N. E., Blackman, B. R. & Wamhoff, B. R. Complex regulation and function of the inflammatory smooth muscle cell phenotype in atherosclerosis. J. Vasc. Res. 47, 168–180 (2010).

49.

Kapturczak, M. H., Meier-Kriesche, H. U. & Kaplan, B. Pharmacology of calcineurin antagonists. Transplant. Proc. 36, 25S–32S (2004).

50.

Boroujerdi, A., Tigges, U., Welser-Alves, J. V. & Milner, R. in Cerebral Angiogenesis 383–392 (Humana Press, 2014).

51.

Stebbins, M. J. et al. Human pluripotent stem cell-derived brain pericyte-like cells induce blood–brain barrier properties. Sci. Adv. 5, eaau7375 (2019).

52.

Taglialatela, G., Rastellini, C. & Cicalese, L. Reduced incidence of dementia in solid organ transplant patients treated with calcineurin inhibitors. J. Alzheimers Dis. 47, 329–333 (2015).

53.

Dobin, A. et al. STAR: ultrafast universal RNA-seq aligner. Bioinformatics 29, 15–21 (2013).

54.

Liao, Y., Smyth, G. K., Bioinformatics, W. S. featureCounts: an efficient general purpose program for assigning sequence reads to genomic features. Bioinformatics. 7, 923–930 (2014).

55.

Trapnell, C. et al. Differential gene and transcript expression analysis of RNA-seq experiments with TopHat and Cufflinks. Nat. Protoc. 7, 562–578 (2012).

56.

Bennett, D. A. et al. Religious orders study and rush memory and aging project. J. Alzheimer's Dis. 64, S161–S189 (2018).

57.

Wang, J. et al. Gene expression distribution deconvolution in single-cell RNA sequencing. Proc. Natl Acad. Sci. USA 115, E6437–E6446 (2018).

58.

Boroujerdi, A. et al. Isolation and Culture of Primary Pericytes from Mouse Brain. Cerebral Angiogenesis. 383–392 (2014).
Acknowledgements
We thank J. Penny, W.C. Huang, Y.M. Yang and P. Narayan for critically reading the manuscript, J.Z. Young, J. Ray, V. Buggia-Prevot, C. Fernandez, the Neurodegenerative Consortium and all Tsai laboratory members for helpful discussions, A. Marco for expertise and support with microscopy, J. Seo for expertise and guidance with western blotting and Y. Zhou, E. McNamara, P. Curtis and T. Garvey for administrative support. This work was supported by The Neurodegeneration Consortium, the Belfer Family Foundation and the Oskar Fisher Project to L.-H.T., Cure Alzheimer's Fund to L.-H.T. and MK, RF1 AG062377 to L-HT and MK, RF1 AG048056. The National Institutes of Health Common Fund's Library of Integrated Network-based Cellular Signatures program by U54HG008097 to L.-H.T. and J. Jaffe (Broad Institute), P30AG10161, R01AG15819, R01AG17917, U0161356 to D.A.B., UG3NS115064 to L.-H.T. and J.W.B. M.B.V. is supported by the HHMI Hannah Gray Postdoctoral Fellowship. J.W.B. was supported in part by The Glenn Foundation for Medical Research and American Federation for Aging Research Postdoctoral Fellowship during this work.
Ethics declarations
Competing interests
L.-H. Tsai and J. Blanchard filed a patent application on the iBBB technology (PCT/US2020/014572). The authors declare no other competing interests.
Additional information
Peer review information Kate Gao was the primary editor on this article, and managed its editorial process and peer review in collaboration with the rest of the editorial team.
Publisher's note Springer Nature remains neutral with regard to jurisdictional claims in published maps and institutional affiliations.
Supplementary information
Source data
Unprocessed western blots.
Unprocessed western blots.
Unprocessed western blots.
About this article
Cite this article
Blanchard, J.W., Bula, M., Davila-Velderrain, J. et al. Reconstruction of the human blood–brain barrier in vitro reveals a pathogenic mechanism of APOE4 in pericytes. Nat Med 26, 952–963 (2020). https://doi.org/10.1038/s41591-020-0886-4
Received:

Accepted:

Published:

Issue Date: