Abstract
In the present study, we report a human-inherited, impaired, adaptive immunity disorder, which predominantly manifested as a B cell differentiation defect, caused by a heterozygous IKZF3 missense variant, resulting in a glycine-to-arginine replacement within the DNA-binding domain of the encoded AIOLOS protein. Using mice that bear the corresponding variant and recapitulate the B and T cell phenotypes, we show that the mutant AIOLOS homodimers and AIOLOS–IKAROS heterodimers did not bind the canonical AIOLOS–IKAROS DNA sequence. In addition, homodimers and heterodimers containing one mutant AIOLOS bound to genomic regions lacking both canonical motifs. However, the removal of the dimerization capacity from mutant AIOLOS restored B cell development. Hence, the adaptive immunity defect is caused by the AIOLOS variant hijacking IKAROS function. Heterodimeric interference is a new mechanism of autosomal dominance that causes inborn errors of immunity by impairing protein function via the mutation of its heterodimeric partner.
Access options
Subscribe to Journal
Get full journal access for 1 year
$59.00
only $4.92 per issue
All prices are NET prices.
VAT will be added later in the checkout.
Tax calculation will be finalised during checkout.
Rent or Buy article
Get time limited or full article access on ReadCube.
from$8.99
All prices are NET prices.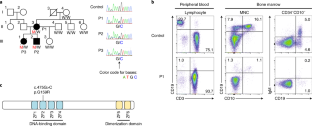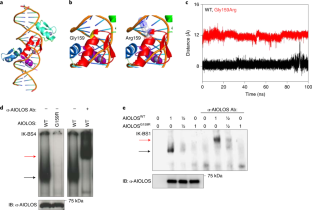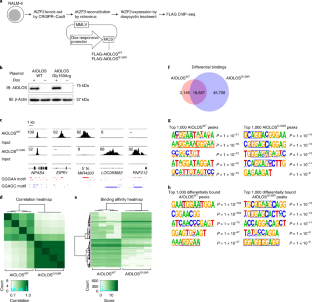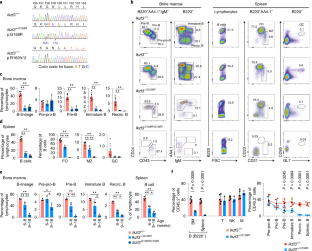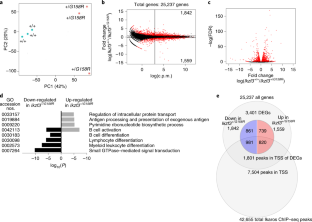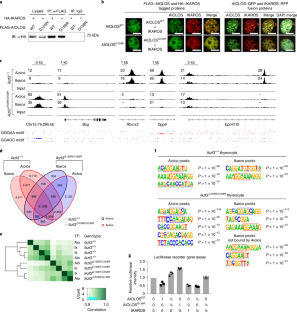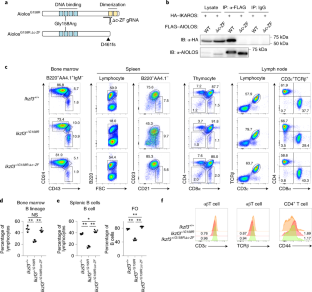 Data availability
Genome-wide reads were deposited at the Gene Expression Omnibus. They are accessible for analysis at accession no. GSE167487. Source data are provided with this paper.
References
1.

Tangye, S. G. et al. Human inborn errors of immunity: 2019 update on the classification from the International Union of Immunological Societies Expert Committee. J. Clin. Immunol. 40, 24–64 (2020).

2.

Angulo, I. et al. Phosphoinositide 3-kinase δ gene mutation predisposes to respiratory infection and airway damage. Science 342, 866–871 (2013).

3.

Lucas, C. L. et al. Dominant-activating germline mutations in the gene encoding the PI3K catalytic subunit p110δ result in T cell senescence and human immunodeficiency. Nat. Immunol. 15, 88–97 (2014).

4.

Liu, L. et al. Gain-of-function human STAT1 mutations impair IL-17 immunity and underlie chronic mucocutaneous candidiasis. J. Exp. Med. 208, 1635–1648 (2011).

5.

van de Veerdonk, F. L. et al. STAT1 mutations in autosomal dominant chronic mucocutaneous candidiasis. N. Engl. J. Med. 365, 54–61 (2011).

6.

Boutboul, D. et al. Dominant-negative IKZF1 mutations cause a T, B, and myeloid cell combined immunodeficiency. J. Clin. Invest. 128, 3071–3087 (2018).

7.

Minegishi, Y. et al. Dominant-negative mutations in the DNA-binding domain of STAT3 cause hyper-IgE syndrome. Nature 448, 1058–1062 (2007).

8.

Punwani, D. et al. Multisystem anomalies in severe combined immunodeficiency with mutant BCL11B. N. Engl. J. Med. 375, 2165–2176 (2016).

9.

Bogaert, D. J. et al. A novel IKAROS haploinsufficiency kindred with unexpectedly late and variable B-cell maturation defects. J. Allergy Clin. Immun. 141, 432–435.e7 (2018).

10.

Georgopoulos, K. et al. The Ikaros gene is required for the development of all lymphoid lineages. Cell 79, 143–156 (1994).

11.

Wang, J.-H. et al. Selective defects in the development of the fetal and adult lymphoid system in mice with an Ikaros null mutation. Immunity 5, 537–549 (1996).

12.

Schwickert, T. A. et al. Stage-specific control of early B cell development by the transcription factor Ikaros. Nat. Immunol. 15, 283–293 (2014).

13.

Kuehn, H. S. et al. Loss of B cells in patients with heterozygous mutations in IKAROS. N. Engl. J. Med. 374, 1032–1043 (2016).

14.

Hoshino, A. et al. Abnormal hematopoiesis and autoimmunity in human subjects with germline IKZF1 mutations. J. Allergy Clin. Immun. 140, 223–231 (2017).

15.

Yoshida, N. et al. Germline IKAROS mutation associated with primary immunodeficiency that progressed to T-cell acute lymphoblastic leukemia. Leukemia 31, 1221–1223 (2017).

16.

Nieuwenhove, E. V. et al. A kindred with mutant IKAROS and autoimmunity. J. Allergy Clin. Immun. 142, 699–702.e12 (2018).

17.

Eskandarian, Z. et al. Assessing the functional relevance of variants in the IKAROS family zinc finger protein 1 (IKZF1) in a cohort of patients with primary immunodeficiency. Front Immunol. 10, 568 (2019).

18.

Kuehn, H. S. et al. Germline IKAROS dimerization haploinsufficiency causes hematologic cytopenias and malignancies. Blood 137, 349–363 (2021).

19.

Mullighan, C. G. et al. Genome-wide analysis of genetic alterations in acute lymphoblastic leukaemia. Nature 446, 758–764 (2007).

20.

Mullighan, C. G. et al. Deletion of IKZF1 and prognosis in acute lymphoblastic leukemia. N. Engl. J. Med. 360, 470–480 (2009).

21.

Churchman, M. L. et al. Germline genetic IKZF1 variation and predisposition to childhood acute lymphoblastic leukemia. Cancer Cell 33, 937–948.e8 (2018).

22.

Wang, J.-H. et al. Aiolos regulates B cell activation and maturation to effector state. Immunity 9, 543–553 (1998).

23.

Morgan, B. et al. Aiolos, a lymphoid restricted transcription factor that interacts with Ikaros to regulate lymphocyte differentiation. EMBO J. 16, 2004–2013 (1997).

24.

Patel, A., Zhang, X., Blumenthal, R. M. & Cheng, X. Structural basis of human PR/SET domain 9 (PRDM9) allele C-specific recognition of its cognate DNA sequence. J. Biol. Chem. 292, 15994–16002 (2017).

25.

Cobb, B. S. et al. Targeting of Ikaros to pericentromeric heterochromatin by direct DNA binding. Gene Dev. 14, 2146–2160 (2000).

26.

Ott de Bruin, L. M., Volpi, S. & Musunuru, K. Novel genome-editing tools to model and correct primary immunodeficiencies. Front. Immunol. 6, 250 (2015).

27.

Hu, Y. et al. Superenhancer reprogramming drives a B-cell–epithelial transition and high-risk leukemia. Gene Dev. 30, 1971–1990 (2016).

28.

Prosser, J., Frommer, M., Paul, C. & Vincent, P. C. Sequence relationships of three human satellite DNAs. J. Mol. Biol. 187, 145–155 (1986).

29.

Zhang, J. et al. Harnessing of the nucleosome-remodeling-deacetylase complex controls lymphocyte development and prevents leukemogenesis. Nat. Immunol. 13, 86–94 (2012).

30.

Papathanasiou, P. et al. Widespread failure of hematolymphoid differentiation caused by a recessive niche-filling allele of the Ikaros transcription factor. Immunity 19, 131–144 (2003).

31.

Berman, H. M. et al. The Protein Data Bank. Nucleic Acids Res. 28, 235–242 (2000).

32.

Altschul, S. F., Gish, W., Miller, W., Myers, E. W. & Lipman, D. J. Basic local alignment search tool. J. Mol. Biol. 215, 403–410 (1990).

33.

Šali, A. & Blundell, T. L. Comparative protein modelling by satisfaction of spatial restraints. J. Mol. Biol. 234, 779–815 (1993).

34.

Shen, M. & Sali, A. Statistical potential for assessment and prediction of protein structures. Protein Sci. 15, 2507–2524 (2006).

35.

Case, D. A. et al. AMBER 14 (University of California, San Francisco, 2014); http://ambermd.org/doc12/Amber14.pdf

36.

Jorgensen, W. L., Chandrasekhar, J., Madura, J. D., Impey, R. W. & Klein, M. L. Comparison of simple potential functions for simulating liquid water. J. Chem. Phys. 79, 926–935 (1983).

37.

Maier, J. A. et al. ff14SB: improving the accuracy of protein side chain and backbone parameters from ff99SB. J. Chem. Theory Comput. 11, 3696–3713 (2015).

38.

Peters, M. B. et al. Structural survey of zinc-containing proteins and development of the Zinc AMBER Force Field (ZAFF). J. Chem. Theory Comput. 6, 2935–2947 (2010).

39.

Berendsen, H. J. C., Postma, J. P. M., van Gunsteren, W. F., DiNola, A. & Haak, J. R. Molecular dynamics with coupling to an external bath. J. Chem. Phys. 81, 3684–3690 (1984).

40.

Ryckaert, J.-P., Ciccotti, G. & Berendsen, H. J. C. Numerical integration of the cartesian equations of motion of a system with constraints: molecular dynamics of n-alkanes. J. Comput. Phys. 23, 327–341 (1977).

41.

Essmann, U. et al. A smooth particle mesh Ewald method. J. Chem. Phys. 103, 8577–8593 (1995).

42.

Humphrey, W., Dalke, A. & Schulten, K. VMD: visual molecular dynamics. J. Mol. Graph. 14, 33–38 (1996).

43.

Dobin, A. et al. STAR: ultrafast universal RNA-seq aligner. Bioinformatics 29, 15–21 (2013).

44.

Robinson, M. D., McCarthy, D. J. & Smyth, G. K. edgeR: a bioconductor package for differential expression analysis of digital gene expression data. Bioinformatics 26, 139–140 (2010).

45.

Yu, G., Wang, L.-G., Han, Y. & He, Q.-Y. clusterProfiler: an R package for comparing biological themes among gene clusters. Omics J. Integr. Biol. 16, 284–287 (2012).

46.

Kim, D., Langmead, B. & Salzberg, S. L. HISAT: a fast spliced aligner with low memory requirements. Nat. Methods 12, 357–360 (2015).

47.

Zhang, Y. et al. Model-based analysis of ChIP-Seq (MACS). Genome Biol. 9, R137 (2008).

48.

Stark, R. & Brown, G. DiffBind: Differential Binding Analysis of ChIP-Seq Peak Data v3.2.2 (Bioconductor, 2011); http://bioconductor.org/packages/release/bioc/html/DiffBind.html

49.

Heinz, S. et al. Simple combinations of lineage-determining transcription factors prime cis-regulatory elements required for macrophage and B cell identities. Mol. Cell 38, 576–589 (2010).
Acknowledgements
We thank members of I.T.'s laboratory for technical advice and discussions, Y. Iizuka for microinjection of RNA for genome editing in mice, H. Asahara and T. Chiba for the advice on genome editing in human cell lines, and P. Burrows for critical reading of the manuscript. We apologize to colleagues whose work we could not cite because of space restrictions. This work was supported by RIKEN IMS PID project (to I.T.), MEXT KAKENHI (no. JP18H02778 to T.M.) and Health Labour Sciences Research grant (no. 20FC1053 to T.M.), JSPS Grant-in-Aid for Young Scientists (no. JP20K16884 to M.Y.), JSPS Fund for the Promotion of Joint International Research (no. JP18KK0228 to S.O.), AMED The Practical Research Project for Rare/Intractable Diseases (to S.O.), JSPS KAKENHI (no. JP18H02395 to K.Y.J.Z.), JSPS research fellowship (to A.K.P.), and the National Institute of Allergy and Infectious Diseases (P01AI061093 to B.B. and J.-L.C.).
Ethics declarations
Competing interests
The authors declare no competing interests.
Additional information
Peer review information Nature Immunology thanks the anonymous reviewers for their contribution to the peer review of this work. Peer reviewer reports are available. L. A. Dempsey was the primary editor on this article and managed its editorial process and peer review in collaboration with the rest of the editorial team.
Publisher's note Springer Nature remains neutral with regard to jurisdictional claims in published maps and institutional affiliations.
Supplementary information
About this article
Cite this article
Yamashita, M., Kuehn, H.S., Okuyama, K. et al. A variant in human AIOLOS impairs adaptive immunity by interfering with IKAROS. Nat Immunol 22, 893–903 (2021). https://doi.org/10.1038/s41590-021-00951-z
Received:

Accepted:

Published:

Issue Date: