Abstract
Interleukin (IL)-17a has been highly conserved during evolution of the vertebrate immune system and widely studied in contexts of infection and autoimmunity. Studies suggest that IL-17a promotes behavioral changes in experimental models of autism and aggregation behavior in worms. Here, through a cellular and molecular characterization of meningeal γδ17 T cells, we defined the nearest central nervous system–associated source of IL-17a under homeostasis. Meningeal γδ T cells express high levels of the chemokine receptor CXCR6 and seed meninges shortly after birth. Physiological release of IL-17a by these cells was correlated with anxiety-like behavior in mice and was partially dependent on T cell receptor engagement and commensal-derived signals. IL-17a receptor was expressed in cortical glutamatergic neurons under steady state and its genetic deletion decreased anxiety-like behavior in mice. Our findings suggest that IL-17a production by meningeal γδ17 T cells represents an evolutionary bridge between this conserved anti-pathogen molecule and survival behavioral traits in vertebrates.
Relevant articles
Open Access articles citing this article.
Melanie Neutzner

,

Corina Kohler

…

Albert Neutzner

Fluids and Barriers of the CNS Open Access 06 February 2023

Huimin Jiang

,

Huimin Wei

…

Xunming Ji

Cell & Bioscience Open Access 17 December 2022

Sarah F. Rosen

,

Allison L. Soung

…

Robyn S. Klein

Genome Medicine Open Access 24 September 2022
Access options
Access Nature and 54 other Nature Portfolio journals
Get Nature+, our best-value online-access subscription
$29.99 per month
cancel any time
Subscribe to this journal
Receive 12 print issues and online access
$189.00 per year
only $15.75 per issue
Rent or buy this article
Get just this article for as long as you need it
$39.95
Prices may be subject to local taxes which are calculated during checkout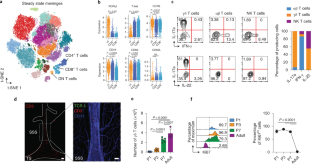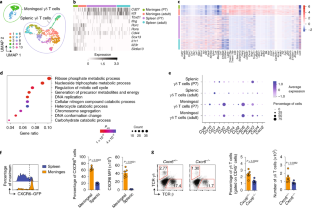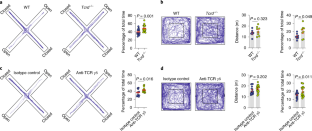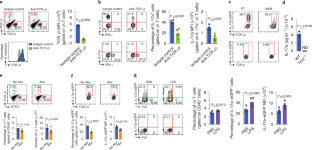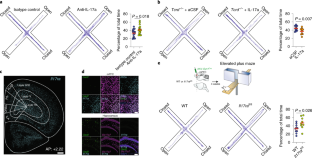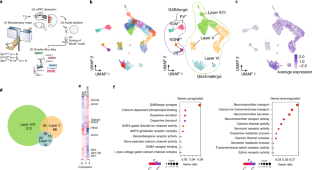 Data availability
FASTQ files and quantified gene counts for single-cell sequencing are available from the Gene Expression Omnibus under accession number GSE147262.
References
Miller, A. H. & Raison, C. L. The role of inflammation in depression: from evolutionary imperative to modern treatment target. Nat. Rev. Immunol. 16, 22–34 (2016).

Alves de Lima, K., Rustenhoven, J. & Kipnis, J. Meningeal immunity and its function in maintenance of the central nervous system in health and disease. Annu. Rev. Immunol. 38, 597–620 (2020).

Derecki, N. C. et al. Regulation of learning and memory by meningeal immunity: a key role for IL-4. J. Exp. Med. 207, 1067–1080 (2010).

Filiano, A. J. et al. Unexpected role of interferon-γ in regulating neuronal connectivity and social behaviour. Nature 535, 425–429 (2016).

Ribeiro, M. et al. Meningeal γδ T cell–derived IL-17 controls synaptic plasticity and short-term memory. Sci. Immunol. 4, eaay5199 (2019).

Van Hove, H. et al. A single-cell atlas of mouse brain macrophages reveals unique transcriptional identities shaped by ontogeny and tissue environment. Nat. Neurosci. 22, 1021–1035 (2019).

Vantourout, P. & Hayday, A. Six-of-the-best: unique contributions of γδ T cells to immunology. Nat. Rev. Immunol. 13, 88–100 (2013).

Zhou, Y. et al. Deletion of the γ-aminobutyric acid transporter 2 (GAT2 and SLC6A13) gene in mice leads to changes in liver and brain taurine contents. J. Biol. Chem. 287, 35733–35746 (2012).

Unutmaz, D. et al. The primate lentiviral receptor Bonzo/STRL33 is coordinately regulated with CCR5 and its expression pattern is conserved between human and mouse. J. Immunol. 165, 3284–3292 (2000).

Kipnis, J. Multifaceted interactions between adaptive immunity and the central nervous system. Science 353, 766–771 (2016).

Filiano, A. J., Gadani, S. P. & Kipnis, J. How and why do T cells and their derived cytokines affect the injured and healthy brain? Nat. Rev. Neurosci. 18, 375–384 (2017).

Calhoon, G. G. & Tye, K. M. Resolving the neural circuits of anxiety. Nat. Neurosci. 18, 1394–1404 (2015).

Griebel, G. & Holmes, A. 50 years of hurdles and hope in anxiolytic drug discovery. Nat. Rev. Drug Discov. 12, 667–687 (2013).

Louveau, A. et al. CNS lymphatic drainage and neuroinflammation are regulated by meningeal lymphatic vasculature. Nat. Neurosci. 21, 1380–1391 (2018).

Ringstad, G. & Eide, P. K. Cerebrospinal fluid tracer efflux to parasagittal dura in humans. Nat. Commun. 11, 354 (2020).

Koenecke, C. et al. In vivo application of mAb directed against the γδ TCR does not deplete but generates "invisible" γδ T cells. Eur. J. Immunol. 39, 372–379 (2009).

Louveau, A. et al. Structural and functional features of central nervous system lymphatic vessels. Nature 523, 337–341 (2015).

Nielsen, M. M., Witherden, D. A. & Havran, W. L. γδ T cells in homeostasis and host defence of epithelial barrier tissues. Nat. Rev. Immunol. 17, 733–745 (2017).

Heijtz, R. D. et al. Normal gut microbiota modulates brain development and behavior. Proc. Natl Acad. Sci. USA 108, 3047–3052 (2011).

Reed, M. D. et al. IL-17a promotes sociability in mouse models of neurodevelopmental disorders. Nature 577, 249–253 (2020).

Choi, G. B. et al. The maternal interleukin-17a pathway in mice promotes autism-like phenotypes in offspring. Science 351, 933–939 (2016).

Kohlgruber, A. C. et al. γδ T cells producing interleukin-17A regulate adipose regulatory T cell homeostasis and thermogenesis. Nat. Immunol. 19, 464–474 (2018).

Hu, B. et al. γδ T cells and adipocyte IL-17RC control fat innervation and thermogenesis. Nature 578, 610–614 (2020).

Chen, C. et al. IL-17 is a neuromodulator of Caenorhabditis elegans sensory responses. Nature 542, 43–48 (2017).

Ivanov, I. I. et al. Specific microbiota direct the differentiation of IL-17-producing T-helper cells in the mucosa of the small intestine. Cell Host Microbe 4, 337–349 (2008).

Da Mesquita, S. et al. Functional aspects of meningeal lymphatics in ageing and Alzheimer's disease. Nature 560, 185–191 (2018).

Stacher Hörndli, C. N. et al. Complex economic behavior patterns are constructed from finite, genetically controlled modules of behavior. Cell Rep. 28, 1814–1829.e6 (2019).

Schmidt, U., Weigert, M., Broaddus, C. & Myers, G. in Medical Image Computing and Computer Assisted Intervention – MICCAI 2018 Vol. 11071 (eds Frangi, A. F. et al.) 265–273 (Springer International Publishing, 2018).

Haase, R. et al. CLIJ: GPU-accelerated image processing for everyone. Nat. Methods 17, 5–6 (2020).

De Lima, K. A. et al. TGFβ1 signaling sustains aryl hydrocarbon receptor (AHR) expression and restrains the pathogenic potential of TH17 cells by an AHR-independent mechanism. Cell Death Dis. 9, 1130 (2018).

Nowicka, M. et al. CyTOF workflow: differential discovery in high-throughput high-dimensional cytometry datasets. F1000Res. 6, 748 (2019).

Spijker, S., Faliagkas, L. & Rao-Ruiz, P. in Neuroproteomics Vol. 146 (ed. Li, K. W.) 7–19 (Springer New York, 2019).

Lun, A. T. L. et al. EmptyDrops: distinguishing cells from empty droplets in droplet-based single-cell RNA sequencing data. Genome Biol. 20, 63 (2019).

Griffiths, J. A., Richard, A. C., Bach, K., Lun, A. T. L. & Marioni, J. C. Detection and removal of barcode swapping in single-cell RNA-seq data. Nat. Commun. 9, 2667 (2018).

Lun, A. T. L., McCarthy, D. J. & Marioni, J. C. A step-by-step workflow for low-level analysis of single-cell RNA-seq data with Bioconductor. F1000Res. 5, 2122 (2016).

McCarthy, D. J., Campbell, K. R., Lun, A. T. L. & Wills, Q. F. Scater: pre-processing, quality control, normalization and visualization of single-cell RNA-seq data in R. Bioinformatics 33, 1179–1186 (2017).

Butler, A., Hoffman, P., Smibert, P., Papalexi, E. & Satija, R. Integrating single-cell transcriptomic data across different conditions, technologies, and species. Nat. Biotechnol. 36, 411–420 (2018).

Yu, G., Wang, L.-G., Han, Y. & He, Q.-Y. clusterProfiler: an R package for comparing biological themes among gene clusters. OMICS Integr. Biol. 16, 284–287 (2012).

Yu, G., Wang, L.-G., Yan, G.-R. & He, Q.-Y. DOSE: an R/Bioconductor package for disease ontology semantic and enrichment analysis. Bioinformatics 31, 608–609 (2015).
Acknowledgements
We thank S. Smith for editing the manuscript, J. Sokolowski for help with the collection of human samples and M. Beenhakker for help with interpreting the electrophysiology studies. We thank all members of the Kipnis laboratory and members of the Center for Brain Immunology and Glia (BIG) for valuable comments during multiple discussions of this work. We also thank the UVA Flow Cytometry Core for help with cell sorting, the Genome Analysis and Technology Core for help with library preparation and sequencing, and J. Graham from the Virginia Commonwealth University School of Nursing for performing the Meso Scale Discovery assay. This work was supported by grants from the National Institutes of Health (MH108156, AT010416 and AG034113) to J.K.
Ethics declarations
Competing interests
J.K. is a member of a scientific advisory group for PureTech Health.
Additional information
Editor recognition statement Zoltan Fehervari was the primary editor on this article and managed its editorial process and peer review in collaboration with the rest of the editorial team.
Publisher's note Springer Nature remains neutral with regard to jurisdictional claims in published maps and institutional affiliations.
Supplementary information
Supplementary Tables 1–3.
About this article
Cite this article
Alves de Lima, K., Rustenhoven, J., Da Mesquita, S. et al. Meningeal γδ T cells regulate anxiety-like behavior via IL-17a signaling in neurons. Nat Immunol 21, 1421–1429 (2020). https://doi.org/10.1038/s41590-020-0776-4
Received:

Accepted:

Published:

Issue Date:

DOI: https://doi.org/10.1038/s41590-020-0776-4