Abstract
Immune-modulating therapies have revolutionized the treatment of chronic diseases, particularly cancer. However, their success is restricted and there is a need to identify new therapeutic targets. Here, we show that natural killer cell granule protein 7 (NKG7) is a regulator of lymphocyte granule exocytosis and downstream inflammation in a broad range of diseases. NKG7 expressed by CD4+ and CD8+ T cells played key roles in promoting inflammation during visceral leishmaniasis and malaria—two important parasitic diseases. Additionally, NKG7 expressed by natural killer cells was critical for controlling cancer initiation, growth and metastasis. NKG7 function in natural killer and CD8+ T cells was linked with their ability to regulate the translocation of CD107a to the cell surface and kill cellular targets, while NKG7 also had a major impact on CD4+ T cell activation following infection. Thus, we report a novel therapeutic target expressed on a range of immune cells with functions in different immune responses.
Access options
Subscribe to Journal
Get full journal access for 1 year
$59.00
only $4.92 per issue
All prices are NET prices.
VAT will be added later in the checkout.
Tax calculation will be finalised during checkout.
Rent or Buy article
Get time limited or full article access on ReadCube.
from$8.99
All prices are NET prices.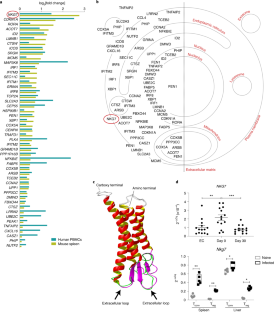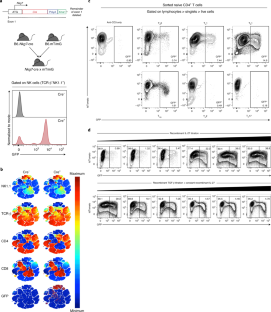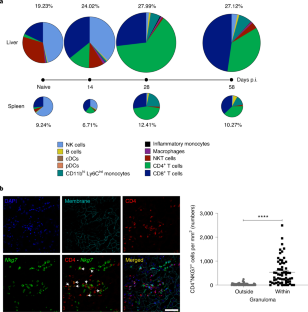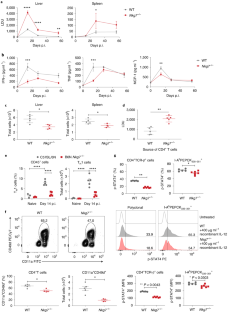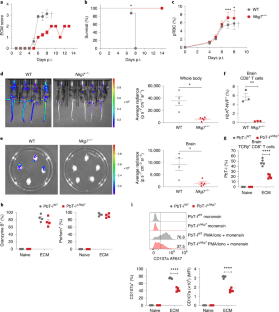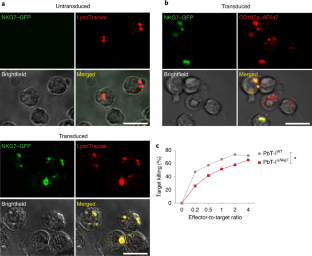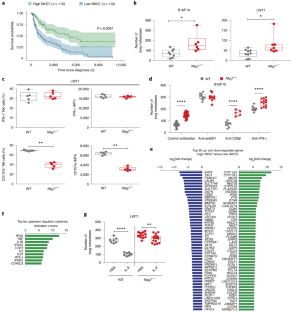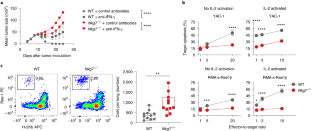 Data availability
The materials, data and any associated protocols that support the findings of this study are available from the corresponding author upon request. The RNA-seq and microarray data have been deposited in the NCBI Gene Expression Omnibus database (https://www.ncbi.nlm.nih.gov/geo/) with the accession codes GSE135965 (human RNA-seq data) and GSE135857 (mouse microarray data). The list of DEGs in CD4+ T cells isolated from PBMCs of patients with visceral leishmaniasis is available in Supplementary Table 1. Supplementary Table 2 contains the list of DEGs in liver CD4+ T cells of L. donovani-infected mice. Supplementary Table 3 contains the list of DEGs in splenic CD4+ T cells of L. donovani-infected mice.
References
1.

Netea, M. G. et al. A guiding map for inflammation. Nat. Immunol. 18, 826–831 (2017).

2.

Trapani, J. A. & Smyth, M. J. Functional significance of the perforin/granzyme cell death pathway. Nat. Rev. Immunol. 2, 735–747 (2002).

3.

Crawford, A. et al. Molecular and transcriptional basis of CD4+ T cell dysfunction during chronic infection. Immunity 40, 289–302 (2014).

4.

Topalian, S. L., Drake, C. G. & Pardoll, D. M. Immune checkpoint blockade: a common denominator approach to cancer therapy. Cancer Cell 27, 450–461 (2015).

5.

Wherry, E. J. et al. Molecular signature of CD8+ T cell exhaustion during chronic viral infection. Immunity 27, 670–684 (2007).

6.

Schett, G. & Neurath, M. F. Resolution of chronic inflammatory disease: universal and tissue-specific concepts. Nat. Commun. 9, 3261 (2018).

7.

Tubo, N. J. & Jenkins, M. K. CD4+ T cells: guardians of the phagosome. Clin. Microbiol. Rev. 27, 200–213 (2014).

8.

Engwerda, C. R., Ato, M. & Kaye, P. M. Macrophages, pathology and parasite persistence in experimental visceral leishmaniasis. Trends Parasitol. 20, 524–530 (2004).

9.

Miller, L. H., Baruch, D. I., Marsh, K. & Doumbo, O. K. The pathogenic basis of malaria. Nature 415, 673–679 (2002).

10.

Montes de Oca, M. et al. Blimp-1-dependent IL-10 production by Tr1 cells regulates TNF-mediated tissue pathology. PLoS Pathog. 12, e1005398 (2016).

11.

Bald, T. et al. Immune cell–poor melanomas benefit from PD-1 blockade after targeted type I IFN activation. Cancer Discov. 4, 674–687 (2014).

12.

O'Donnell, J. S., Teng, M. W. L. & Smyth, M. J. Cancer immunoediting and resistance to T cell-based immunotherapy. Nat. Rev. Clin. Oncol. 16, 151–167 (2019).

13.

Ayers, M. et al. IFN-γ-related mRNA profile predicts clinical response to PD-1 blockade. J. Clin. Invest. 127, 2930–2940 (2017).

14.

Fairfax, B. P. et al. Peripheral CD8+ T cell characteristics associated with durable responses to immune checkpoint blockade in patients with metastatic melanoma. Nat. Med. 26, 193–199 (2020).

15.

Ribas, A. & Wolchok, J. D. Cancer immunotherapy using checkpoint blockade. Science 359, 1350–1355 (2018).

16.

Turman, M. A., Yabe, T., McSherry, C., Bach, F. H. & Houchins, J. P. Characterization of a novel gene (NKG7) on human chromosome 19 that is expressed in natural killer cells and T cells. Hum. Immunol. 36, 34–40 (1993).

17.

Aschenbrenner, D. et al. An immunoregulatory and tissue-residency program modulated by c-MAF in human TH17 cells. Nat. Immunol. 19, 1126–1136 (2018).

18.

Engwerda, C. R. & Kaye, P. M. Organ-specific immune responses associated with infectious disease. Immunol. Today 21, 73–78 (2000).

19.

Engwerda, C. R., Ng, S. S. & Bunn, P. T. The regulation of CD4+ T cell responses during protozoan infections. Front. Immunol. 5, 498 (2014).

20.

Jenner, R. G. et al. The transcription factors T-bet and GATA-3 control alternative pathways of T-cell differentiation through a shared set of target genes. Proc. Natl Acad. Sci. USA 106, 17876–17881 (2009).

21.

Muzumdar, M. D., Tasic, B., Miyamichi, K., Li, L. & Luo, L. A global double-fluorescent Cre reporter mouse. Genesis 45, 593–605 (2007).

22.

Antignano, F. et al. Methyltransferase G9A regulates T cell differentiation during murine intestinal inflammation. J. Clin. Invest. 124, 1945–1955 (2014).

23.

Stumhofer, J. S. et al. Interleukins 27 and 6 induce STAT3-mediated T cell production of interleukin 10. Nat. Immunol. 8, 1363–1371 (2007).

24.

Stern, J. J., Oca, M. J., Rubin, B. Y., Anderson, S. L. & Murray, H. W. Role of L3T4+ and LyT-2+ cells in experimental visceral leishmaniasis. J. Immunol. 140, 3971–3977 (1988).

25.

Dickinson, M. E. et al. High-throughput discovery of novel developmental phenotypes. Nature 537, 508–514 (2016).

26.

Butler, N. S. et al. Therapeutic blockade of PD-L1 and LAG-3 rapidly clears established blood-stage Plasmodium infection. Nat. Immunol. 13, 188–195 (2011).

27.

Mou, Z. et al. Identification of broadly conserved cross-species protective Leishmania antigen and its responding CD4+ T cells. Sci. Transl. Med. 7, 310ra167 (2015).

28.

Engwerda, C., Belnoue, E., Gruner, A. C. & Renia, L. Experimental models of cerebral malaria. Curr. Top. Microbiol. Immunol. 297, 103–143 (2005).

29.

Amante, F. H. et al. Immune-mediated mechanisms of parasite tissue sequestration during experimental cerebral malaria. J. Immunol. 185, 3632–3642 (2010).

30.

Haque, A. et al. Granzyme B expression by CD8+ T cells is required for the development of experimental cerebral malaria. J. Immunol. 186, 6148–6156 (2011).

31.

Valencia-Hernandez, A. M. et al. A natural peptide antigen within the Plasmodium ribosomal protein RPL6 confers liver TRM cell-mediated immunity against malaria in mice. Cell Host Microbe 27, 950–962.e7 (2020).

32.

Lau, L. S. et al. CD8+ T cells from a novel T cell receptor transgenic mouse induce liver-stage immunity that can be boosted by blood-stage infection in rodent malaria. PLoS Pathog. 10, e1004135 (2014).

33.

Betts, M. R. et al. Sensitive and viable identification of antigen-specific CD8+ T cells by a flow cytometric assay for degranulation. J. Immunol. Methods 281, 65–78 (2003).

34.

Grulich, A. E., van Leeuwen, M. T., Falster, M. O. & Vajdic, C. M. Incidence of cancers in people with HIV/AIDS compared with immunosuppressed transplant recipients: a meta-analysis. Lancet 370, 59–67 (2007).

35.

Cursons, J. et al. A gene signature predicting natural killer cell infiltration and improved survival in melanoma patients. Cancer Immunol. Res. 7, 1162–1174 (2019).

36.

Smyth, M. J., Kelly, J. M., Baxter, A. G., Korner, H. & Sedgwick, J. D. An essential role for tumor necrosis factor in natural killer cell-mediated tumor rejection in the peritoneum. J. Exp. Med. 188, 1611–1619 (1998).

37.

Smyth, M. J., Crowe, N. Y. & Godfrey, D. I. NK cells and NKT cells collaborate in host protection from methylcholanthrene-induced fibrosarcoma. Int. Immunol. 13, 459–463 (2001).

38.

Hayakawa, Y. & Smyth, M. J. CD27 dissects mature NK cells into two subsets with distinct responsiveness and migratory capacity. J. Immunol. 176, 1517–1524 (2006).

39.

Street, S. E., Cretney, E. & Smyth, M. J. Perforin and interferon-γ activities independently control tumor initiation, growth, and metastasis. Blood 97, 192–197 (2001).

40.

Guillerey, C., Huntington, N. D. & Smyth, M. J. Targeting natural killer cells in cancer immunotherapy. Nat. Immunol. 17, 1025–1036 (2016).

41.

Cheuk, S. et al. CD49a expression defines tissue-resident CD8+ T cells poised for cytotoxic function in human skin. Immunity 46, 287–300 (2017).

42.

Medley, Q. G. et al. Characterization of GMP-17, a granule membrane protein that moves to the plasma membrane of natural killer cells following target cell recognition. Proc. Natl Acad. Sci. USA 93, 685–689 (1996).

43.

Krzewski, K., Gil-Krzewska, A., Nguyen, V., Peruzzi, G. & Coligan, J. E. LAMP1/CD107a is required for efficient perforin delivery to lytic granules and NK-cell cytotoxicity. Blood 121, 4672–4683 (2013).

44.

Moreira-Teixeira, L. et al. Mouse transcriptome reveals potential signatures of protection and pathogenesis in human tuberculosis. Nat. Immunol. 21, 464–476 (2020).

45.

Karwacz, K. et al. Critical role of IRF1 and BATF in forming chromatin landscape during type 1 regulatory cell differentiation. Nat. Immunol. 18, 412–421 (2017).

46.

Mombaerts, P. et al. RAG-1-deficient mice have no mature B and T lymphocytes. Cell 68, 869–877 (1992).

47.

Song, J. et al. A mouse model for the human pathogen Salmonella typhi. Cell Host Microbe 8, 369–376 (2010).

48.

Yang, H. et al. One-step generation of mice carrying reporter and conditional alleles by CRISPR/Cas-mediated genome engineering. Cell 154, 1370–1379 (2013).

49.

Hochheiser, K., Kueh, A. J., Gebhardt, T. & Herold, M. J. CRISPR/Cas9: a tool for immunological research. Eur. J. Immunol. 48, 576–583 (2018).

50.

Bradley, D. J. & Kirkley, J. Regulation of Leishmania populations within the host. I. The variable course of Leishmania donovani infections in mice. Clin. Exp. Immunol. 30, 119–129 (1977).

51.

Franke-Fayard, B. et al. Murine malaria parasite sequestration: CD36 is the major receptor, but cerebral pathology is unlinked to sequestration. Proc. Natl Acad. Sci. USA 102, 11468–11473 (2005).

52.

Putz, E. M. et al. NK cell heparanase controls tumor invasion and immune surveillance. J. Clin. Invest. 127, 2777–2788 (2017).

53.

Markey, K. A., Gartlan, K. H., Kuns, R. D., MacDonald, K. P. & Hill, G. R. Imaging the immunological synapse between dendritic cells and T cells. J. Immunol. Methods 423, 40–44 (2015).

54.

Du, P., Kibbe, W. A. & Lin, S. M. Lumi: a pipeline for processing Illumina microarray. Bioinformatics 24, 1547–1548 (2008).

55.

Ritchie, M. E. et al. Limma powers differential expression analyses for RNA-sequencing and microarray studies. Nucleic Acids Res. 43, e47 (2015).

56.

Schmittgen, T. D., Lee, E. J. & Jiang, J. High-throughput real-time PCR. Methods Mol. Biol. 429, 89–98 (2008).

57.

Gabrysova, L. et al. c-Maf controls immune responses by regulating disease-specific gene networks and repressing IL-2 in CD4+ T cells. Nat. Immunol. 19, 497–507 (2018).

58.

Chow, M. et al. NLRP3 suppresses NK cell–mediated responses to carcinogen-induced tumors and metastases. Cancer Res. 72, 5721–5732 (2012).

59.

Hayakawa, Y. et al. Cutting edge: tumor rejection mediated by NKG2D receptor–ligand interaction is dependent upon perforin. J. Immunol. 169, 5377–5381 (2002).

60.

Ferrari de Andrade, L. et al. Natural killer cells are essential for the ability of BRAF inhibitors to control BRAFV600E-mutant metastatic melanoma. Cancer Res. 74, 7298–7308 (2014).

61.

Gao, Y. et al. Tumor immunoevasion by the conversion of effector NK cells into type 1 innate lymphoid cells. Nat. Immunol. 18, 1004–1015 (2017).

62.

Young, A. et al. Co-inhibition of CD73 and A2AR adenosine signaling improves anti-tumor immune responses. Cancer Cell 30, 391–403 (2016).

63.

Yang, J. et al. The I-TASSER Suite: protein structure and function prediction. Nat. Methods 12, 7–8 (2015).

64.

Dobin, A. et al. STAR: ultrafast universal RNA-seq aligner. Bioinformatics 29, 15–21 (2013).

65.

Robinson, M. D., McCarthy, D. J. & Smyth, G. K. edgeR: a Bioconductor package for differential expression analysis of digital gene expression data. Bioinformatics 26, 139–140 (2010).

66.

Wagner, A. H. et al. DGIdb 2.0: mining clinically relevant drug–gene interactions. Nucleic Acids Res. 44, D1036–D1044 (2016).

67.

Eppig, J. T., Motenko, H., Richardson, J. E., Richards-Smith, B. & Smith, C. L. The International Mouse Strain Resource (IMSR): cataloging worldwide mouse and ES cell line resources. Mamm. Genome 26, 448–455 (2015).

68.

Ashburner, M. et al. Gene Ontology: tool for the unification of biology. The Gene Ontology Consortium. Nat. Genet. 25, 25–29 (2000).

69.

Huang da, W., Sherman, B. T. & Lempicki, R. A. Systematic and integrative analysis of large gene lists using DAVID bioinformatics resources. Nat. Protoc. 4, 44–57 (2009).

70.

Colaprico, A. et al. TCGAbiolinks: an R/Bioconductor package for integrative analysis of TCGA data. Nucleic Acids Res. 44, e71 (2016).
Acknowledgements
We thank the staff at the Kala-Azar Medical Research Centre (KAMRC), Muzaffarpur, India for help with the collection of blood samples, as well as patients and volunteers for allowing the use of blood samples. We thank staff at the QIMR Berghofer flow cytometry laboratory for assistance, and staff at the QIMR Berghofer animal facility for animal husbandry. We acknowledge the facilities, and the scientific and technical assistance of the MAGEC, Walter and Eliza Hall Institute of Medical Research. The MAGEC is supported by the Australian Phenomics Network (APN) and the APN is supported by the Australian government through the National Collaborative Research Infrastructure Strategy program. We thank the NIH tetramer facility (Atlanta, GA, United States) for production of the I-Ab-PEPCK335–351 tetramer used to detect L. donovani PEPCK-specific CD4+ T cells in these studies. This work was made possible through Queensland State Government funding and grants and fellowships from the National Health and Medical Research Council of Australia (NHMRC; grant numbers 1037304, 1058685, 1078671, 1132519, 1132975 and 1154265). Funding was also provided through a National Institutes of Health Tropical Medicine Research Centre (TMRC) grant (U19 AI074321), as well as Australian post-graduate awards through Griffith University's Institute of Glycomics and School of Natural Sciences to P.T.B. and S.S.N., respectively; a Dr. Mildred Scheel Stiftung für Krebsforschung scholarship from Deutsche Krebshilfe to M.B.; and an INSPIRE Faculty grant (LSBM-109/IF-14) provided by the Indian government Department of Science and Technology (DST), Banaras Hindu University and University Grants Commission (M-14-70) to R.K. B.S. was supported by a Junior Research Fellowship from the Indian Council of Medical Research.
Ethics declarations
Competing interests
The authors declare no competing interests.
Additional information
Peer review information Zoltan Fehervari was the primary editor on this article and managed its editorial process and peer review in collaboration with the rest of the editorial team.
Publisher's note Springer Nature remains neutral with regard to jurisdictional claims in published maps and institutional affiliations.
Supplementary information
Supplementary Fig. 1 and Supplementary Tables 1 and 5–7.
Supplementary Tables 2–5.
About this article
Cite this article
Ng, S.S., De Labastida Rivera, F., Yan, J. et al. The NK cell granule protein NKG7 regulates cytotoxic granule exocytosis and inflammation. Nat Immunol 21, 1205–1218 (2020). https://doi.org/10.1038/s41590-020-0758-6
Received:

Accepted:

Published:

Issue Date: