Abstract
Human immunodeficiency virus 1 (HIV-1) infection is associated with heightened inflammation and excess risk of cardiovascular disease, cancer and other complications. These pathologies persist despite antiretroviral therapy. In two independent cohorts, we found that innate lymphoid cells (ILCs) were depleted in the blood and gut of people with HIV-1, even with effective antiretroviral therapy. ILC depletion was associated with neutrophil infiltration of the gut lamina propria, type 1 interferon activation, increased microbial translocation and natural killer (NK) cell skewing towards an inflammatory state, with chromatin structure and phenotype typical of WNT transcription factor TCF7-dependent memory T cells. Cytokines that are elevated during acute HIV-1 infection reproduced the ILC and NK cell abnormalities ex vivo. These results show that inflammatory cytokines associated with HIV-1 infection irreversibly disrupt ILCs. This results in loss of gut epithelial integrity, microbial translocation and memory NK cells with heightened inflammatory potential, and explains the chronic inflammation in people with HIV-1.
Relevant articles
Open Access articles citing this article.
Qinglan Yang

,

Shuju Zhang

…

Youcai Deng

Immunologic Research Open Access 15 February 2022

Danfeng Lu

,

Jian-Bo Zhang

…

Yi-Qun Kuang

BMC Infectious Diseases Open Access 03 August 2021

Justin Harper

,

Nicolas Huot

…

Mirko Paiardini

Nature Communications Open Access 17 May 2021
Access options
Subscribe to Nature+
Get immediate online access to the entire Nature family of 50+ journals
Subscribe to Journal
Get full journal access for 1 year
$99.00
only $8.25 per issue
All prices are NET prices.
VAT will be added later in the checkout.
Tax calculation will be finalised during checkout.
Buy article
Get time limited or full article access on ReadCube.
$32.00
All prices are NET prices.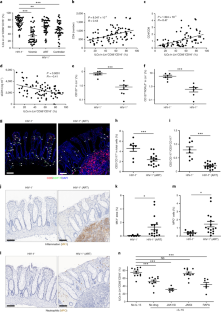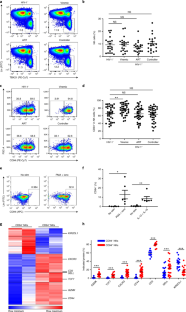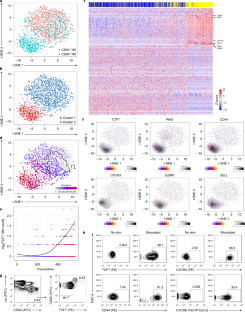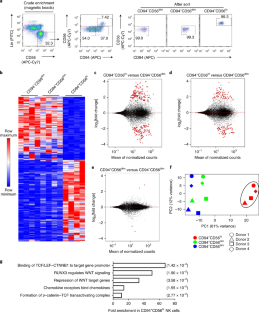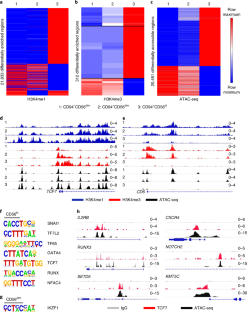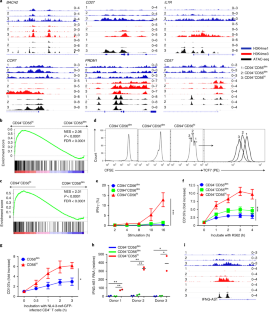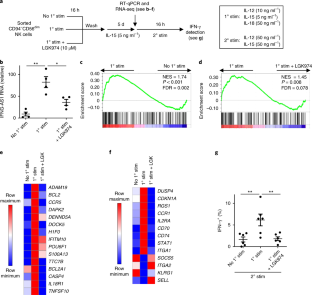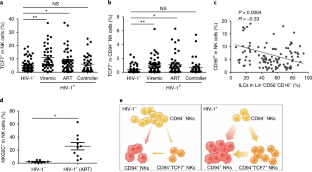 Data availability
The data that support the findings of this study are available within the manuscript and its Supplementary Information, and from the corresponding author upon request. Source data for Figs. 1, 2 and 6–8 and Extended Data Figs. 1–3 and 5–7 are provided with the paper. Bulk and single-cell RNA-seq, CUT&RUN and ATAC-seq datasets can be found under SuperSeries GSE122326 at https://www.ncbi.nlm.nih.gov/geo/query/acc.cgi?acc=GSE97727 (CD94– and CD94+ NK cell bulk and single-cell RNA-seq (GSE97727); CD94–CD56dim, CD94+CD56dim and CD94+CD56hi NK cell RNA-seq (GSE122324); CD94–CD56dim NK cells, 1° stim and 5-d culture RNA-seq (GSE122325); CD94–CD56dim, CD94+CD56dim and CD94+CD56hi NK cell ATAC-seq (GSE122548); and CD94–CD56dim, CD94+CD56dim and CD94+CD56hi NK cell CUT&RUN (GSE122549)).
References
Deeks, S. G., Tracy, R. & Douek, D. C. Systemic effects of inflammation on health during chronic HIV infection. Immunity 39, 633–645 (2013).

Brenchley, J. M. et al. Microbial translocation is a cause of systemic immune activation in chronic HIV infection. Nat. Med. 12, 1365–1371 (2006).

Vivier, E. et al. Innate lymphoid cells: 10 years on. Cell 174, 1054–1066 (2018).

Kløverpris, H. N. et al. Innate lymphoid cells are depleted irreversibly during acute HIV-1 infection in the absence of viral suppression. Immunity 44, 391–405 (2016).

Mudd, J. C. et al. Hallmarks of primate lentiviral immunodeficiency infection recapitulate loss of innate lymphoid cells. Nat. Commun. 9, 3967 (2018).

Bruel, T. et al. Elimination of HIV-1-infected cells by broadly neutralizing antibodies. Nat. Commun. 7, 10844 (2016).

Alter, G. et al. HIV-1 adaptation to NK-cell-mediated immune pressure. Nature 476, 96–100 (2011).

Cerwenka, A. & Lanier, L. L. Natural killer cell memory in infection, inflammation and cancer. Nat. Rev. Immunol. 16, 112–123 (2016).

Lim, A. I. et al. Systemic human ILC precursors provide a substrate for tissue ILC differentiation. Cell 168, 1086–1100.e10 (2017).

Colonna, M. Innate lymphoid cells: diversity, plasticity, and unique functions in immunity. Immunity 48, 1104–1117 (2018).

Mazzucchelli, R. & Durum, S. K. Interleukin-7 receptor expression: intelligent design. Nat. Rev. Immunol. 7, 144–154 (2007).

Leonard, W. J. & O'Shea, J. J. JAKS and STATs: biological implications. Annu. Rev. Immunol. 16, 293–322 (1998).

Mavilio, D. et al. Characterization of CD56–/CD16+ natural killer (NK) cells: a highly dysfunctional NK subset expanded in HIV-infected viremic individuals. Proc. Natl Acad. Sci. USA 102, 2886–2891 (2005).

Fang, M. et al. CD94 is essential for NK cell-mediated resistance to a lethal viral disease. Immunity 34, 579–589 (2011).

Jeevan-Raj, B. et al. The transcription factor Tcf1 contributes to normal NK cell development and function by limiting the expression of granzymes. Cell Rep. 20, 613–626 (2017).

Wendel, M., Galani, I. E., Suri-Payer, E. & Cerwenka, A. Natural killer cell accumulation in tumors is dependent on IFN-γ and CXCR3 ligands. Cancer Res. 68, 8437–8445 (2008).

Sconocchia, G., Titus, J. A. & Segal, D. M. Signaling pathways regulating CD44-dependent cytolysis in natural killer cells. Blood 90, 716–725 (1997).

Liu, L. L. et al. Critical role of CD2 co-stimulation in adaptive natural killer cell responses revealed in NKG2C-deficient humans. Cell Rep. 15, 1088–1099 (2016).

Juelke, K. et al. CD62L expression identifies a unique subset of polyfunctional CD56dim NK cells. Blood 116, 1299–1307 (2010).

Gazit, R. et al. Expression of KIR2DL1 on the entire NK cell population: a possible novel immunodeficiency syndrome. Blood 103, 1965–1966 (2004).

Klein, A. M. et al. Droplet barcoding for single-cell transcriptomics applied to embryonic stem cells. Cell 161, 1187–1201 (2015).

Tibshirani, R. & Walther, G. Cluster validation by prediction strength. J. Comput. Graph. Stat. 14, 511–528 (2005).

Trapnell, C. et al. The dynamics and regulators of cell fate decisions are revealed by pseudotemporal ordering of single cells. Nat. Biotechnol. 32, 381–386 (2014).

Utzschneider, D. T. et al. T cell factor 1-expressing memory-like CD8+ T cells sustain the immune response to chronic viral infections. Immunity 45, 415–427 (2016).

Jeannet, G. et al. Essential role of the Wnt pathway effector Tcf-1 for the establishment of functional CD8 T cell memory. Proc. Natl Acad. Sci. USA 107, 9777–9782 (2010).

Yang, Q. et al. TCF-1 upregulation identifies early innate lymphoid progenitors in the bone marrow. Nat. Immunol. 16, 1044–1050 (2015).

Aksoy, I. et al. Self-renewal of murine embryonic stem cells is supported by the serine/threonine kinases Pim-1 and Pim-3. Stem Cells 25, 2996–3004 (2007).

Baaten, B. J. G. et al. CD44 regulates survival and memory development in Th1 cells. Immunity 32, 104–115 (2010).

Weng, N.-P., Araki, Y. & Subedi, K. The molecular basis of the memory T cell response: differential gene expression and its epigenetic regulation. Nat. Rev. Immunol. 12, 306–315 (2012).

Moretta, L. Dissecting CD56dim human NK cells. Blood 116, 3689–3691 (2010).

Paust, S. et al. Critical role for the chemokine receptor CXCR6 in NK cell-mediated antigen-specific memory of haptens and viruses. Nat. Immunol. 11, 1127–1135 (2010).

Roychoudhuri, R. et al. BACH2 regulates CD8+ T cell differentiation by controlling access of AP-1 factors to enhancers. Nat. Immunol. 17, 851–860 (2016).

Shin, H. M. et al. Epigenetic modifications induced by Blimp-1 regulate CD8+ T cell memory progression during acute virus infection. Immunity 39, 661–675 (2013).

Kamimura, Y. & Lanier, L. L. Homeostatic control of memory cell progenitors in the natural killer cell lineage. Cell Rep. 10, 280–291 (2015).

Brenchley, J. M. et al. Expression of CD57 defines replicative senescence and antigen-induced apoptotic death of CD8+ T cells. Blood 101, 2711–2720 (2003).

Wherry, E. J. et al. Molecular signature of CD8+ T cell exhaustion during chronic viral infection. Immunity 27, 670–684 (2007).

Lin, W.-H. W. et al. CD8+ T lymphocyte self-renewal during effector cell determination. Cell Rep. 17, 1773–1782 (2016).

Vigneau, S., Rohrlich, P.-S., Brahic, M. & Bureau, J.-F. Tmevpg1, a candidate gene for the control of Theiler's virus persistence, could be implicated in the regulation of gamma interferon. J. Virol. 77, 5632–5638 (2003).

Gomez, J. A. et al. The NeST long ncRNA controls microbial susceptibility and epigenetic activation of the interferon-γ locus. Cell 152, 743–754 (2013).

Walker, W., Aste-Amezaga, M., Kastelein, R. A., Trinchieri, G. & Hunter, C. A. IL-18 and CD28 use distinct molecular mechanisms to enhance NK cell production of IL-12-induced IFN-γ. J. Immunol. 162, 5894–5901 (1999).

Schoenborn, J. R. & Wilson, C. B. Regulation of interferon‐γ during innate and adaptive immune responses. Adv. Immunol. 96, 41–101 (2007).

Björkström, N. K. et al. Expression patterns of NKG2A, KIR, and CD57 define a process of CD56dim NK-cell differentiation uncoupled from NK-cell education. Blood 116, 3853–3864 (2010).

Romee, R. et al. Cytokine activation induces human memory-like NK cells. Blood 120, 4751–4760 (2012).

Cooper, M. A. et al. Cytokine-induced memory-like natural killer cells. Proc. Natl Acad. Sci. USA 106, 1915–1919 (2009).

Henning, A. N., Roychoudhuri, R. & Restifo, N. P. Epigenetic control of CD8+ T cell differentiation. Nat. Rev. Immunol. 18, 340–356 (2018).

Hu, G. & Chen, J. A genome-wide regulatory network identifies key transcription factors for memory CD8+ T-cell development. Nat. Commun. 4, 2830 (2013).

O'Sullivan, T. E., Sun, J. C. & Lanier, L. L. Natural killer cell memory. Immunity 43, 634–645 (2015).

Xing, S. et al. Tcf1 and Lef1 transcription factors establish CD8+ T cell identity through intrinsic HDAC activity. Nat. Immunol. 17, 695–703 (2016).

Thomas, R. et al. NKG2C deletion is a risk factor of HIV infection. AIDS Res. Hum. Retroviruses 28, 844–851 (2012).

Fregni, G. et al. High number of CD56bright NK-cells and persistently low CD4+ T-cells in a hemophiliac HIV/HCV co-infected patient without opportunistic infections. Virol. J. 10, 33 (2013).

Davis, Z. B. et al. A conserved HIV-1-derived peptide presented by HLA-E renders infected T-cells highly susceptible to attack by NKG2A/CD94-bearing natural killer cells. PLoS Pathog. 12, e1005421 (2016).

Neri, S., Mariani, E., Meneghetti, A., Cattini, L. & Facchini, A. Calcein-acetyoxymethyl cytotoxicity assay: standardization of a method allowing additional analyses on recovered effector cells and supernatants. Clin. Diagn. Lab. Immunol. 8, 1131–1135 (2001).

Pertel, T. et al. TRIM5 is an innate immune sensor for the retrovirus capsid lattice. Nature 472, 361–365 (2011).

Poli, A. et al. CD56bright natural killer (NK) cells: an important NK cell subset. Immunology 126, 458–465 (2009).

Hashimshony, T. et al. CEL-Seq2: sensitive highly-multiplexed single-cell RNA-Seq. Genome Biol. 17, 77 (2016).

Skene, P. J. & Henikoff, S. An efficient targeted nuclease strategy for high-resolution mapping of DNA binding sites. Elife 6, e21856 (2017).

Hainer, S. J., Boskovic, A., Rando, O. J. & Fazzio, T. G. Profiling of pluripotency factors in individual stem cells and early embryos. Cell 177, 1319–1329.e11 (2019).

Skene, P. J., Henikoff, J. G. & Henikoff, S. Targeted in situ genome-wide profiling with high efficiency for low cell numbers. Nat. Protoc. 13, 1006–1019 (2018).

Buenrostro, J. D., Wu, B., Chang, H. Y. & Greenleaf, W. J. ATAC-Seq: a method for assaying chromatin accessibility genome-wide. Curr. Protoc. Mol. Biol. 109, 21.29.1–21.29.9 (2015).

Buenrostro, J. D., Giresi, P. G., Zaba, L. C., Chang, H. Y. & Greenleaf, W. J. Transposition of native chromatin for fast and sensitive epigenomic profiling of open chromatin, DNA-binding proteins and nucleosome position. Nat. Methods 10, 1213–1218 (2013).

Kim, D. et al. TopHat2: accurate alignment of transcriptomes in the presence of insertions, deletions and gene fusions. Genome Biol. 14, R36 (2013).

Derr, A. et al. End Sequence Analysis Toolkit (ESAT) expands the extractable information from single-cell RNA-Seq data. Genome Res. 26, 1397–1410 (2016).

Love, M., Anders, S. & Huber, W. Differential analysis of count data—the DESeq2 package. Genome Biol. 15, 550 (2014).

Robinson, M. D. & Oshlack, A. A scaling normalization method for differential expression analysis of RNA-seq data. Genome Biol. 11, R25 (2010).

Hyvärinen, A. & Oja, E. Independent component analysis: algorithms and applications. Neural Netw. 13, 411–430 (2000).

Hechenbichler, K. & Schliep, K. Weighted k-Nearest-Neighbor Techniques and Ordinal Classification Discussion Paper 399 (Ludwig-Maximilians-Universität München Collaborative Reseach Center 386, 2004).

Robinson, M. D., McCarthy, D. J. & Smyth, G. K. edgeR: a Bioconductor package for differential expression analysis of digital gene expression data. Bioinformatics 26, 139–140 (2010).

Van Der Maaten, L. Accelerating t-SNE using tree-based algorithms. J. Mach. Learn. Res. 15, 3221–3245 (2014).

Zhang, Y. et al. Model-based analysis of ChIP-Seq (MACS). Genome Biol. 9, R137 (2008).

Robinson, J. T. et al. Integrative genomics viewer. Nat. Biotechnol. 29, 24–26 (2011).
Acknowledgements
We thank the study participants who provided blood and colon biopsy samples, as well as their caretakers, J. Daly, S. Cheeseman and M. Wessolossky of the UMMS. C. Mannarino, A. Foley, M. McManus (UMMS) and M. Krone (UCSF) provided Institutional Review Board regulatory assistance, sample preparation and record keeping. K. Luzuriaga (UMMS) supported the patient sample database and repository. A. Ratner, S. Boswell and A. Klein (Harvard Medical School) contributed technical assistance and barcoded hydrogel beads. T. Fazzio and T. Wu provided technical support and protein A-MNase for CUT&RUN. D. Artis, L. Berg, M. Colonna, J. Huh, J. Kang, R. Rutishauser and S. Swain offered invaluable advice. This research was supported by NIH grants U01HG007910 (to M.G. and J.L.), R37AI147868 (to J.L.), R01AI111809 (to J.L.), DP1DA034990 (to J.L.), R21AI119885 (to M.G.), R01DK105837 (to M.G.) and P51OD01192 (to J.D.E. at the Oregon National Primate Research Center), and the Translational Medicine Core of the University of Massachusetts Center for AIDS Research (P30 AI042845). The UCSF-based SCOPE cohort was supported by the UCSF/Gladstone Institute of Virology and Immunology CFAR (P30 AI027763) and the CFAR Network of Integrated Systems (R24 AI067039). Additional support was provided by the Delaney AIDS Research Enterprise (AI096109 and AI127966). Funding for this study was provided in part by the Division of Intramural Research/NIAID/NIH (to J.M.B.). The content of this publication does not necessarily reflect the views or policies of DHHS, nor does the mention of trade names, commercial products, or organizations imply endorsement by the US Government.
Ethics declarations
Competing interests
The authors declare no competing interests.
Additional information
Peer review information Zoltan Fehervari was the primary editor on this article and managed its editorial process and peer review in collaboration with the rest of the editorial team.
Publisher's note Springer Nature remains neutral with regard to jurisdictional claims in published maps and institutional affiliations.
Supplementary information
Supplementary Tables 1–10.
About this article
Cite this article
Wang, Y., Lifshitz, L., Gellatly, K. et al. HIV-1-induced cytokines deplete homeostatic innate lymphoid cells and expand TCF7-dependent memory NK cells. Nat Immunol 21, 274–286 (2020). https://doi.org/10.1038/s41590-020-0593-9
Received:

Accepted:

Published:

Issue Date:

DOI: https://doi.org/10.1038/s41590-020-0593-9