Abstract
Interferon-λ (IFN-λ) acts on mucosal epithelial cells and thereby confers direct antiviral protection. In contrast, the role of IFN-λ in adaptive immunity is far less clear. Here, we report that mice deficient in IFN-λ signaling exhibited impaired CD8+ T cell and antibody responses after infection with a live-attenuated influenza virus. Virus-induced release of IFN-λ triggered the synthesis of thymic stromal lymphopoietin (TSLP) by M cells in the upper airways that, in turn, stimulated migratory dendritic cells and boosted antigen-dependent germinal center reactions in draining lymph nodes. The IFN-λ–TSLP axis also boosted production of the immunoglobulins IgG1 and IgA after intranasal immunization with influenza virus subunit vaccines and improved survival of mice after challenge with virulent influenza viruses. IFN-λ did not influence the efficacy of vaccines applied by subcutaneous or intraperitoneal routes, indicating that IFN-λ plays a vital role in potentiating adaptive immune responses that initiate at mucosal surfaces.
Access options
Subscribe to Journal
Get full journal access for 1 year
$209.00
only $17.42 per issue
All prices are NET prices.
VAT will be added later in the checkout.
Rent or Buy article
Get time limited or full article access on ReadCube.
from$8.99
All prices are NET prices.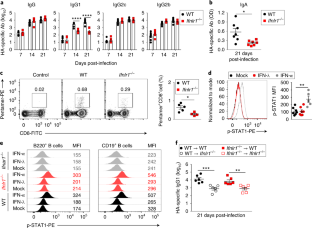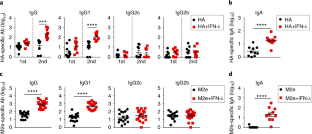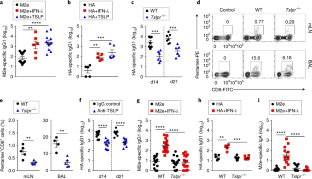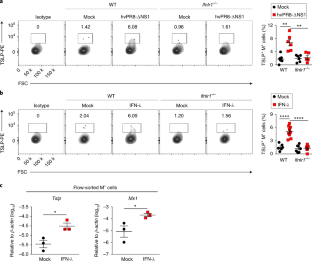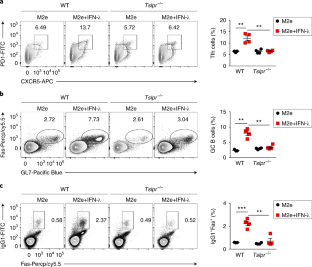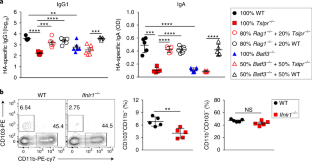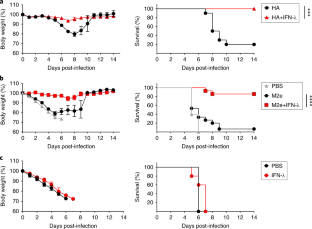 Data availability
The data that support the findings of this study are available from the corresponding author upon request.
References
1.

Crotta, S. et al. Type I and type III interferons drive redundant amplification loops to induce a transcriptional signature in influenza-infected airway epithelia. PLoS Pathog. 9, e1003773 (2013).

2.

Wack, A., Terczynska-Dyla, E. & Hartmann, R. Guarding the frontiers: the biology of type III interferons. Nat. Immunol. 16, 802–809 (2015).

3.

Lazear, H. M., Nice, T. J. & Diamond, M. S. Interferon-lambda: immune functions at barrier surfaces and beyond. Immunity 43, 15–28 (2015).

4.

Sommereyns, C., Paul, S., Staeheli, P. & Michiels, T. IFN-lambda (IFN-lambda) is expressed in a tissue-dependent fashion and primarily acts on epithelial cells in vivo. PLoS Pathog. 4, e1000017 (2008).

5.

Blazek, K. et al. IFN-lambda resolves inflammation via suppression of neutrophil infiltration and IL-1beta production. J. Exp. Med. 212, 845–853 (2015).

6.

Broggi, A., Tan, Y., Granucci, F. & Zanoni, I. IFN-lambda suppresses intestinal inflammation by non-translational regulation of neutrophil function. Nat. Immunol. 18, 1084–1093 (2017).

7.

de Groen, R. A., Groothuismink, Z. M., Liu, B. S. & Boonstra, A. IFN-lambda is able to augment TLR-mediated activation and subsequent function of primary human B cells. J. Leukoc. Biol. 98, 623–630 (2015).

8.

Espinoza, V. et al. Type III interferon is a critical regulator of innate antifungal immunity. Sci. Immunol. 2, eaan5357 (2017).

9.

Galani, I. E. et al. Interferon-lambda mediates non-redundant front-line antiviral protection against influenza virus infection without compromising host fitness. Immunity 46, 875–890 e876 (2017).

10.

Mordstein, M. et al. Lambda interferon renders epithelial cells of the respiratory and gastrointestinal tracts resistant to viral infections. J. Virol. 84, 5670–5677 (2010).

11.

Hernandez, P. P. et al. Interferon-lambda and interleukin 22 act synergistically for the induction of interferon-stimulated genes and control of rotavirus infection. Nat. Immunol. 16, 698–707 (2015).

12.

Mahlakoiv, T., Hernandez, P., Gronke, K., Diefenbach, A. & Staeheli, P. Leukocyte-derived IFN-alpha/beta and epithelial IFN-lambda constitute a compartmentalized mucosal defense system that restricts enteric virus infections. PLoS Pathog. 11, e1004782 (2015).

13.

Pott, J. et al. IFN-lambda determines the intestinal epithelial antiviral host defense. Proc. Natl Acad. Sci. USA 108, 7944–7949 (2011).

14.

Egli, A. et al. IL-28B is a key regulator of B- and T-cell vaccine responses against influenza. PLoS Pathog. 10, e1004556 (2014).

15.

Morrow, M. P. et al. Comparative ability of IL-12 and IL-28B to regulate Treg populations and enhance adaptive cellular immunity. Blood 113, 5868–5877 (2009).

16.

Zhou, Y. et al. Optimized DNA vaccine enhanced by adjuvant IL28B induces protective immune responses against herpes simplex virus type 2 in mice. Viral Immunol. 30, 601–614 (2017).

17.

Ferko, B. et al. Immunogenicity and protection efficacy of replication-deficient influenza A viruses with altered NS1 genes. J. Virol. 78, 13037–13045 (2004).

18.

Kochs, G. et al. Strong interferon-inducing capacity of a highly virulent variant of influenza A virus strain PR8 with deletions in the NS1 gene. J. Gen. Virol. 90, 2990–2994 (2009).

19.

Ank, N. et al. An important role for type III interferon (IFN-lambda/IL-28) in TLR-induced antiviral activity. J. Immunol. 180, 2474–2485 (2008).

20.

Dellgren, C., Gad, H. H., Hamming, O. J., Melchjorsen, J. & Hartmann, R. Human interferon-lambda3 is a potent member of the type III interferon family. Genes Immun. 10, 125–131 (2009).

21.

Eliasson, D. G. et al. CTA1-M2e-DD: a novel mucosal adjuvant targeted influenza vaccine. Vaccine 26, 1243–1252 (2008).

22.

Van Roey, G. A., Arias, M. A., Tregoning, J. S., Rowe, G. & Shattock, R. J. Thymic stromal lymphopoietin (TSLP) acts as a potent mucosal adjuvant for HIV-1 gp140 vaccination in mice. Eur. J. Immunol. 42, 353–363 (2012).

23.

Chappaz, S., Flueck, L., Farr, A. G., Rolink, A. G. & Finke, D. Increased TSLP availability restores T- and B-cell compartments in adult IL-7 deficient mice. Blood 110, 3862–3870 (2007).

24.

Ziegler, S. F. & Artis, D. Sensing the outside world: TSLP regulates barrier immunity. Nat. Immunol. 11, 289–293 (2010).

25.

Joo, S. et al. Critical role of TSLP-responsive mucosal dendritic cells in the induction of nasal antigen-specific IgA response. Mucosal Immunol. 10, 901–911 (2017).

26.

Soumelis, V. et al. Human epithelial cells trigger dendritic cell mediated allergic inflammation by producing TSLP. Nat. Immunol. 3, 673–680 (2002).

27.

Kim, D. Y. et al. The airway antigen sampling system: respiratory M cells as an alternative gateway for inhaled antigens. J. Immunol. 186, 4253–4262 (2011).

28.

Vinuesa, C. G., Linterman, M. A., Yu, D. & MacLennan, I. C. M. Follicular helper T cells. Annu. Rev. Immunol. 34, 335–368 (2016).

29.

Fazilleau, N., Mark, L., McHeyzer-Williams, L. J. & McHeyzer-Williams, M. G. Follicular helper T cells: lineage and location. Immunity 30, 324–335 (2009).

30.

Grajales-Reyes, G. E. et al. Batf3 maintains autoactivation of Irf8 for commitment of a CD8alpha(+) conventional DC clonogenic progenitor. Nat. Immunol. 16, 708–717 (2015).

31.

Takaki, H. et al. Toll-like receptor 3 in nasal CD103(+) dendritic cells is involved in immunoglobulin A production. Mucosal Immunol. 11, 82–96 (2018).

32.

Van den Hoecke, S. et al. Hierarchical and redundant roles of activating FcgammaRs in protection against influenza disease by M2e-Specific IgG1 and IgG2a antibodies. J. Virol. 91, e02500–e02516 (2017).

33.

Grimm, D. et al. Replication fitness determines high virulence of influenza A virus in mice carrying functional Mx1 resistance gene. Proc. Natl Acad. Sci. USA 104, 6806–6811 (2007).

34.

Klinkhammer, J. et al. IFN-lambda prevents influenza virus spread from the upper airways to the lungs and limits virus transmission. Elife 7, e33354 (2018).

35.

Kolpe, A., Schepens, B., Ye, L., Staeheli, P. & Saelens, X. Passively transferred M2e-specific monoclonal antibody reduces influenza A virus transmission in mice. Antiviral Res. 158, 244–254 (2018).

36.

Mordstein, M. et al. Interferon-lambda contributes to innate immunity of mice against influenza A virus but not against hepatotropic viruses. PLoS Pathog. 4, e1000151 (2008).

37.

Lee, H. C. et al. Thymic stromal lymphopoietin is induced by respiratory syncytial virus-infected airway epithelial cells and promotes a type 2 response to infection. J. Allergy Clin. Immunol. 130, 1187–1196.e1185 (2012).

38.

Ganti, K. P., Mukherji, A., Surjit, M., Li, M. & Chambon, P. Similarities and differences in the transcriptional control of expression of the mouse TSLP gene in skin epidermis and intestinal epithelium. Proc. Natl Acad. Sci. USA 114, E951–E960 (2017).

39.

Kelly, A. et al. Immune cell profiling of IFN-lambda response shows pDCs express highest level of IFN-lambdaR1 and are directly responsive via the JAK-STAT pathway. J. Interferon Cytokine Res. 36, 671–680 (2016).

40.

West, E. E. et al. A TSLP-complement axis mediates neutrophil killing of methicillin-resistant Staphylococcus aureus. Sci. Immunol. 1, eaaf8471 (2016).
Acknowledgements
We thank A. Ohnemus for technical support, and H. Pircher, G. Gasteiger and O. Haller for helpful discussions and comments on the manuscript. Funding for this work was provided by the European Union's Seventh Framework Program grant agreement 607690 (to P.S. and N.L.), the Deutsche Forschungsgemeinschaft grant agreement STA 338/15-1 (to P.S.) and TA 436/4-1 (to Y.T.), the Else Kröner-Fresenius Stiftung grant agreement 2017_EKES.34 (to Y.T.) and the Danish Council for Independent Research, Medical Research grant agreement 11‐107588 (to R.H.).
Ethics declarations
Competing interests
The authors declare no competing interests.
Additional information
Publisher's note: Springer Nature remains neutral with regard to jurisdictional claims in published maps and institutional affiliations.
Integrated supplementary information
Supplementary information
Supplementary Figures 1–8
About this article
Cite this article
Ye, L., Schnepf, D., Becker, J. et al. Interferon-λ enhances adaptive mucosal immunity by boosting release of thymic stromal lymphopoietin. Nat Immunol 20, 593–601 (2019). https://doi.org/10.1038/s41590-019-0345-x
Received:

Accepted:

Published:

Issue Date: