Abstract
The scaling of silicon metal–oxide–semiconductor field-effect transistors has followed Moore's law for decades, but the physical thinning of silicon at sub-ten-nanometre technology nodes introduces issues such as leakage currents1. Two-dimensional (2D) layered semiconductors, with an atomic thickness that allows superior gate-field penetration, are of interest as channel materials for future transistors2,3. However, the integration of high-dielectric-constant (κ) materials with 2D materials, while scaling their capacitance equivalent thickness (CET), has proved challenging. Here we explore transferrable ultrahigh-κ single-crystalline perovskite strontium-titanium-oxide membranes as a gate dielectric for 2D field-effect transistors. Our perovskite membranes exhibit a desirable sub-one-nanometre CET with a low leakage current (less than 10−2 amperes per square centimetre at 2.5 megavolts per centimetre). We find that the van der Waals gap between strontium-titanium-oxide dielectrics and 2D semiconductors mitigates the unfavourable fringing-induced barrier-lowering effect resulting from the use of ultrahigh-κ dielectrics4. Typical short-channel transistors made of scalable molybdenum-disulfide films by chemical vapour deposition and strontium-titanium-oxide dielectrics exhibit steep subthreshold swings down to about 70 millivolts per decade and on/off current ratios up to 107, which matches the low-power specifications suggested by the latest International Roadmap for Devices and Systems5.
Relevant articles
Open Access articles citing this article.
Chien-Yu Huang

,

Hanchen Li

…

Tom Wu

Nano-Micro Letters Open Access 29 December 2022

Yi Wan

,

En Li

…

Lain-Jong Li

Nature Communications Open Access 18 July 2022
Access options
Subscribe to Nature+
Get immediate online access to Nature and 55 other Nature journal
Subscribe to Journal
Get full journal access for 1 year
$199.00
only $3.90 per issue
All prices are NET prices.
VAT will be added later in the checkout.
Tax calculation will be finalised during checkout.
Buy article
Get time limited or full article access on ReadCube.
$32.00
All prices are NET prices.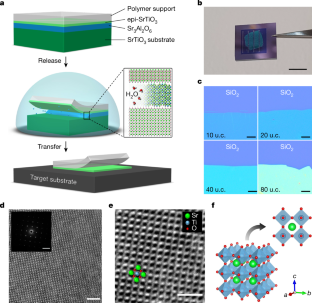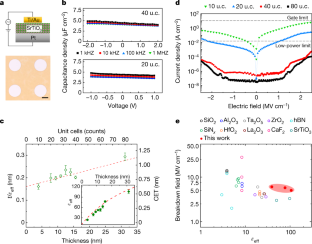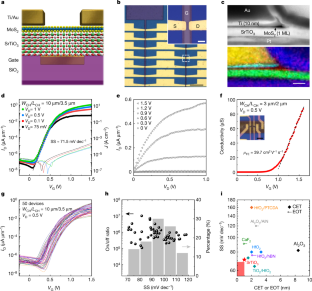 Data availability
The data needed to evaluate the conclusions in this work are publicly available online at https://doi.org/10.5281/zenodo.6245863. Additional data related to this paper may be requested from the corresponding authors upon reasonable request.
References
Theis, T. N. & Wong, H. P. The end of Moore's law: a new beginning for information technology. Comput. Sci. Eng. 19, 41–50 (2017).

Akinwande, D. et al. Graphene and two-dimensional materials for silicon technology. Nature 573, 507–518 (2019).

Chhowalla, M., Jena, D. & Zhang, H. Two-dimensional semiconductors for transistors. Nat. Rev. Mater. 1, 16052 (2016).

Wong, H. & Iwai, H. On the scaling of subnanometer EOT gate dielectrics for ultimate nano CMOS technology. Microelectron. Eng. 138, 57–76 (2015).

Badaroglu, M. et al. More Moore. In International Roadmap for Devices and Systems 2020 12 (IEEE, 2020); https://irds.ieee.org/images/files/pdf/2020/2020IRDS_MM.pdf

Illarionov, Y. Y. et al. Insulators for 2D nanoelectronics: the gap to bridge. Nat. Commun. 11, 3385 (2020).

Kim, H. G. & Lee, H.-B.-R. Atomic layer deposition on 2D materials. Chem. Mater. 29, 3809–3826 (2017).

Li, W. et al. Uniform and ultrathin high-κ gate dielectrics for two-dimensional electronic devices. Nat. Electron. 2, 563–571 (2019).

Chen, T.-A. et al. Wafer-scale single-crystal hexagonal boron nitride monolayers on Cu (111). Nature 579, 219–223 (2020).

Park, J. H. et al. Atomic layer deposition of Al2O3 on WSe2 functionalized by titanyl phthalocyanine. ACS Nano 10, 6888–6896 (2016).

Knobloch, T. et al. The performance limits of hexagonal boron nitride as an insulator for scaled CMOS devices based on two-dimensional materials. Nat. Electron. 4, 98–108 (2021).

Lee, G.-H. et al. Flexible and transparent MoS2 field-effect transistors on hexagonal boron nitride–graphene heterostructures. ACS Nano 7, 7931–7936 (2013).

Vu, Q. A. et al. Near-zero hysteresis and near-ideal subthreshold swing in h-BN encapsulated single-layer MoS2 field-effect transistors. 2D Mater. 5, 031001 (2018).

Illarionov, Y. Y. et al. Ultrathin calcium fluoride insulators for two-dimensional field-effect transistors. Nat. Electron. 2, 230–235 (2019).

Neville, R. C., Hoeneisen, B. & Mead, C. A. Permittivity of strontium titanate. J. Appl. Phys. 43, 2124–2131 (1972).

McKee, R. A., Walker, F. J. & Chisholm, M. F. Crystalline oxides on silicon: the first five monolayers. Phys. Rev. Lett. 81, 3014–3017 (1998).

Reiner, J. W. et al. Crystalline oxides on silicon. Adv. Mater. 22, 2919–2938 (2010).

Couto, N. J. G., Sacépé, B. & Morpurgo, A. F. Transport through graphene on SrTiO3. Phys. Rev. Lett. 107, 225501 (2011).

Veyrat, L. et al. Helical quantum Hall phase in graphene on SrTiO3. Science 367, 781–786 (2020).

Thiel, S., Hammerl, G., Schmehl, A., Schneider, C. W. & Mannhart, J. Tunable quasi-two-dimensional electron gases in oxide heterostructures. Science 313, 1942–1945 (2006).

Caviglia, A. D. et al. Electric field control of the LaAlO3/SrTiO3 interface ground state. Nature 456, 624–627 (2008).

Lu, D. et al. Synthesis of freestanding single-crystal perovskite films and heterostructures by etching of sacrificial water-soluble layers. Nat. Mater. 15, 1255–1260 (2016).

Kum, H. S. et al. Heterogeneous integration of single-crystalline complex-oxide membranes. Nature 578, 75–81 (2020).

Stengel, M. & Spaldin, N. A. Origin of the dielectric dead layer in nanoscale capacitors. Nature 443, 679–682 (2006).

Palneedi, H., Peddigari, M., Hwang, G.-T., Jeong, D.-Y. & Ryu, J. High-performance dielectric ceramic films for energy storage capacitors: progress and outlook. Adv. Funct. Mater. 28, 1803665 (2018).

McPherson, J., Kim, J., Shanware, A., Mogul, H. & Rodriguez, J. Proposed universal relationship between dielectric breakdown and dielectric constant. In 2002 IEEE International Electron Devices Meeting (IEDM) 633–636 (IEEE, 2002).

Robertson, J. High dielectric constant gate oxides for metal oxide Si transistors. Rep. Prog. Phys. 69, 327–396 (2005).

Wen, C. et al. Dielectric properties of ultrathin CaF2 ionic crystals. Adv. Mater. 32, 2002525 (2020).

Sokolov, N. S. et al. Low-leakage MIS structures with 1.5-6 nm CaF2 insulating layer on Si(111). Microelectron. Eng. 84, 2247–2250 (2007).

Hattori, Y., Taniguchi, T., Watanabe, K. & Nagashio, K. Layer-by-layer dielectric breakdown of hexagonal boron nitride. ACS Nano 9, 916–921 (2015).

Kim, S. M. et al. Synthesis of large-area multilayer hexagonal boron nitride for high material performance. Nat. Commun. 6, 8662 (2015).

Baumert, B. A. et al. Characterization of sputtered barium strontium titanate and strontium titanate-thin films. J. Appl. Phys. 82, 2558–2566 (1997).

Liu, Y., Huang, Y. & Duan, X. Van der Waals integration before and beyond two-dimensional materials. Nature 567, 323–333 (2019).

Smets, Q. et al. Sources of variability in scaled MoS2 FETs. In 2020 IEEE International Electron Devices Meeting (IEDM) 3.1.1–3.1.4 (IEEE, 2020).

Dong, G. et al. Super-elastic ferroelectric single-crystal membrane with continuous electric dipole rotation. Science 366, 475–479 (2019).

Yu, L. et al. Enhancement-mode single-layer CVD MoS2 FET technology for digital electronics. In 2015 IEEE International Electron Devices Meeting (IEDM) 32.3.1–32.3.4 (IEEE, 2015).

Smets, Q. et al. Ultra-scaled MOCVD MoS2 MOSFETs with 42nm contact pitch and 250µA/µm drain current. In 2019 IEEE International Electron Devices Meeting (IEDM) 23.2.1–23.2.4 (IEEE, 2019).

Zhu, Y. et al. Monolayer molybdenum disulfide transistors with single-atom-thick gates. Nano Lett. 18, 3807–3813 (2018).

Qian, Q. et al. Improved gate dielectric deposition and enhanced electrical stability for single-layer MoS2 MOSFET with an AlN interfacial layer. Sci Rep. 6, 27676 (2016).

Ashokbhai Patel, K., Grady, R. W., Smithe, K. K. H., Pop, E. & Sordan, R. Ultra-scaled MoS2 transistors and circuits fabricated without nanolithography. 2D Mater. 7, 015018 (2019).

English, C. D., Smithe, K. K. H., Xu, R. L. & Pop, E. Approaching ballistic transport in monolayer MoS2 transistors with self-aligned 10 nm top gates. In 2016 IEEE International Electron Devices Meeting (IEDM) 5.6.1–5.6.4 (IEEE, 2016).

Xu, K. et al. Sub-10 nm nanopattern architecture for 2D material field-effect transistors. Nano Lett. 17, 1065–1070 (2017).

Nourbakhsh, A. et al. 15-nm channel length MoS2 FETs with single- and double-gate structures. In 2015 Symposium on VLSI Technology (VLSI Technology) T28–T29 (IEEE, 2015).

Knobloch, T. et al. A physical model for the hysteresis in MoS2 transistors. IEEE J. Electron Device. Soc. 6, 972–978 (2018).

Henrich, V. E., Dresselhaus, G. & Zeiger, H. J. Surface defects and the electronic structure of SrTiO3 surfaces. Phys. Rev. B 17, 4908–4921 (1978).

van Benthem, K., Elsässer, C. & French, R. H. Bulk electronic structure of SrTiO3: experiment and theory. J. Appl. Phys. 90, 6156–6164 (2001).

Wunderlich, W., Ohta, H. & Koumoto, K. Enhanced effective mass in doped SrTiO3 and related perovskites. Physica B 404, 2202–2212 (2009).

Koster, G., Kropman, B. L., Rijnders, G. J. H. M., Blank, D. H. A. & Rogalla, H. Quasi-ideal strontium titanate crystal surfaces through formation of strontium hydroxide. Appl. Phys. Lett. 73, 2920–2922 (1998).

Vasquez, R. P. SrTiO3 by XPS. Surf. Sci. Spectra 1, 129–135 (1992).

Shi, Y. et al. Selective decoration of Au nanoparticles on monolayer MoS2 single crystals. Sci Rep. 3, 1839 (2013).

Lewis, J. Material challenge for flexible organic devices. Mater. Today 9, 38–45 (2006).
Acknowledgements
We thank the Australian Research Council Discovery Project of DP19010366 for the financial support; the facilities, as well as the scientific and technical assistance, of the NSW Node of the Australian National Fabrication Facility (ANFF) and the Research and Prototype Foundry Core Research Facility at the University of Sydney, part of the ANFF; and the units and facilities within the Mark Wainwright Analytical Centre at UNSW Sydney for the assistance in material analyses. Z.W. thanks  L.Li in Peking University for providing assistance in the TCAD simulation; L.-J.L. and Y.W. thank the support from the University of Hong Kong; and Y.-P.C. acknowledges the financial support from Ministry of Science and Technology (MOST) of Taiwan (contract numbers MOST 110-2119-M-002-015-MBK and MOST 110-2622-8-002-014).
Ethics declarations
Competing interests
J.-K.H., J.S., J.Z. and S.L. are co-inventors on a patent application (Australian provisional filing numbers 2021902514 and 2022900344) related to the research presented in this paper.
Peer review
Peer review information
Nature thanks Tibor Grasser, Won Jong Yoo and the other, anonymous, reviewer(s) for their contribution to the peer review of this work.
Additional information
Publisher's note Springer Nature remains neutral with regard to jurisdictional claims in published maps and institutional affiliations.
Extended data figures and tables
Supplementary information
About this article
Cite this article
Huang, JK., Wan, Y., Shi, J. et al. High-κ perovskite membranes as insulators for two-dimensional transistors. Nature 605, 262–267 (2022). https://doi.org/10.1038/s41586-022-04588-2
Received:

Accepted:

Published:

Issue Date:

DOI: https://doi.org/10.1038/s41586-022-04588-2
Comments
By submitting a comment you agree to abide by our Terms and Community Guidelines. If you find something abusive or that does not comply with our terms or guidelines please flag it as inappropriate.