Abstract
Recent years have witnessed increased interest in systems that are capable of supporting multistep chemical processes without the need for manual handling of intermediates. These systems have been based either on collections of batch reactors1 or on flow-chemistry designs2,3,4, both of which require considerable engineering effort to set up and control. Here we develop an out-of-equilibrium system in which different reaction zones self-organize into a geometry that can dictate the progress of an entire process sequence. Multiple (routinely around 10, and in some cases more than 20) immiscible or pairwise-immiscible liquids of different densities are placed into a rotating container, in which they experience a centrifugal force that dominates over surface tension. As a result, the liquids organize into concentric layers, with thicknesses as low as 150 micrometres and theoretically reaching tens of micrometres. The layers are robust, yet can be internally mixed by accelerating or decelerating the rotation, and each layer can be individually addressed, enabling the addition, sampling or even withdrawal of entire layers during rotation. These features are combined in proof-of-concept experiments that demonstrate, for example, multistep syntheses of small molecules of medicinal interest, simultaneous acid–base extractions, and selective separations from complex mixtures mediated by chemical shuttles. We propose that 'wall-less' concentric liquid reactors could become a useful addition to the toolbox of process chemistry at small to medium scales and, in a broader context, illustrate the advantages of transplanting material and/or chemical systems from traditional, static settings into a rotating frame of reference.
Relevant articles
Open Access articles citing this article.
Prabhu Dhasaiyan

,

Tanwistha Ghosh

…

Kimoon Kim

Nature Communications Open Access 02 May 2022

Seong Yeol Choi

,

Sungbin Lim

…

Robert J. Mitchell

Journal of Biological Engineering Open Access 11 March 2021
Access options
Subscribe to Nature+
Get immediate online access to Nature and 55 other Nature journal
Subscribe to Journal
Get full journal access for 1 year
$199.00
only $3.90 per issue
All prices are NET prices.
VAT will be added later in the checkout.
Tax calculation will be finalised during checkout.
Buy article
Get time limited or full article access on ReadCube.
$32.00
All prices are NET prices.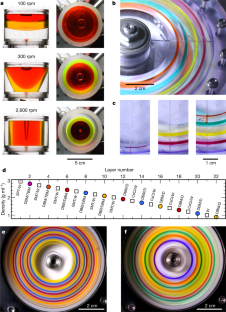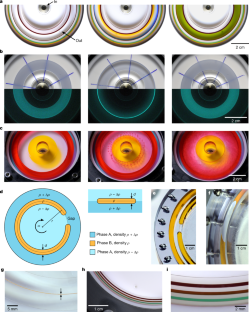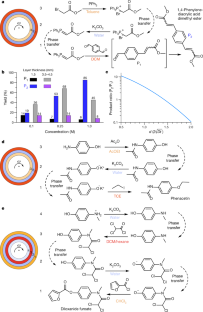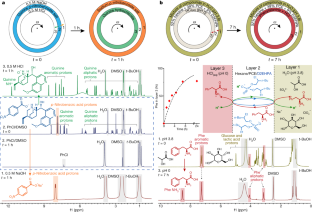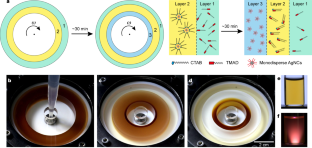 Data availability
All data that support the findings of this study are available within the Article and its Supplementary Information, or from the corresponding author upon reasonable request.
References
Kitson, P. J. et al. Digitization of multistep organic synthesis in reactionware for on-demand pharmaceuticals. Science 359, 314–319 (2018).

Hartman, R. L., McMullen, J. P. & Jensen, K. F. Deciding whether to go with the flow: evaluating the merits of flow reactors for synthesis. Angew. Chem. Int. Ed. 50, 7502–7519 (2011).

Pastre, J. C., Browne, D. L. & Ley, S. V. Flow chemistry syntheses of natural products. Chem. Soc. Rev. 42, 8849–8869 (2013).

Coley, C. W. et al. A robotic platform for flow synthesis of organic compounds informed by AI planning. Science 365, eaax1566 (2019).

Jaenecke, Z. Über entmischungserscheinungen anorganischer salze in wässrigen ammoniakalischen lösungen. Z. Elektrochem. 33, 518–526 (1927).

Pattle, R. E. Systems of mutually immiscible liquid layers. Nature 165, 203–204 (1950).

Hildebrand, J. H. Seven liquid phases in equilibrium. J. Phys. Colloid Chem. 53, 944–947 (1949).

Eckelmann, J. & Lüning, U. Mixing liquids - mission impossible? A colorful demonstration on immiscible systems. J. Chem. Educ. 90, 224–227 (2013).

de Gennes, P.-G. et al. Capillarity: Deformable Interfaces. In Capillarity and Wetting Phenomena (eds de Gennes, P.-G., Brochard-Wyart, F. & Quéré, D.) 1–31 (Springer, 2004).

Aguilar, M. & Cortina, J. L. Solvent Extraction and Liquid Membranes: Fundamentals and Applications in New Materials (CRC, 2008).

Tan, B., Luo, G. & Wang, J. Enantioseparation of amino acids by co-extractants with di(2-ethylhexyl)phosphoric acid and tartaric acid derivatives. Tetrahedron Asymmetry 17, 883–891 (2006).

Juang, R. S. & Wang, Y. Y. Amino acid separation with D2EHPA by solvent extraction and liquid surfactant membranes. J. Membr. Sci. 207, 241–252 (2002).

Ahmad, A. L., Kusumastuti, A., Derek, C. J. C. & Ooi, B. S. Emulsion liquid membrane for heavy metal removal: An overview on emulsion stabilization and destabilization. Chem. Eng. J. 171, 870–882 (2011).

Wang, W., Pranolo, Y. & Cheng, C. Y. Recovery of scandium from synthetic red mud leach solutions by solvent extraction with D2EHPA. Separ. Purif. Tech. 108, 96–102 (2013).

Smith, R. C., Taggart, R. K., Hower, J. C., Wiesner, M. R. & Hsu-Kim, H. Selective recovery of rare earth elements from coal fly ash leachates using liquid membrane processes. Environ. Sci. Technol. 53, 4490–4499 (2019).

Mondal, S., Purkait, M. K. & De, S. Emulsion Liquid Membrane. In Advances in Dye Removal Technologies 313–323 (Springer, 2018).

Cahn, R. P. & Li, N. N. Separation of phenol from waste water by the liquid membrane technique. Sep. Sci. 9, 505–519 (1974).

Itoh, H., Thien, M. P., Hatton, T. A. & Wang, D. I. C. A liquid emulsion membrane process for the separation of amino acids. Biotechnol. Bioeng. 35, 853–860 (1990).

Akbulut, O. et al. Separation of nanoparticles in aqueous multiphase systems through centrifugation. Nano Lett. 12, 4060–4064 (2012).

Li, P. et al. Density gradient ultracentrifugation for colloidal nanostructures separation and investigation. Sci. Bull. (Beijing) 63, 645–662 (2018).

Kowalczyk, B., Lagzi, I. & Grzybowski, B. A. Nanoseparations: strategies for size and/or shape-selective purification of nanoparticles. Curr. Opin. Colloid Interface Sci. 16, 135–148 (2011).

Yuan, X. et al. Synthesis of highly fluorescent metal (Ag, Au, Pt, and Cu) nanoclusters by electrostatically induced reversible phase transfer. ACS Nano 5, 8800–8808 (2011).
Acknowledgements
This research was supported by the Institute for Basic Science, Korea (project code IBS-R020-D1). B.M.-K. and T.K. were also supported by the National Science Center, NCN, Poland under the Symfonia Award (number 2014/12/W/ST5/00592). M.D. acknowledges partial support from the National Science Center, NCN, Poland under the Maestro Award (number 2018/30/A/ST5/00529).
Ethics declarations
Competing interests
A patent covering the layered liquid reactors described in this work (number WO2020/153739) has been filed by the Institute of Basic Science, Republic of Korea, listing O.C., M.D., B.M.-K., Y.I.S. and B.A.G. as inventors.
Additional information
Peer review information Nature thanks Panagiota Angeli, Jon Clardy and the other, anonymous, reviewer(s) for their contribution to the peer review of this work.
Publisher's note Springer Nature remains neutral with regard to jurisdictional claims in published maps and institutional affiliations.
Supplementary information
About this article
Cite this article
Cybulski, O., Dygas, M., Mikulak-Klucznik, B. et al. Concentric liquid reactors for chemical synthesis and separation. Nature 586, 57–63 (2020). https://doi.org/10.1038/s41586-020-2768-9
Received:

Accepted:

Published:

Issue Date:

DOI: https://doi.org/10.1038/s41586-020-2768-9
Comments
By submitting a comment you agree to abide by our Terms and Community Guidelines. If you find something abusive or that does not comply with our terms or guidelines please flag it as inappropriate.