Abstract
Emerging evidence suggests that epigenetic regulation is dependent on metabolic state, and implicates specific metabolic factors in neural functions that drive behaviour1. In neurons, acetylation of histones relies on the metabolite acetyl-CoA, which is produced from acetate by chromatin-bound acetyl-CoA synthetase 2 (ACSS2)2. Notably, the breakdown of alcohol in the liver leads to a rapid increase in levels of blood acetate3, and alcohol is therefore a major source of acetate in the body. Histone acetylation in neurons may thus be under the influence of acetate that is derived from alcohol4, with potential effects on alcohol-induced gene expression in the brain, and on behaviour5. Here, using in vivo stable-isotope labelling in mice, we show that the metabolism of alcohol contributes to rapid acetylation of histones in the brain, and that this occurs in part through the direct deposition of acetyl groups that are derived from alcohol onto histones in an ACSS2-dependent manner. A similar direct deposition was observed when mice were injected with heavy-labelled acetate in vivo. In a pregnant mouse, exposure to labelled alcohol resulted in the incorporation of labelled acetyl groups into gestating fetal brains. In isolated primary hippocampal neurons ex vivo, extracellular acetate induced transcriptional programs related to learning and memory, which were sensitive to ACSS2 inhibition. We show that alcohol-related associative learning requires ACSS2 in vivo. These findings suggest that there is a direct link between alcohol metabolism and gene regulation, through the ACSS2-dependent acetylation of histones in the brain.
Access options
Subscribe to Journal
Get full journal access for 1 year
$199.00
only $3.90 per issue
All prices are NET prices.
VAT will be added later in the checkout.
Tax calculation will be finalised during checkout.
Rent or Buy article
Get time limited or full article access on ReadCube.
from$8.99
All prices are NET prices.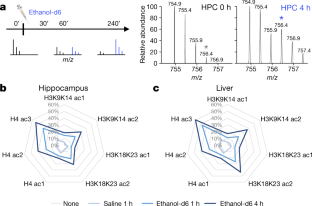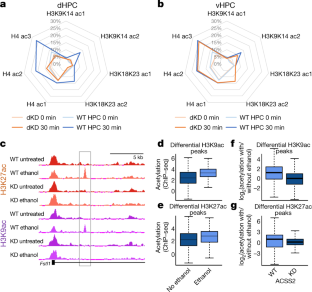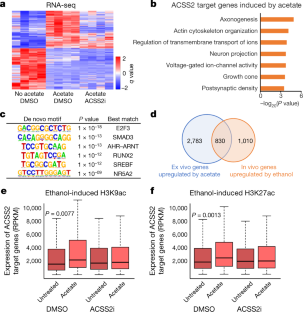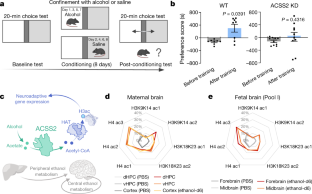 References
1.

Li, X., Egervari, G., Wang, Y., Berger, S. L. & Lu, Z. Regulation of chromatin and gene expression by metabolic enzymes and metabolites. Nat. Rev. Mol. Cell Biol. 19, 563–578 (2018).

2.

Mews, P. et al. Acetyl-CoA synthetase regulates histone acetylation and hippocampal memory. Nature 546, 381–386 (2017).

3.

Sarkola, T., Iles, M. R., Kohlenberg-Mueller, K. & Eriksson, C. J. P. Ethanol, acetaldehyde, acetate, and lactate levels after alcohol intake in white men and women: effect of 4-methylpyrazole. Alcohol. Clin. Exp. Res. 26, 239–245 (2002).

4.

Soliman, M. L. & Rosenberger, T. A. Acetate supplementation increases brain histone acetylation and inhibits histone deacetylase activity and expression. Mol. Cell. Biochem. 352, 173–180 (2011).

5.

Pandey, S. C., Kyzar, E. J. & Zhang, H. Epigenetic basis of the dark side of alcohol addiction. Neuropharmacology 122, 74–84 (2017).

6.

Mews, P. & Berger, S. L. in Methods in Enzymology Vol. 574 (ed. Marmorstein, R.) 311–329 (Elsevier, 2016).

7.

Comerford, S. A. et al. Acetate dependence of tumors. Cell 159, 1591–1602 (2014).

8.

Zakhari, S. Alcohol metabolism and epigenetics changes. Alcohol Res. 35, 6–16 (2013).

9.

Bonthuis, P. J. et al. Noncanonical genomic imprinting effects in offspring. Cell Rep. 12, 979–991 (2015).

10.

Zimatkin, S. M., Pronko, S. P., Vasiliou, V., Gonzalez, F. J. & Deitrich, R. A. Enzymatic mechanisms of ethanol oxidation in the brain. Alcohol. Clin. Exp. Res. 30, 1500–1505 (2006).

11.

Liu, R. et al. Fstl1 is involved in the regulation of radial glial scaffold development. Mol. Brain 8, 53 (2015).

12.

Kalay, E. et al. CEP152 is a genome maintenance protein disrupted in Seckel syndrome. Nat. Genet. 43, 23–26 (2011).

13.

Stessman, H. A. F. et al. Targeted sequencing identifies 91 neurodevelopmental-disorder risk genes with autism and developmental-disability biases. Nat. Genet. 49, 515–526 (2017).

14.

Volkow, N. D. et al. Acute alcohol intoxication decreases glucose metabolism but increases acetate uptake in the human brain. Neuroimage 64, 277–283 (2013).

15.

Rao, P. S. S., Bell, R. L., Engleman, E. A. & Sari, Y. Targeting glutamate uptake to treat alcohol use disorders. Front. Neurosci. 9, 144 (2015).

16.

Laufer, B. I. et al. Associative DNA methylation changes in children with prenatal alcohol exposure. Epigenomics 7, 1259–1274 (2015).

17.

Cates, H. M. et al. Transcription factor E2F3a in nucleus accumbens affects cocaine action via transcription and alternative splicing. Biol. Psychiatry 84, 167–179 (2018).

18.

Stergiopoulos, A. & Politis, P. K. Nuclear receptor NR5A2 controls neural stem cell fate decisions during development. Nat. Commun. 7, 12230 (2016).

19.

Mulligan, M. K. et al. Molecular profiles of drinking alcohol to intoxication in C57BL/6J mice. Alcohol. Clin. Exp. Res. 35, 659–670 (2011).

20.

Juarez, B. et al. Midbrain circuit regulation of individual alcohol drinking behaviors in mice. Nat. Commun. 8, 2220 (2017).

21.

Ferbinteanu, J. & McDonald, R. J. Dorsal/ventral hippocampus, fornix, and conditioned place preference. Hippocampus 11, 187–200 (2001).

22.

Veazey, K. J., Parnell, S. E., Miranda, R. C. & Golding, M. C. Dose-dependent alcohol-induced alterations in chromatin structure persist beyond the window of exposure and correlate with fetal alcohol syndrome birth defects. Epigenetics Chromatin 8, 39 (2015).

23.

Mead, E. A. & Sarkar, D. K. Fetal alcohol spectrum disorders and their transmission through genetic and epigenetic mechanisms. Front. Genet. 5, 154 (2014).

24.

Mandal, C., Halder, D., Jung, K. H. & Chai, Y. G. In utero alcohol exposure and the alteration of histone marks in the developing fetus: an epigenetic phenomenon of maternal drinking. Int. J. Biol. Sci. 13, 1100–1108 (2017).

25.

Mews, P. & Calipari, E. S. in Progress in Brain Research Vol. 235 (eds Calvey, T. & Daniels, W.) 19–63 (Elsevier, 2017).

26.

Egervari, G., Ciccocioppo, R., Jentsch, J. D. & Hurd, Y. L. Shaping vulnerability to addiction - the contribution of behavior, neural circuits and molecular mechanisms. Neurosci. Biobehav. Rev. 85, 117–125 (2018).

27.

Kriss, C. L. et al. In vivo metabolic tracing demonstrates the site-specific contribution of hepatic ethanol metabolism to histone acetylation. Alcohol. Clin. Exp. Res. 42, 1909–1923 (2018).

28.

Linderstrom-Lang, K. Deuterium exchange between peptides and water. Chem. Soc. Spec. Publ. 2, 1–20 (1955).

29.

Sidoli, S., Simithy, J., Karch, K. R., Kulej, K. & Garcia, B. A. Low resolution data-independent acquisition in an LTQ-Orbitrap allows for simplified and fully untargeted analysis of histone modifications. Anal. Chem. 87, 11448–11454 (2015).

30.

Loos, M., Gerber, C., Corona, F., Hollender, J. & Singer, H. Accelerated isotope fine structure calculation using pruned transition trees. Anal. Chem. 87, 5738–5744 (2015).

31.

Trefely, S., Ashwell, P. & Snyder, N. W. FluxFix: automatic isotopologue normalization for metabolic tracer analysis. BMC Bioinformatics 17, 485 (2016).

32.

Feroandez, C. A., Rosiers, C. Des, Previs, S. F., David, F. & Brunengraber, H. Correction of 13C mass isotopomer distributions for natural stable isotope abundance. J. Mass Spectrom. 31, 255–262 (1996).

33.

Nativio, R. et al. Dysregulation of the epigenetic landscape of normal aging in Alzheimer's disease. Nat. Neurosci. 21, 497–505 (2018).

34.

Langmead, B. & Salzberg, S. L. Fast gapped-read alignment with Bowtie 2. Nat. Methods 9, 357–359 (2012).

35.

Chen, X. et al. Integration of external signaling pathways with the core transcriptional network in embryonic stem cells. Cell 133, 1106–1117 (2008).

36.

Cunningham, C. L., Gremel, C. M. & Groblewski, P. A. Drug-induced conditioned place preference and aversion in mice. Nat. Protocols 1, 1662–1670 (2006)
Acknowledgements
We thank the Metabolomics Core of the Diabetes Research Center (DRC) for providing the mass spectrometry quantification of metabolites; J. D. Rabinowitz (the Princeton Metabolomics Core director) and C. Jang for advice; and the Neurons R Us core of the Mahoney Institute for Neurological Sciences for preparations of primary hippocampal neurons. We especially acknowledge J. Whetstine for the suggestion to test whether the administration of alcohol to a pregnant female mouse leads to histone acetylation in the gestating fetal brain. G.E. was supported by The Brody Family Medical Trust Fund Fellowship in Incurable Diseases of The Philadelphia Foundation. This work was supported by NIH P01AG031862 and NIH R01AA027202.
Ethics declarations
Competing interests
The authors declare no competing interests.
Additional information
Publisher's note Springer Nature remains neutral with regard to jurisdictional claims in published maps and institutional affiliations.
Extended data figures and tables
Supplementary information
About this article
Cite this article
Mews, P., Egervari, G., Nativio, R. et al. Alcohol metabolism contributes to brain histone acetylation. Nature 574, 717–721 (2019). https://doi.org/10.1038/s41586-019-1700-7
Received:

Accepted:

Published:

Issue Date:
Comments
By submitting a comment you agree to abide by our Terms and Community Guidelines. If you find something abusive or that does not comply with our terms or guidelines please flag it as inappropriate.