Abstract
Ferroptosis, a cell death process driven by cellular metabolism and iron-dependent lipid peroxidation, has been implicated in diseases such as ischaemic organ damage and cancer1,2. The enzyme glutathione peroxidase 4 (GPX4) is a central regulator of ferroptosis, and protects cells by neutralizing lipid peroxides, which are by-products of cellular metabolism. The direct inhibition of GPX4, or indirect inhibition by depletion of its substrate glutathione or the building blocks of glutathione (such as cysteine), can trigger ferroptosis3. Ferroptosis contributes to the antitumour function of several tumour suppressors such as p53, BAP1 and fumarase4,5,6,7. Counterintuitively, mesenchymal cancer cells—which are prone to metastasis, and often resistant to various treatments—are highly susceptible to ferroptosis8,9. Here we show that ferroptosis can be regulated non-cell-autonomously by cadherin-mediated intercellular interactions. In epithelial cells, such interactions mediated by E-cadherin suppress ferroptosis by activating the intracellular NF2 (also known as merlin) and Hippo signalling pathway. Antagonizing this signalling axis allows the proto-oncogenic transcriptional co-activator YAP to promote ferroptosis by upregulating several ferroptosis modulators, including ACSL4 and TFRC. This finding provides mechanistic insights into the observations that cancer cells with mesenchymal or metastatic property are highly sensitive to ferroptosis8. Notably, a similar mechanism also modulates ferroptosis in some non-epithelial cells. Finally, genetic inactivation of the tumour suppressor NF2, a frequent tumorigenic event in mesothelioma10,11, rendered cancer cells more sensitive to ferroptosis in an orthotopic mouse model of malignant mesothelioma. Our results demonstrate the role of intercellular interactions and intracellular NF2–YAP signalling in dictating ferroptotic death, and also suggest that malignant mutations in NF2–YAP signalling could predict the responsiveness of cancer cells to future ferroptosis-inducing therapies.
Relevant articles
Open Access articles citing this article.
Xiaohan Hu

,

Li Li

…

Yunyun Xu

Cell Death Discovery Open Access 06 February 2023

Lulin Cheng

,

Qingliu He

…

Yifei Xing

Cell Death & Disease Open Access 31 January 2023

Hongmin Li

,

Haitao Lan

…

Cheng Yi

Digestive Diseases and Sciences Open Access 21 January 2023
Access options
Access Nature and 54 other Nature Portfolio journals
Get Nature+, our best-value online-access subscription
$29.99 per month
cancel any time
Subscribe to this journal
Receive 51 print issues and online access
$199.00 per year
only $3.90 per issue
Rent or buy this article
Get just this article for as long as you need it
$39.95
Prices may be subject to local taxes which are calculated during checkout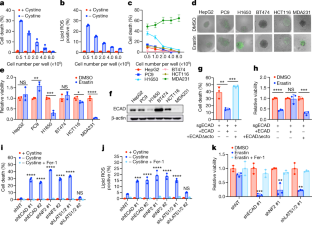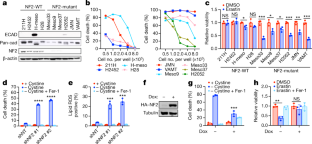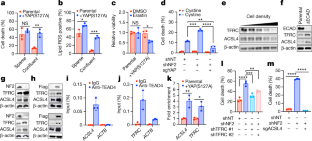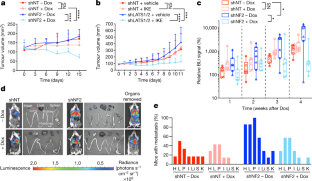 Data availability
For western blot source data, see Supplementary Fig. 1. For the gating strategy used for flow cytometry experiments, see Supplementary Fig. 2. Raw data for all experiments are available as Source Data to the relevant figures. ChIP–seq datasets analysed in this article are publicly available in the ENCODE database under the identifiers GSM1010875 and GSM1010868.
References
Stockwell, B. R. et al. Ferroptosis: a regulated cell death nexus linking metabolism, redox biology, and disease. Cell 171, 273–285 (2017).

Gao, M. & Jiang, X. To eat or not to eat—the metabolic flavor of ferroptosis. Curr. Opin. Cell Biol. 51, 58–64 (2018).

Yang, W. S. et al. Regulation of ferroptotic cancer cell death by GPX4. Cell 156, 317–331 (2014).

Gao, M. et al. Role of mitochondria in ferroptosis. Mol. Cell 73, 354–363.e3 (2019).

Jiang, L. et al. Ferroptosis as a p53-mediated activity during tumour suppression. Nature 520, 57–62 (2015).

Jennis, M. et al. An African-specific polymorphism in the TP53 gene impairs p53 tumor suppressor function in a mouse model. Genes Dev. 30, 918–930 (2016).

Zhang, Y. et al. BAP1 links metabolic regulation of ferroptosis to tumour suppression. Nat. Cell Biol. 20, 1181–1192 (2018).

Viswanathan, V. S. et al. Dependency of a therapy-resistant state of cancer cells on a lipid peroxidase pathway. Nature 547, 453–457 (2017).

Hangauer, M. J. et al. Drug-tolerant persister cancer cells are vulnerable to GPX4 inhibition. Nature 551, 247–250 (2017).

Hmeljak, J. et al. Integrative molecular characterization of malignant pleural mesothelioma. Cancer Discov. 8, 1548–1565 (2018).

Bueno, R. et al. Comprehensive genomic analysis of malignant pleural mesothelioma identifies recurrent mutations, gene fusions and splicing alterations. Nat. Genet. 48, 407–416 (2016).

Seiler, A. et al. Glutathione peroxidase 4 senses and translates oxidative stress into 12/15-lipoxygenase dependent- and AIF-mediated cell death. Cell Metab. 8, 237–248 (2008).

Schneider, M. et al. Absence of glutathione peroxidase 4 affects tumor angiogenesis through increased 12/15-lipoxygenase activity. Neoplasia 12, 254–263 (2010).

Gao, M., Monian, P., Quadri, N., Ramasamy, R. & Jiang, X. Glutaminolysis and transferrin regulate ferroptosis. Mol. Cell 59, 298–308 (2015).

van Roy, F. & Berx, G. The cell–cell adhesion molecule E-cadherin. Cell. Mol. Life Sci. 65, 3756–3788 (2008).

Kim, N. G., Koh, E., Chen, X. & Gumbiner, B. M. E-cadherin mediates contact inhibition of proliferation through Hippo signaling-pathway components. Proc. Natl Acad. Sci. USA 108, 11930–11935 (2011).

Okada, T., Lopez-Lago, M. & Giancotti, F. G. Merlin/NF-2 mediates contact inhibition of growth by suppressing recruitment of Rac to the plasma membrane. J. Cell Biol. 171, 361–371 (2005).

Zhao, B., Lei, Q. Y. & Guan, K. L. The Hippo–YAP pathway: new connections between regulation of n size and cancer. Curr. Opin. Cell Biol. 20, 638–646 (2008).

Pan, D. The Hippo signaling pathway in development and cancer. Dev. Cell 19, 491–505 (2010).

Li, W., Cooper, J., Karajannis, M. A. & Giancotti, F. G. Merlin: a tumour suppressor with functions at the cell cortex and in the nucleus. EMBO Rep. 13, 204–215 (2012).

Li, W. et al. Merlin/NF2 loss-driven tumorigenesis linked to CRL4(DCAF1)-mediated inhibition of the hippo pathway kinases Lats1 and 2 in the nucleus. Cancer Cell 26, 48–60 (2014).

Dupont, S. et al. Role of YAP/TAZ in mechanotransduction. Nature 474, 179–183 (2011).

Falk, M. H. et al. Apoptosis in Burkitt lymphoma cells is prevented by promotion of cysteine uptake. Int. J. Cancer 75, 620–625 (1998).

Varelas, X. & Wrana, J. L. Coordinating developmental signaling: novel roles for the Hippo pathway. Trends Cell Biol. 22, 88–96 (2012).

Zhao, B. et al. Inactivation of YAP oncoprotein by the Hippo pathway is involved in cell contact inhibition and tissue growth control. Genes Dev. 21, 2747–2761 (2007).

Doll, S. et al. ACSL4 dictates ferroptosis sensitivity by shaping cellular lipid composition. Nat. Chem. Biol. 13, 91–98 (2017).

Zhang, Y. et al. Imidazole ketone erastin induces ferroptosis and slows tumor growth in a mouse lymphoma model. Cell Chem. Biol. 26, 623–633.e9 (2019).

Dixon, S. J. et al. Pharmacological inhibition of cystine–glutamate exchange induces endoplasmic reticulum stress and ferroptosis. eLife 3, e02523 (2014).

Dubey, S. et al. A phase II study of sorafenib in malignant mesothelioma: results of Cancer and Leukemia Group B 30307. J. Thorac. Oncol. 5, 1655–1661 (2010).

Papa, S. et al. Phase 2 study of sorafenib in malignant mesothelioma previously treated with platinum-containing chemotherapy. J. Thorac. Oncol. 8, 783–787 (2013).
Acknowledgements
We thank E. De Stanchina and E. Peguero for their help with mouse modelling experiments. We thank members of the Jiang laboratory for critical reading and suggestions. This work is supported by the National Institutes of Health (NIH) R01CA204232 (to X.J.), a Geoffrey Beene Cancer Research fund (to X.J.), a Functional Genomic Initiative fund (to X.J.), a China Scholarship Council fellowship (to J.W.), and NIH T32 fellowship 5T32GM008539-23 (to A.M.M.), National Cancer Institute R35CA209896 and P01CA087497 (to B.R.S.), National Natural Science Foundation of China 31871388 (to M.G.). This work is also supported by NCI cancer centre core grant P30 CA008748 to Memorial Sloan Kettering Cancer Center.
Ethics declarations
Competing interests
B.R.S. holds equity in and serves as a consultant to Inzen Therapeutics, consults with GLG and Guidepoint Global, and is an inventor on patents and patent applications related to IKE and ferroptosis.
Additional information
Publisher's note: Springer Nature remains neutral with regard to jurisdictional claims in published maps and institutional affiliations.
Extended data figures and tables
Supplementary information
About this article
Cite this article
Wu, J., Minikes, A.M., Gao, M. et al. Intercellular interaction dictates cancer cell ferroptosis via NF2–YAP signalling. Nature 572, 402–406 (2019). https://doi.org/10.1038/s41586-019-1426-6
Received:

Accepted:

Published:

Issue Date:

DOI: https://doi.org/10.1038/s41586-019-1426-6
Comments
By submitting a comment you agree to abide by our Terms and Community Guidelines. If you find something abusive or that does not comply with our terms or guidelines please flag it as inappropriate.