Abstract
The Picornaviridae are a diverse family of positive-strand RNA viruses that includes numerous human and veterinary pathogens1. Among these, hepatitis A virus (HAV), a common cause of acute hepatitis in humans, is unique in that it is hepatotropic and is released from hepatocytes without lysis in small vesicles that resemble exosomes2,3. These quasi-enveloped virions are infectious and are the only form of virus that can be detected in the blood during acute infection2. By contrast, non-enveloped naked virions are shed in faeces and stripped of membranes by bile salts during passage through the bile ducts to the gut4. How these two distinct types of infectious hepatoviruses enter cells to initiate infection is unclear. Here, we describe a genome-wide forward screen that shows that glucosylceramide synthase and other components of the ganglioside synthetic pathway are crucial host factors that are required for cellular entry by hepatoviruses. We show that gangliosides—preferentially disialogangliosides—function as essential endolysosome receptors that are required for infection by both naked and quasi-enveloped virions. In the absence of gangliosides, both virion types are efficiently internalized through endocytosis, but capsids fail to uncoat and accumulate within LAMP1+ endolysosomes. Gangliosides relieve this block, binding to the capsid at low pH and facilitating a late step in entry involving uncoating and delivery of the RNA genome to the cytoplasm. These results reveal an atypical cellular entry pathway for hepatoviruses that is unique among picornaviruses.
Access options
Subscribe to Journal
Get full journal access for 1 year
$59.00
only $4.92 per issue
All prices are NET prices.
VAT will be added later in the checkout.
Tax calculation will be finalised during checkout.
Rent or Buy article
Get time limited or full article access on ReadCube.
from$8.99
All prices are NET prices.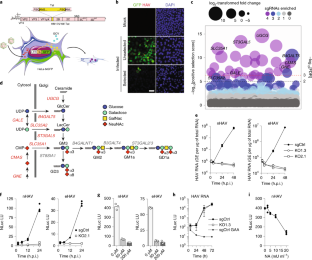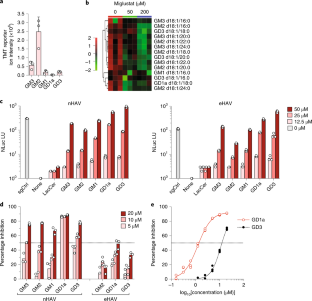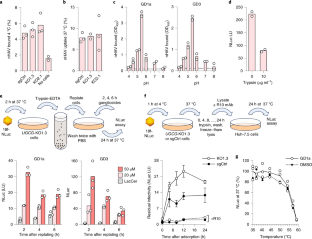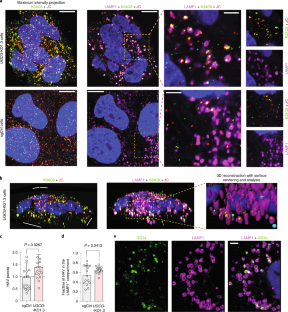 Data availability
All data supporting the findings of this study are included in the paper and the accompanying Supplementary Information. MAGeCK output files with results from the two CRISPR screens are included in the Source Data files for Fig. 1c and Extended Data Fig. 1c.
References
1.

Zell, R. Picornaviridae—the ever-growing virus family. Arch. Virol 163, 299–317 (2018).

2.

Feng, Z. et al. A pathogenic picornavirus acquires an envelope by hijacking cellular membranes. Nature 496, 367–371 (2013).

3.

Hirai-Yuki, A. et al. MAVS-dependent host species range and pathogenicity of human hepatitis A virus. Science 353, 1541–1545 (2016).

4.

Hirai-Yuki, A., Hensley, L., Whitmire, J. K. & Lemon, S. M. Biliary secretion of quasi-enveloped human hepatitis A virus. mBio 7, e01998-16 (2016).

5.

Wang, X. et al. Hepatitis A virus and the origins of picornaviruses. Nature 517, 85–88 (2015).

6.

Rivera-Serrano, E. E., Gonzalez-Lopez, O., Das, A. & Lemon, S. M. Cellular entry and uncoating of naked and quasi-enveloped human hepatoviruses. eLife 8, e43983 (2019).

7.

Kaplan, G. et al. Identification of a surface glycoprotein on African green monkey kidney cells as a receptor for hepatitis A virus. EMBO J. 15, 4282–4296 (1996).

8.

Das, A., et al. TIM1 (HAVCR1) is not essential for cellular entry of either quasi-enveloped or naked hepatitis A virions. mBio 8, e00969-17 (2017).

9.

Das, A., Maury, W. & Lemon, S. M. TIM1 (HAVCR1): an essential 'receptor' or an 'accessory attachment factor' for hepatitis A virus? J. Virol. 93, e01793-18 (2019).

10.

Lemon, S. M. et al. Antigenic and genetic variation in cytopathic hepatitis A virus variants arising during persistent infection: evidence for genetic recombination. J. Virol. 65, 2056–2065 (1991).

11.

Tomicic, M. T., Thust, R. & Kaina, B. Ganciclovir-induced apoptosis in HSV-1 thymidine kinase expressing cells: critical role of DNA breaks, Bcl-2 decline and caspase-9 activation. Oncogene 21, 2141–2153 (2002).

12.

Doench, J. G. et al. Optimized sgRNA design to maximize activity and minimize off-target effects of CRISPR–Cas9. Nat. Biotechnol. 34, 184–191 (2016).

13.

Groux-Degroote, S., Guerardel, Y. & Delannoy, P. Gangliosides: structures, biosynthesis, analysis, and roles in cancer. ChemBioChem 18, 1146–1154 (2017).

14.

van der Spoel, A. C., Mott, R. & Platt, F. M. Differential sensitivity of mouse strains to an N-alkylated imino sugar: glycosphingolipid metabolism and acrosome formation. Pharmacogenomics 9, 717–731 (2008).

15.

Barrientos, R. C. & Zhang, Q. Isobaric labeling of intact gangliosides toward multiplexed LC-MS/MS-based quantitative analysis. Anal. Chem. 90, 2578–2586 (2018).

16.

Schwarzmann, G., Hoffmann-Bleihauer, P., Schubert, J., Sandhoff, K. & Marsh, D. Incorporation of ganglioside analogues into fibroblast cell membranes. A spin-label study. Biochemistry 22, 5041–5048 (1983).

17.

Eckels, K. H., Summers, P. L. & Dubois, D. R. Hepatitis A virus hemagglutination and a test for hemagglutination inhibition antibodies. J. Clin. Microbiol. 27, 1375–1376 (1989).

18.

Sanchez, G. et al. Capsid region involved in hepatitis A virus binding to glycophorin A of the erythrocyte membrane. J. Virol. 78, 9807–9813 (2004).

19.

Mobius, W., Herzog, V., Sandhoff, K. & Schwarzmann, G. Intracellular distribution of a biotin-labeled ganglioside, GM1, by immunoelectron microscopy after endocytosis in fibroblasts. J. Histochem. Cytochem. 47, 1005–1014 (1999).

20.

Daniotti, J. L. & Iglesias-Bartolome, R. Metabolic pathways and intracellular trafficking of gangliosides. IUBMB Life 63, 513–520 (2011).

21.

Wang, X. et al. Potent neutralization of hepatitis A virus reveals a receptor mimic mechanism and the receptor recognition site. Proc. Natl Acad. Sci. USA 114, 770–775 (2017).

22.

Baggen, J. et al. Enterovirus D68 receptor requirements unveiled by haploid genetics. Proc. Natl Acad. Sci. USA 113, 1399–1404 (2016).

23.

Zocher, G. et al. A sialic acid binding site in a human picornavirus. PLoS Pathog. 10, e1004401 (2014).

24.

Kim, D. S. et al. Porcine sapelovirus uses alpha2,3-linked sialic acid on GD1a ganglioside as a receptor. J. Virol. 90, 4067–4077 (2016).

25.

Cohen, L., Benichou, D. & Martin, A. Analysis of deletion mutants indicates that the 2A polypeptide of hepatitis A virus participates in virion morphogenesis. J. Virol. 76, 7495–7505 (2002).

26.

Probst, C., Jecht, M. & Gauss-Muller, V. Intrinsic signals for the assembly of hepatitis A virus particles. Role of structural proteins VP4 and 2A. J. Biol. Chem. 274, 4527–4531 (1999).

27.

Zhou, D. et al. Unexpected mode of engagement between enterovirus 71 and its receptor SCARB2. Nat. Microbiol. 4, 414–419 (2019).

28.

Qian, M., Cai, D., Verhey, K. J. & Tsai, B. A lipid receptor sorts polyomavirus from the endolysosome to the endoplasmic reticulum to cause infection. PLoS Pathog. 5, e1000465 (2009).

29.

Ravindran, M. S., Bagchi, P., Cunningham, C. N. & Tsai, B. Opportunistic intruders: how viruses orchestrate ER functions to infect cells. Nat. Rev. Microbiol. 14, 407–420 (2016).

30.

Dupzyk, A. & Tsai, B. Bag2 is a component of a cytosolic extraction machinery that promotes membrane penetration of a nonenveloped virus. J. Virol. 92, e00607–18 (2018).

31.

Ewers, H. et al. GM1 structure determines SV40-induced membrane invagination and infection. Nat. Cell Biol. 12, 11–18 (2010).

32.

Ewers, H. & Helenius, A. Lipid-mediated endocytosis. Cold Spring Harb. Perspect. Biol. 3, a004721 (2011).

33.

Spriggs, C. C., Harwood, M. C. & Tsai, B. How non-enveloped viruses hijack host machineries to cause infection. Adv. Virus Res. 104, 97–122 (2019).

34.

Pinto, R. M., et al. Hepatitis A virus codon usage: implications for translation kinetics and capsid folding. Cold Spring Harb Perspect. Med. 8, a031781 (2018).

35.

Zhang, H. C. et al. An infectious cDNA clone of a cytopathic hepatitis A virus: genomic regions associated with rapid replication and cytopathic effect. Virology 212, 686–697 (1995).

36.

Yi, M., Bodola, F. & Lemon, S. M. Subgenomic hepatitis C virus replicons inducing expression of a secreted enzymatic reporter protein. Virology 304, 197–210 (2002).

37.

Lee, W. M., Monroe, S. S. & Rueckert, R. R. Role of maturation cleavage in infectivity of picornaviruses: activation of an infectosome. J. Virol. 67, 2110–2122 (1993).

38.

Wakita, T. et al. Production of infectious hepatitis C virus in tissue culture from a cloned viral genome. Nat. Med. 11, 791–796 (2005).

39.

Blight, K. J., McKeating, J. A., Marcotrigiano, J. & Rice, C. M. Efficient replication of hepatitis C virus genotype 1a RNAs in cell culture. J. Virol. 77, 3181–3190 (2003).

40.

Sanjana, N. E., Shalem, O. & Zhang, F. Improved vectors and genome-wide libraries for CRISPR screening. Nat. Methods 11, 783–784 (2014).

41.

MacGregor, A. et al. Monoclonal antibodies against hepatitis A virus. J. Clin. Microbiol. 18, 1237–1243 (1983).

42.

Doench, J. G. et al. Rational design of highly active sgRNAs for CRISPR–Cas9-mediated gene inactivation. Nat. Biotechnol. 32, 1262–1267 (2014).

43.

Li, W. et al. MAGeCK enables robust identification of essential genes from genome-scale CRISPR/Cas9 knockout screens. Genome Biol. 15, 554 (2014).

44.

Szklarczyk, D. et al. STRING v11: protein-protein association networks with increased coverage, supporting functional discovery in genome-wide experimental datasets. Nucleic Acids Res. 47, D607–D613 (2019).

45.

Stapleton, J. T. et al. Antigenic and immunogenic properties of recombinant hepatitis A virus 14S and 70S subviral particles. J. Virol. 67, 1080–1085 (1993).

46.

Gonzalez-Lopez, O. et al. Redundant late domain functions of tandem VP2 YPX3L motifs in nonlytic cellular egress of quasi-enveloped hepatitis A virus. J. Virol. 92, 1308–1318 (2018).

47.

Svennerholm, L. & Fredman, P. A procedure for quantitative isolation of brain gangliosides. Biochim. Biophys. Acta 617, 97–109 (1980).

48.

Zavesca Scientific Discussion (European Medicines Evaluation Agency, 2005); https://www.ema.europa.eu/en/documents/scientific-discussion/zavesca-epar-scientific-discussion_en.pdf
Acknowledgements
We thank K. Jacobson for helpful discussions. This research was supported in part by grants from the US National Institutes of Health (R01-AI103083, R01-AI131685 and R01-AI150095 (to S.M.L.), R01-DK123499 (to Q.Z.), R01-GM134531 (to M.K.) and T32-GM007092 (to R.M.)).
Ethics declarations
Competing interests
The authors declare no competing interests.
Additional information
Publisher's note Springer Nature remains neutral with regard to jurisdictional claims in published maps and institutional affiliations.
Supplementary information
About this article
Cite this article
Das, A., Barrientos, R., Shiota, T. et al. Gangliosides are essential endosomal receptors for quasi-enveloped and naked hepatitis A virus. Nat Microbiol 5, 1069–1078 (2020). https://doi.org/10.1038/s41564-020-0727-8
Received:

Accepted:

Published:

Issue Date: