N6-methyladenosine (m6A) is a widespread modification on cellular RNA that is dynamically regulated involving m6A writers, erasers and readers, and can impact many cellular processes and pathways. A recent study demonstrates that viruses can use m6A to ensure their RNA avoids innate immune sensing.
Access options
Subscribe to Journal
Get full journal access for 1 year
$59.00
only $4.92 per issue
All prices are NET prices.
VAT will be added later in the checkout.
Tax calculation will be finalised during checkout.
Rent or Buy article
Get time limited or full article access on ReadCube.
from$8.99
All prices are NET prices.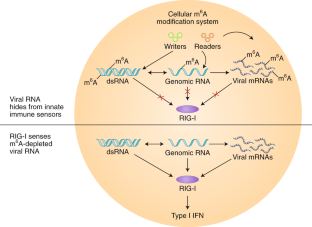 References
1.

Zhao, B. S., Roundtree, I. A. & He, C. Nat. Rev. Mol. Cell Biol. 18, 31–42 (2017).

2.

Krug, R. M., Morgan, M. A. & Shatkin, A. J. J. Virol. 20, 45–53 (1976).

3.

Williams, G. D., Gokhale, N. S. & Horner, S. M. Ann. Rev. Virol. 6, 235–253 (2019).

4.

Gokhale, N. S. et al. Cell Host Microbe 20, 654–665 (2016).

5.

Hao, H. et al. Nucleic Acids Res. 47, 362–374 (2019).

6.

Durbin, A. F., Wang, C., Marcotrigiano, J. & Gehrke, L. mBio 7, e00833-16 (2016).

7.

Daffis, S. et al. Nature 468, 452–456 (2010).

8.

Zust, R. et al. Nat. Immunol. 12, 137–143 (2011).

9.

Li et al. Nat. Microbiol. https://doi.org/10.1038/s41564-019-0653-9 (2020).
Acknowledgements
V.T. was supported by the Swiss National Science Foundation (SNF, grant no. 310030_173085).
Ethics declarations
Competing interests
The author declares no competing interests.
About this article
Cite this article
Thiel, V. Viral RNA in an m6A disguise. Nat Microbiol 5, 531–532 (2020). https://doi.org/10.1038/s41564-020-0689-x