Abstract
The immunosuppressive microenvironment of solid tumours reduces the antitumour activity of chimeric antigen receptor T cells (CAR-T cells). Here, we show that the release—through the implantation of a hyaluronic acid hydrogel—of CAR-T cells targeting the human chondroitin sulfate proteoglycan 4, polymer nanoparticles encapsulating the cytokine interleukin-15 and platelets conjugated with the checkpoint inhibitor programmed death-ligand 1 into the tumour cavity of mice with a resected subcutaneous melanoma tumour inhibits the local recurrence of the tumour as well as the growth of distant tumours, through the abscopal effect. The hydrogel, which functions as a reservoir, facilitates the enhanced distribution of the CAR-T cells within the surgical bed, and the inflammatory microenvironment triggers platelet activation and the subsequent release of platelet-derived microparticles. The post-surgery local delivery of combination immunotherapy through a biocompatible hydrogel reservoir could represent a translational route for preventing the recurrence of cancers with resectable tumours.
Your institute does not have access to this article
Relevant articles
Open Access articles citing this article.
Jingchao Li

,

Yu Luo

…

Ruiping Zhang

Nature Communications Open Access 12 July 2022

Zhaoting Li

,

Yingyue Ding

…

Quanyin Hu

Nature Communications Open Access 06 April 2022

Huan Cao

,

Lixia Duan

…

Kun Zhang

Signal Transduction and Targeted Therapy Open Access 16 December 2021
Access options
Subscribe to Nature+
Get immediate online access to the entire Nature family of 50+ journals
Subscribe to Journal
Get full journal access for 1 year
$59.00
only $4.92 per issue
All prices are NET prices.
VAT will be added later in the checkout.
Tax calculation will be finalised during checkout.
Buy article
Get time limited or full article access on ReadCube.
$32.00
All prices are NET prices.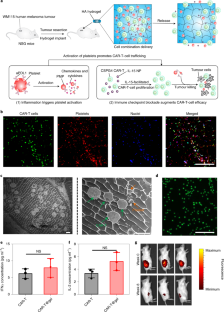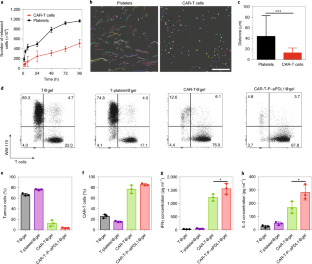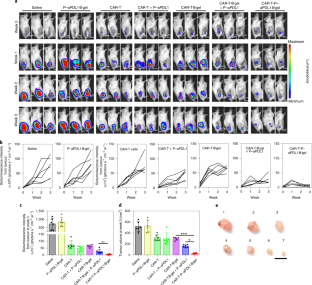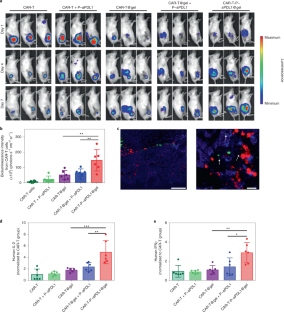 References
Demicheli, R., Retsky, M., Hrushesky, W., Baum, M. & Gukas, I. The effects of surgery on tumour growth: a century of investigations. Ann. Oncol. 19, 1821–1828 (2008).

Lukianova-Hleb, E. Y. et al. Intraoperative diagnostics and elimination of residual microtumours with plasmonic nanobubbles. Nat. Nanotechnol. 11, 525–532 (2016).

Demicheli, R., Retsky, M. W., Hrushesky, W. J. & Baum, M. Tumour dormancy and surgery-driven interruption of dormancy in breast cancer: learning from failures. Nat. Rev. Clin. Oncol. 4, 699–710 (2007).

Baker, D., Masterson, T., Pace, R., Constable, W. & Wanebo, H. The influence of the surgical wound on local tumour recurrence. Surgery 106, 525–532 (1989).

Ceelen, W., Pattyn, P. & Mareel, M. Surgery, wound healing, and metastasis: recent insights and clinical implications. Crit. Rev. Oncol. Hematol. 89, 16–26 (2014).

Pardoll, D. M. The blockade of immune checkpoints in cancer immunotherapy. Nat. Rev. Cancer 12, 252–264 (2012).

Topalian, S. L., Drake, C. G. & Pardoll, D. M. Immune checkpoint blockade: a common denominator approach to cancer therapy. Cancer Cell 27, 450–461 (2015).

Topalian, S. L., Taube, J. M., Anders, R. A. & Pardoll, D. M. Mechanism-driven biomarkers to guide immune checkpoint blockade in cancer therapy. Nat. Rev. Cancer 16, 275–287 (2016).

Sharma, P. & Allison, J. P. The future of immune checkpoint therapy. Science 348, 56–61 (2015).

Marquez-Rodas, I. et al. Immune checkpoint inhibitors: therapeutic advances in melanoma. Ann. Transl. Med. 3, 267 (2015).

Jenkins, R. W., Thummalapalli, R., Carter, J., Cañadas, I. & Barbie, D. A. Molecular and genomic determinants of response to immune checkpoint inhibition in cancer. Annu. Rev. Med. 69, 333–347 (2018).

Nowicki, T. S., Hu-Lieskovan, S. & Ribas, A. Mechanisms of resistance to PD-1 and PD-L1 blockade. Cancer J. 24, 47–53 (2018).

Michot, J. et al. Immune-related adverse events with immune checkpoint blockade: a comprehensive review. Eur. J. Cancer 54, 139–148 (2016).

Sharma, P. & Allison, J. P. Immune checkpoint targeting in cancer therapy: toward combination strategies with curative potential. Cell 161, 205–214 (2015).

Rosenberg, S. A., Restifo, N. P., Yang, J. C., Morgan, R. A. & Dudley, M. E. Adoptive cell transfer: a clinical path to effective cancer immunotherapy. Nat. Rev. Cancer 8, 299–308 (2008).

Restifo, N. P., Dudley, M. E. & Rosenberg, S. A. Adoptive immunotherapy for cancer: harnessing the T cell response. Nat. Rev. Immunol. 12, 269–281 (2012).

Jackson, H. J., Rafiq, S. & Brentjens, R. J. Driving CAR T-cells forward. Nat. Rev. Clin. Oncol. 13, 370–383 (2016).

Fesnak, A. D., June, C. H. & Levine, B. L. Engineered T cells: the promise and challenges of cancer immunotherapy. Nat. Rev. Cancer 16, 566–581 (2016).

Lee, D. W. et al. T cells expressing CD19 chimeric antigen receptors for acute lymphoblastic leukaemia in children and young adults: a phase 1 dose-escalation trial. Lancet 385, 517–528 (2015).

Newick, K., O'Brien, S., Moon, E. & Albelda, S. M. CAR T cell therapy for solid tumours. Annu. Rev. Med. 68, 139–152 (2017).

Abken, H. Adoptive therapy with CAR redirected T cells: the challenges in targeting solid tumours. Immunotherapy 7, 535–544 (2015).

John, L. B., Kershaw, M. H. & Darcy, P. K. Blockade of PD-1 immunosuppression boosts CAR T-cell therapy. Oncoimmunology 2, e26286 (2013).

John, L. B. et al. Anti-PD-1 antibody therapy potently enhances the eradication of established tumours by gene-modified T cells. Clin. Cancer Res. 19, 5636–5646 (2013).

Pluschke, G. et al. Molecular cloning of a human melanoma-associated chondroitin sulfate proteoglycan. Proc. Natl Acad. Sci. USA 93, 9710–9715 (1996).

Rivera, Z. et al. CSPG4 as a target of antibody-based immunotherapy for malignant mesothelioma. Clin. Cancer Res. 18, 5352–5363 (2012).

Kochenderfer, J. N. et al. Lymphoma remissions caused by anti-CD19 chimeric antigen receptor T cells are associated with high serum interleukin-15 levels. J. Clin. Oncol. 35, 1803–1813 (2017).

Wang, C. et al. In situ activation of platelets with checkpoint inhibitors for post-surgical cancer immunotherapy. Nat. Biomed. Eng. 1, 0011 (2017).

Hu, Q. et al. Conjugation of haematopoietic stem cells and platelets decorated with anti-PD-1 antibodies augments anti-leukaemia efficacy. Nat. Biomed. Eng. 2, 831–840 (2018).

Gemmell, C. H., Ramirez, S. M., Yeo, E. L. & Sefton, M. V. Platelet activation in whole blood by artificial surfaces: identification of platelet-derived microparticles and activated platelet binding to leukocytes as material-induced activation events. J. Lab. Clin. Med. 125, 276–287 (1995).

Kahn, M. L. et al. A dual thrombin receptor system for platelet activation. Nature 394, 690–694 (1998).

Jiang, T., Mo, R., Bellotti, A., Zhou, J. & Gu, Z. Gel–liposome‐mediated co‐delivery of anticancer membrane‐associated proteins and small‐molecule drugs for enhanced therapeutic efficacy. Adv. Funct. Mater. 24, 2295–2304 (2014).

Feczkó, T., Tóth, J., Dósa, G. & Gyenis, J. Optimization of protein encapsulation in PLGA nanoparticles. Chem. Eng. Process. 50, 757–765 (2011).

Caruana, I. et al. Heparanase promotes tumour infiltration and antitumour activity of CAR-redirected T lymphocytes. Nat. Med. 21, 524–529 (2015).

Stephan, S. B. et al. Biopolymer implants enhance the efficacy of adoptive T-cell therapy. Nat. Biotechnol. 33, 97–101 (2015).

Smith, T. T. et al. Biopolymers codelivering engineered T cells and STING agonists can eliminate heterogeneous tumours. J. Clin. Invest. 127, 2176–2191 (2017).

Dawson, E., Mapili, G., Erickson, K., Taqvi, S. & Roy, K. Biomaterials for stem cell differentiation. Adv. Drug Deliv. Rev. 60, 215–228 (2008).

Orive, G. et al. Cell encapsulation: promise and progress. Nat. Med. 9, 104–107 (2003).

Mause, S. F., von Hundelshausen, P., Zernecke, A., Koenen, R. R. & Weber, C. Platelet microparticles: a transcellular delivery system for RANTES promoting monocyte recruitment on endothelium. Arterioscler. Thromb. Vasc. Biol. 25, 1512–1518 (2005).

Curran, K. J. et al. Enhancing antitumour efficacy of chimeric antigen receptor T cells through constitutive CD40L expression. Mol. Ther. 23, 769–778 (2015).

Henn, V. et al. CD40 ligand on activated platelets triggers an inflammatory reaction of endothelial cells. Nature 391, 591–594 (1998).

Pellegatta, S. et al. Constitutive and TNFα-inducible expression of chondroitin sulfate proteoglycan 4 in glioblastoma and neurospheres: implications for CAR-T cell therapy. Sci. Transl. Med. 10, eaao2731 (2018).
Acknowledgements
This work was supported by grants from the Jonsson Comprehensive Cancer Center at UCLA, the Alfred P. Sloan Foundation (Sloan Research Fellowship), NIH 1R01CA234343-01A1, a pilot grant from the UNC Cancer Center and the start-up package from Zhejiang University to Z.G.
Ethics declarations
Competing interests
Patents describing the drug-delivery system documented in this Article have been filed with the US Patent Office. Q.H. and Z.G. are listed as inventors on the provisional patent application (provisional patent application no. 63/055,738). Z.G. is the co-founder of Zencapsule Inc., and the other authors declare no competing interests.
Additional information
Peer review information Nature Biomedical Engineering thanks the anonymous reviewers for their contribution to the peer review of this work.
Publisher's note Springer Nature remains neutral with regard to jurisdictional claims in published maps and institutional affiliations.
Supplementary information
About this article
Cite this article
Hu, Q., Li, H., Archibong, E. et al. Inhibition of post-surgery tumour recurrence via a hydrogel releasing CAR-T cells and anti-PDL1-conjugated platelets. Nat Biomed Eng 5, 1038–1047 (2021). https://doi.org/10.1038/s41551-021-00712-1
Received:

Accepted:

Published:

Issue Date:

DOI: https://doi.org/10.1038/s41551-021-00712-1