Abstract
Viral infections enhance cancer risk and threaten host genome integrity. Although human cytomegalovirus (HCMV) proteins have been detected in a wide spectrum of human malignancies and HCMV infections have been implicated in tumorigenesis, the underlying mechanisms remain poorly understood. Here, we employed a range of experimental approaches, including single-molecule DNA fiber analysis, and showed that infection by any of the four commonly used HCMV strains: AD169, Towne, TB40E or VR1814 induced replication stress (RS), as documented by host-cell replication fork asymmetry and formation of 53BP1 foci. The HCMV-evoked RS triggered an ensuing host DNA damage response (DDR) and chromosomal instability in both permissive and non-permissive human cells, the latter being particularly relevant in the context of tumorigenesis, as such cells can survive and proliferate after HCMV infection. The viral major immediate early enhancer and promoter (MIEP) that controls expression of the viral genes IE72 (IE-1) and IE86 (IE-2), contains transcription-factor binding sites shared by promoters of cellular stress-response genes. We found that DNA damaging insults, including those relevant for cancer therapy, enhanced IE72/86 expression. Thus, MIEP has been evolutionary shaped to exploit host DDR. Ectopically expressed IE72 and IE86 also induced RS and increased genomic instability. Of clinical relevance, we show that undergoing standard-of-care genotoxic radio-chemotherapy in patients with HCMV-positive glioblastomas correlated with elevated HCMV protein markers after tumor recurrence. Collectively, these results are consistent with our proposed concept of HCMV hijacking transcription-factor binding sites shared with host stress-response genes. We present a model to explain the potential oncomodulatory effects of HCMV infections through enhanced replication stress, subverted DNA damage response and induced genomic instability.
Access options
Subscribe to Journal
Get full journal access for 1 year
$119.00
only $9.92 per issue
All prices are NET prices.
VAT will be added later in the checkout.
Tax calculation will be finalised during checkout.
Buy article
Get time limited or full article access on ReadCube.
$32.00
All prices are NET prices.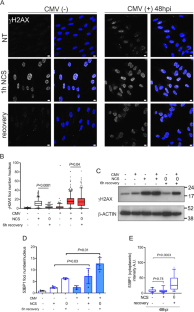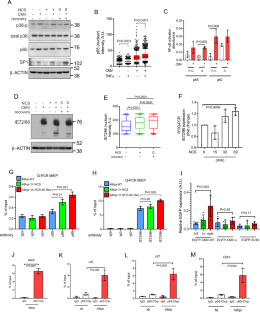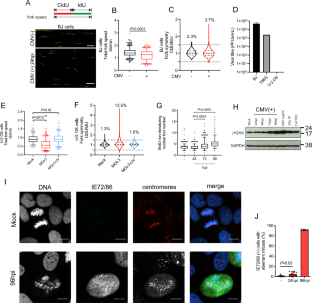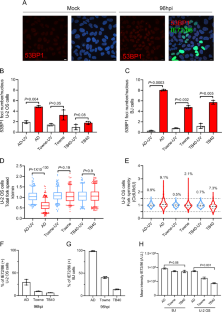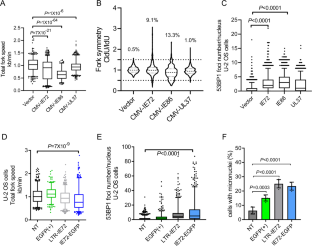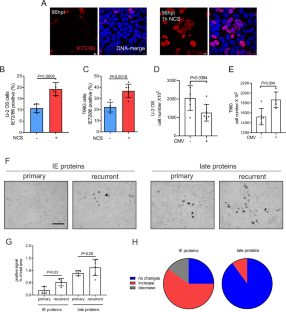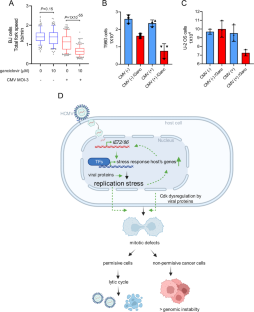 Data availability
Constructs, maps, sequences and any other raw data supporting the present study are available upon request to any of the corresponding authors.
References
de Martel C, Georges D, Bray F, Ferlay J, Clifford GM. Global burden of cancer attributable to infections in 2018: a worldwide incidence analysis. Lancet Glob Health. 2020;8:e180–e90.

Zuhair M, Smit GSA, Wallis G, Jabbar F, Smith C, Devleesschauwer B, et al. Estimation of the worldwide seroprevalence of cytomegalovirus: a systematic review and meta-analysis. Rev Med Virol. 2019;29:e2034.

Rawlinson WD, Hamilton ST, van Zuylen WJ. Update on treatment of cytomegalovirus infection in pregnancy and of the newborn with congenital cytomegalovirus. Curr Opin Infect Dis. 2016;29:615–24.

Harkins LE, Matlaf LA, Soroceanu L, Klemm K, Britt WJ, Wang W, et al. Detection of human cytomegalovirus in normal and neoplastic breast epithelium. Herpesviridae.2010;1:8.

Boldogh I, Baskar JF, Mar EC, Huang ES. Human cytomegalovirus and herpes simplex type 2 virus in normal and adenocarcinomatous prostate glands. J Natl Cancer Inst. 1983;70:819–26.

Soroceanu L, Matlaf L, Bezrookove V, Harkins L, Martinez R, Greene M, et al. Human cytomegalovirus US28 found in glioblastoma promotes an invasive and angiogenic phenotype. Cancer Res. 2011;71:6643–53.

Bhattacharjee B, Renzette N, Kowalik TF. Genetic analysis of cytomegalovirus in malignant gliomas. J Virol. 2012;86:6815–24.

Cobbs CS, Harkins L, Samanta M, Gillespie GY, Bharara S, King PH, et al. Human cytomegalovirus infection and expression in human malignant glioma. Cancer Res. 2002;62:3347–50.

Soderberg-Naucler C, Rahbar A, Stragliotto G. Survival in patients with glioblastoma receiving valganciclovir. N Engl J Med. 2013;369:985–6.

Schuessler A, Smith C, Beagley L, Boyle GM, Rehan S, Matthews K, et al. Autologous T-cell therapy for cytomegalovirus as a consolidative treatment for recurrent glioblastoma. Cancer Res. 2014;74:3466–76.

Goerig NL, Frey B, Korn K, Fleckenstein B, Uberla K, Schmidt MA, et al. Frequent occurrence of therapeutically reversible CMV-associated encephalopathy during radiotherapy of the brain. Neuro Oncol. 2016;18:1664–72.

Goerig NL, Frey B, Korn K, Fleckenstein B, Uberla K, Schmidt MA, et al. Early mortality of brain cancer patients and its connection to cytomegalovirus reactivation during radiochemotherapy. Clin Cancer Res. 2020;26:3259–70.

Luo MH, Rosenke K, Czornak K, Fortunato EA. Human cytomegalovirus disrupts both ataxia telangiectasia mutated protein (ATM)- and ATM-Rad3-related kinase-mediated DNA damage responses during lytic infection. J Virol. 2007;81:1934–50.

Xiaofei E, Kowalik TF. The DNA damage response induced by infection with human cytomegalovirus and other viruses. Viruses.2014;6:2155–85.

E X, Pickering MT, Debatis M, Castillo J, Lagadinos A, Wang S, et al. An E2F1-mediated DNA damage response contributes to the replication of human cytomegalovirus. PLoS Pathog. 2011;7:e1001342.

E X, Savidis G, Chin CR, Wang S, Lu S, Brass AL, et al. A novel DDB2-ATM feedback loop regulates human cytomegalovirus replication. J Virol. 2014;88:2279–90.

Zavala AG, O'Dowd JM, Fortunato EA. Infection of a single cell line with distinct strains of human cytomegalovirus can result in large variations in virion production and facilitate efficient screening of virus protein function. J Virol. 2015;90:2523–35.

Gaspar M, Shenk T. Human cytomegalovirus inhibits a DNA damage response by mislocalizing checkpoint proteins. Proc Natl Acad Sci USA. 2006;103:2821–6.

O'Dowd JM, Zavala AG, Brown CJ, Mori T, Fortunato EA. HCMV-infected cells maintain efficient nucleotide excision repair of the viral genome while abrogating repair of the host genome. PLoS Pathog. 2012;8:e1003038.

Maya-Mendoza A, Ostrakova J, Kosar M, Hall A, Duskova P, Mistrik M, et al. Myc and Ras oncogenes engage different energy metabolism programs and evoke distinct patterns of oxidative and DNA replication stress. Mol Oncol. 2015;9:601–16.

Bartkova J, Bakkenist CJ, Rajpert-De Meyts E, Skakkebaek NE, Sehested M, Lukas J, et al. ATM activation in normal human tissues and testicular cancer. Cell Cycle. 2005;4:838–45.

Ma AN, Wang H, Guo R, Wang YX, Li W, Cui J, et al. Targeted gene suppression by inducing de novo DNA methylation in the gene promoter. Epigenetics Chromatin. 2014;7:20.

Jackson JG, Pereira-Smith OM. p53 is preferentially recruited to the promoters of growth arrest genes p21 and GADD45 during replicative senescence of normal human fibroblasts. Cancer Res. 2006;66:8356–60.

Maya-Mendoza A, Olivares-Chauvet P, Kohlmeier F, Jackson DA. Visualising chromosomal replication sites and replicons in mammalian cells. Methods.2012;57:140–8.

Gibson DG, Young L, Chuang RY, Venter JC, Hutchison CA 3rd, Smith HO. Enzymatic assembly of DNA molecules up to several hundred kilobases. Nat Methods. 2009;6:343–5.

Bartek J, Jr. Fornara O, Merchut-Maya JM, Maya-Mendoza A, Rahbar A, Stragliotto G, et al. Replication stress, DNA damage signalling, and cytomegalovirus infection in human medulloblastomas. Mol Oncol. 2017;11:945–64.

Brandes AA, Basso U, Reni M, Vastola F, Tosoni A, Cavallo G, et al. First-line chemotherapy with cisplatin plus fractionated temozolomide in recurrent glioblastoma multiforme: a phase II study of the Gruppo Italiano Cooperativo di Neuro-Oncologia. J Clin Oncol. 2004;22:1598–604.

Uemura S, Matsukado Y, Kuratsu J, Sonoda H, Ohtsuka T, Yoshioka S, et al. [Local chemotherapy of malignant glioma. Intra-tumoral administration of neocarzinostatin]. Neurol Med Chir (Tokyo). 1986;26:468–74.

Soderberg-Naucler C, Fish KN, Nelson JA. Reactivation of latent human cytomegalovirus by allogeneic stimulation of blood cells from healthy donors. Cell .1997;91:119–26.

Reeves M, Sissons P, Sinclair J. Reactivation of human cytomegalovirus in dendritic cells. Disco Med. 2005;5:170–4.

Reeves MB, Compton T. Inhibition of inflammatory interleukin-6 activity via extracellular signal-regulated kinase-mitogen-activated protein kinase signaling antagonizes human cytomegalovirus reactivation from dendritic cells. J Virol. 2011;85:12750–8.

Stein J, Volk HD, Liebenthal C, Kruger DH, Prosch S. Tumour necrosis factor alpha stimulates the activity of the human cytomegalovirus major immediate early enhancer/promoter in immature monocytic cells. J Gen Virol. 1993;74:2333–8.

Martin C, Chen S, Maya-Mendoza A, Lovric J, Sims PF, Jackson DA. Lamin B1 maintains the functional plasticity of nucleoli. J Cell Sci. 2009;122:1551–62.

Kwiatkowski N, Zhang T, Rahl PB, Abraham BJ, Reddy J, Ficarro SB, et al. Targeting transcription regulation in cancer with a covalent CDK7 inhibitor. Nature.2014;511:616–20.

Stinski MF, Isomura H. Role of the cytomegalovirus major immediate early enhancer in acute infection and reactivation from latency. Med Microbiol Immunol. 2008;197:223–31.

Costantino L, Sotiriou SK, Rantala JK, Magin S, Mladenov E, Helleday T, et al. Break-induced replication repair of damaged forks induces genomic duplications in human cells. Science.2014;343:88–91.

DeMarchi JM, Kaplan AS. Replication of human cytomegalovirus DNA: lack of dependence on cell DNA synthesis. J Virol. 1976;18:1063–70.

Yamanishi K, Fogel M, Rapp F. Effect of caffeine on the replication of nonirradiated and ultraviolet-irradiated cytomegalovirus. Intervirology.1978;10:241–53.

Maya-Mendoza A, Moudry P, Merchut-Maya JM, Lee M, Strauss R, Bartek J. High speed of fork progression induces DNA replication stress and genomic instability. Nature.2018;559:279–84.

Luo MH, Fortunato EA. Long-term infection and shedding of human cytomegalovirus in T98G glioblastoma cells. J Virol. 2007;81:10424–36.

Halazonetis TD, Gorgoulis VG, Bartek J. An oncogene-induced DNA damage model for cancer development. Science.2008;319:1352–5.

Bartkova J, Horejsi Z, Koed K, Kramer A, Tort F, Zieger K, et al. DNA damage response as a candidate anti-cancer barrier in early human tumorigenesis. Nature.2005;434:864–70.

Gorgoulis VG, Vassiliou LV, Karakaidos P, Zacharatos P, Kotsinas A, Liloglou T, et al. Activation of the DNA damage checkpoint and genomic instability in human precancerous lesions. Nature.2005;434:907–13.

Burrell RA, McClelland SE, Endesfelder D, Groth P, Weller MC, Shaikh N, et al. Replication stress links structural and numerical cancer chromosomal instability. Nature.2013;494:492–6.

Maiani E, Milletti G, Nazio F, Holdgaard SG, Bartkova J, Rizza S, et al. AMBRA1 regulates cyclin D to guard S-phase entry and genomic integrity. Nature.2021;592:799–803.

Venkatesan S, Angelova M, Puttick C, Zhai H, Caswell DR, Lu WT, et al. Induction of APOBEC3 exacerbates DNA replication stress and chromosomal instability in early breast and lung cancer evolution. Cancer Disco. 2021;11:2456–73.

Hertel L, Chou S, Mocarski ES. Viral and cell cycle-regulated kinases in cytomegalovirus-induced pseudomitosis and replication. PLoS Pathog. 2007;3:e6.

Hertel L, Mocarski ES. Global analysis of host cell gene expression late during cytomegalovirus infection reveals extensive dysregulation of cell cycle gene expression and induction of Pseudomitosis independent of US28 function. J Virol. 2004;78:11988–2011.

Tang J, Frascaroli G, Lebbink RJ, Ostermann E, Brune W. Human cytomegalovirus glycoprotein B variants affect viral entry, cell fusion, and genome stability. Proc Natl Acad Sci USA. 2019;116:18021–30.

Wolmer-Solberg N, Baryawno N, Rahbar A, Fuchs D, Odeberg J, Taher C, et al. Frequent detection of human cytomegalovirus in neuroblastoma: a novel therapeutic target? Int J Cancer. 2013;133:2351–61.

Baryawno N, Rahbar A, Wolmer-Solberg N, Taher C, Odeberg J, Darabi A, et al. Detection of human cytomegalovirus in medulloblastomas reveals a potential therapeutic target. J Clin Invest. 2011;121:4043–55.

Traylen CM, Patel HR, Fondaw W, Mahatme S, Williams JF, Walker LR, et al. Virus reactivation: a panoramic view in human infections. Future Virol. 2011;6:451–63.

Macheret M, Halazonetis TD. DNA replication stress as a hallmark of cancer. Annu Rev Pathol. 2015;10:425–48.

Shen Y, Zhu H, Shenk T. Human cytomagalovirus IE1 and IE2 proteins are mutagenic and mediate "hit-and-run" oncogenic transformation in cooperation with the adenovirus E1A proteins. Proc Natl Acad Sci USA. 1997;94:3341–5.

Doniger J, Muralidhar S, Rosenthal LJ. Human cytomegalovirus and human herpesvirus 6 genes that transform and transactivate. Clin Microbiol Rev. 1999;12:367–82.

Stragliotto G, Pantalone MR, Rahbar A, Bartek J, Soderberg-Naucler C. Valganciclovir as Add-on to standard therapy in glioblastoma patients. Clin Cancer Res. 2020;26:4031–9.

Schuessler A, Walker DG, Khanna R. Cytomegalovirus as a novel target for immunotherapy of glioblastoma multiforme. Front Oncol. 2014;4:275.
Acknowledgements
We acknowledge the support of Christoffel Dinant and the BioImaging Core Facility at the Danish Cancer Society Research Center.
Funding
This work was supported by grants from The Danish Cancer Society (# R1123-A7785-15-S2, R167-A11068), The Lundbeck Foundation (R266-2017-4289, R322-2019-2577), The Danish Council for Independent Research (# DFF-7016-00313), The Novo Nordisk Foundation (grant # 0060590), The Swedish Research Council VR-MH 2014-46602-117891-30, The Swedish Cancer Foundation/Cancerfonden (# 170176), Swedish Medical Research Council (2019-01736), The Danish National Research Foundation (project CARD, DNRF 125), Grant Agency of the Czech Ministry of Health (NU21-03-00195), Family Ehrling Persson´s Foundation, Sten A Olssons Foundation, BILTEMA Foundation and Family of Jochnich´s Foundation.
Ethics declarations
Competing interests
The authors declare no competing interests.
Ethics approval and consent to participate
The study was performed in accordance with the Declaration of Helsinki. Our study includes a cohort of glioblastoma multiforme patients treated at the Department of Neurosurgery of the Copenhagen University Hospital (Rigshospitalet) between 2008 and 2014. The local ethics committee in Region Hovedstaden approved the study. Since all subjects were deceased, the committee waived the need for informed consent in this study.
Additional information
Publisher's note Springer Nature remains neutral with regard to jurisdictional claims in published maps and institutional affiliations.
Edited by G Melino
Supplementary information
About this article
Cite this article
Merchut-Maya, J.M., Bartek, J., Bartkova, J. et al. Human cytomegalovirus hijacks host stress response fueling replication stress and genome instability. Cell Death Differ 29, 1639–1653 (2022). https://doi.org/10.1038/s41418-022-00953-w
Received:

Revised:

Accepted:

Published:

Issue Date:

DOI: https://doi.org/10.1038/s41418-022-00953-w