Abstract
This study aimed to investigate the roles of METTL3, a regulator of m6A, in NSCLC. RT-qPCR was applied to determine mRNA of m6A-associated genes and SFRP2, and western blot were used for ZEB1 and MMP9 protein expression. Total m6A level was measured using methylated RNA immunoprecipitation (MeRIP) assay, and RIP was used to access m6A level of SFRP2. Cellular behaviors were detected using CCK-8 and tranwell assays. Xenograft assays were conducted to further verify the roles of METTL3 and SFRP2 in NSCLC. The expression level of METTL3 was higher in NSCLC than normal controls. However, downregulation of METTL3 restrained the proliferation, migration and invasion of NSCLC cells. Enhanced expression of METTL3 caused the inverse consequences. Moreover, SFRP2 was found to be negatively regulated by METTL3. Intriguingly, the anti-tumor functions of METTL3 knockdown in the phenotype of NSCLC cells and xenograft mice were overturned by inhibition of SFRP2. Silencing METTL3 resulted in the enhanced stability of SFRP2. Finally, downregulation of SFRP2 induced by METTL3 activated the Wnt/β-catenin signaling pathway in NSCLC. METTL3 acted as an oncogene in the pathogenesis of NSCLC via suppressing SFRP2 to activate Wnt/β-catenin signaling pathway, indicating that METTL3 might be a promising predictor in NSCLC.
Access options
Subscribe to this journal
Receive 12 print issues and online access
$259.00 per year
only $21.58 per issue
Rent or buy this article
Prices vary by article type
from$1.95
to$39.95
Prices may be subject to local taxes which are calculated during checkout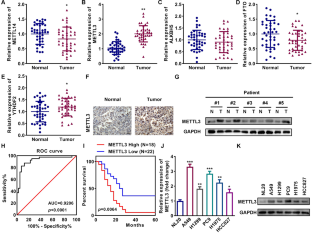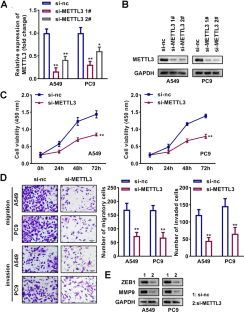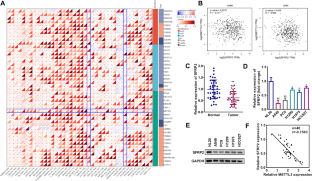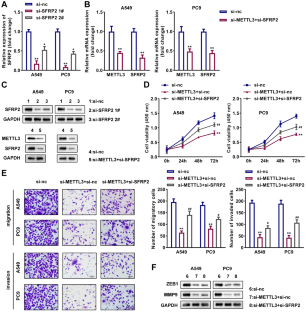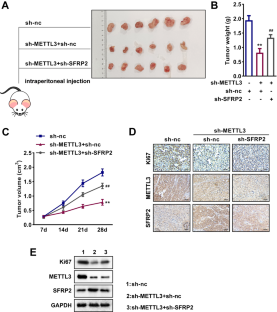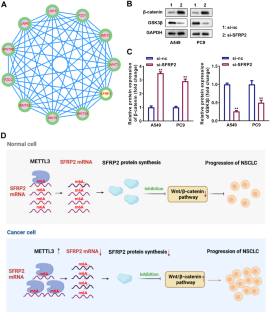 Data availability
The datasets used and/or analyzed during the current study are available from the corresponding author on reasonable request.
References
Sung H, Ferlay J, Siegel RL, Laversanne M, Soerjomataram I, Jemal A, et al. Global cancer statistics 2020: GLOBOCAN estimates of incidence and mortality worldwide for 36 cancers in 185 countries. CA: A Cancer J Clin. 2021;71:209–49.

Zang X, Gu J, Zhang J, Shi H, Hou S, Xu X, et al. Exosome-transmitted lncRNA UFC1 promotes non-small-cell lung cancer progression by EZH2-mediated epigenetic silencing of PTEN expression. Cell Death Dis. 2020;11:215.

Reck MPD, Heigener DFM, Mok TP, Soria JP, Rabe KFP. Management of non-small-cell lung cancer: recent developments. Lancet (Br Ed). 2013;382:709–19.

Ramalingam SS, Owonikoko TK, Khuri FR. Lung cancer: New biological insights and recent therapeutic advances. CA Cancer J Clin. 2011;61:91–112.

Ferlay J, Soerjomataram I, Dikshit R, Eser S, Mathers C, Rebelo M, et al. Cancer incidence and mortality worldwide: sources, methods and major patterns in GLOBOCAN 2012. Int J Cancer. 2015;136:E359–86. 2015-03-01

Liang Z, Kidwell RL, Deng H, Xie Q. Epigenetic N6-methyladenosine modification of RNA and DNA regulates cancer. Cancer Biol Med. 2020;17:9–19. 2020-01-01

Sen P, Shah PP, Nativio R, Berger SL. Epigenetic mechanisms of longevity and aging. Cell. 2016;166:822–39.

Werner RJ, Kelly AD, Issa JJ. Epigenetics and precision oncology. Cancer J. 2017;23:262–9. 2017-09-01

Maleszewska M, Wojtas B, Kamińska B. Deregulation of epigenetic mechanisms in cancer. Postępy Biochem. 2018;64:148.

Roundtree IA, Evans ME, Pan T, He C. Dynamic RNA modifications in gene expression regulation. Cell. 2017;169:1187–200.

Chen X, Zhang J, Zhu J. The role of m 6 A RNA methylation in human cancer. Mol Cancer. 2019;18:103. 2019-01-01

Pan H, Li X, Chen C, Fan Y, Zhou Q. [Research advances of m(6)A RNA methylation in non-small cell lung cancer]. Zhongguo Fei Ai Za Zhi [J Artic; Rev]. 2020;23:961–9. 2020-11-20

Song Z, Jia G, Ma P, Cang S. Exosomal miR-4443 promotes cisplatin resistance in non-small cell lung carcinoma by regulating FSP1 m6A modification-mediated ferroptosis. Life Sci. 2021;276:119399.

Shen Y, Li C, Zhou L, Huang JA. G protein-coupled oestrogen receptor promotes cell growth of non-small cell lung cancer cells via YAP1/QKI/circNOTCH1/m6A methylated NOTCH1 signalling. J Cell Mol Med. 2021;25:284–96.

Zhao Z, Cai Q, Zhang P, He B, Peng X, Tu G, et al. N6-methyladenosine RNA methylation regulator-related alternative splicing (AS) gene signature predicts non-small cell lung cancer prognosis. Front Mol Biosci. 2021;8:657087.

Wang T, Kong S, Tao M, Ju S. The potential role of RNA N6-methyladenosine in cancer progression. Mol Cancer. 2020;19:88.

Wei W, Huo B, Shi X. miR-600 inhibits lung cancer via downregulating the expression of METTL3. Cancer Manag Res. 2019;11:1177–87.

Xue L, Li J, Lin Y, Liu D, Yang Q, Jian J, et al. m(6) A transferase METTL3-induced lncRNA ABHD11-AS1 promotes the Warburg effect of non-small-cell lung cancer. J Cell Physiol. 2021;236:2649–58.

Ren J, Jian F, Jiang H, Sun Y, Pan S, Gu C, et al. Decreased expression of SFRP2 promotes development of the pituitary corticotroph adenoma by upregulating Wnt signaling. Int J Oncol. 2018;52:1934–46.

Shi J, Ma H, Wang H, Zhu W, Jiang S, Dou R. et al. Overexpressionof LINC00261 inhibits non-small cell lung cancer cells progression by interacting with miR-522-3p and suppressing Wnt signaling. J Cell Biochem. 2019;120:18378–87.

Xiao X, Xiao Y, Wen R, Zhang Y, Li X, Wang H. et al. Promoting roles of the secreted frizzled-related protein 2 as a Wnt agonist in lung cancer cells. Oncol Rep. 2015;34:2259–66.

Tang Z, Li C, Kang B, Gao G, Li C, Zhang Z. GEPIA: a web server for cancer and normal gene expression profiling and interactive analyses. Nucleic Acids Res. 2017;45:W98–102.

Zhou Y, Shi H, Du Y, Zhao G, Wang X, Li Q. et al. lncRNADLEU2 modulates cell proliferation and invasion of non-small cell lung cancer by regulating miR-30c-5p/SOX9 axis. Aging(Albany NY).2019;11:7386–401.

Miller KD, Nogueira L, Mariotto AB, Rowland JH, Yabroff KR, Alfano CM, et al. Cancer treatment and survivorship statistics, 2019. CA Cancer J Clin. 2019;69:363–85. 2019-09-01

Asada K, Bolatkan A, Takasawa K, Komatsu M, Kaneko S, Hamamoto R Critical Roles of N(6)-Methyladenosine (m(6)A) in Cancer and Virus Infection. Biomolecules. [Journal Article; Research Support, Non-U.S. Gov't; Review]. 2020;10.

Bi Z, Liu Y, Zhao Y, Yao Y, Wu R, Liu Q. et al. A dynamic reversible RNA N(6) -methyladenosine modification: current status and perspectives. J Cell Physiol.2019;234:7948–56.

Cheng Y, Wang M, Zhou J, Dong H, Wang S, Xu H. The important role of N6-methyladenosine RNA modification in non-small cell lung cancer. Genes-Basel. 2021;12:440.

Liu Y, Guo X, Zhao M, Ao H, Leng X, Liu M, et al. Contributions and prognostic values of m(6) A RNA methylation regulators in non-small-cell lung cancer. J Cell Physiol. 2020;235:6043–57.

Wang Y, Li M, Zhang L, Chen Y, Zhang S. m6A demethylase FTO induces NELL2 expression by inhibiting E2F1 m6A modification leading to metastasis of non-small cell lung cancer. Mol Ther Oncolytics. 2021;21:367–76.

Meng Q, Wang S, Zhou S, Liu H, Ma X, Zhou X, et al. Dissecting the m 6 A methylation affection on afatinib resistance in non-small cell lung cancer. Pharmacogenomics J. 2020;20:227.

Han J, Wang JZ, Yang X, Yu H, Zhou R, Lu HC. et al. METTL3 promote tumor proliferation of bladder cancer by accelerating pri-miR221/222maturation in m6A-dependent manner. Mol Cancer. 2019;18:110

Chen M, Wei L, Law CT, Tsang FH, Shen J, Cheng CL. et al. RNAN6-methyladenosine methyltransferase-like 3 promotes liver cancer progression through YTHDF2-dependent posttranscriptional silencing of SOCS2. Hepatology. 2018;67:2254–70.

Chen H, Gao S, Liu W, Wong CC, Wu J, Wu J. et al. RNAN(6)-methyladenosine methyltransferase METTL3 facilitates colorectal cancer by activating the m(6)A-GLUT1-mTORC1 axis and is a therapeutic target. Gastroenterology. 2021;160:1284–300.

Wanna-Udom S, Terashima M, Lyu H, Ishimura A, Takino T, Sakari M. et al. Them6A methyltransferase METTL3 contributes to Transforming Growth Factor-beta-induced epithelial-mesenchymal transition of lung cancer cells through the regulation of JUNB. Biochem Biophys Res Commun.2020;524:150–5.

Zhang Y, Liu S, Zhao T, Dang C METTL3mediated m6A modification of Bcl2 mRNA promotes nonsmall cell lung cancer progression. Oncol Rep. 2021 2021-08-01;46.

Huang S, Luo S, Gong C, Liang L, Xiao Y, Li M, et al. MTTL3 upregulates microRNA-1246 to promote occurrence and progression of NSCLC via targeting paternally expressed gene 3. Mol Ther Nucleic Acids. 2021;24:542–53.

Jin D, Guo J, Wu Y, Du J, Yang L, Wang X. et al. m(6)AmRNA methylation initiated by METTL3 directly promotes YAP translation and increases YAP activity by regulating the MALAT1-miR-1914-3p-YAP axis to induceNSCLC drug resistance and metastasis. J Hematol Oncol. 2019;12:135

Kawano Y, Kypta R. Secreted antagonists of the Wnt signalling pathway. J Cell Sci. 2003;116:2627–34. 2003-01-01

Shi Y, He B, You L, Jablons DM. Roles of secreted frizzled-related proteins in cancer. Acta Pharmacol Sin. 2007;28:1499–504.

Zhang X, Rong X, Chen Y, Su L. Methylation-mediated loss of SFRP2 enhances invasiveness of non–small cell lung cancer cells. Hum Exp Toxicol. 2018;37:155–62.

Li P, Zhao S, Hu Y. SFRP2 modulates nonsmall cell lung cancer A549 cell apoptosis and metastasis by regulating mitochondrial fission via Wnt pathways. Mol Med Rep. 2019;20:1925–32.

Stewart DJ, Chang DW, Ye Y, Spitz M, Lu C, Shu X. et al. Wnt signaling pathway pharmacogenetics in non-small cell lung cancer. Pharmacogenomics J.2014;14:509–22.

Liu S, Chen X, Chen R, Wang J, Zhu G, Jiang J, et al. Diagnostic role of Wnt pathway gene promoter methylation in non small cell lung cancer. Oncotarget. 2017;8:36354–67.
Funding
This study was supported by Study on the safety and efficacy of transbronchial or percutaneous one-stop microwave ablation in the treatment of pulmonary nodules(GWJJ2021100304).
Ethics declarations
Competing interests
The authors declare no competing interests.
Ethical approval
This study protocol was approved by the Ethics Committee of Chinese PLA General Hospital. All manipulations on mice conformed to the standards of the Institutional Animal Care and Utilization Committee of Chinese PLA General Hospital.
Additional information
Publisher's note Springer Nature remains neutral with regard to jurisdictional claims in published maps and institutional affiliations.
Supplementary information
Rights and permissions
Springer Nature or its licensor (e.g. a society or other partner) holds exclusive rights to this article under a publishing agreement with the author(s) or other rightsholder(s); author self-archiving of the accepted manuscript version of this article is solely governed by the terms of such publishing agreement and applicable law.
About this article
Cite this article
Zhao, S., Song, P., Zhou, G. et al. METTL3 promotes the malignancy of non-small cell lung cancer by N6-methyladenosine modifying SFRP2. Cancer Gene Ther 30, 1094–1104 (2023). https://doi.org/10.1038/s41417-023-00614-1
Received:

Revised:

Accepted:

Published:

Issue Date:

DOI: https://doi.org/10.1038/s41417-023-00614-1