Abstract
Peritoneal fibrosis is a common complication of peritoneal dialysis (PD) with a complicated pathogenesis and limited treatments. Parthenolide (PTL), a recognized nuclear factor-κB (NF-κB) inhibitor extracted from Tanacetum balsamita, has been widely used to treat various inflammatory diseases and has been proven to improve peritoneal fibrosis in PD mice by selectively inhibiting the phosphorylation of Smad2/3. Transforming growth factor-β1 (TGF-β1), via Smad-dependent signaling, has a pivotal role in promoting pathogenic of fibrosis. To investigate whether PTL can inhibit peritoneal fibrosis, we affected the interaction between NF-κB and the TGF-β/Smad2/3 pathway. Long dwell peritoneal dialysis fluid (PDF) and peritoneum tissues were collected from continuous ambulatory peritoneal dialysis (CAPD) patients. PTL was administered intragastrically into a PD mouse model by daily infusion of 4.25% dextrose-containing PDF. Treated HMrSV5 cells or rat peritoneal mesothelial cells (RPMCs) were treated with high glucose(138 mM) at the same concentration as 2.5% dextrose-containing PDF and PTL. PD-related peritoneal fibrosis samples indicated an increase in inflammation, and PTL decreased the levels of inflammatory cytokines (L-6, TNF-α, and MCP-1). PTL inhibited high glucose-induced mesothelial-to-mesenchymal transition (MMT), as indicated by a reduced expression of fibrosis markers (fibronectin, collagen I, and α-SMA) and increased expression of the epithelial marker E-cadherin. PTL also significantly decreased TGF-β1 expression and the phosphorylation of IκBα and NF-κBp65. The changes in the levels of TGF-β1 expression and p-p65 or p65 showed similar trends according to western blot, immunohistochemistry, and immunofluorescence assays in vitro and in vivo. Chromatin immunoprecipitation (ChIP) and luciferase reporter assays were used to confirm that PTL regulates the transcription of TGF-β1 induced by high glucose through NF-κBp65. In summary, PTL induces a therapeutic effect in peritoneal fibrosis by inhibiting inflammation via the NF-κB/ TGF-β/Smad signaling axis.
Access options
Subscribe to Journal
Get full journal access for 1 year
We are sorry, but there is no personal subscription option available for your country.
Buy article
Get time limited or full article access on ReadCube.
$32.00
All prices are NET prices.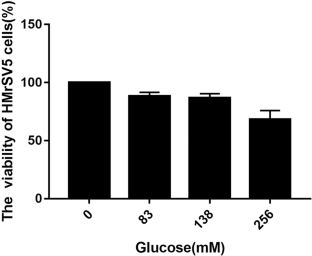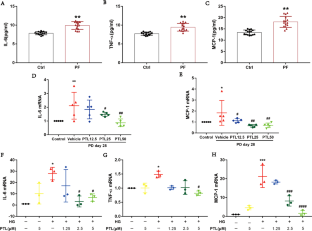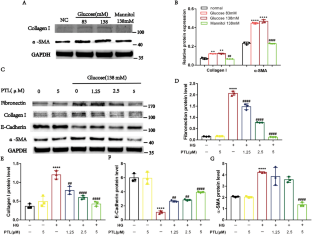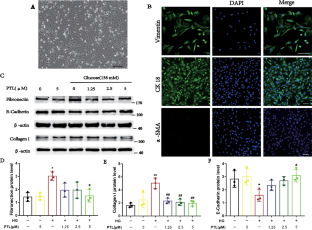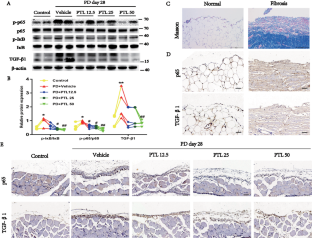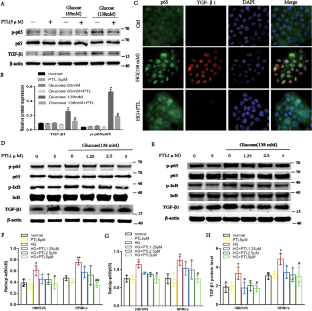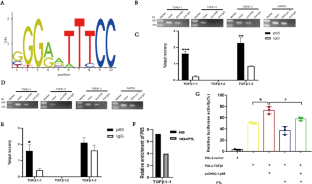 Data availability
The data used to support the findings of this study are available from the corresponding author upon reasonable request.
References
Webster, AC, Nagler, EV, Morton, RL, Masson, P. Chronic kidney disease. Lancet 389,1238-1252(2017)

Romagnani, P, Remuzzi, G, Glassock, R, Levin, A, Jager, KJ, Tonelli, M, et al. Chronic kidney disease. Nat Rev Dis Primers 3,17088(2017)

Zhang, L, Zhao, MH, Zuo, L, Wang, Y, Yu, F, Zhang, H, et al. China Kidney Disease Network (CK-NET) 2015 Annual Data Report. Kidney Int Suppl 9, e1-1e81(2019)

Purnell, TS, Auguste, P, Crews, DC, Lamprea-Montealegre, J, Olufade, T, Greer, R, et al. Comparison of life participation activities among adults treated by hemodialysis, peritoneal dialysis, and kidney transplantation: a systematic review. Am J Kidney Dis 62, 953-73(2013)

Kaplan, AA. Peritoneal dialysis or hemodialysis: present and future trends in the United States. Contrib Nephrol 189, 61-64(2017)

Li, PK, Chow, KM, Van de Luijtgaarden, MW, Johnson, DW, Jager, KJ, Mehrotra, R, et al. Changes in the worldwide epidemiology of peritoneal dialysis. Nat Rev Nephrol 13, 90–103(2017)

Zhou, Q, Bajo, MA, Del Peso, G, Yu, X, Selgas, R. Preventing peritoneal membrane fibrosis in peritoneal dialysis patients. Kidney Int 90, 515-524(2016)

de Lima, SM, Otoni, A, Sabino Ade, P, Dusse, LM, Gomes, KB, Pinto, SW, et al. Inflammation, neoangiogenesis and fibrosis in peritoneal dialysis. Clin Chim Acta 421,46-50(2013)

Devuyst, O, Margetts, P J, Topley, N. The pathophysiology of the peritoneal membrane. J Am Soc Nephrol 21,1077-1085(2010)

Si, M, Wang, Q, Li, Y, Lin, H, Luo, D, Zhao, W, et al. Inhibition of hyperglycolysis in mesothelial cells prevents peritoneal fibrosis. Sci Transl Med 11, eaav5341(2019)

López-Cabrera, M. Mesenchymal conversion of mesothelial cells is a key event in the pathophysiology of the peritoneum during peritoneal dialysis. Adv Med 2014, 473134(2014)

Freund, RRA, Gobrecht, P, Fischer, D. Advances in chemistry and bioactivity of parthenolide. Nat Prod Rep 37, 541-565(2020)

Ghantous, A, Sinjab, A, Herceg, Z, Darwiche, N. Parthenolide: from plant shoots to cancer roots. Drug Discov Today 18, 894-905(2013)

Wang, M, Li, Q. Parthenolide could become a promising and stable drug with anti-inflammatory effects. Nat Prod Res 29, 1092-1101(2015)

Majdi, M, Liu, Q, Karimzadeh, G, Malboobi, MA, Beekwilder, J, Cankar, K, et al. Biosynthesis and localization of parthenolide in glandular trichomes of feverfew (Tanacetum parthenium L. Schulz Bip). Phytochemistry 72, 1739–1750(2011)

Zhang, Y, Huang, QY, Chen, YH, Peng, X, Wang, YX, Li, ST, et al. Parthenolide, an NF-κB inhibitor, alleviates peritoneal fibrosis by suppressing the TGF-β/Smad pathway. Int Immunopharmacol 78, 106064(2020)

Bork, PM, Schmitz, ML, Kuhnt, M, Escher, C, Heinrich, M. Sesquiterpene lactone containing Mexican Indian medicinal plants and pure sesquiterpene lactones as potent inhibitors of transcription factor NF-kappaB. FEBS Lett 402, 85-90(1997)

Siedle, B, García-Piñeres, AJ, Murillo, R, Schulte-Mönting, J, Castro, V, Rüngeler, P, et al. Quantitative structure-activity relationship of sesquiterpene lactones as inhibitors of the transcription factor NF-kappaB. J Med Chem 47, 6042-6054(2004)

Luo, K. Signaling cross-talk between TGF-β/Smad and other signaling pathways. Cold Spring Harb Perspect Biol 9, a022137(2017)

Zhou, Q, Yu, X. Isolation and propagation of rat peritoneal mesothelial cells. Methods Mol Biol 1397, 25-34(2016)

Chen, X, Liu, W, Xiao, J, Zhang, Y, Chen, Y, Luo, C, et al. FOXO3a accumulation and activation accelerate oxidative stress-induced podocyte injury. FASEB J 34, 13300-13316(2020)

Peng, F, Li, H, Li, S, Wang, Y, Liu, W, Gong, W, et al. Micheliolide ameliorates renal fibrosis by suppressing the Mtdh/BMP/MAPK pathway. Lab Invest 99, 1092-1106(2019)

Zhang, Z, Jiang, N, Ni, Z. Strategies for preventing peritoneal fibrosis in peritoneal dialysis patients: new insights based on peritoneal inflammation and angiogenesis. Front Med 11, 349-358(2017)

Strippoli, R, Moreno-Vicente, R, Battistelli, C, Cicchini, C, Noce, V, Amicone, L, et al. Molecular mechanisms underlying peritoneal EMT and fibrosis. Stem Cells Int 2016, 3543678(2016)

Margetts, PJ, Churchill, DN. Acquired ultrafiltration dysfunction in peritoneal dialysis patients. J Am Soc Nephrol 13, 2787-94(2002)

Loureiro, J, Aguilera, A, Selgas, R, Sandoval, P, Albar-Vizcaíno, P, Pérez-Lozano, ML, et al. Blocking TGF-beta1 protects the peritoneal membrane from dialysate-induced damage. J Am Soc Nephrol 22, 1682–1695(2011)

Xu, J, Lamouille, S, Derynck, R. TGF-beta-induced epithelial to mesenchymal transition. Cell Res 19, 156-72(2009)

Lan, HY. Diverse roles of TGF-β/Smads in renal fibrosis and inflammation. Int J Biol Sci 7, 1056-67(2011)

Biernacka, A, Dobaczewski, M, Frangogiannis, NG. TGF-βsignaling in fibrosis. Growth Factors 29, 196–202(2011)

Yung, S, Chan, TM. Intrinsic cells: mesothelial cells-central players in regulating inflammation and resolution. Perit Dial Int 29, S21–S27(2009)

Barnes, PJ, Karin, M. Nuclear factor-kappaB: a pivotal transcription factor in chronic inflammatory diseases. N Engl J Med 336, 1066-71(1997)

Karin, M, Ben-Neriah, Y. Phosphorylation meets ubiquitination: the control of NF-[kappa]B activity. Annu Rev Immunol 18, 621-63 (2000)

Napetschnig, J, Wu, H. Molecular basis of NF-κB signaling. Annu Rev Biophys 42, 443-68(2013)

Baroni, G, Schuinski, A, de Moraes, TP, Meyer, F, Pecoits-Filho, R. Inflammation and the peritoneal membrane: causes and impact on structure and function during peritoneal dialysis. Mediators Inflamm 2012, 912595(2012)

Brandl, M, Seidler, B, Haller, F, Adamski, J, Schmid, RM, Saur, D, et al. IKK(α) controls canonical TGF(β)-SMAD signaling to regulate genes expressing SNAIL and SLUG during EMT in panc1 cells. J Cell Sci 123, 4231-9(2010)

Yeh, YY, Chiao, CC, Kuo, WY, Hsiao, YC, Chen, YJ, Wei, YY, et al. TGF-beta1 increases motility and alphavbeta3 integrin up-regulation via PI3K, Akt and NF-kappaB-dependent pathway in human chondrosarcoma cells. Biochem Pharmacol 75, 1292-301(2008)

Ishinaga, H, Jono, H, Lim, JH, Kweon, SM, Xu, H, Ha, UH, et al. TGF-beta induces p65 acetylation to enhance bacteria-induced NF-kappaB activation. EMBO J 26, 1150-62(2007)

Monteleone, G, Mann, J, Monteleone, I, Vavassori, P, Bremner, R, Fantini, M, et al. A failure of transforming growth factor-beta1 negative regulation maintains sustained NF-κB activation in gut inflammation. J Biol Chem 279, 3925-32(2004)

Freudlsperger, C, Bian, Y, Contag Wise, S, Burnett, J, Coupar, J, Yang, X, et al. TGF-β and NF-κB signal pathway crosstalk is mediated through TAK1 and SMAD7 in a subset of head and neck cancers. Oncogene 32, 1549-59(2013)

Mohamed, HA, Said, RS. Coenzyme Q10 attenuates inflammation and fibrosis implicated in radiation enteropathy through suppression of NF-kB/TGF-β/MMP-9 pathways. Int Immunopharmacol 92, 107347(2021)
Acknowledgements
We would like to thank Professor Xueqing Yu for providing the HMrSV5 cells, Accendatech Co., Ltd. (Tianjin, China) for providing PTL, and Central Laboratory in the Second Affiliated Hospital of Guangzhou Medical University for providing experimental sites.
Funding
We acknowledge the financial support provided by the Medical Scientific Research Foundation of Guangdong Province, China (No. A2021398), the Basic and Applied Basic Research Foundation of Guangdong Province, China (No. 2022A1515012665), the National Natural Science Foundation of China (NSFC) (no. 81800612), the Natural Science Foundation of Guangdong Province, China (No. 2020A1515011295), University Scientific Research Project of Guangzhou Education Bureau (No. 201831833).
Ethics declarations
Competing interests
The authors declare no competing interests.
Ethics approval
All experimental procedures were approved by the second Affiliated Hospital of Guangzhou Medical University. The studies were performed in accordance with the Declaration of Helsinki and to the Guide for the Care and Use of Laboratory Animals designated by the National Research Council.
Additional information
Publisher's note Springer Nature remains neutral with regard to jurisdictional claims in published maps and institutional affiliations.
Supplementary information
Rights and permissions
Springer Nature or its licensor (e.g. a society or other partner) holds exclusive rights to this article under a publishing agreement with the author(s) or other rightsholder(s); author self-archiving of the accepted manuscript version of this article is solely governed by the terms of such publishing agreement and applicable law.
About this article
Cite this article
Zhang, Y., Feng, W., Peng, X. et al. Parthenolide alleviates peritoneal fibrosis by inhibiting inflammation via the NF-κB/ TGF-β/Smad signaling axis. Lab Invest 102, 1346–1354 (2022). https://doi.org/10.1038/s41374-022-00834-3
Received:

Accepted:

Published:

Issue Date:

DOI: https://doi.org/10.1038/s41374-022-00834-3