Abstract
This study aimed to investigate the effects of renal denervation (RDN) on diabetic cardiomyopathy (DCM) and explore the related mechanisms. Male Sprague-Dawley rats were fed high-fat chow and injected with low-dose streptozotocin to establish a DCM model. Six rats served as controls. The surviving rats were divided into three groups: control group, DCM group and DCM + RDN group. RDN surgery was performed in the fifth week. At the end of the experiment, all rats were subjected to 18F-FDG PET/CT and metabolic cage studies. Cardiac function and structure were evaluated by echocardiography and histology. Myocardial substrate metabolism and mitochondrial function were assessed by multiple methods. In the 13th week, the DCM rats exhibited cardiac hypertrophy and interstitial fibrosis accompanied by diastolic dysfunction. RDN ameliorated DCM-induced cardiac dysfunction (E/A ratio: RDN 1.07 ± 0.18 vs. DCM 0.93 ± 0.12, P < 0.05; E/E' ratio: RDN 10.74 ± 2.48 vs. DCM 13.25 ± 1.99, P < 0.05) and pathological remodeling (collagen volume fraction: RDN 5.05 ± 2.05% vs. DCM 10.62 ± 2.68%, P < 0.05). Abnormal myocardial metabolism in DCM rats was characterized by suppressed glucose metabolism and elevated lipid metabolism. RDN increased myocardial glucose uptake and oxidation while reducing the absorption and utilization of fatty acids. Meanwhile, DCM decreased mitochondrial ATP content, depolarized the membrane potential and inhibited the activity of respiratory chain complexes, but RDN attenuated this mitochondrial damage (ATP: RDN 30.98 ± 7.33 μmol/gprot vs. DCM 22.89 ± 5.90 μmol/gprot, P < 0.05; complexes I, III and IV activity: RDN vs. DCM, P < 0.05). Furthermore, both SGLT2 inhibitor and the combination treatment produced similar effects as RDN alone. Thus, RDN prevented DCM-induced cardiac dysfunction and pathological remodeling, which is related to the improvement of metabolic disorders and mitochondrial dysfunction.
Access options
Subscribe to Journal
Get full journal access for 1 year
We are sorry, but there is no personal subscription option available for your country.
Buy article
Get time limited or full article access on ReadCube.
$32.00
All prices are NET prices.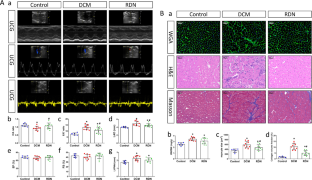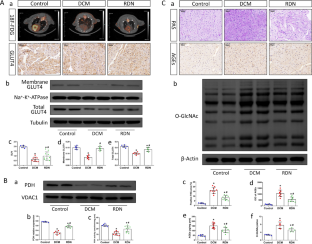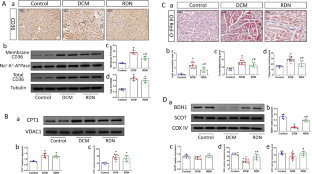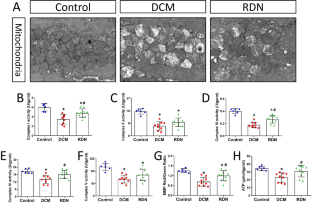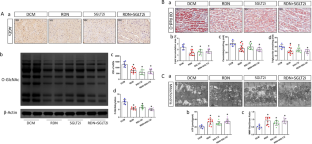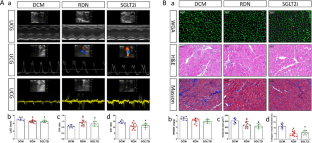 Data availability
The datasets used and/or analyzed during the current study are available from the corresponding author on reasonable request.
References
Saeedi, P. et al. Mortality attributable to diabetes in 20–79 years old adults, 2019 estimates: Results from the International Diabetes Federation Diabetes Atlas, 9(th) edition. Diabetes Res. Clin. Pract. 162, 108086 (2020).

Ogurtsova, K. et al. IDF Diabetes Atlas: Global estimates for the prevalence of diabetes for 2015 and 2040. Diabetes Res. Clin. Pract. 128, 40–50 (2017).

Zheng, Y., Ley, S. H. & Hu, F. B. Global aetiology and epidemiology of type 2 diabetes mellitus and its complications. Nat. Rev. Endocrinol. 14, 88–98 (2018).

Tan, Y. & Zhang, Z. Mechanisms of diabetic cardiomyopathy and potential therapeutic strategies: preclinical and clinical evidence. Nat. Rev. Cardiol. 17, 585–607 (2020).

Kenny, H. C. & Abel, E. D. Heart failure in type 2 diabetes mellitus. Circ. Res. 124, 121–141 (2019).

Dhalla, N. S. & Shah, A. K. Role of oxidative stress in metabolic and subcellular abnormalities in diabetic cardiomyopathy. Int. J. Mol. Sci. 21, 2413 (2020).

Frati, G. et al. An overview of the inflammatory signalling mechanisms in the myocardium underlying the development of diabetic cardiomyopathy. Cardiovasc Res. 113, 378–388 (2017).

Nirengi, S., Peres Valgas da Silva, C. & Stanford, K. I. Disruption of energy utilization in diabetic cardiomyopathy; a mini review. Curr. Opin. Pharmacol. 54, 82–90 (2020).

van de Weijer, T., Schrauwen-Hinderling, V. B. & Schrauwen, P. Lipotoxicity in type 2 diabetic cardiomyopathy. Cardiovasc Res. 92, 10–18 (2011).

Ducheix, S., Magré, J., Cariou, B. & Prieur, X. Chronic O-glcNAcylation and diabetic cardiomyopathy: the bitterness of glucose. Front. Endocrinol. 9, 642 (2018).

Pham, T., Loiselle, D., Power, A. & Hickey, A. J. Mitochondrial inefficiencies and anoxic ATP hydrolysis capacities in diabetic rat heart. Am. J. Physiol. Cell Physiol. 307, C499–C507 (2014).

Russo, I. & Frangogiannis, N. G. Diabetes-associated cardiac fibrosis: cellular effectors, molecular mechanisms and therapeutic opportunities. J. Mol. Cell Cardiol. 90, 84–93 (2016).

Dewanjee, S. et al. Autophagy in the diabetic heart: a potential pharmacotherapeutic target in diabetic cardiomyopathy. Ageing Res. Rev. 68, 101338 (2021).

Esler, M. D. et al. Renal sympathetic denervation in patients with treatment-resistant hypertension (The Symplicity HTN-2 Trial): a randomised controlled trial. Lancet 376, 1903–1909 (2010).

Sharp, T. E. 3rd et al. Renal denervation prevents heart failure progression via inhibition of the renin-angiotensin system. J. Am. Coll. Cardiol. 72, 2609–2621 (2018).

Polhemus, D. J. et al. Renal sympathetic denervation protects the failing heart via inhibition of neprilysin activity in the kidney. J. Am. Coll. Cardiol. 70, 2139–2153 (2017).

Mahfoud, F. et al. Effects of renal denervation on kidney function and long-term outcomes: 3-year follow-up from the Global SYMPLICITY registry. Eur. Heart J. 40, 3474–3482 (2019).

Bhatt, D. L. et al. A controlled trial of renal denervation for resistant hypertension. N. Engl. J. Med. 370, 1393–1401 (2014).

Rafiq, K. et al. Role of the renal sympathetic nerve in renal glucose metabolism during the development of type 2 diabetes in rats. Diabetologia 58, 2885–2898 (2015).

Hussein, A. M. et al Comparative study of the effects of GLP1 analog and SGLT2 inhibitor against diabetic cardiomyopathy in type 2 diabetic rats: possible underlying mechanisms. Biomedicines 8, 43 (2020).

Arow, M. et al. Sodium-glucose cotransporter 2 inhibitor Dapagliflozin attenuates diabetic cardiomyopathy. Cardiovasc. Diabetol. 19, 7 (2020).

Mahfoud, F. et al. Effect of renal sympathetic denervation on glucose metabolism in patients with resistant hypertension: a pilot study. Circulation 123, 1940–1946 (2011).

Lee, H. C. et al. The sodium-glucose co-transporter 2 inhibitor empagliflozin attenuates cardiac fibrosis and improves ventricular hemodynamics in hypertensive heart failure rats. Cardiovasc Diabetol. 18, 45 (2019).

Jurowich, C. F. et al. Duodenal-jejunal bypass improves glycemia and decreases SGLT1-mediated glucose absorption in rats with streptozotocin-induced type 2 diabetes. Ann. Surg. 258, 89–97 (2013).

Zegre Cannon, C., Kissling, G. E., Goulding, D. R., King-Herbert, A. P. & Blankenship-Paris, T. Analgesic effects of tramadol, carprofen or multimodal analgesia in rats undergoing ventral laparotomy. Lab. Anim. 40, 85–93 (2011).

Zhang, B. et al. Renal denervation effects on myocardial fibrosis and ventricular arrhythmias in rats with ischemic cardiomyopathy. Cell Physiol. Biochem. 46, 2471–2479 (2018).

Wang, L. et al. Decreased autophagy in rat heart induced by anti-β1-adrenergic receptor autoantibodies contributes to the decline in mitochondrial membrane potential. PLoS One 8, e81296 (2013).

Shi, W., Wang, Y., Peng, J., Qi, S. & Vitale, N. EPHB6 controls catecholamine biosynthesis by up-regulating tyrosine hydroxylase transcription in adrenal gland chromaffin cells. J. Biol. Chem. 294, 6871–6887 (2019).

Parati, G. & Esler, M. The human sympathetic nervous system: its relevance in hypertension and heart failure. Eur. Heart J. 33, 1058–1066 (2012).

Zelniker, T. A. & Braunwald, E. Mechanisms of cardiorenal effects of sodium-glucose cotransporter 2 inhibitors: JACC state-of-the-art review. J. Am. Coll. Cardiol. 75, 422–434 (2020).

Chong, C. R., Clarke, K. & Levelt, E. Metabolic remodeling in diabetic cardiomyopathy. Cardiovasc. Res. 113, 422–430 (2017).

Luiken, J., Nabben, M., Neumann, D. & Glatz, J. F. C. Understanding the distinct subcellular trafficking of CD36 and GLUT4 during the development of myocardial insulin resistance. Biochim Biophys. Acta. Mol. Basis Dis. 1866, 165775 (2020).

Park, S. et al. Role of the pyruvate dehydrogenase complex in metabolic remodeling: differential pyruvate dehydrogenase complex functions in metabolism. Diabetes Metab. J. 42, 270–281 (2018).

Pepino, M. Y., Kuda, O., Samovski, D. & Abumrad, N. A. Structure-function of CD36 and importance of fatty acid signal transduction in fat metabolism. Annu. Rev. Nutr. 34, 281–303 (2014).

Schlaepfer, I. R. & Joshi, M. CPT1A-mediated fat oxidation, mechanisms, and therapeutic potential. Endocrinology 161, 1–14 (2020).

Matthews, V. B. et al. Role of the sympathetic nervous system in regulation of the sodium glucose cotransporter 2. J. Hypertens 35, 2059–2068 (2017).

Gueguen, C. et al. Empagliflozin modulates renal sympathetic and heart rate baroreflexes in a rabbit model of diabetes. Diabetologia 63, 1424–1434 (2020).

Jordan, J. et al. The effect of empagliflozin on muscle sympathetic nerve activity in patients with type II diabetes mellitus. J. Am. Soc. Hypertens 11, 604–612 (2017).

Verma, S. et al. Empagliflozin increases cardiac energy production in diabetes: novel translational insights into the heart failure benefits of SGLT2 inhibitors. JACC Basic Transl. Sci. 3, 575–587 (2018).

Ramírez, E. et al. Sitagliptin improved glucose assimilation in detriment of fatty-acid utilization in experimental type-II diabetes: role of GLP-1 isoforms in Glut4 receptor trafficking. Cardiovasc. Diabetol 17, 12 (2018).

Nakamura, M. & Sadoshima, J. Cardiomyopathy in obesity, insulin resistance and diabetes. J. Physiol. 598, 2977–2993 (2020).

Ferrannini, E., Mark, M. & Mayoux, E. CV protection in the EMPA-REG outcome trial: a "Thrifty Substrate" hypothesis. Diabetes Care 39, 1108–1114 (2016).

Nakamura, M. & Sadoshima, J. Ketone body can be a fuel substrate for failing heart. Cardiovasc. Res. 115, 1567–1569 (2019).

Hu, Y. et al. Increased enzymatic O-GlcNAcylation of mitochondrial proteins impairs mitochondrial function in cardiac myocytes exposed to high glucose. J. Biol. Chem. 284, 547–555 (2009).

Cole, M. A. et al. A high fat diet increases mitochondrial fatty acid oxidation and uncoupling to decrease efficiency in rat heart. Basic Res. Cardiol. 106, 447–457 (2011).

Bhagani, H. et al. The mitochondria: a target of polyphenols in the treatment of diabetic cardiomyopathy. Int. J. Mol. Sci. 21, 4962 (2020).
Funding
This study was supported by the National Natural Science Foundation of China (No. 81770333, No. 81800350).
Ethics declarations
Competing interests
The authors declare no competing interests.
Ethics Approval
All animal experiments in this study were approved by the Ethics Committee of Nanjing Medical University (IACUC-2011003).
Additional information
Publisher's note Springer Nature remains neutral with regard to jurisdictional claims in published maps and institutional affiliations.
About this article
Cite this article
Huo, JY., Jiang, WY., Zhang, SG. et al. Renal denervation ameliorates cardiac metabolic remodeling in diabetic cardiomyopathy rats by suppressing renal SGLT2 expression. Lab Invest 102, 341–351 (2022). https://doi.org/10.1038/s41374-021-00696-1
Received:

Revised:

Accepted:

Published:

Issue Date:

DOI: https://doi.org/10.1038/s41374-021-00696-1