Abstract
The mortality rates among patients who initially survive sepsis are, in part, associated with a high risk of secondary lung infections and respiratory failure. Given that phagolysosomes are important for intracellular killing of pathogenic microbes, we investigated how severe lung infections associated with post-sepsis immunosuppression affect phagolysosome biogenesis. In mice with P. aeruginosa-induced pneumonia, we found a depletion of both phagosomes and lysosomes, as evidenced by decreased amounts of microtubule associated protein light chain 3-II (LC3-II) and lysosomal-associated membrane protein (LAMP1). We also found a loss of transcription factor E3 (TFE3) and transcription factor EB (TFEB), which are important activators for transcription of genes encoding autophagy and lysosomal proteins. These events were associated with increased expression of ZKSCAN3, a repressor for transcription of genes encoding autophagy and lysosomal proteins. Zkscan3−/− mice had increased expression of genes involved in the autophagy-lysosomal pathway along with enhanced killing of P. aeruginosa in the lungs, as compared to wild-type mice. These findings highlight the involvement of ZKSCAN3 in response to severe lung infection, including susceptibility to secondary bacterial infections due to immunosuppression.
Access options
Subscribe to Journal
Get full journal access for 1 year
$119.00
only $9.92 per issue
All prices are NET prices.
VAT will be added later in the checkout.
Tax calculation will be finalised during checkout.
Rent or Buy article
Get time limited or full article access on ReadCube.
from$8.99
All prices are NET prices.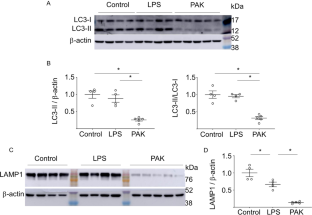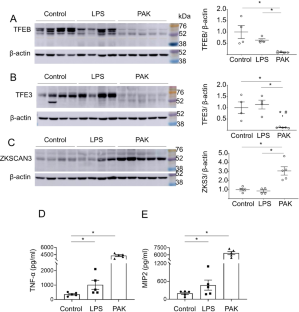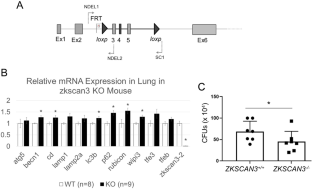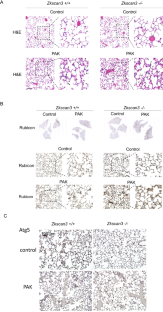 References
1.

Hotchkiss, R. S. et al. Sepsis and septic shock. Nat. Rev. Dis. Primers 2, 16045 (2016).

2.

Angus, D. C. & van der Poll, T. Severe sepsis and septic shock. N. Engl. J. Med. 369, 2063 (2013).

3.

Delano, M. J. & Ward, P. A. Sepsis-induced immune dysfunction: can immune therapies reduce mortality? J. Clin. Invest. 126, 23–31 (2016).

4.

Deutschman, C. S. & Tracey, K. J. Sepsis: current dogma and new perspectives. Immunity 40, 463–475 (2014).

5.

Boomer, J. S. et al. Immunosuppression in patients who die of sepsis and multiple organ failure. JAMA 306, 2594–2605 (2011).

6.

Ward, P. A. Immunosuppression in sepsis. JAMA 306, 2618–2619 (2011).

7.

Hotchkiss, R. S., Monneret, G. & Payen, D. Sepsis-induced immunosuppression: from cellular dysfunctions to immunotherapy. Nat. Rev. Immunol. 13, 862–874 (2013).

8.

Thimmulappa, R. K. et al. Nrf2 is a critical regulator of the innate immune response and survival during experimental sepsis. J. Clin. Invest. 116, 984–995 (2006).

9.

Li, L. et al. Hydrogen sulfide is a novel mediator of lipopolysaccharide-induced inflammation in the mouse. FASEB J. 19, 1196–1198 (2005).

10.

Bhatia, M. et al. Role of hydrogen sulfide in acute pancreatitis and associated lung injury. FASEB J. 19, 623–625 (2005).

11.

Giordano, S., Darley-Usmar, V. & Zhang, J. Autophagy as an essential cellular antioxidant pathway in neurodegenerative disease. Redox Biol. 2, 82–90 (2014).

12.

Ryter, S. W. & Choi, A. M. Autophagy in lung disease pathogenesis and therapeutics. Redox Biol. 4, 215–225 (2015).

13.

Choi, A. M., Ryter, S. W. & Levine, B. Autophagy in human health and disease. N. Engl. J. Med. 368, 1845–1846 (2013).

14.

Mizumura, K., Cloonan, S. M., Haspel, J. A. & Choi, A. M. K. The emerging importance of autophagy in pulmonary diseases. Chest 142, 1289–1299 (2012).

15.

Baxt, L. A., Garza-Mayers, A. C. & Goldberg, M. B. Bacterial subversion of host innate immune pathways. Science 340, 697–701 (2013).

16.

Zhang, J. Teaching the basics of autophagy and mitophagy to redox biologists-Mechanisms and experimental approaches. Redox Biol. 4C, 242–259 (2015).

17.

Li, M. X. et al. A novel c.-274C>G polymorphism in bovine SIRT1 gene contributes to diminished promoter activity and is associated with increased body size. Animal Genet. 44, 584–587 (2013).

18.

Ashrafi, G. & Schwarz, T. L. The pathways of mitophagy for quality control and clearance of mitochondria. Cell Death Differ. 20, 31–42 (2013).

19.

Bone, N. B. et al. AMPK activates Parkin independent autophagy and improves post sepsis immune defense against secondary bacterial lung infections. Sci. Rep. 11, 12387 (2021).

20.

Fullgrabe, J., Klionsky, D. J. & Joseph, B. The return of the nucleus: transcriptional and epigenetic control of autophagy. Nat. Rev. Mol. Cell Biol. 15, 65–74 (2014).

21.

Wani W. Y., et al. O-GlcNAc regulation of autophagy and α-synuclein homeostasis; implications for Parkinson's disease. Mol. Brain 10, 32 (2017).

22.

Dodson M., et al. Regulation of autophagy, mitochondrial dynamics and cellular bioenergetics by 4-hydroxynonenal in primary neurons. Autophagy 13, 1828–1840 (2017).

23.

Wani W. Y., Chatham J. C., Darley-Usmar V., McMahon L. L., Zhang J. O-GlcNAcylation and neurodegeneration. Brain Res. Bull. 133, 80–87 (2017).

24.

Wani, W. Y. et al. Regulation of autophagy by protein post-translational modification. Lab. Invest. 95, 14–25 (2015).

25.

Settembre, C. et al. TFEB links autophagy to lysosomal biogenesis. Science 332, 1429–1433 (2011).

26.

Sardiello, M. et al. A gene network regulating lysosomal biogenesis and function. Science 325, 473–477 (2009).

27.

Zhang, X. et al. The zinc finger transcription factor ZKSCAN3 promotes prostate cancer cell migration. Int. J. Biochem. Cell. Biol. 44, 1166–1173 (2012).

28.

Chauhan, S. et al. ZKSCAN3 is a master transcriptional repressor of autophagy. Mol. Cell 50, 16–28 (2013).

29.

Pan, H., Yan, Y., Liu, C. & Finkel, T. The role of ZKSCAN3 in the transcriptional regulation of autophagy. Autophagy 13, 1235–1238 (2017).

30.

Saftig, P. & Haas, A. Turn up the lysosome. Nat. Cell Biol. 18, 1025–1027 (2016).

31.

Li, S. et al. Transcriptional regulation of autophagy-lysosomal function in BRAF-driven melanoma progression and chemoresistance. Nat. Commun. 10, 1693 (2019).

32.

Chi, Y. et al. ZKSCAN3 promotes breast cancer cell proliferation, migration and invasion. Biochem. Biophys. Res. Commun. 503, 2583–2589 (2018).

33.

Kawahara, T. et al. ZKSCAN3 promotes bladder cancer cell proliferation, migration, and invasion. Oncotarget 7, 53599–53610 (2016).

34.

Brady, O. A., Martina, J. A. & Puertollano, R. Emerging roles for TFEB in the immune response and inflammation. Autophagy 14, 181–189 (2018).

35.

Kurundkar D., et al. SIRT3 diminishes inflammation and mitigates endotoxin-induced acute lung injury. JCI Insight 4, e120722 (2019).

36.

Carles, M. et al. Heat-shock response increases lung injury caused by Pseudomonas aeruginosa via an interleukin-10-dependent mechanism in mice. Anesthesiology 120, 1450–1462 (2014).

37.

Bone, N. B., Liu, Z., Pittet, J. F. & Zmijewski, J. W. Frontline Science: D1 dopaminergic receptor signaling activates the AMPK-bioenergetic pathway in macrophages and alveolar epithelial cells and reduces endotoxin-induced ALI. J Leukoc Biol 101, 357–365 (2017).

38.

Liu Z., et al. AMP-activated protein kinase and Glycogen Synthase Kinase 3beta modulate the severity of sepsis-induced lung injury. Mol. Med. 21, 937–950 (2015).

39.

Gregoire, M. et al. Frontline science: HMGB1 induces neutrophil dysfunction in experimental sepsis and in patients who survive septic shock. J. Leukoc. Biol. 101, 1281–1287 (2017).

40.

Park, D. W. & Zmijewski, J. W. Mitochondrial dysfunction and immune cell metabolism in sepsis. Infect. Chemother. 49, 10–21 (2017).

41.

Wong, S. W., Sil, P. & Martinez, J. Rubicon: LC3-associated phagocytosis and beyond. FEBS J. 285, 1379–1388 (2018).

42.

Martinez, J. et al. Molecular characterization of LC3-associated phagocytosis reveals distinct roles for Rubicon, NOX2 and autophagy proteins. Nat. Cell Biol. 17, 893–906 (2015).

43.

Herb, M., Gluschko, A. & Schramm, M. LC3-associated phagocytosis - the highway to hell for phagocytosed microbes. Semin. Cell Dev. Biol. 101, 68–76 (2020).

44.

Settembre, C., Fraldi, A., Medina, D. L. & Ballabio, A. Signals from the lysosome: a control centre for cellular clearance and energy metabolism. Nat. Rev. Mol. Cell Biol. 14, 283–296 (2013).

45.

Clarke, A. J. & Simon, A. K. Autophagy in the renewal, differentiation and homeostasis of immune cells. Nat. Rev. Immunol. 19, 170–183 (2019).

46.

Maciel, M. et al. Impaired autophagic activity and ATG4B deficiency are associated with increased endoplasmic reticulum stress-induced lung injury. Aging 10, 2098–2112 (2018).

47.

Bueno, M. et al. PINK1 deficiency impairs mitochondrial homeostasis and promotes lung fibrosis. J. Clin. Invest. 125, 521–538 (2015).

48.

Rangarajan, S. et al. Metformin reverses established lung fibrosis in a bleomycin model. Nat. Med. 24, 1121–1127 (2018).

49.

Youle R. J. Mitochondria-Striking a balance between host and endosymbiont. Science 365, eaaw9855 (2019).

50.

Mammucari, C. et al. FoxO3 controls autophagy in skeletal muscle in vivo. Cell Metab. 6, 458–471 (2007).

51.

Im, J., Hergert, P. & Nho, R. S. Reduced FoxO3a expression causes low autophagy in idiopathic pulmonary fibrosis fibroblasts on collagen matrices. Am. J. Physiol. Lung Cell Mol. Physiol. 309, L552–L561 (2015).

52.

Yi, C. et al. Function and molecular mechanism of acetylation in autophagy regulation. Science 336, 474–477 (2012).

53.

Huang, Y., Guerrero-Preston, R. & Ratovitski, E. A. Phospho-DeltaNp63alpha-dependent regulation of autophagic signaling through transcription and micro-RNA modulation. Cell cycle 11, 1247–1259 (2012).

54.

Bryant, A. et al. miR-10a is aberrantly overexpressed in Nucleophosmin1 mutated acute myeloid leukaemia and its suppression induces cell death. Mol. Cancer 11, 8 (2012).

55.

Wu, H. et al. MiR-20a and miR-106b negatively regulate autophagy induced by leucine deprivation via suppression of ULK1 expression in C2C12 myoblasts. Cell Signal 24, 2179–2186 (2012).

56.

Yang, L. et al. Evidence of a role for the novel zinc-finger transcription factor ZKSCAN3 in modulating Cyclin D2 expression in multiple myeloma. Oncogene 30, 1329–1340 (2011).

57.

Yang, L., Zhang, L., Wu, Q. & Boyd, D. D. Unbiased screening for transcriptional targets of ZKSCAN3 identifies integrin beta 4 and vascular endothelial growth factor as downstream targets. J. Biol. Chem. 283, 35295–35304 (2008).
Acknowledgements
This study is funded by: US Department of Defense grant W81XWH-17-1-0577 (J.W.Z.); NIH 1R01HL139617-01 (J.W.Z.); Nathan Shock Center NIH AG050886 (V.D.U., J.Z.).
Ethics declarations
Competing interests
The authors declare no competing interests.
Additional information
Publisher's note Springer Nature remains neutral with regard to jurisdictional claims in published maps and institutional affiliations.
Supplementary information
About this article
Cite this article
Ouyang, X., Becker Jr., E., Bone, N.B. et al. ZKSCAN3 in severe bacterial lung infection and sepsis-induced immunosuppression. Lab Invest (2021). https://doi.org/10.1038/s41374-021-00660-z
Received:

Revised:

Accepted:

Published: