Abstract
One of the pathological hallmarks of amyotrophic lateral sclerosis (ALS) is mislocalized, cytosolic aggregation of TAR DNA-Binding Protein-43 (TDP-43). Not only TDP-43 per se is a causative gene of ALS but also mislocalization and aggregation of TDP-43 seems to be a common pathological change in both sporadic and familial ALS. The mechanism how nuclear TDP-43 transforms into cytosolic aggregates remains elusive, but recent studies using optogenetics have proposed that aberrant liquid–liquid phase separation (LLPS) of TDP-43 links to the aggregation process, leading to cytosolic distribution. Although LLPS plays an important role in the aggregate formation, there are still several technical problems in the optogenetic technique to be solved to progress further in vivo study. Here we report a chemically oligomerizable TDP-43 system. Oligomerization of TDP-43 was achieved by a small compound AP20187, and oligomerized TDP-43 underwent aggregate formation, followed by cytosolic mislocalization and induction of cell toxicity. The mislocalized TDP-43 co-aggregated with wt-TDP-43, Fused-in-sarcoma (FUS), TIA1 and sequestosome 1 (SQSTM1)/p62, mimicking ALS pathology. The chemically oligomerizable TDP-43 also revealed the roles of the N-terminal domain, RNA-recognition motif, nuclear export signal and low complexity domain in the aggregate formation and mislocalization of TDP-43. The aggregate-prone properties of TDP-43 were enhanced by a familial ALS-causative mutation. In conclusion, the chemically oligomerizable TDP-43 system could be useful to study the mechanisms underlying the droplet-aggregation phase transition and cytosolic mislocalization of TDP-43 in ALS and further study in vivo.
Access options
Subscribe to Journal
Get full journal access for 1 year
$399.00
only $33.25 per issue
All prices are NET prices.
VAT will be added later in the checkout.
Tax calculation will be finalised during checkout.
Rent or Buy article
Get time limited or full article access on ReadCube.
from$8.99
All prices are NET prices.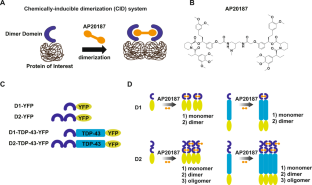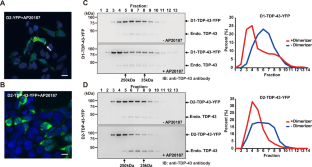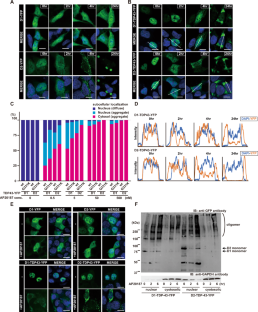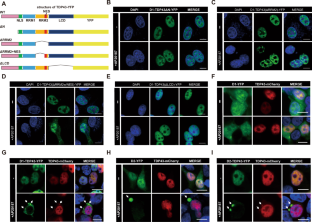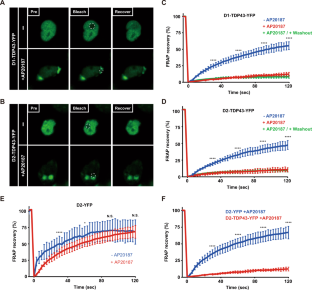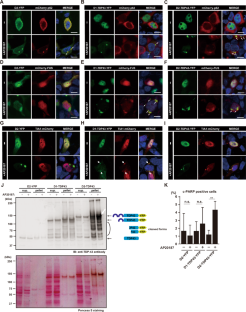 Data availability
All data are available in the main text. Further information and requests for resources and reagents should be addressed by Kohsuke Kanekura (kanekura@tokyo-med.ac.jp).
References
1.

Logroscino G, Piccininni M, Marin B, Nichols E, Abd-Allah F, Abdelalim A, et al. Global, regional, and national burden of motor neuron diseases 1990–2016: a systematic analysis for the Global Burden of Disease Study 2016. Lancet Neurol. 2018;17:1083–97.

2.

Maurel C, Dangoumau A, Marouillat S, Brulard C, Chami A, Hergesheimer R, et al. Causative Genes in Amyotrophic Lateral Sclerosis and Protein Degradation Pathways: a Link to Neurodegeneration. Mol. Neurobiol. 2018;55:6480–99.

3.

Sreedharan J, Blair IP, Tripathi VB, Hu X, Vance C, Rogelj B, et al. TDP-43 mutations in familial and sporadic amyotrophic lateral sclerosis. Science. 2008;319:1668–72.

4.

Neumann M, Sampathu DM, Kwong LK, Truax AC, Micsenyi MC, Chou TT, et al. Ubiquitinated TDP-43 in frontotemporal lobar degeneration and amyotrophic lateral sclerosis. Science. 2006;314:130–3.

5.

Arai T, Hasegawa M, Akiyama H, Ikeda K, Nonaka T, Mori H, et al. TDP-43 is a component of ubiquitin-positive tau-negative inclusions in frontotemporal lobar degeneration and amyotrophic lateral sclerosis. Biochem. Biophys. Res. Commun. 2006;351:602–11.

6.

Morera AA, Ahmed NS, Schwartz JC. TDP-43 regulates transcription at protein-coding genes and Alu retrotransposons. Biochim Biophys Acta Gene Regul Mech. 2019;1862:194434.

7.

Afroz T, Hock EM, Ernst P, Foglieni C, Jambeau M, Gilhespy LAB, et al. Functional and dynamic polymerization of the ALS-linked protein TDP-43 antagonizes its pathologic aggregation. Nat Commun. 2017;8:45.

8.

Arnold ES, Ling SC, Huelga SC, Lagier-Tourenne C, Polymenidou M, Ditsworth D, et al. ALS-linked TDP-43 mutations produce aberrant RNA splicing and adult-onset motor neuron disease without aggregation or loss of nuclear TDP-43. Proc Natl Acad Sci U S A. 2013;110:E736–745.

9.

Highley JR, Kirby J, Jansweijer JA, Webb PS, Hewamadduma CA, Heath PR, et al. Loss of nuclear TDP-43 in amyotrophic lateral sclerosis (ALS) causes altered expression of splicing machinery and widespread dysregulation of RNA splicing in motor neurones. Neuropathol. Appl. Neurobiol. 2014;40:670–85.

10.

Quinones-Valdez G, Tran SS, Jun HI, Bahn JH, Yang EW, Zhan L, et al. Regulation of RNA editing by RNA-binding proteins in human cells. Commun Biol. 2019;2:19.

11.

Wang C, Duan Y, Duan G, Wang Q, Zhang K, Deng X, et al. Stress induces dynamic, cytotoxicity-antagonizing TDP-43 nuclear bodies via paraspeckle LncRNA NEAT1-mediated liquid-liquid phase separation. Mol. Cell. 2020;79:443–58.e447.

12.

Khalfallah Y, Kuta R, Grasmuck C, Prat A, Durham HD, Vande Velde C. TDP-43 regulation of stress granule dynamics in neurodegenerative disease-relevant cell types. Sci. Rep. 2018;8:7551.

13.

Konopka A, Whelan DR, Jamali MS, Perri E, Shahheydari H, Toth RP, et al. Impaired NHEJ repair in amyotrophic lateral sclerosis is associated with TDP-43 mutations. Mol. Neurodegener. 2020;15:51.

14.

Mitra J, Guerrero EN, Hegde PM, Liachko NF, Wang H, Vasquez V, et al. Motor neuron disease-associated loss of nuclear TDP-43 is linked to DNA double-strand break repair defects. Proc Natl Acad Sci U S A. 2019;116:4696–705.

15.

Iguchi Y, Katsuno M, Niwa J, Takagi S, Ishigaki S, Ikenaka K, et al. Loss of TDP-43 causes age-dependent progressive motor neuron degeneration. Brain. 2013;136:1371–82.

16.

Babinchak WM, Haider R, Dumm BK, Sarkar P, Surewicz K, Choi JK, et al. The role of liquid-liquid phase separation in aggregation of the TDP-43 low-complexity domain. J. Biol. Chem. 2019;294:6306–17.

17.

Wang, A, Conicella, AE, Schmidt, HB, Martin, EW, Rhoads, SN, Reeb, AN et al. A single N-terminal phosphomimic disrupts TDP-43 polymerization, phase separation, and RNA splicing. EMBO J. 2018;37:e97452.

18.

Jiang LL, Xue W, Hong JY, Zhang JT, Li MJ, Yu SN, et al. The N-terminal dimerization is required for TDP-43 splicing activity. Sci. Rep. 2017;7:6196.

19.

Wang L, Kang J, Lim L, Wei Y, Song J. TDP-43 NTD can be induced while CTD is significantly enhanced by ssDNA to undergo liquid-liquid phase separation. Biochem. Biophys. Res. Commun. 2018;499:189–95.

20.

Taslimi A, Vrana JD, Chen D, Borinskaya S, Mayer BJ, Kennedy MJ, et al. An optimized optogenetic clustering tool for probing protein interaction and function. Nat Commun. 2014;5:4925.

21.

Mann JR, Gleixner AM, Mauna JC, Gomes E, DeChellis-Marks MR, Needham PG, et al. RNA binding antagonizes neurotoxic phase transitions of TDP-43. Neuron. 2019;102:321–38.e328.

22.

Asakawa K, Handa H, Kawakami K. Optogenetic modulation of TDP-43 oligomerization accelerates ALS-related pathologies in the spinal motor neurons. Nat Commun. 2020;11:1004.

23.

Polesskaya O, Baranova A, Bui S, Kondratev N, Kananykhina E, Nazarenko O, et al. Optogenetic regulation of transcription. BMC Neurosci. 2018;19:12.

24.

Pouzet, S, Banderas, A, Le Bec, M, Lautier, T, Truan, G & Hersen, P. The promise of optogenetics for bioproduction: dynamic control strategies and scale-up instruments. Bioengineering (Basel). 2020;7:151.

25.

Stockley JH, Evans K, Matthey M, Volbracht K, Agathou S, Mukanowa J, et al. Surpassing light-induced cell damage in vitro with novel cell culture media. Sci. Rep. 2017;7:849.

26.

Clackson T, Yang W, Rozamus LW, Hatada M, Amara JF, Rollins CT, et al. Redesigning an FKBP-ligand interface to generate chemical dimerizers with novel specificity. Proc Natl Acad Sci U S A. 1998;95:10437–42.

27.

Fegan A, White B, Carlson JC, Wagner CR. Chemically controlled protein assembly: techniques and applications. Chem Rev. 2010;110:3315–36.

28.

Yang W, Rozamus LW, Narula S, Rollins CT, Yuan R, Andrade LJ, et al. Investigating protein-ligand interactions with a mutant FKBP possessing a designed specificity pocket. J. Med. Chem. 2000;43:1135–42.

29.

Minaki H, Sasaki K, Honda H, Iwaki T. Prion protein oligomers in Creutzfeldt-Jakob disease detected by gel-filtration centrifuge columns. Neuropathology. 2009;29:536–42.

30.

Kanekura K, Ma X, Murphy JT, Zhu LJ, Diwan A, Urano F. IRE1 prevents endoplasmic reticulum membrane permeabilization and cell death under pathological conditions. Sci Signal. 2015;8:ra62.

31.

Lin W, Lin Y, Li J, Fenstermaker AG, Way SW, Clayton B, et al. Oligodendrocyte-specific activation of PERK signaling protects mice against experimental autoimmune encephalomyelitis. J. Neurosci. 2013;33:5980–91.

32.

Johnson BS, Snead D, Lee JJ, McCaffery JM, Shorter J, Gitler AD. TDP-43 is intrinsically aggregation-prone, and amyotrophic lateral sclerosis-linked mutations accelerate aggregation and increase toxicity. J. Biol. Chem. 2009;284:20329–39.

33.

Pinarbasi ES, Cagatay T, Fung HYJ, Li YC, Chook YM, Thomas PJ. Active nuclear import and passive nuclear export are the primary determinants of TDP-43 localization. Sci. Rep. 2018;8:7083.

34.

Nonaka T, Masuda-Suzukake M, Arai T, Hasegawa Y, Akatsu H, Obi T, et al. Prion-like properties of pathological TDP-43 aggregates from diseased brains. Cell Rep. 2013;4:124–34.

35.

Shimonaka S, Nonaka T, Suzuki G, Hisanaga S, Hasegawa M. Templated Aggregation of TAR DNA-binding Protein of 43 kDa (TDP-43) by Seeding with TDP-43 Peptide Fibrils. J. Biol. Chem. 2016;291:8896–907.

36.

Li HR, Chiang WC, Chou PC, Wang WJ, Huang JR. TAR DNA-binding protein 43 (TDP-43) liquid-liquid phase separation is mediated by just a few aromatic residues. J. Biol. Chem. 2018;293:6090–8.

37.

Maekawa S, Leigh PN, King A, Jones E, Steele JC, Bodi I, et al. TDP-43 is consistently co-localized with ubiquitinated inclusions in sporadic and Guam amyotrophic lateral sclerosis but not in familial amyotrophic lateral sclerosis with and without SOD1 mutations. Neuropathology. 2009;29:672–83.

38.

Tanji K, Zhang HX, Mori F, Kakita A, Takahashi H, Wakabayashi K. p62/sequestosome 1 binds to TDP-43 in brains with frontotemporal lobar degeneration with TDP-43 inclusions. J. Neurosci. Res. 2012;90:2034–42.

39.

Fecto F, Yan J, Vemula SP, Liu E, Yang Y, Chen W, et al. SQSTM1 mutations in familial and sporadic amyotrophic lateral sclerosis. Arch. Neurol. 2011;68:1440–6.

40.

Seibenhener ML, Babu JR, Geetha T, Wong HC, Krishna NR, Wooten MW. Sequestosome 1/p62 is a polyubiquitin chain binding protein involved in ubiquitin proteasome degradation. Mol. Cell. Biol. 2004;24:8055–68.

41.

Bjorkoy G, Lamark T, Johansen T. p62/SQSTM1: a missing link between protein aggregates and the autophagy machinery. Autophagy. 2006;2:138–9.

42.

Watanabe S, Inami H, Oiwa K, Murata Y, Sakai S, Komine O, et al. Aggresome formation and liquid-liquid phase separation independently induce cytoplasmic aggregation of TAR DNA-binding protein 43. Cell Death Dis. 2020;11:909.

43.

Vance C, Rogelj B, Hortobagyi T, De Vos KJ, Nishimura AL, Sreedharan J, et al. Mutations in FUS, an RNA processing protein, cause familial amyotrophic lateral sclerosis type 6. Science. 2009;323:1208–11.

44.

McDonald KK, Aulas A, Destroismaisons L, Pickles S, Beleac E, Camu W, et al. TAR DNA-binding protein 43 (TDP-43) regulates stress granule dynamics via differential regulation of G3BP and TIA-1. Hum. Mol. Genet. 2011;20:1400–10.

45.

Mackenzie IR, Nicholson AM, Sarkar M, Messing J, Purice MD, Pottier C, et al. TIA1 mutations in amyotrophic lateral sclerosis and frontotemporal dementia promote phase separation and alter stress granule dynamics. Neuron. 2017;95:808–16. e809.

46.

Bosque PJ, Boyer PJ, Mishra P. A 43-kDa TDP-43 species is present in aggregates associated with frontotemporal lobar degeneration. PLoS ONE. 2013;8:e62301.

47.

Yamashita T, Hideyama T, Hachiga K, Teramoto S, Takano J, Iwata N, et al. A role for calpain-dependent cleavage of TDP-43 in amyotrophic lateral sclerosis pathology. Nat Commun. 2012;3:1307.
Acknowledgements
The authors thank Addgene and Dr. Aaron Gitler and Dr. Michael Davidson for providing us TDP-43-YFP (Addgene plasmid #84911) and mCherry-Sequestosome1 (SQSTM1)-N-18 (Addgene plasmid #55132). We also thank Dr. Masaaki Matsuoka for providing us wt-FUS cDNA.
Funding
This work was supported by grants from the JSPS KAKENHI Grant numbers (16H06247, 17H03923 and 20H03593 to K.K., 17K15671 to Y.H., and 17H04067 and 21H02706 to M.K.). This work was also supported in part by the Japan Agency for Medical Research and Development (AMED) (16ek0109180h0001 and 17ae0101016s0904), Strategic Research Foundation Grant-aided Project for Private Universities from the Ministry of Education, Culture, Sports, Science and Technology of Japan (M.K.), Takeda Science Foundation (K.K.), Japan Intractable Diseases (Nanbyo) Research Foundation (K.K.), the Tokyo Biochemistry Research Foundation (K.K.), and the Ichiro Kanehara Foundation (K.K.).
Ethics declarations
Conflict of interest
The authors declare no competing interests.
Additional information
Publisher's note Springer Nature remains neutral with regard to jurisdictional claims in published maps and institutional affiliations.
About this article
Cite this article
Yamanaka, Y., Miyagi, T., Harada, Y. et al. Establishment of chemically oligomerizable TAR DNA-binding protein-43 which mimics amyotrophic lateral sclerosis pathology in mammalian cells. Lab Invest (2021). https://doi.org/10.1038/s41374-021-00623-4
Received:

Revised:

Accepted:

Published: