Abstract
Mitochondria have a central role in cellular (patho)physiology, and they display a highly variable morphology that is probably coupled to their functional state. Here we present a protocol that allows unbiased and automated quantification of mitochondrial 'morphofunction' (i.e., morphology and membrane potential), cellular parameters (size, confluence) and nuclear parameters (number, morphology) in intact living primary human skin fibroblasts (PHSFs). Cells are cultured in 96-well plates and stained with tetramethyl rhodamine methyl ester (TMRM), calcein–AM (acetoxy-methyl ester) and Hoechst 33258. Next, multispectral fluorescence images are acquired using automated microscopy and processed to extract 44 descriptors. Subsequently, the descriptor data are subjected to a quality control (QC) algorithm based upon principal component analysis (PCA) and interpreted using univariate, bivariate and multivariate analysis. The protocol requires a time investment of ∼4 h distributed over 2 d. Although it is specifically developed for PHSFs, which are widely used in preclinical research, the protocol is portable to other cell types and can be scaled up for implementation in high-content screening.
Relevant articles
Open Access articles citing this article.
Charlotte A. Hoogstraten

,

Maaike M. E. Jacobs

…

Tom J. J. Schirris

Archives of Toxicology Open Access 08 May 2023

M. Elena Garcia-Pardo

,

Jeremy C. Simpson

&

Niamh C. O'Sullivan

BMC Bioinformatics Open Access 08 September 2021

Ali Rohani

,

Jennifer A. Kashatus

…

David F. Kashatus

Scientific Reports Open Access 03 November 2020
Access options
Subscribe to this journal
Receive 12 print issues and online access
$209.00 per year
only $17.42 per issue
Rent or buy this article
Get just this article for as long as you need it
$39.95
Prices may be subject to local taxes which are calculated during checkout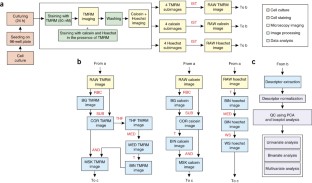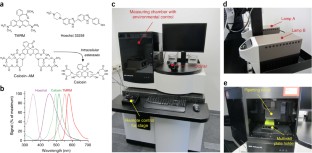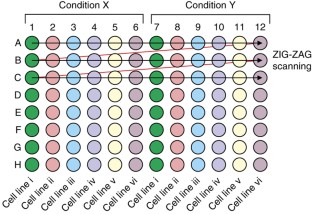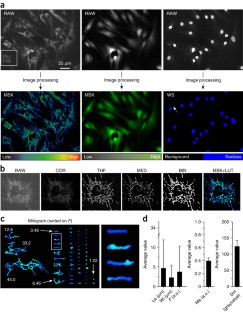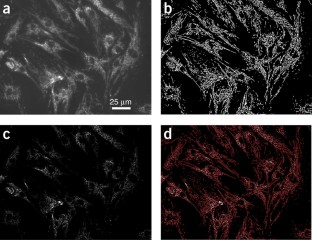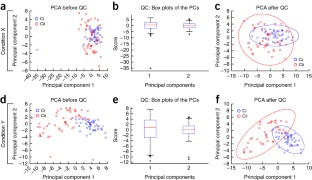 References
Chandel, N.S. Mitochondria as signalling organelles. BMC Biol. 12, 34 (2014).

Westermann, B. Mitochondrial fission and fusion in cell life and death. Nat. Rev. Mol. Cell Biol. 11, 872–884 (2010).

Chan, D.C. Fusion and fission: interlinked processes critical for mitochondrial health. Annu. Rev. Genet. 46, 256–287 (2012).

Twig, G. et al. Fission and selective fusion govern mitochondrial segregation and elimination by autophagy. EMBO J. 27, 433–446 (2008).

Willems, P.H.G.M., Rossignol, R., Dieteren, C.E.J., Murphy, M.P. & Koopman, W.J.H. Redox regulation and mitochondrial dynamics. Cell Metab. 22, 207–218 (2015).

Mitchell, P. & Moyle, J. Chemiosmotic hypothesis of oxidative phosphorylation. Nature 213, 137–179 (1967).

Koopman, W.J.H., Distelmaier, F., Esseling, J.J., Smeitink, J.A.M. & Willems, P.H.G.M. Computer-assisted live cell analysis of mitochondrial membrane potential, morphology and calcium handling. Methods 46, 304–311 (2008).

Iannetti, E. et al. High-content and high-throughput analysis of mitochondrial dynamics. Int. J. Biochem. Cell Biol. 63, 66–70 (2015).

Mishra, P. & Chan, D.C. Metabolic regulation of mitochondrial dynamics. J. Cell Biol. 212, 379–387.

Schrepfer, E. & Scorrano, L. Mitofusins, from mitochondria to metabolism. Mol. Cell 61, 683–694 (2016).

Toyama, E.Q. et al. AMPK-activated protein kinase mediates mitochondrial fission in response to energy stress. Science 351, 275–281 (2016).

Wai, T. & Langer, T. Mitochondrial dynamics and metabolic regulation. Trends Endocrinol. Metab. 27, 105–117 (2016).

Koopman, W.J.H., Willems, P.H.G.M. & Smeitink, J.A.M. Monogenic mitochondrial disorders. N. Eng. J. Med. 366, 1132–1141 (2012).

Koopman, W.J.H., Distelmaier, F., Smeitink, J.A.M. & Willems, P.H.G.M. OXPHOS mutations and neurodegeneration. EMBO J. 32, 9–29 (2013).

Tronstad, K.J. et al. Regulation and quantification of cellular mitochondrial morphology and content. Curr. Pharm. Des. 20, 5643–5652 (2014).

Rowland, A.A. & Voeltz, G.K. Endoplasmic reticulum-mitochondria contacts: function of the junction. Nat. Rev. Mol. Cell Biol. 13, 607–625 (2012).

Picard, M., Shirihai, O.S., Gentil, B.J. & Burelle, Y. Mitochondrial morphology transitions and functions: implications for retrograde signalling? Am. J. Physiol. Regul. Integr. Comp. Physiol. 304, R393–R406 (2013).

Koopman, W.J.H. et al. Mammalian mitochondrial complex I: biogenesis, regulation, and reactive oxygen species generation. Antioxid. Redox Signal. 12, 1431–1470 (2010).

Koopman, W.J.H. et al. Partial complex I inhibition decreases mitochondrial motility and increases matrix protein diffusion as revealed by fluorescence correlation spectroscopy. Biochim. Biophys. Acta 1767, 940–947 (2007).

Koopman, W.J.H. et al. Inhibition of complex I of the electron transport chain causes oxygen radical-mediated mitochondrial outgrowth. Am. J. Physiol. Cell Physiol. 288, C1440–C1450 (2005).

Koopman, W.J.H. et al. Mitochondrial network complexity and pathological decrease in complex I activity are tightly correlated in isolated human complex I deficiency. Am. J. Physiol. Cell Physiol. 289, C881–C890 (2005).

Koopman, W.J.H., Visch, H.J., Smeitink, J.A.M. & Willems, P.H.G.M. Simultaneous, quantitative measurement and automated analysis of mitochondrial morphology, mass, potential and motility in living human skin fibroblasts. Cytometry A 69A, 1–12 (2006).

Distelmaier, F. et al. Life cell quantification of mitochondrial membrane potential at the single organelle level. Cytometry A 73, 129–138 (2008).

Willems, P.H.G.M., Smeitink, J.A.M. & Koopman, W.J.H. Mitochondrial dynamics in human NADH:oxidoreductase deficiency. Int. J. Biochem. Cell Biol. 41, 1773–1783 (2009).

Nooteboom, M., Forkink, M., Willems, P.H.G.M. & Koopman, W.J.H. Live-cell quantification of mitochondrial functional parameters. in Neuromethods 70: Visualization Techniques, from Immunohistochemistry to Magnetic Resonance Imaging (ed. Badoer, E.) Chapter 6 (Springer, New York, 2012).

Blanchet, L., Buydens, L.M.C., Smeitink, J.A.M., Willems, P.H.G.M. & Koopman, W.J.H. Isolated mitochondrial complex I deficiency: explorative pattern analysis of patient cell parameters. Curr. Pharm. Des. 17, 4023–4033 (2011).

Blanchet, L. et al. Analysis of small molecule phenotypic effects using combined mitochondrial morpho-functional fingerprinting and machine learning. Sci. Rep. 5, 8035 (2015).

Koopman, W.J.H. et al. Human NADH: oxidoreductase deficiency: radical changes in mitochondrial morphology? Am. J. Physiol. Cell Physiol. 293, C22–C29 (2007).

Koopman, W.J.H. et al. Inherited complex I deficiency is associated with faster protein diffusion in the matrix of moving mitochondria. Am. J. Physiol. Cell Physiol. 294, C1124–C1132 (2008).

Lansing-Taylor, D. Past, present and future of high content screening and the field of cellomics. in High Content Screening: A Powerful Approach to Systems Cell Biology and Drug Discovery (eds. Lansing-Taylor, D., Haskins, J.R. & Giuliano, K.A.) (Humana Press, Totowa, NJ, USA, 2007).

Feng, Y., Mitchison, T.J., Bender, A., Young, D.W. & Tallarico, J.A. Multi-parameter phenotypic profiling: using cellular effects to characterize small-molecule compounds. Nat. Rev. Drug Discov. 8, 567–578 (2009).

Zanella, F., Lorens, J.B. & Link, W. High content screening: seeing is believing. Trends Biotechnol. 28, 237–245 (2010).

Bast, A. & Haenen, G.R.M.M. Ten misconceptions about antioxidants. Trends Pharmacol. Sci. 34, 430–436 (2013).

Wiemerslage, L. & Lee, D. Quantification of mitochondrial morphology in neurites of dopaminergic neurons using multiple parameters. J. Neurosci. Methods 262, 56–65 (2016).

Sommer, C. & Gehrlich, D.W. Machine learning in cell biology – teaching computers to recognize phenotypes. J. Cell Sci. 126, 5529–5539 (2013).

Peng, J.Y. et al. Automatic morphological subtyping reveals new roles of caspases in mitochondrial dynamics. PLoS Comput. Biol. 7, e1002212 (2011).

Reis, Y. et al. Multi-parametric analysis and modeling of relationships between mitochondrial morphology and apoptosis. PLoS One 7, e28694 (2012).

Ahmad, T. et al. Computational classification of mitochondrial shapes reflects stress and redox state. Cell Death Dis. 4, e461 (2013).

Leonard, A.P. et al. Quantitative analysis of mitochondrial morphology and membrane potential in living cells using high-content imaging, machine learning, and morphological binning. Biochim. Biophys. Acta 1853, 348–360 (2015).

Nikolaisen, J. et al. Automated quantification and integrative analysis of 2D and 3D mitochondrial shape and network properties. PLoS One 9, e101365 (2014).

Farrand, L. et al. An improved quantitative approach for the assessment of mitochondrial fragmentation in chemoresistant ovarian cancer cells. PLoS One 8, e74008 (2014).

Rizk, A. et al. Segmentation and quantification of subcellular structures in fluorescence microscopy images using Squassh. Nat. Protoc. 9, 586–596 (2014).

Lautenschläger, J. et al. Novel computer vision algorithm for the reliable analysis of organelle morphology in whole cell 3D images - A pilot study for the quantitative evaluation of mitochondrial fragmentation in amyotrophic lateral sclerosis. Mitochondrion 25, 49–59 (2015).

Lihavainen, E., Kislin, M., Toptunov, D., Khiroug, L. & Ribeiro, A.S. Automatic quantification of mitochondrial fragmentation from two-photon microscope images of mouse brain tissue. J. Microsc. 260, 338–351 (2015).

Hugelier, S. et al. Sparse deconvolution of high-density super-resolution images. Sci. Rep. 6, 21413 (2016).

McClatchey, P.M., Keller, A.C., Bouchard, R., Knaub, L.A. & Reusch, J.E.B. Fully automated software for quantitative measurements of mitochondrial morphology. Mitochondrion 26, 58–71 (2016).

Giuly, R.J., Martone, M.E. & Ellisman, M.H. Method: automatic segmentation of mitochondria utilizing patch classification, contour pair classification, and automatically seeded level sets. BMC Bioinformatics 13, 29 (2012).

Lihavainen, E., Makela, J., Spelbrink, J.N. & Ribeiro, A.S. Mitoe: automatic analysis of mitochondrial dynamics. Bioinformatics 28, 1050–1051 (2012).

Mumcuoglu, E.U. et al. Computerized detection and segmentation of mitochondria on electron microscope images. J. Microsc. 246, 248–265 (2012).

Dietlmaier, J., Ghita, O., Duessmann, H., Prehn, J.H. & Whelan, P.F. Unsupervised mitochondria segmentation using recursive spectral clustering and adaptive similarity models. J. Struct. Biol. 184, 401–408 (2013).

Bros, H., Hauser, A., Niesner, R. & Infante-Duarte, C. Assessing mitochondrial movement within neurons: manual versus automated tracking methods. Traffic 16, 906–917 (2015).

Kandel, J., Chou, P. & Eckmann, D.M. Automated detection of whole-cell mitochondrial motility and its dependence on cytoarchitectural integrity. Biotechnol. Bioeng. 112, 1395–1405 (2015).

Tasel, S.F., Mumcuoglu, E.U., Hassanpour, R.Z. & Perkins, G. A validated active contour method driven by parabolic arc model for detection and segmentation of mitochondria. J. Struct. Biol. 194, 253–271 (2016).

Forkink, M. et al. Mitochondrial hyperpolarization during chronic complex I inhibition is sustained by low activity of complex II, III, IV and V. Biochim. Biophys. Acta 1837, 1247–1256 (2014).

Nicholls, D.G. Simultaneous monitoring of ionophore- and inhibitor-mediated plasma and mitochondrial membrane potential changes in cultured neurons. J. Biol. Chem. 281, 14864–14874 (2006).

Hüser, J., Rechenmacher, C.E. & Blatter, L.A. Imaging the permeability transition in single mitochondria. Biophys. J. 74, 2129–2137 (1998).

Falchi, A.M., Isola, R., Diana, A., Putzolu, M. & Diaz, G. Characterization of depolarization and repolarization phases of mitochondrial membrane potential fluctuations induced by tetramethylrhodamine methyl ester photoactivation. FEBS J. 272, 1649–1659 (2005).

Blanchet, L., Grefte, S., Smeitink, J.A.M., Willems, P.H.G.M. & Koopman, W.J.H. Photo-induction and automated quantification of reversible mitochondrial permeability transition pore opening in primary mouse myotubes. PLoS One 9, e114090 (2014).

Wang, X.M. et al. A new microcellular cytotoxicity test based upon calcein AM release. Hum. Immunol. 37, 264–270 (1993).

Homolya, L. et al. Fluorescent cellular indicators are extruded by the multidrug resistance protein. J. Biol. Chem. 268, 21496–21496 (1993).

Sternberg, S.R. Biomedical image processing. Computer 16, 22–34 (1983).

Russ, J.C. & Neal, F.B. The Image Processing Handbook 7th edn. (CRC press, Boca Raton, FL, 2016).

Bray, M.A. & Carpenter, A. Advanced assay development guidelines for image-based high content screening and analysis. in Assay Guidance Manual (eds. Sittampalam, G.S. et al.) (Eli Lilly & Company and the National Center for Advancing Translational Sciences, Bethesda, MD, 2004).

Tigges, J. et al. The hallmarks of fibroblast aging. Mech. Ageing Dev. 138, 26–44 (2014).

Massart, D.L. et al. Handbook of Chemometrics and Qualimetrics (Amsterdam, the Netherlands: Elsevier, 1997).

Tukey, J.W. Exploratory Data Analysis 1st edn. (Addison-Wesley, Boston, MA, 1977).

Ringnér, M. What is principal component analysis? Nat. Biotechol. 26, 303–304 (2008).

Bro, R. & Smilde, A.K. Principal component analysis. Anal. Methods 6, 2812–2831 (2014).

Brown, J.D. Choosing the right number of components of factors in PCA and EFA. Shiken: JALT testing & evaluation SIG Newsletter 13(2), 19–23 (2009).

Lemasters, J.J. & Ramshesh, V.K. Imaging of mitochondrial polarization and depolarization with cationic fluorophores. Methods Cell. Biol. 80, 283–295 (2007).

Eliceiri, K.W. et al. Biological imaging software tools. Nat. Methods 9, 697–710 (2012).

Kitami, T. et al. A chemical screen probing the relationship between mitochondrial content and cell size. PLoS One 7, e33755 (2012).

Gonzalez, R.C. & Woods, R.E. Digital Image Processing 3rd edn. (Pearson Prentice Hall, Upper Saddle River, NJ, 2008).
Acknowledgements
This research was supported by the Marie-Curie Initial Training Networks (ITN) grant 'MEET' (Mitochondrial European Educational Training; FP7-PEOPLE-2012-ITN), a PM-Rare (Priority Medicines Rare Disorders and Orphan Diseases) grant from the Netherlands Organization for Health Research and Development—Medical Sciences (40-41900-98-033), theEnergy4All Foundation (http://www.energy4all.eu) and the CSBR (Centres for Systems Biology Research) initiative from the Netherlands Organisation for Scientific Research (NWO; CSBR09/013V). We thank L. Blanchet and M. Pellegrini (both from Khondrion BV) for training, practical assistance and discussions.
Ethics declarations
Competing interests
This research was carried out in a collaborative project of the Department of Biochemistry (Radboud University Medical Center) and Khondrion BV (a Radboud University Medical Center spin-off biotech company). E.F.I. (full time), J.B. (full time) and J.A.M.S. (part time) are employed by Khondrion BV. P.H.G.M.W. and W.J.H.K. are scientific consultants for Khondrion BV.
Integrated supplementary information
Supplementary information
Supplementary Figures 1–6, Supplementary Tables 1–3 and Supplementary References (PDF 1914 kb)
Dataset for IPP and MATLAB analysis (ZIP 5018 kb)
About this article
Cite this article
Iannetti, E., Smeitink, J., Beyrath, J. et al. Multiplexed high-content analysis of mitochondrial morphofunction using live-cell microscopy. Nat Protoc 11, 1693–1710 (2016). https://doi.org/10.1038/nprot.2016.094
Published:

Issue Date:

DOI: https://doi.org/10.1038/nprot.2016.094
Comments
By submitting a comment you agree to abide by our Terms and Community Guidelines. If you find something abusive or that does not comply with our terms or guidelines please flag it as inappropriate.