Abstract
Here we report a protocol to investigate the electron-transfer processes of redox-active biomolecules in biological membranes by electrochemistry using biomimetic hybrid bilayer membranes (HBMs) assembled on gold electrodes. Redox-active head groups, such as the ubiquinone moiety, are embedded in HBMs that contain target molecules, e.g., nicotinamide adenine dinucleotide (NADH). By using this approach, the electron-transfer processes between redox molecules and target biomolecules are mediated by mimicking the redox cycling processes in a natural membrane. Also included is a procedure for in situ surface-enhanced Raman scattering (SERS) to confirm the electrochemically induced conformational changes of the target biomolecules in the HBMs. In addition, each step in constructing the HBMs is characterized by electrochemical impedance spectroscopy (EIS), high-resolution X-ray photoelectron spectroscopy (XPS) and atomic force microscopy (AFM). The time required for the entire protocol is ∼12 h, whereas the electrochemical measurement of electron-transfer processes takes less than 1 h to complete.
Access options
Subscribe to Journal
Get full journal access for 1 year
$259.00
only $21.58 per issue
All prices are NET prices.
VAT will be added later in the checkout.
Rent or Buy article
Get time limited or full article access on ReadCube.
from$8.99
All prices are NET prices.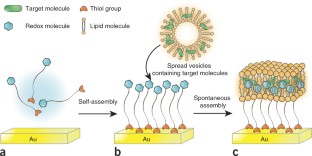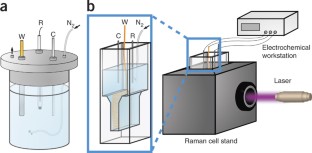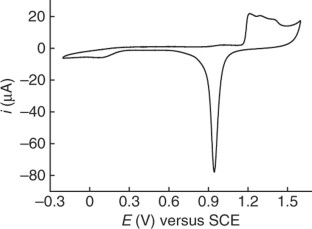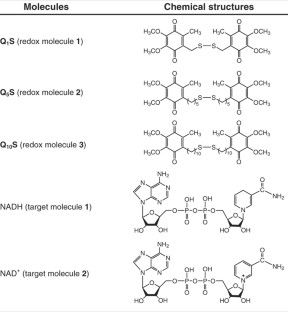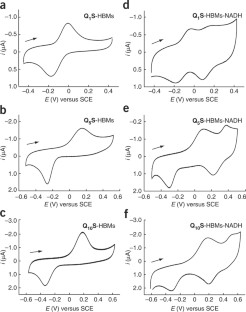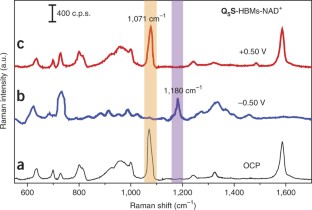 References
1

Dietz, K.-J. & Pfannschmidt, T. Novel regulators in photosynthetic redox control of plant metabolism and gene expression. Plant Physiol. 155, 1477–1485 (2011).

2

Foyer, C.H. & Noctor, G. Redox regulation in photosynthetic organisms: signaling, acclimation, and practical implications. Antioxid. Redox Signaling 11, 861–905 (2009).

3

Zhang, Z. et al. Electron-transfer by domain movement in cytochrome bc 1 . Nature 392, 677–684 (1998).

4

Joliot, P. & Joliot, A. Cyclic electron transfer in plant leaf. Proc. Natl. Acad. Sci. USA 99, 10209–10214 (2002).

5

Giorgio, M. et al. Electron transfer between cytochrome c and p66Shc generates reactive oxygen species that trigger mitochondrial apoptosis. Cell 122, 221–233 (2005).

6

Troiano, L. et al. Multiparametric analysis of cells with different mitochondrial membrane potential during apoptosis by polychromatic flow cytometry. Nat. Protoc. 2, 2719–2727 (2007).

7

Chatterjee, S.N. & Agarwal, S. Liposomes as membrane model for study of lipid peroxidation. Free Radical Biol. Med. 4, 51–72 (1988).

8

Winterhalter, M. Black lipid membranes. Curr. Opin. Colloid Interface Sci. 5, 250–255 (2000).

9

Pavinatto, F.J. et al. Probing chitosan and phospholipid interactions using Langmuir and Langmuir-Blodgett films as cell membrane models. Langmuir 23, 7666–7671 (2007).

10

Czolkos, I., Jesorka, A. & Orwar, O. Molecular phospholipid films on solid supports. Soft Matter 7, 4562–4576 (2011).

11

Sackman, E. Supported membranes: scientific and practical applications. Science 271, 43–48 (1996).

12

Castellana, E.T. & Cremer, P.S. Solid supported lipid bilayers: from biophysical studies to sensor design. Surf. Sci. Rep. 61, 429–444 (2006).

13

Lahiri, J., Kalal, P., Frutos, A.G., Jonas, S.J. & Schaeffler, R. Method for fabricating supported bilayer lipid membranes on gold. Langmuir 16, 7805–7810 (2000).

14

Cho, N.-J., Frank, C.W., Kasemo, B. & Höök, F. Quartz crystal microbalance with dissipation monitoring of supported lipid bilayers on various substrates. Nat. Protoc. 5, 1096–1106 (2010).

15

Kraft, M.L., Weber, P.K., Longo, M.L., Hutcheon, I.D. & Boxer, S.G. Phase separation of lipid membranes analyzed with high-resolution secondary ion mass spectrometry. Science 313, 1948–1951 (2006).

16

Mingeot-Leclercq, M.P., Deleu, M., Brasseur, R. & Dufrêne, Y.F. Atomic force microscopy of supported lipid bilayers. Nat. Protoc. 3, 1654–1659 (2008).

17

Richter, R.P., Bérat, R. & Brisson, A.R. Formation of solid-supported lipid bilayers: an integrated view. Langmuir 22, 3497–3505 (2006).

18

Nair, P.M., Salaita, K., Petit, R.S. & Groves, J.T. Using patterned supported lipid membranes to investigate the role of receptor organization in intercellular signaling. Nat. Protoc. 6, 523–539 (2011).

19

Salamon, Z., Hazzard, J.T. & Tollin, G. Direct measurement of cyclic current-voltage responses of integral membrane proteins at a self-assembled lipid-bilayer-modified electrode: cytochrome f and cytochrome c oxidase. Proc. Natl. Acad. Sci. USA 90, 6420–6423 (1993).

20

Tanaka, M. & Sackmann, E. Polymer-supported membranes as models of the cell surface. Nature 437, 656–663 (2005).

21

Burgess, J.D., Rhoten, M.C. & Hawkridge, F.M. Cytochrome c oxidase immobilized in stable supported lipid bilayer membranes. Langmuir 14, 2467–2475 (1998).

22

Plant, A.L. Supported hybrid bilayer membranes as rugged cell membrane mimics. Langmuir 15, 5128–5135 (1999).

23

Peng, Z.Q., Tang, J.L., Han, X.J., Wang, E.K. & Dong, S.J. Formation of a supported hybrid bilayer membrane on gold: a sterically enhanced hydrophobic effect. Langmuir 18, 4834–4839 (2002).

24

Anderson, N.A., Richter, L.J., Stephenson, J.C. & Briggman, K.A. Characterization and control of lipid layer fluidity in hybrid bilayer membranes. J. Am. Chem. Soc. 129, 2094–2100 (2007).

25

Groves, J.T. & Dustin, M.L. Supported planar bilayers in studies on immune cell adhesion and communication. J. Immunol. Meth. 278, 19–32 (2003).

26

Hosseini, A. et al. Ferrocene embedded in an electrode-supported hybrid lipid bilayer membrane: a model system for electrocatalysis in a biomimetic environment. Langmuir 26, 17674–17678 (2010).

27

Groves, J.T. & Boxer, S.G. Micropattern formation in supported lipid membranes. Acc. Chem. Res. 35, 149–157 (2002).

28

Kett, P.J.N., Casford, M.T.L. & Davies, P.B. Sum frequency generation (SFG) vibrational spectroscopy of planar phosphatidylethanolamine hybrid bilayer membranes under water. Langmuir 26, 9710–9719 (2010).

29

Twardowski, M. & Nuzzo, R.G. Phase dependent electrochemical properties of polar self-assembled monolayers (SAMs) modified via the fusion of mixed phospholipid vesicles. Langmuir 20, 175–180 (2004).

30

Dominska, M., Krysinski, P. & Blanchard, G.J. Interrogating interfacial organization in planar bilayer structures. Langmuir 24, 8785–8793 (2008).

31

Munge, B. et al. Electron-transfer reactions of redox cofactors in spinach photosystem I reaction center protein in lipid films on electrodes. J. Am. Chem. Soc. 125, 12457–12463 (2003).

32

Salamon, Z., Huang, D., Cramer, W.A. & Tollin, G. Coupled plasmon-waveguide resonance spectroscopy studies of the cytochrome b6f/plastocyanin system in supported lipid bilayer membranes. Biophys. J. 75, 1874–1885 (1998).

33

Ham, M.-H. et al. Photoelectrochemical complexes for solar energy conversion that chemically and autonomously regenerate. Nat. Chem. 2, 929–936 (2010).

34

Jeuken, L.J.C. et al. Redox enzymes in tethered membranes. J. Am. Chem. Soc. 128, 1711–1716 (2006).

35

Ma, W. et al. Reversible redox of NADH and NAD+ at a hybrid lipid bilayer membrane using ubiquinone. J. Am. Chem. Soc. 133, 12366–12369 (2011).

36

Ma, W. et al. In situ spectroeletrochemistry and cytotoxic activities of natural ubiquinone analogues. Tetrahedron 67, 5990–6000 (2011).

37

Trumpower, B.L. & Gennis, R.B. Energy transduction by cytochrome complexes in mitochondrial and bacterial respiration: the enzymology of coupling electron-transfer reactions to transmembrane proton translocation. Annu. Rev. Biochem. 63, 675–716 (1994).

38

Sazanov, L.A. & Hinchliffe, P. Structure of the hydrophilic domain of respiratory complex I from Thermus thermophilus. Science 311, 1430–1436 (2006).

39

Lee, K.-S., Won, M.-S., Noh, H.-B. & Shim, Y.-B. Triggering the redox reaction of cytochrome c on a biomimetic layer and elimination of interferences for NADH detection. Biomaterials 31, 7827–7835 (2010).

40

Yoon, J.-H., Lee, K.-S., Yang, J.E., Won, M.-S. & Shim, Y.-B. Electron-transfer kinetics and morphology of cytochrome c at the biomimetic phospholipid layers. J. Electroanal. Chem. 644, 36–43 (2010).

41

Clapp, P.J., Armitage, B., Roosa, P. & Obrien, D.F. Efficient photoinduced orthogonal energy and electron transfer reactions via phospholipid membrane-bound donors and acceptors. J. Am. Chem. Soc. 116, 9166–9173 (1994).

42

Li, G. et al. Rigid lipid membranes and nanometer clefts: motifs for the creation of molecular landscapes. Angew. Chem. Int. Ed. 41, 1828–1852 (2002).

43

Hill, H.D. & Mirkin, C.A. The bio-barcode assay for the detection of protein and nucleic acid targets using DTT-induced ligand exchange. Nat. Protoc. 1, 324–336 (2006).

44

Steel, A.B., Herne, T.M. & Tarlov, M.J. Electrochemical quantitation of DNA immobilized on gold. Anal. Chem. 70, 4670–4677 (1998).

45

Hong, H.G. & Park, W. Electrochemical characteristics of hydroquinone-terminated self-assembled monolayers on gold. Langmuir 17, 2485–2492 (2001).

46

Dieringer, J.A., Lettan, R.B. II, Scheidt, K.A. & Van Duyne, R.P. A frequency domain existence proof of single-molecule surface-enhanced Raman spectroscopy. J. Am. Chem. Soc. 129, 16249–16256 (2007).

47

Ortiz, R.P. et al. Electronic modulation of dithienothiophene (DTT) as pi-center of D-pi-D chromophores on optical and redox properties: analysis by UV-vis-NIR and Raman spectroscopies combined with electrochemistry and quantum chemical DFT calculations. J. Am. Chem. Soc. 126, 13363–13376 (2004).

48

Trammell, S.A., Moore, M., Lowy, D. & Lebedev, N. Surface reactivity of the quinone/hydroquinone redox center tethered to gold: comparison of delocalized and saturated bridges. J. Am. Chem. Soc. 130, 5579–5585 (2008).

49

Green, D.E. & Fleischer, S. The role of lipids in mitochondrial electron transfer and oxidative phosphorylation. Biochim. Biophys. Acta 70, 554–582 (1963).

50

Rinia, H.A., Bonn, M. & Müller, M. Quantitative multiplex CARS spectroscopy in congested spectral regions. J. Phys. Chem. B 110, 4472–4479 (2006).

51

Chen, S.P., Hosten, C.M., Vivoni, A., Birke, R.L. & Lombardi, J.R. SERS investigation of NAD+ adsorbed on a silver electrode. Langmuir 18, 9888–9900 (2002).

52

Siiman, O., Rivellini, R. & Patel, R. Orientation and conformation of NAD+ and NADH adsorbed on colloidal silver. Inorg. Chem. 27, 3940–3949 (1988).
Acknowledgements
This research was supported by the National Science Fund for Distinguished Young Scholars (21125522), the Major Research Plan of the National Natural Science Foundation of China (91027035), the Fundamental Research Funds for the Central Universities (WK1013002) and the 973 Program (2013CB733700).
Ethics declarations
Competing interests
The authors declare no competing financial interests.
Supplementary information
About this article
Cite this article
Ma, W., Ying, YL., Qin, LX. et al. Investigating electron-transfer processes using a biomimetic hybrid bilayer membrane system. Nat Protoc 8, 439–450 (2013). https://doi.org/10.1038/nprot.2013.007
Comments
By submitting a comment you agree to abide by our Terms and Community Guidelines. If you find something abusive or that does not comply with our terms or guidelines please flag it as inappropriate.