Abstract
Genetic and diet-induced rodent obesity models provide outstanding opportunities to study the role of angiogenesis and vascular remodeling in modulation of adipogenesis and obesity. In this study, we describe methods to quantitatively study adipose angiogenesis and vascular remodeling on the basis of immunohistochemical analyses. Fresh white adipose tissue or brown adipose tissue are prepared for whole mount, cryosectioned and paraffin-embedded samples, followed by staining with specific markers such as platelet endothelial cell adhesion molecule-1 (PECAM-1)/CD31, CD34, isolectin B4 or α-smooth muscle actin. Adipocytes are visualized by staining lipid droplets with 4,4-difluoro-4-bora-3a,4a-diaza-s-indacene-3-dodecanoic acid (BODIPY) 558/568 C12. This protocol may take 2–5 d to obtain results. In the view of the crucial roles of vasculature in modulation of adipogenesis and obesity, this protocol is valuable for studying the molecular mechanisms of angiogenesis in obese adipose tissues and for assessing the anti-obesity activity of angiogenesis modulators.
Relevant articles
Open Access articles citing this article.
Aizhen Chen

,

Shijie Tang

…

Xiaosong Chen

Stem Cell Research & Therapy Open Access 03 May 2021

Patricia de Albuquerque Garcia Redondo

,

Fernanda Gubert

…

Radovan Borojevic

Cell and Tissue Research Open Access 27 November 2019

Nicole R. Blumenfeld

,

Hwan June Kang

…

Samuel K. Sia

Scientific Reports Open Access 21 May 2018
Access options
Subscribe to this journal
Receive 12 print issues and online access
$209.00 per year
only $17.42 per issue
Rent or buy this article
Get just this article for as long as you need it
$39.95
Prices may be subject to local taxes which are calculated during checkout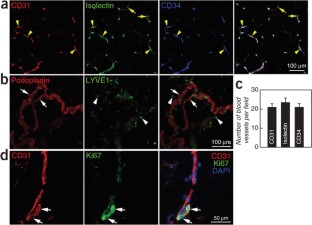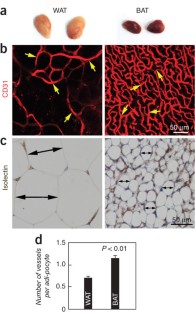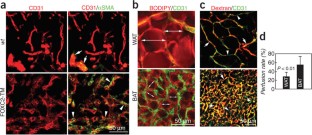 References
Carmeliet, P. & Jain, R.K. Angiogenesis in cancer and other diseases. Nature 407, 249–257 (2000).

Cao, Y. Angiogenesis and lymphangiogenesis in common diseases. Editorial. Curr. Mol. Med. 9, 928 (2009).

Lim, S.D. et al. Expression of the neural stem cell markers NG2 and L1 in human angiomyolipoma: are angiomyolipomas neoplasms of stem cells? Mol. Med. 13, 160–165 (2007).

Folkman, J. Angiogenesis: an organizing principle for drug discovery? Nat. Rev. Drug. Discov. 6, 273–286 (2007).

Cao, Y., Zhong, W. & Sun, Y. Improvement of antiangiogenic cancer therapy by understanding the mechanisms of angiogenic factor interplay and drug resistance. Semin. Cancer Biol. 19, 338–343 (2009).

Hurwitz, H. et al. Bevacizumab plus irinotecan, fluorouracil, and leucovorin for metastatic colorectal cancer. N. Engl. J. Med. 350, 2335–2342 (2004).

Kerbel, R.S. Tumor angiogenesis. N. Engl. J. Med. 358, 2039–2049 (2008).

Rosenfeld, P.J. et al. Ranibizumab for neovascular age-related macular degeneration. N. Engl. J. Med. 355, 1419–1431 (2006).

Gragoudas, E.S., Adamis, A.P., Cunningham, E.T. Jr., Feinsod, M. & Guyer, D.R. Pegaptanib for neovascular age-related macular degeneration. N. Engl. J. Med. 351, 2805–2816 (2004).

Brakenhielm, E. et al. Angiogenesis inhibitor, TNP-470, prevents diet-induced and genetic obesity in mice. Circ. Res. 94, 1579–1588 (2004).

Cao, Y. Angiogenesis modulates adipogenesis and obesity. J. Clin. Invest. 117, 2362–2368 (2007).

Rupnick, M.A. et al. Adipose tissue mass can be regulated through the vasculature. Proc. Natl. Acad. Sci. USA 99, 10730–10735 (2002).

Xue, Y. et al. FOXC2 controls Ang-2 expression and modulates angiogenesis, vascular patterning, remodeling, and functions in adipose tissue. Proc. Natl. Acad. Sci. USA 105, 10167–10172 (2008).

Xue, Y. et al. Hypoxia-independent angiogenesis in adipose tissues during cold acclimation. Cell. Metab. 9, 99–109 (2009).

Planat-Benard, V. et al. Plasticity of human adipose lineage cells toward endothelial cells: physiological and therapeutic perspectives. Circulation 109, 656–663 (2004).

Dobson, D.E. et al. 1-Butyryl-glycerol: a novel angiogenesis factor secreted by differentiating adipocytes. Cell 61, 223–230 (1990).

Brown, J.Q. et al. Quantitative optical spectroscopy: a robust tool for direct measurement of breast cancer vascular oxygenation and total hemoglobin content in vivo. Cancer Res. 69, 2919–2926 (2009).

Vineberg, A.M. et al. Myocardial revascularization by Omental graft without pedicle: experimental background and report on 25 cases followed 6 to 16 months. J. Thorac. Cardiovasc. Surg 49, 103–129 (1965).

Cao, R., Brakenhielm, E., Wahlestedt, C., Thyberg, J. & Cao, Y. Leptin induces vascular permeability and synergistically stimulates angiogenesis with FGF-2 and VEGF. Proc. Natl. Acad. Sci. USA 98, 6390–6395 (2001).

Brakenhielm, E. et al. Adiponectin-induced antiangiogenesis and antitumor activity involve caspase-mediated endothelial cell apoptosis. Proc. Natl. Acad. Sci. USA 101, 2476–2481 (2004).

Bjorndahl, M. et al. Insulin-like growth factors 1 and 2 induce lymphangiogenesis in vivo. Proc. Natl. Acad. Sci. USA 102, 15593–15598 (2005).

Cao, R. et al. Hepatocyte growth factor is a lymphangiogenic factor with an indirect mechanism of action. Blood 107, 3531–3536 (2006).

Wicki, A. et al. Tumor invasion in the absence of epithelial-mesenchymal transition: podoplanin-mediated remodeling of the actin cytoskeleton. Cancer. Cell. 9, 261–272 (2006).

Cho, C.H. et al. Angiogenic role of LYVE-1-positive macrophages in adipose tissue. Circ. Res. 100, e47–57 (2007).

Hedlund, E.M., Hosaka, K., Zhong, Z., Cao, R. & Cao, Y. Malignant cell-derived PlGF promotes normalization and remodeling of the tumor vasculature. Proc. Natl. Acad. Sci. USA. 106, 17505–17510 (2009).
Acknowledgements
Yihai Cao's laboratory is supported through research grants from the Swedish Research Council, the Swedish Cancer Foundation, the Karolinska Institute Foundation, the Karolinska Institute Distinguished Professor Award, the European Union Integrated Project of Metoxia (Project no. 222741) and the European Research Council (ERC) advanced grant ANGIOFAT (Project no. 250021).
Ethics declarations
Competing interests
The authors declare no competing financial interests.
About this article
Cite this article
Xue, Y., Lim, S., Bråkenhielm, E. et al. Adipose angiogenesis: quantitative methods to study microvessel growth, regression and remodeling in vivo. Nat Protoc 5, 912–920 (2010). https://doi.org/10.1038/nprot.2010.46
Published:

Issue Date:

DOI: https://doi.org/10.1038/nprot.2010.46
Comments
By submitting a comment you agree to abide by our Terms and Community Guidelines. If you find something abusive or that does not comply with our terms or guidelines please flag it as inappropriate.