Abstract
Boosting nonlinear frequency conversion in extremely confined volumes remains a challenge in nano-optics research1, but can enable applications in nanomedicine2, photocatalysis3 and background-free biosensing4. To obtain brighter nonlinear nanoscale sources, approaches that enhance the electromagnetic field intensity and counter the lack of phase matching in nanoplasmonic systems are often employed5,6,7,8. However, the high degree of symmetry in the crystalline structure of plasmonic materials (metals in particular) and in nanoantenna designs strongly quenches second harmonic generation5. Here, we describe doubly-resonant single-crystalline gold nanostructures with no axial symmetry9 displaying spatial mode overlap at both the excitation and second harmonic wavelengths. The combination of these features allows the attainment of a nonlinear coefficient for second harmonic generation of ∼5 × 10–10 W–1, enabling a second harmonic photon yield higher than 3 × 106 photons per second. Theoretical estimations point toward the use of our nonlinear plasmonic nanoantennas as efficient platforms for label-free molecular sensing.
Relevant articles
Open Access articles citing this article.
Yunfei Xie

,

Liuli Yang

…

Ziwei Li

Nanoscale Research Letters Open Access 04 October 2022

Unai Arregui Leon

,

Davide Rocco

…

Costantino De Angelis

Scientific Reports Open Access 17 March 2022

Mudassar Nauman

,

Jingshi Yan

…

Dragomir N. Neshev

Nature Communications Open Access 22 September 2021
Access options
Subscribe to Journal
Get full journal access for 1 year
$119.00
only $9.92 per issue
All prices are NET prices.
VAT will be added later in the checkout.
Tax calculation will be finalised during checkout.
Buy article
Get time limited or full article access on ReadCube.
$32.00
All prices are NET prices.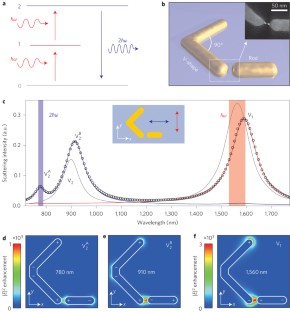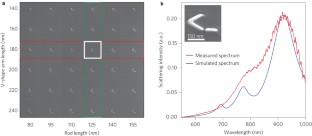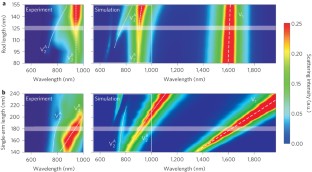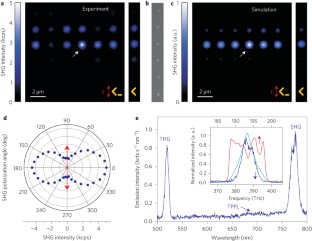 References
Kauranen, M. & Zayats, A. V. Nonlinear plasmonics. Nature Photon. 6, 737–748 (2014).

Kachynski, A. V. et al. Photodynamic therapy by in situ nonlinear photon conversion. Nature Photon. 8, 455–461 (2014).

Clavero, C. Plasmon-induced hot-electron generation at nanoparticle/metal-oxide interfaces for photovoltaic and photocatalytic devices. Nature Photon. 8, 95–103 (2014).

Kotov, N. The only way is up. Nature Mater. 10, 903–904 (2011).

Hanke, T. et al. Efficient nonlinear light emission of single gold optical antennas driven by few-cycle near-infrared pulses. Phys. Rev. Lett. 103, 257404 (2009).

Aouani, H., Rahmani, M., Navarro-Cía, M. & Maier, S. A. Third-harmonic-upconversion enhancement from a single semiconductor nanoparticle coupled to a plasmonic antenna. Nature Nanotech. 9, 290–294 (2014).

Metzger, B. et al. Doubling the efficiency of third harmonic generation by positioning ITO nanocrystals into the hot-spot of plasmonic gap-antennas. Nano Lett. 14, 2867–2872 (2014).

Metzger, B., Schumacher, T., Hentschel, M., Lippitz, M. & Giessen, H. Third harmonic mechanism in complex plasmonic Fano structures. ACS Photon. 1, 471–476 (2014).

Finazzi, M., Biagioni, P., Celebrano, M. & Duò, L. Selection rules for second-harmonic generation in nanoparticles. Phys. Rev. B 76, 125414 (2007).

Zavelani-Rossi, M. et al. Near-field second-harmonic generation in single gold nanoparticles. Appl. Phys. Lett. 92, 093119 (2008).

Butet, J. et al. Optical second harmonic generation of single metallic nanoparticles embedded in a homogeneous medium. Nano Lett. 10, 1717–1721 (2010).

Hubert, C. et al. Role of surface plasmon in second harmonic generation from gold nanorods. Appl. Phys. Lett. 90, 181105 (2007).

Thyagarajan, K., Rivier, S., Lovera, A. & Martin, O. J. F. Enhanced second-harmonic generation from double resonant plasmonic antennae. Opt. Express 20, 12860–12865 (2012).

Aouani, H. et al. Multiresonant broadband optical antennas as efficient tunable nanosources of second harmonic light. Nano Lett. 12, 4997–5002 (2012).

Finazzi, M. & Ciccacci, F. Plasmon–photon interaction in metal nanoparticles: second-quantization perturbative approach. Phys. Rev. B 86, 035428 (2012).

Butet, J., Dutta-Gupta, S. & Martin, O. J. F. Surface second-harmonic generation from coupled spherical plasmonic nanoparticles: eigenmode analysis and symmetry properties. Phys. Rev. B 89, 245449 (2014).

Stokes, N., Cortie, M. B., Davis, T. J. & McDonagh, A. M. Plasmon resonances in V-shaped gold nanostructures. Plasmonics 7, 235–243 (2012).

Vercruysse, D. et al. Unidirectional side scattering of light by a single-element nanoantenna. Nano Lett. 13, 3843–3849 (2013).

Czaplicki, R., Husu, H., Siikanen, R., Mäkitalo, J. & Kauranen, M. Enhancement of second-harmonic generation from metal nanoparticles by passive elements. Phys. Rev. Lett. 110, 093902 (2013).

Biagioni, P., Huang, J. -S. & Hecht, B. Nanoantennas for visible and infrared radiation. Rep. Prog. Phys. 75, 024402 (2012).

Huang, J. -S. et al. Atomically flat single-crystalline gold nanostructures for plasmonic nanocircuitry. Nature Commun. 1, 150 (2010).

Celebrano, M. et al. Hollow-pyramid based scanning near-field optical microscope coupled to femtosecond pulses: a tool for nonlinear optics at the nanoscale. Rev. Sci. Instrum. 80, 033704 (2009).

Ginzburg, P. et al. Nonlinearly coupled localized plasmon resonances: resonant second-harmonic generation. Phys. Rev. B 86, 085422 (2012).

Zhang, Y., Grady, N. K., Ayala-Orozco, C. & Halas, N. J. Three-dimensional nanostructures as highly efficient generators of second harmonic light. Nano Lett. 11, 5519–5523 (2011).

Rodrigo, S. G., Harutyunyan, H. & Novotny, L. Coherent control of light scattering from nanostructured materials by second-harmonic generation. Phys. Rev. Lett. 110, 177405 (2013).

Aćimović, S. S., Kreuzer, M. P., González, M. U. & Quidant, R. Plasmon near-field coupling in metal dimers as a step toward single-molecule sensing. ACS Nano 3, 1231–1237 (2009).

Becker, J. et al. The optimal aspect ratio of gold nanorods for plasmonic bio-sensing. Plasmonics 5, 161–167 (2010).

Cattoni, A. et al. λ3/1000 plasmonic nanocavities for biosensing fabricated by soft UV nanoimprint lithography. Nano Lett. 11, 3557–3563 (2011).

Cheng, F., Yang, X. & Gao, J. Enhancing intensity and refractive index sensing capability with infrared plasmonic perfect absorbers. Opt. Lett. 39, 3185–3188 (2014).

Etchegoin, P. G., le Ru, E. C. & Meyer, M. An analytic model for the optical properties of gold. J. Chem. Phys. 125, 164705 (2006).
Acknowledgements
The authors thank V. Kumar and T. Zandrini for valuable help and R. Sapienza for stimulating discussions. M.C., M.F., C.D.A. and A.L. acknowledge support from Fondazione Cariplo through the project SHAPES (2013-0736). G.C. acknowledges support from the EC through the Graphene Flagship project (CNECT-ICT-604391). This work was performed in the context of the European COST Action MP1302 Nanospectroscopy.
Ethics declarations
Competing interests
The authors declare no competing financial interests.
Supplementary information
About this article
Cite this article
Celebrano, M., Wu, X., Baselli, M. et al. Mode matching in multiresonant plasmonic nanoantennas for enhanced second harmonic generation. Nature Nanotech 10, 412–417 (2015). https://doi.org/10.1038/nnano.2015.69
Received:

Accepted:

Published:

Issue Date:

DOI: https://doi.org/10.1038/nnano.2015.69