Abstract
Drugs of abuse alter synaptic connections in the reward circuitry of the brain, which leads to long-lasting behavioral changes that underlie addiction. Here we show that cadherin adhesion molecules play a critical role in mediating synaptic plasticity and behavioral changes driven by cocaine. We demonstrate that cadherin is essential for long-term potentiation in the ventral tegmental area and is recruited to the synaptic membranes of excitatory synapses onto dopaminergic neurons following cocaine-mediated behavioral conditioning. Furthermore, we show that stabilization of cadherin at the membrane of these synapses blocks cocaine-induced synaptic plasticity, leading to a reduction in conditioned place preference induced by cocaine. Our findings identify cadherins and associated molecules as targets of interest for understanding pathological plasticity associated with addiction.
This is a preview of subscription content
Access options
Subscribe to Nature+
Get immediate online access to the entire Nature family of 50+ journals
Subscribe to Journal
Get full journal access for 1 year
$59.00
only $4.92 per issue
All prices are NET prices.
VAT will be added later in the checkout.
Tax calculation will be finalised during checkout.
Buy article
Get time limited or full article access on ReadCube.
$32.00
All prices are NET prices.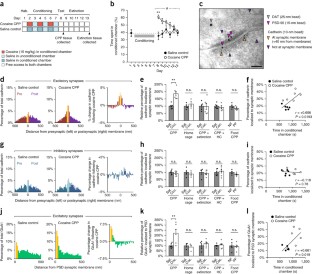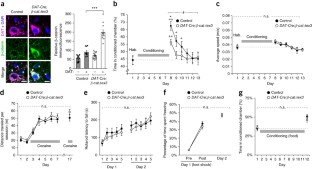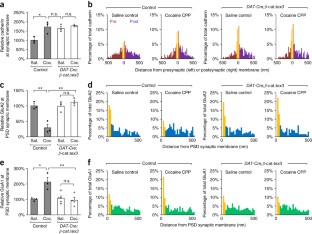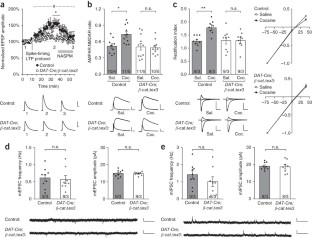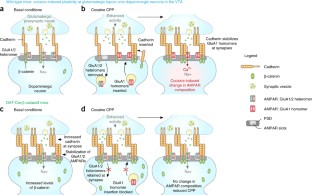 References
Ungless, M.A., Whistler, J.L., Malenka, R.C. & Bonci, A. Single cocaine exposure in vivo induces long-term potentiation in dopamine neurons. Nature 411, 583–587 (2001).

Saal, D., Dong, Y., Bonci, A. & Malenka, R.C. Drugs of abuse and stress trigger a common synaptic adaptation in dopamine neurons. Neuron 37, 577–582 (2003).

Mameli, M. & Lüscher, C. Synaptic plasticity and addiction: learning mechanisms gone awry. Neuropharmacology 61, 1052–1059 (2011).

Lüscher, C. Cocaine-evoked synaptic plasticity of excitatory transmission in the ventral tegmental area. Cold Spring Harb. Perspect. Med. 3, a012013 (2013).

Nestler, E.J. Is there a common molecular pathway for addiction? Nat. Neurosci. 8, 1445–1449 (2005).

Pierce, R.C. & Kumaresan, V. The mesolimbic dopamine system: the final common pathway for the reinforcing effect of drugs of abuse? Neurosci. Biobehav. Rev. 30, 215–238 (2006).

Stuber, G.D. et al. Reward-predictive cues enhance excitatory synaptic strength onto midbrain dopamine neurons. Science 321, 1690–1692 (2008).

Harris, G.C. & Aston-Jones, G. Critical role for ventral tegmental glutamate in preference for a cocaine-conditioned environment. Neuropsychopharmacology 28, 73–76 (2003).

Argilli, E., Sibley, D.R., Malenka, R.C., England, P.M. & Bonci, A. Mechanism and time course of cocaine-induced long-term potentiation in the ventral tegmental area. J. Neurosci. 28, 9092–9100 (2008).

Mameli, M., Bellone, C., Brown, M.T. & Lüscher, C. Cocaine inverts rules for synaptic plasticity of glutamate transmission in the ventral tegmental area. Nat. Neurosci. 14, 414–416 (2011).

Nuriya, M. & Huganir, R.L. Regulation of AMPA receptor trafficking by N-cadherin. J. Neurochem. 97, 652–661 (2006).

Saglietti, L. et al. Extracellular interactions between GluR2 and N-cadherin in spine regulation. Neuron 54, 461–477 (2007).

Silverman, J.B. et al. Synaptic anchorage of AMPA receptors by cadherins through neural plakophilin-related arm protein AMPA receptor-binding protein complexes. J. Neurosci. 27, 8505–8516 (2007).

Tanaka, H. et al. Molecular modification of N-cadherin in response to synaptic activity. Neuron 25, 93–107 (2000).

Bozdagi, O. et al. Persistence of coordinated long-term potentiation and dendritic spine enlargement at mature hippocampal CA1 synapses requires N-cadherin. J. Neurosci. 30, 9984–9989 (2010).

Mendez, P., De Roo, M., Poglia, L., Klauser, P. & Muller, D. N-cadherin mediates plasticity-induced long-term spine stabilization. J. Cell Biol. 189, 589–600 (2010).

Brigidi, G.S. et al. Palmitoylation of δ-catenin by DHHC5 mediates activity-induced synapse plasticity. Nat. Neurosci. 17, 522–532 (2014).

Tai, C.Y., Mysore, S.P., Chiu, C. & Schuman, E.M. Activity-regulated N-cadherin endocytosis. Neuron 54, 771–785 (2007).

Schrick, C. et al. N-cadherin regulates cytoskeletally associated IQGAP1/ERK signaling and memory formation. Neuron 55, 786–798 (2007).

Mills, F. et al. Cognitive flexibility and long-term depression (LTD) are impaired following β-catenin stabilization in vivo. Proc. Natl. Acad. Sci. USA 111, 8631–8636 (2014).

Liu, Q.R. et al. Addiction molecular genetics: 639,401 SNP whole genome association identifies many "cell adhesion" genes. Am. J. Med. Genet. B. Neuropsychiatr. Genet. 141B, 918–925 (2006).

Obst-Pernberg, K., Medina, L. & Redies, C. Expression of R-cadherin and N-cadherin by cell groups and fiber tracts in the developing mouse forebrain: relation to the formation of functional circuits. Neuroscience 106, 505–533 (2001).

Hertel, N., Krishna -K, Nuernberger, M. & Redies, C. A cadherin-based code for the divisions of the mouse basal ganglia. J. Comp. Neurol. 508, 511–528 (2008).

Delva, E. & Kowalczyk, A.P. Regulation of cadherin trafficking. Traffic 10, 259–267 (2009).

Engblom, D. et al. Glutamate receptors on dopamine neurons control the persistence of cocaine seeking. Neuron 59, 497–508 (2008).

Tzschentke, T.M. Measuring reward with the conditioned place preference (CPP) paradigm: update of the last decade. Addict. Biol. 12, 227–462 (2007).

Borgland, S.L., Malenka, R.C. & Bonci, A. Acute and chronic cocaine-induced potentiation of synaptic strength in the ventral tegmental area: electrophysiological and behavioral correlates in individual rats. J. Neurosci. 24, 7482–7490 (2004).

Harada, N. et al. Intestinal polyposis in mice with a dominant stable mutation of the beta-catenin gene. EMBO J. 18, 5931–5942 (1999).

Bäckman, C.M. et al. Characterization of a mouse strain expressing Cre recombinase from the 3′ untranslated region of the dopamine transporter locus. Genesis 44, 383–390 (2006).

Wolf, M.E. & Tseng, K.Y. Calcium-permeable AMPA receptors in the VTA and nucleus accumbens after cocaine exposure: when, how, and why? Front. Mol. Neurosci. 5, 72 (2012).

Steketee, J.D. & Kalivas, P.W. Drug wanting: behavioral sensitization and relapse to drug-seeking behavior. Pharmacol. Rev. 63, 348–365 (2011).

Bellone, C. & Lüscher, C. Cocaine triggered AMPA receptor redistribution is reversed in vivo by mGluR-dependent long-term depression. Nat. Neurosci. 9, 636–641 (2006).

Kessels, H.W. & Malinow, R. Synaptic AMPA receptor plasticity and behavior. Neuron 61, 340–350 (2009).

Beeler, J.A., Cao, Z.F.H., Kheirbek, M.A. & Zhuang, X. Loss of cocaine locomotor response in Pitx3-deficient mice lacking a nigrostriatal pathway. Neuropsychopharmacology 34, 1149–1161 (2009).

Eisener-Dorman, A.F., Grabowski-Boase, L. & Tarantino, L.M. Cocaine locomotor activation, sensitization and place preference in six inbred strains of mice. Behav. Brain Funct. 7, 29 (2011).

Seymour, C.M. & Wagner, J.J. Simultaneous expression of cocaine-induced behavioral sensitization and conditioned place preference in individual rats. Brain Res. 1213, 57–68 (2008).

Meye, F.J. & Adan, R.A.H. Feelings about food: the ventral tegmental area in food reward and emotional eating. Trends Pharmacol. Sci. 35, 31–40 (2014).

Abizaid, A. et al. Ghrelin modulates the activity and synaptic input organization of midbrain dopamine neurons while promoting appetite. J. Clin. Invest. 116, 3229–3239 (2006).

Yonghui, L., Xigeng, Z., Yunjing, B., Xiaoyan, Y. & Nan, S. Opposite effects of MK-801 on the expression of food and morphine-induced conditioned place preference in rats. J. Psychopharmacol. 20, 40–46 (2006).

Herzig, V., Capuani, E.M.I., Kovar, K.-A. & Schmidt, W.J. Effects of MPEP on expression of food-, MDMA- or amphetamine-conditioned place preference in rats. Addict. Biol. 10, 243–249 (2005).

Granger, A.J. & Nicoll, R.A. LTD expression is independent of glutamate receptor subtype. Front. Synaptic Neurosci. 6, 15 (2014).

Sheng, M., Malinow, R. & Huganir, R. Neuroscience: Strength in numbers. Nature 493, 482–483 (2013).

Tang, L., Hung, C.P. & Schuman, E.M. A role for the cadherin family of cell adhesion molecules in hippocampal long-term potentiation. Neuron 20, 1165–1175 (1998).

Benson, D.L. & Tanaka, H. N-cadherin redistribution during synaptogenesis in hippocampal neurons. J. Neurosci. 18, 6892–6904 (1998).

Gorski, J.A., Gomez, L.L., Scott, J.D. & Dell'Acqua, M.L. Association of an A-kinase-anchoring protein signaling scaffold with cadherin adhesion molecules in neurons and epithelial cells. Mol. Biol. Cell 16, 3574–3590 (2005).

Mameli, M., Balland, B., Luján, R. & Lüscher, C. Rapid synthesis and synaptic insertion of GluR2 for mGluR-LTD in the ventral tegmental area. Science 317, 530–533 (2007).

Lacey, M.G., Mercuri, N.B. & North, R.A. Actions of cocaine on rat dopaminergic neurones in vitro. Br. J. Pharmacol. 99, 731–735 (1990).

Johnson, S.W. & North, R.A. Opioids excite dopamine neurons by hyperpolarization of local interneurons. J. Neurosci. 12, 483–488 (1992).

Lammel, S. et al. Input-specific control of reward and aversion in the ventral tegmental area. Nature 491, 212–217 (2012).

Lammel, S., Ion, D.I., Roeper, J. & Malenka, R.C. Projection-specific modulation of dopamine neuron synapses by aversive and rewarding stimuli. Neuron 70, 855–862 (2011).

Wanat, M.J., Hopf, F.W., Stuber, G.D., Phillips, P.E. & Bonci, A. Corticotropin-releasing factor increases mouse ventral tegmental area dopamine neuron firing through a protein kinase C-dependent enhancement of Ih . J. Physiol. (Lond.) 586, 2157–2170 (2008).

Lammel, S. et al. Unique properties of mesoprefrontal neurons within a dual mesocorticolimbic dopamine system. Neuron 57, 760–773 (2008).

Liu, S. et al. Consumption of palatable food primes food approach behavior by rapidly increasing synaptic density in the VTA. Proc. Natl. Acad. Sci. USA 113, 2520–2525 (2016).

Liu, Q.-S., Pu, L. & Poo, M.M. Repeated cocaine exposure in vivo facilitates LTP induction in midbrain dopamine neurons. Nature 437, 1027–1031 (2005).

Mathiisen, T. et al. Postembedding immunogold cytochemistry of membrane molecules and amino acid transmitters in the central nervous system. in Neuroanatomical Tract-Tracing 3 (eds. Zaborszky, L., Wouterlood, F. & Lanciego, J.) 72–108 (Springer US, 2006).
Acknowledgements
We thank the UBC Bioimaging Facility for use of shared equipment for sample processing; S.B. Floresco for extensive discussion and comments on the manuscript; C.A. Winstanley, T.P. O'Connor, K. Haas and D.W. Allan for comments on the manuscript; and K. Goodwin for assistance with data analysis. This work was supported by grants from Canadian Institutes of Health Research MOP-130526 to S.X.B., and MOP-102617 and FDN-147473 to S.L.B.
Ethics declarations
Competing interests
The authors declare no competing financial interests.
Integrated supplementary information
Supplementary information
Supplementary Figures 1–11 (PDF 3104 kb)
About this article
Cite this article
Mills, F., Globa, A., Liu, S. et al. Cadherins mediate cocaine-induced synaptic plasticity and behavioral conditioning. Nat Neurosci 20, 540–549 (2017). https://doi.org/10.1038/nn.4503
Received:

Accepted:

Published:

Issue Date:

DOI: https://doi.org/10.1038/nn.4503
Further reading
M. Asada-Utsugi
K. Uemura
A. Kinoshita

Molecular Brain (2021)

José María Mateos
Gery Barmettler
Urs Ziegler

Scientific Reports (2018)

Kristina Valentinova
Manuel Mameli

Nature Neuroscience (2017)