Abstract
Lapses of attention can have negative consequences, including accidents and lost productivity. Here we used closed-loop neurofeedback to improve sustained attention abilities and reduce the frequency of lapses. During a sustained attention task, the focus of attention was monitored in real time with multivariate pattern analysis of whole-brain neuroimaging data. When indicators of an attentional lapse were detected in the brain, we gave human participants feedback by making the task more difficult. Behavioral performance improved after one training session, relative to control participants who received feedback from other participants' brains. This improvement was largest when feedback carried information from a frontoparietal attention network. A neural consequence of training was that the basal ganglia and ventral temporal cortex came to represent attentional states more distinctively. These findings suggest that attentional failures do not reflect an upper limit on cognitive potential and that attention can be trained with appropriate feedback about neural signals.
Relevant articles
Open Access articles citing this article.
Silvy H. P. Collin

,

Philip L. C. van den Broek

…

Christian F. Doeller

Scientific Reports Open Access 08 December 2022

Kazumi Kasahara

,

Charles S. DaSalla

…

Takashi Hanakawa

Communications Biology Open Access 16 July 2022

Angela I. Renton

,

David R. Painter

&

Jason B. Mattingley

Scientific Data Open Access 13 June 2022
Access options
Subscribe to Journal
Get full journal access for 1 year
$79.00
only $6.58 per issue
All prices are NET prices.
VAT will be added later in the checkout.
Tax calculation will be finalised during checkout.
Buy article
Get time limited or full article access on ReadCube.
$32.00
All prices are NET prices.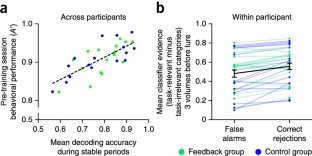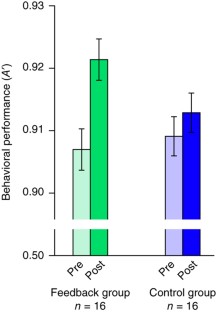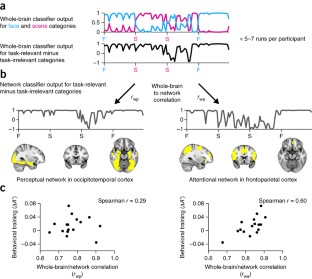 References
Chun, M.M., Golomb, J.D. & Turk-Browne, N.B. A taxonomy of external and internal attention. Annu. Rev. Psychol. 62, 73–101 (2011).

Mackworth, N.H. The breakdown of vigilance during prolonged visual search. Q. J. Exp. Psychol. 1, 6–21 (1948).

Redelmeier, D.A. & Tibshirani, R.J. Association between cellular-telephone calls and motor vehicle collisions. N. Engl. J. Med. 336, 453–458 (1997).

Czeisler, C.A. et al. Modafinil for excessive sleepiness associated with shift-work sleep disorder. N. Engl. J. Med. 353, 476–486 (2005).

Dinges, D.F. & Powell, J.W. Microcomputer analyses of performance on a portable, simple visual RT task during sustained operations. Behav. Res. Methods Instrum. Comput. 17, 652–655 (1985).

Sarter, M., Givens, B. & Bruno, J.P. The cognitive neuroscience of sustained attention: where top-down meets bottom-up. Brain Res. Brain Res. Rev. 35, 146–160 (2001).

Wolfe, J.M., Horowitz, T.S. & Kenner, N.M. Rare items often missed in visual searches. Nature 435, 439–440 (2005).

Johnson, K.A. et al. Dissociation in performance of children with ADHD and high-functioning autism on a task of sustained attention. Neuropsychologia 45, 2234–2245 (2007).

Robertson, I.H., Manly, T., Andrade, J., Baddeley, B.T. & Yiend, J. 'Oops!': performance correlates of everyday attentional failures in traumatic brain injured and normal subjects. Neuropsychologia 35, 747–758 (1997).

Drew, T. & Vogel, E.K. Neural measures of individual differences in selecting and tracking multiple moving objects. J. Neurosci. 28, 4183–4191 (2008).

Weiskopf, N. et al. Principles of a brain-computer interface (BCI) based on real-time functional magnetic resonance imaging (fMRI). IEEE Trans. Biomed. Eng. 51, 966–970 (2004).

LaConte, S.M. Decoding fMRI brain states in real-time. Neuroimage 56, 440–454 (2011).

Sulzer, J. et al. Real-time fMRI neurofeedback: progress and challenges. Neuroimage 76, 386–399 (2013).

Norman, K.A., Polyn, S.M., Detre, G.J. & Haxby, J.V. Beyond mind-reading: multi-voxel pattern analysis of fMRI data. Trends Cogn. Sci. 10, 424–430 (2006).

deCharms, R.C. et al. Control over brain activation and pain learned by using real-time functional MRI. Proc. Natl. Acad. Sci. USA 102, 18626–18631 (2005).

Shibata, K., Watanabe, T., Sasaki, Y. & Kawato, M. Perceptual learning incepted by decoded fMRI neurofeedback without stimulus presentation. Science 334, 1413–1415 (2011).

Yoo, J.J. et al. When the brain is prepared to learn: enhancing human learning using real-time fMRI. Neuroimage 59, 846–852 (2012).

Hinds, O. et al. Roles of default-mode network and supplementary motor area in human vigilance performance: evidence from real-time fMRI. J. Neurophysiol. 109, 1250–1258 (2013).

Yoss, R.E., Moyer, N.J. & Hollenhorst, R.W. Pupil size and spontaneous pupillary waves associated with alertness, drowsiness, and sleep. Neurology 20, 545–554 (1970).

Rosenberg, M., Noonan, S., DeGutis, J. & Esterman, M. Sustaining visual attention in the face of distraction: a novel gradual-onset continuous performance task. Atten. Percept. Psychophys. 75, 426–439 (2013).

O'Craven, K.M., Downing, P.E. & Kanwisher, N. fMRI evidence for objects as the units of attentional selection. Nature 401, 584–587 (1999).

Al-Aidroos, N., Said, C.P. & Turk-Browne, N.B. Top-down attention switches coupling between low-level and high-level areas of human visual cortex. Proc. Natl. Acad. Sci. USA 109, 14675–14680 (2012).

Weissman, D.H., Roberts, K.C., Visscher, K.M. & Woldorff, M.G. The neural bases of momentary lapses in attention. Nat. Neurosci. 9, 971–978 (2006).

Leber, A.B., Turk-Browne, N.B. & Chun, M.M. Neural predictors of moment-to-moment fluctuations in cognitive flexibility. Proc. Natl. Acad. Sci. USA 105, 13592–13597 (2008).

Miller, E.K. & Cohen, J.D. An integrative theory of prefrontal cortex function. Annu. Rev. Neurosci. 24, 167–202 (2001).

Noudoost, B., Chang, M.H., Steinmetz, N.A. & Moore, T. Top-down control of visual attention. Curr. Opin. Neurobiol. 20, 183–190 (2010).

Todd, M.T., Nystrom, L.E. & Cohen, J.D. Confounds in multivariate pattern analysis: theory and rule representation case study. Neuroimage 77, 157–165 (2013).

Haxby, J.V. et al. Distributed and overlapping representations of faces and objects in ventral temporal cortex. Science 293, 2425–2430 (2001).

Woolgar, A., Hampshire, A., Thompson, R. & Duncan, J. Adaptive coding of task-relevant information in human frontoparietal cortex. J. Neurosci. 31, 14592–14599 (2011).

Turk-Browne, N.B. Functional interactions as big data in the human brain. Science 342, 580–584 (2013).

Reddy, L., Kanwisher, N.G. & VanRullen, R. Attention and biased competition in multi-voxel object representations. Proc. Natl. Acad. Sci. USA 106, 21447–21452 (2009).

Baldauf, D. & Desimone, R. Neural mechanisms of object-based attention. Science 344, 424–427 (2014).

O'Reilly, R.C. & Frank, M. Making working memory work: a computational model of learning in the prefrontal cortex and basal ganglia. Neural Comput. 18, 283–328 (2006).

Kravitz, A.V. et al. Regulation of parkinsonian motor behaviours by optogenetic control of basal ganglia circuitry. Nature 466, 622–626 (2010).

Wiecki, T.V. & Frank, M.J. A computational model of inhibitory control in frontal cortex and basal ganglia. Psychol. Rev. 120, 329–355 (2013).

Foerde, K. & Shohamy, D. The role of the basal ganglia in learning and memory: insight from Parkinson's disease. Neurobiol. Learn. Mem. 96, 624–636 (2011).

Frank, M.J. & Badre, D. Mechanisms of hierarchical reinforcement learning in corticostriatal circuits 1: computational analysis. Cereb. Cortex 22, 509–526 (2012).

Biggs, A.T. & Mitroff, S.R. Different predictors of multiple-target search accuracy between nonprofessional and professional visual searchers. Q. J. Exp. Psychol. (Hove) 67, 1335–1348 (2014).

Disner, S.G., Beevers, C.G., Haigh, E.A.P. & Beck, A.T. Neural mechanisms of the cognitive model of depression. Nat. Rev. Neurosci. 12, 467–477 (2011).

Shallice, T. et al. Executive function profile of children with attention deficit hyperactivity disorder. Dev. Neuropsychol. 21, 43–71 (2002).

Chadick, J.Z. & Gazzaley, A. Differential coupling of visual cortex with default network or frontal-parietal network based on goals. Nat. Neurosci. 14, 830–832 (2011).

Moore, K.S., Yi, D.-J. & Chun, M. The effect of attention on repetition suppression and multivoxel pattern similarity. J. Cogn. Neurosci. 25, 1305–1314 (2013).

Serences, J.T., Schwarzbach, J., Courtney, S.M., Golay, X. & Yantis, S. Control of object-based attention in human cortex. Cereb. Cortex 14, 1346–1357 (2004).

Efron, B. & Tibshirani, R. Bootstrap methods for standard errors, confidence intervals, and other measures of statistical accuracy. Stat. Sci. 1, 54–75 (1986).

Pernet, C.R., Wilcox, R.R. & Rousselet, G.A. Robust correlation analyses: false positive and power validation using a new open source Matlab toolbox. Front. Psychol. 3, 606 (2013).

Nichols, T.E. & Holmes, A.P. Nonparametric permutation tests for functional neuroimaging: a primer with examples. Hum. Brain Mapp. 15, 1–25 (2002).

Smith, S.M. & Nichols, T.E. Threshold-free cluster enhancement: addressing problems of smoothing, threshold dependence and localisation in cluster inference. Neuroimage 44, 83–98 (2009).

Donaldson, W. Measuring recognition memory. J. Exp. Psychol. Gen. 121, 275–277 (1992).
Acknowledgements
This work was supported by US National Institutes of Health grant R01EY021755, US National Science Foundation (NSF) grant BCS1229597, NSF fellowship DGE1148900 and the John Templeton Foundation. The opinions expressed in this publication are those of the authors and do not necessarily reflect the views of these funding agencies.
Ethics declarations
Competing interests
The authors declare no competing financial interests.
Integrated supplementary information
Supplementary information
Supplementary Figures 1–5 (PDF 1239 kb)
This video depicts the real-time data analysis and stimulus-updating procedure during a feedback block. In this block, the participant was instructed to attend to scenes and respond when a scene was indoors. The left window shows what the participant saw. The top-right window shows the real-time fMRI estimate of the participant's attentional state (classifier evidence for task-relevant minus task-irrelevant categories; here, scene minus face outputs). The bottom-right window shows the mixture proportions of the composite stimuli. The mixture was initialized at 50% face/50% scene, and then updated on the basis of a moving window of classifier evidence over the preceding three volumes using a transfer function. (MOV 5100 kb)
About this article
Cite this article
deBettencourt, M., Cohen, J., Lee, R. et al. Closed-loop training of attention with real-time brain imaging. Nat Neurosci 18, 470–475 (2015). https://doi.org/10.1038/nn.3940
Received:

Accepted:

Published:

Issue Date:

DOI: https://doi.org/10.1038/nn.3940