Abstract
The temperature of an object provides important somatosensory information for animals performing tactile tasks. Humans can perceive skin cooling of less than one degree, but the sensory afferents and central circuits that they engage to enable the perception of surface temperature are poorly understood. To address these questions, we examined the perception of glabrous skin cooling in mice. We found that mice were also capable of perceiving small amplitude skin cooling and that primary somatosensory (S1) cortical neurons were required for cooling perception. Moreover, the absence of the menthol-gated transient receptor potential melastatin 8 ion channel in sensory afferent fibers eliminated the ability to perceive cold and the corresponding activation of S1 neurons. Our results identify parts of a neural circuit underlying cold perception in mice and provide a new model system for the analysis of thermal processing and perception and multimodal integration.
Relevant articles
Open Access articles citing this article.
Christopher J. Black

,

Anusha B. Allawala

…

David A. Borton

Scientific Reports Open Access 06 August 2020

Ann M. Clemens

,

Yohami Fernandez Delgado

…

Michael Brecht

Scientific Reports Open Access 10 September 2018

Rabih Moshourab

,

Valérie Bégay

…

Gary R. Lewin

Scientific Reports Open Access 26 June 2017
Access options
Subscribe to Journal
Get full journal access for 1 year
$79.00
only $6.58 per issue
All prices are NET prices.
VAT will be added later in the checkout.
Tax calculation will be finalised during checkout.
Buy article
Get time limited or full article access on ReadCube.
$32.00
All prices are NET prices.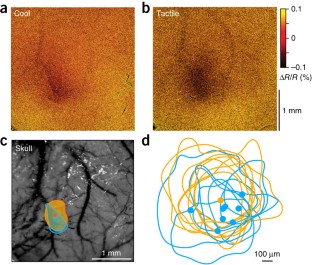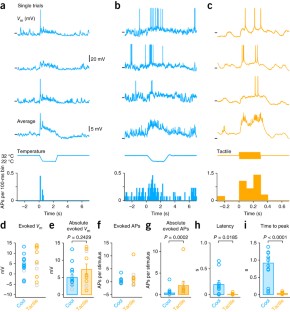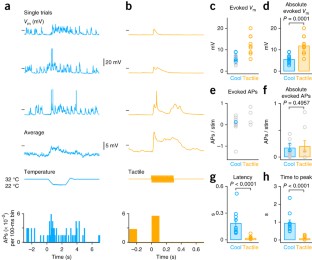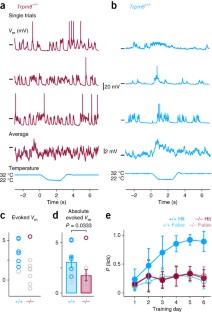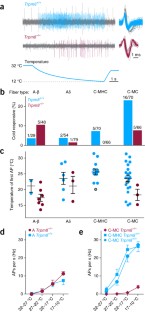 References
Frenzel, H. et al. A genetic basis for mechanosensory traits in humans. PLoS Biol. 10, e1001318 (2012).

Johnson, K.O., Darian-Smith, I. & LaMotte, C. Peripheral neural determinants of temperature discrimination in man: a correlative study of responses to cooling skin. J. Neurophysiol. 36, 347–370 (1973).

McKemy, D.D. The molecular and cellular basis of cold sensation. ACS Chem. Neurosci. 4, 238–247 (2013).

Bautista, D.M. et al. The menthol receptor TRPM8 is the principal detector of environmental cold. Nature 448, 204–208 (2007).

Dhaka, A. et al. TRPM8 is required for cold sensation in mice. Neuron 54, 371–378 (2007).

Colburn, R.W. et al. Attenuated cold sensitivity in TRPM8 null mice. Neuron 54, 379–386 (2007).

Feldmeyer, D. et al. Barrel cortex function. Prog. Neurobiol. 103, 3–27 (2013).

Diamond, M.E. et al. 'Where' and 'what' in the whisker sensorimotor system. Nat. Rev. Neurosci. 9, 601–612 (2008).

Sachidhanandam, S., Sreenivasan, V., Kyriakatos, A., Kremer, Y. & Petersen, C.C.H. Membrane potential correlates of sensory perception in mouse barrel cortex. Nat. Neurosci. 16, 1671–1677 (2013).

Guo, Z.V. et al. Flow of cortical activity underlying a tactile decision in mice. Neuron 81, 179–194 (2014).

Miyashita, T. & Feldman, D.E. Behavioral detection of passive whisker stimuli requires somatosensory cortex. Cereb. Cortex 23, 1655–1662 (2013).

Hutson, K.A. & Masterton, R.B. The sensory contribution of a single vibrissa's cortical barrel. J. Neurophysiol. 56, 1196–1223 (1986).

Kleinfeld, D. & Deschênes, M. Neuronal basis for object location in the vibrissa scanning sensorimotor system. Neuron 72, 455–468 (2011).

Finger, S. & Frommer, G.P. Effects of cortical and thalamic lesions on temperature discrimination and responsiveness to foot shock in the rat. Brain Res. 24, 69–89 (1970).

Finger, S., Scheff, S., Warshaw, I. & Cohen, K. Retention and acquisition of fine temperature discriminations following somatosensory cortical lesions in the rat. Exp. Brain Res. 10, 340–346 (1970).

Downer, J. & Zubek, J.P. Role of the cerebral cortex in temperature discrimination in the rat. J. Comp. Physiol. Psychol. 47, 199–203 (1954).

Porter, L.H., Hecht, G.S. & Sheaffer, R. Disturbances in the performance of thermal discrimination tasks following cortical ablations in rats. Brain Res. 621, 319–330 (1993).

Hellon, R.F., Misra, N.K. & Provins, K.A. Neurones in the somatosensory cortex of the rat responding to scrotal skin temperature changes. J. Physiol. (Lond.) 232, 401–411 (1973).

Duclaux, R. & Kenshalo, D.R. The temperature sensitivity of the type I slowly adapting mechanoreceptors in cats and monkeys. J. Physiol. (Lond.) 224, 647–664 (1972).

Schepers, R.J. & Ringkamp, M. Thermoreceptors and thermosensitive afferents. Neurosci. Biobehav. Rev. 33, 205–212 (2009).

Campero, M., Serra, J., Bostock, H. & Ochoa, J.L. Slowly conducting afferents activated by innocuous low temperature in human skin. J. Physiol. (Lond.) 535, 855–865 (2001).

Zimmermann, K. et al. Transient receptor potential cation channel, subfamily C, member 5 (TRPC5) is a cold-transducer in the peripheral nervous system. Proc. Natl. Acad. Sci. USA 108, 18114–18119 (2011).

Noël, J. et al. The mechano-activated K+ channels TRAAK and TREK-1 control both warm and cold perception. EMBO J. 28, 1308–1318 (2009).

Barth, A.L. & Poulet, J.F.A. Experimental evidence for sparse firing in the neocortex. Trends Neurosci. 35, 345–355 (2012).

Komiyama, T. et al. Learning-related fine-scale specificity imaged in motor cortex circuits of behaving mice. Nature 464, 1182–1186 (2010).

McKemy, D.D., Neuhausser, W.M. & Julius, D. Identification of a cold receptor reveals a general role for TRP channels in thermosensation. Nature 416, 52–58 (2002).

Peier, A.M. et al. A TRP channel that senses cold stimuli and menthol. Cell 108, 705–715 (2002).

Knibestöl, M. & Vallbo, A.B. Single-unit analysis of mechanoreceptor activity from the human glabrous skin. Acta Physiol. Scand. 80, 178–195 (1970).

Lewin, G.R. & Moshourab, R. Mechanosensation and pain. J. Neurobiol. 61, 30–44 (2004).

Marshall, J. Sensory disturbances in cortical wounds with special reference to pain. J. Neurol. Neurosurg. Psychiatry 14, 187–204 (1951).

Veldhuijzen, D.S., Greenspan, J.D., Kim, J.H. & Lenz, F.A. Altered pain and thermal sensation in subjects with isolated parietal and insular cortical lesions. Eur. J. Pain 14, 535 e1–11 (2010).

Adams, R.W. & Burke, D. Deficits of thermal sensation in patients with unilateral cerebral lesions. Electroencephalogr. Clin. Neurophysiol. 73, 443–452 (1989).

Cushing, H. A note upon the faradic stimulation of the postcentral gyrus in conscious patients. Brain 32, 44–53 (1909).

Penfield, W. & Boldrey, E. Somatic motor and sensory representation in the cerebral cortex of man as studied by electrical stimulation. Brain 60, 389–443 (1937).

Duclaux, R., Franzen, O., Chatt, A.B., Kenshalo, D.R. & Stowell, H. Responses recorded from human scalp evoked by cutaneous thermal stimulation. Brain Res. 78, 279–290 (1974).

Landgren, S. Cortical reception of cold impulses from the tongue of the cat. Acta Physiol. Scand. 40, 202–209 (1957).

Tsuboi, Y. et al. Response properties of primary somatosensory cortical neurons responsive to cold stimulation of the facial skin and oral mucous membrane. Brain Res. 613, 193–202 (1993).

Kreisman, N.R. & Zimmerman, I.D. Representation of information about skin temperature in the discharge of single cortical neurons. Brain Res. 55, 343–353 (1973).

Birklein, F., Rolke, R. & Müller-Forell, W. Isolated insular infarction eliminates contralateral cold, cold pain, and pinprick perception. Neurology 65, 1381 (2005).

Cattaneo, L., Chierici, E., Cucurachi, L., Cobelli, R. & Pavesi, G. Posterior insular stroke causing selective loss of contralateral nonpainful thermal sensation. Neurology 68, 237 (2007).

Mazzola, L., Isnard, J., Peyron, R. & Mauguière, F. Stimulation of the human cortex and the experience of pain: Wilder Penfield's observations revisited. Brain 135, 631–640 (2012).

Maihöfner, C., Kaltenhäuser, M., Neundörfer, B. & Lang, E. Temporo-spatial analysis of cortical activation by phasic innocuous and noxious cold stimuli—a magnetoencephalographic study. Pain 100, 281–290 (2002).

Craig, A.D., Chen, K., Bandy, D. & Reiman, E.M. Thermosensory activation of insular cortex. Nat. Neurosci. 3, 184–190 (2000).

Rodgers, K.M., Benison, A.M., Klein, A. & Barth, D.S. Auditory, somatosensory and multisensory insular cortex in the rat. Cereb. Cortex 18, 2941–2951 (2008).

Mackenzie, R.A., Burke, D., Skuse, N.F. & Lethlean, A.K. Fibre function and perception during cutaneous nerve block. J. Neurol. Neurosurg. Psychiatry 38, 865–873 (1975).

Green, B.G. Localization of thermal sensation: an illusion and synthetic heat. Percept. Psychophys. 22, 331–337 (1977).

Stevens, J.C. & Green, B.G. Temperature-touch interaction: Weber's phenomenon revisited. Sens. Processes 2, 206–209 (1978).

Iurilli, G. et al. Sound-driven synaptic inhibition in primary visual cortex. Neuron 73, 814–828 (2012).

Senkowski, D., Schneider, T.R., Foxe, J.J. & Engel, A.K. Crossmodal binding through neural coherence: implications for multisensory processing. Trends Neurosci. 31, 401–409 (2008).

Saleem, A.B., Ayaz, A., Jeffery, K.J., Harris, K.D. & Carandini, M. Integration of visual motion and locomotion in mouse visual cortex. Nat. Neurosci. 16, 1864–1869 (2013).

Poulet, J.F.A. & Petersen, C.C.H. Internal brain state regulates membrane potential synchrony in barrel cortex of behaving mice. Nature 454, 881–885 (2008).

Stürzebecher, A.S. et al. An in vivo tethered toxin approach for the cell-autonomous inactivation of voltage-gated sodium channel currents in nociceptors. J. Physiol. (Lond.) 588, 1695–1707 (2010).

Milenkovic, N. et al. Nociceptive tuning by stem cell factor/c-Kit signaling. Neuron 56, 893–906 (2007).

Koltzenburg, M., Stucky, C.L. & Lewin, G.R. Receptive properties of mouse sensory neurons innervating hairy skin. J. Neurophysiol. 78, 1841–1850 (1997).
Acknowledgements
We thank J. König for technical assistance, J.-S. Jouhanneau for help with cell reconstruction, L. Estebanez for programming advice, and L. Estebanez and E. Bobrov for constructive comments on a previous version of the manuscript. This work was funded by grants from the European Research Council (ERC-2010-StG-260590, J.F.A.P.; ERC-2011-StG-280565, J.S.) and the Deutsche Forschungs Gemeinschaft (Exc 257 NeuroCure and DFG-FOR-1341 BaCoFun, J.F.A.P.; Collaborative Research Center 665 Project B6, G.R.L.). Additional support was obtained from a Bernstein Center for Computational Neuroscience grant from the BMBF (01GQ1001E, G.R.L.).
Ethics declarations
Competing interests
The authors declare no competing financial interests.
Integrated supplementary information
Supplementary information
About this article
Cite this article
Milenkovic, N., Zhao, WJ., Walcher, J. et al. A somatosensory circuit for cooling perception in mice. Nat Neurosci 17, 1560–1566 (2014). https://doi.org/10.1038/nn.3828
Received:

Accepted:

Published:

Issue Date:

DOI: https://doi.org/10.1038/nn.3828