Abstract
Bone marrow fibrosis is a critical component of primary myelofibrosis (PMF). However, the origin of the myofibroblasts that drive fibrosis is unknown. Using genetic fate mapping we found that bone marrow leptin receptor (Lepr)-expressing mesenchymal stromal lineage cells expanded extensively and were the fibrogenic cells in PMF. These stromal cells downregulated the expression of key haematopoietic-stem-cell-supporting factors and upregulated genes associated with fibrosis and osteogenesis, indicating fibrogenic conversion. Administration of imatinib or conditional deletion of platelet-derived growth factor receptor a (Pdgfra) from Lepr+ stromal cells suppressed their expansion and ameliorated bone marrow fibrosis. Conversely, activation of the PDGFRA pathway in bone marrow Lepr+ cells led to expansion of these cells and extramedullary haematopoiesis, features of PMF. Our data identify Lepr+ stromal lineage cells as the origin of myofibroblasts in PMF and suggest that targeting PDGFRA signalling could be an effective way to treat bone marrow fibrosis.
This is a preview of subscription content
Access options
Subscribe to Nature+
Get immediate online access to the entire Nature family of 50+ journals
Subscribe to Journal
Get full journal access for 1 year
$99.00
only $8.25 per issue
All prices are NET prices.
VAT will be added later in the checkout.
Tax calculation will be finalised during checkout.
Buy article
Get time limited or full article access on ReadCube.
$32.00
All prices are NET prices.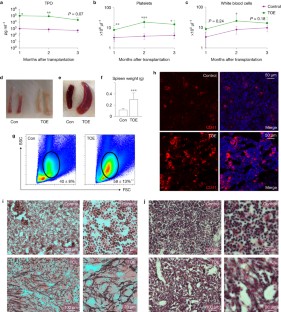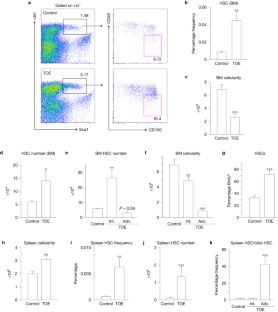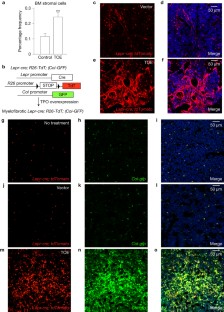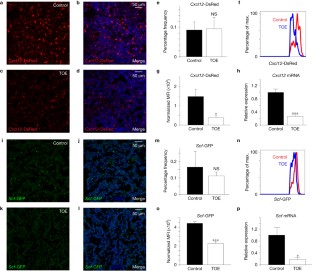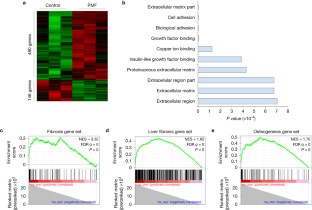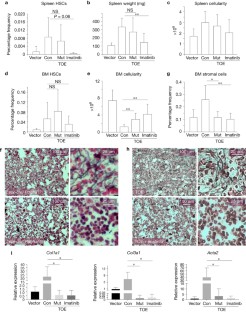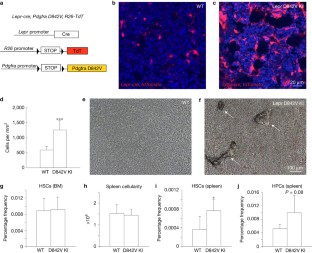 Accession codes
Primary accessions
Gene Expression Omnibus
References
Ding, L., Saunders, T. L., Enikolopov, G. & Morrison, S. J. Endothelial and perivascular cells maintain haematopoietic stem cells. Nature 481, 457–462 (2012).

Ding, L. & Morrison, S. J. Haematopoietic stem cells and early lymphoid progenitors occupy distinct bone marrow niches. Nature 495, 231–235 (2013).

Zhou, B. O., Yue, R., Murphy, M. M., Peyer, J. G. & Morrison, S. J. Leptin-receptor-expressing mesenchymal stromal cells represent the main source of bone formed by adult bone marrow. Cell Stem Cell 15, 154–168 (2014).

Schepers, K., Campbell, T. B. & Passegue, E. Normal and leukemic stem cell niches: insights and therapeutic opportunities. Cell Stem Cell 16, 254–267 (2015).

Abdel-Wahab, O. I. & Levine, R. L. Primary myelofibrosis: update on definition, pathogenesis, and treatment. Annu. Rev. Med. 60, 233–245 (2009).

Tefferi, A. Myeloproliferative neoplasms: a decade of discoveries and treatment advances. Am. J. Hematol. 91, 50–58 (2016).

Araki, M. et al. Activation of the thrombopoietin receptor by mutant calreticulin in CALR-mutant myeloproliferative neoplasms. Blood 127, 1307–1316 (2016).

Chachoua, I. et al. Thrombopoietin receptor activation by myeloproliferative neoplasm associated calreticulin mutants. Blood 127, 1325–1335 (2016).

Marty, C. et al. Calreticulin mutants in mice induce an MPL-dependent thrombocytosis with frequent progression to myelofibrosis. Blood 127, 1317–1324 (2016).

Klampfl, T. et al. Somatic mutations of calreticulin in myeloproliferative neoplasms. New Engl. J. Med. 369, 2379–2390 (2013).

Nangalia, J. et al. Somatic CALR mutations in myeloproliferative neoplasms with nonmutated JAK2. New Engl. J. Med. 369, 2391–2405 (2013).

Rampal, R. et al. Integrated genomic analysis illustrates the central role of JAK-STAT pathway activation in myeloproliferative neoplasm pathogenesis. Blood 123, e123–e133 (2014).

Jacobson, R. J., Salo, A. & Fialkow, P. J. Agnogenic myeloid metaplasia: a clonal proliferation of hematopoietic stem cells with secondary myelofibrosis. Blood 51, 189–194 (1978).

Lundberg, P. et al. Myeloproliferative neoplasms can be initiated from a single hematopoietic stem cell expressing JAK2-V617F. J. Exp. Med. 211, 2213–2230 (2014).

Papadantonakis, N., Matsuura, S. & Ravid, K. Megakaryocyte pathology and bone marrow fibrosis: the lysyl oxidase connection. Blood 120, 1774–1781 (2012).

Yan, X. Q. et al. Chronic exposure to retroviral vector encoded MGDF (mpl-ligand) induces lineage-specific growth and differentiation of megakaryocytes in mice. Blood 86, 4025–4033 (1995).

Villeval, J. L. et al. High thrombopoietin production by hematopoietic cells induces a fatal myeloproliferative syndrome in mice. Blood 90, 4369–4383 (1997).

Shivdasani, R. A., Fujiwara, Y., McDevitt, M. A. & Orkin, S. H. A lineage-selective knockout establishes the critical role of transcription factor GATA-1 in megakaryocyte growth and platelet development. EMBO J. 16, 3965–3973 (1997).

Vannucchi, A. M. et al. Development of myelofibrosis in mice genetically impaired for GATA-1 expression (GATA-1(low) mice). Blood 100, 1123–1132 (2002).

Jeremy Wen, Q. et al. Targeting megakaryocytic-induced fibrosis in myeloproliferative neoplasms by AURKA inhibition. Nat. Med. 21, 1473–1480 (2015).

Bonner, J. C. Regulation of PDGF and its receptors in fibrotic diseases. Cytokine Growth Factor Rev. 15, 255–273 (2004).

Olson, L. E. & Soriano, P. Increased PDGFRα activation disrupts connective tissue development and drives systemic fibrosis. Dev. Cell 16, 303–313 (2009).

Iwayama, T. et al. PDGFRα signaling drives adipose tissue fibrosis by targeting progenitor cell plasticity. Genes Dev. 29, 1106–1119 (2015).

Gersuk, G. M., Carmel, R. & Pattengale, P. K. Platelet-derived growth factor concentrations in platelet-poor plasma and urine from patients with myeloproliferative disorders. Blood 74, 2330–2334 (1989).

Tefferi, A. Pathogenesis of myelofibrosis with myeloid metaplasia. J. Clin. Oncol. 23, 8520–8530 (2005).

Morikawa, S. et al. Prospective identification, isolation, and systemic transplantation of multipotent mesenchymal stem cells in murine bone marrow. J. Exp. Med. 206, 2483–2496 (2009).

Mendez-Ferrer, S. et al. Mesenchymal and haematopoietic stem cells form a unique bone marrow niche. Nature 466, 829–834 (2010).

Komada, Y. et al. Origins and properties of dental, thymic, and bone marrow mesenchymal cells and their stem cells. PLoS ONE 7, e46436 (2012).

Kunisaki, Y. et al. Arteriolar niches maintain haematopoietic stem cell quiescence. Nature 502, 637–643 (2013).

Pinho, S. et al. PDGFRα and CD51 mark human nestin+ sphere-forming mesenchymal stem cells capable of hematopoietic progenitor cell expansion. J. Exp. Med. 210, 1351–1367 (2013).

Schepers, K. et al. Myeloproliferative neoplasia remodels the endosteal bone marrow niche into a self-reinforcing leukemic niche. Cell Stem Cell 13, 285–299 (2013).

Arranz, L. et al. Neuropathy of haematopoietic stem cell niche is essential for myeloproliferative neoplasms. Nature 512, 78–81 (2014).

Reilly, J. T. et al. Guideline for the diagnosis and management of myelofibrosis. Br. J. Haematol. 158, 453–471 (2012).

Yata, Y. et al. DNase I-hypersensitive sites enhance α1(I) collagen gene expression in hepatic stellate cells. Hepatology 37, 267–276 (2003).

Lin, S. L., Kisseleva, T., Brenner, D. A. & Duffield, J. S. Pericytes and perivascular fibroblasts are the primary source of collagen-producing cells in obstructive fibrosis of the kidney. Am. J. Pathol. 173, 1617–1627 (2008).

Mederacke, I. et al. Fate tracing reveals hepatic stellate cells as dominant contributors to liver fibrosis independent of its aetiology. Nat. Commun. 4, 2823 (2013).

Oguro, H., Ding, L. & Morrison, S. J. SLAM family markers resolve functionally distinct subpopulations of hematopoietic stem cells and multipotent progenitors. Cell Stem Cell 13, 102–116 (2013).

Greenbaum, A. et al. CXCL12 in early mesenchymal progenitors is required for haematopoietic stem-cell maintenance. Nature 495, 227–230 (2013).

De Minicis, S. et al. Gene expression profiles during hepatic stellate cell activation in culture and in vivo. Gastroenterology 132, 1937–1946 (2007).

Lataillade, J. J. et al. Does primary myelofibrosis involve a defective stem cell niche? From concept to evidence. Blood 112, 3026–3035 (2008).

Yue, R., Zhou, B. O., Shimada, I. S., Zhao, Z. & Morrison, S. J. Leptin receptor promotes adipogenesis and reduces osteogenesis by regulating mesenchymal stromal cells in adult bone marrow. Cell Stem Cell 18, 782–796 (2016).

Lydon, N. B. & Druker, B. J. Lessons learned from the development of imatinib. Leuk. Res. 28, S29–S38 (2004).

Worthley, D. L. et al. Gremlin 1 identifies a skeletal stem cell with bone, cartilage, and reticular stromal potential. Cell 160, 269–284 (2015).

Kramann, R. et al. Perivascular Gli1+ progenitors are key contributors to injury-induced organ fibrosis. Cell Stem Cell 16, 51–66 (2015).

Inra, C. N. et al. A perisinusoidal niche for extramedullary haematopoiesis in the spleen. Nature 527, 466–471 (2015).

Tefferi, A. et al. Phase 2 trial of imatinib mesylate in myelofibrosis with myeloid metaplasia. Blood 99, 3854–3856 (2002).

Hasselbalch, H. C. et al. Imatinib mesylate in idiopathic and postpolycythemic myelofibrosis. Am. J. Hematol. 74, 238–242 (2003).

DeFalco, J. et al. Virus-assisted mapping of neural inputs to a feeding center in the hypothalamus. Science 291, 2608–2613 (2001).

Madisen, L. et al. A robust and high-throughput Cre reporting and characterization system for the whole mouse brain. Nat. Neurosci. 13, 133–140 (2010).

Tallquist, M. D. & Soriano, P. Cell autonomous requirement for PDGFRα in populations of cranial and cardiac neural crest cells. Development 130, 507–518 (2003).

Sharov, A. A., Dudekula, D. B. & Ko, M. S. A web-based tool for principal component and significance analysis of microarray data. Bioinformatics 21, 2548–2549 (2005).

Huang da, W., Sherman, B. T. & Lempicki, R. A. Systematic and integrative analysis of large gene lists using DAVID bioinformatics resources. Nat. Protoc. 4, 44–57 (2009).

Huang da, W., Sherman, B. T. & Lempicki, R. A. Bioinformatics enrichment tools: paths toward the comprehensive functional analysis of large gene lists. Nucleic Acids Res. 37, 1–13 (2009).

Subramanian, A. et al. Gene set enrichment analysis: a knowledge-based approach for interpreting genome-wide expression profiles. Proc. Natl Acad. Sci. USA 102, 15545–15550 (2005).

Mootha, V. K. et al. PGC-1α-responsive genes involved in oxidative phosphorylation are coordinately downregulated in human diabetes. Nat. Genet. 34, 267–273 (2003).
Acknowledgements
This work was supported by the MPN Research Foundation. L.D. and J.L. were supported by the Rita Allen Foundation and the National Heart, Lung and Blood Institute (1R01HL132074). Flow cytometry was partly supported by the NIH (S10RR027050 and S10OD020056). We thank R. Schwabe at Columbia and D. Brenner at UC San Diego for providing Col-gfp mice. We thank L. Olson at Oklahoma Medical Research Foundation and P. Soriano at Icahn School of Medicine at Mount Sinai for providing PdgfraD842V mice. We thank S. Weyn-Vanhentenryck, C. Zhang and R. Schwabe at Columbia for help in analysing gene expression data. We thank S. Ho and A. Figueroa for help with flow cytometry.
Ethics declarations
Competing interests
The authors declare no competing financial interests.
Integrated supplementary information
Supplementary information
About this article
Cite this article
Decker, M., Martinez-Morentin, L., Wang, G. et al. Leptin-receptor-expressing bone marrow stromal cells are myofibroblasts in primary myelofibrosis. Nat Cell Biol 19, 677–688 (2017). https://doi.org/10.1038/ncb3530
Received:

Accepted:

Published:

Issue Date:

DOI: https://doi.org/10.1038/ncb3530