Abstract
Membrane fusion in eukaryotic cells mediates the biogenesis of organelles, vesicular traffic between them, and exo- and endocytosis of important signalling molecules, such as hormones and neurotransmitters. Distinct tasks in intracellular membrane fusion have been assigned to conserved protein systems. Tethering proteins mediate the initial recognition and attachment of membranes, whereas SNARE (soluble N-ethylmaleimide-sensitive factor attachment protein receptor) protein complexes are considered as the core fusion engine. SNARE complexes provide mechanical energy to distort membranes and drive them through a hemifusion intermediate towards the formation of a fusion pore1,2,3. This last step is highly energy-demanding4,5. Here we combine the in vivo and in vitro fusion of yeast vacuoles with molecular simulations to show that tethering proteins are critical for overcoming the final energy barrier to fusion pore formation. SNAREs alone drive vacuoles only into the hemifused state. Tethering proteins greatly increase the volume of SNARE complexes and deform the site of hemifusion, which lowers the energy barrier for pore opening and provides the driving force. Thereby, tethering proteins assume a crucial mechanical role in the terminal stage of membrane fusion that is likely to be conserved at multiple steps of vesicular traffic. We therefore propose that SNAREs and tethering proteins should be considered as a single, non-dissociable device that drives fusion. The core fusion machinery may then be larger and more complex than previously thought.
Relevant articles
Open Access articles citing this article.
Wei Hu

,

Yong Zhang

…

Wei Chen

Cell Research Open Access 31 August 2021

H. Jelger Risselada

&

Helmut Grubmüller

European Biophysics Journal Open Access 19 December 2020

Wujie Wang

&

Rafael Gómez-Bombarelli

npj Computational Materials Open Access 18 December 2019
Access options
Subscribe to Nature+
Get immediate online access to Nature and 55 other Nature journal
Subscribe to Journal
Get full journal access for 1 year
$199.00
only $3.90 per issue
All prices are NET prices.
VAT will be added later in the checkout.
Tax calculation will be finalised during checkout.
Buy article
Get time limited or full article access on ReadCube.
$32.00
All prices are NET prices.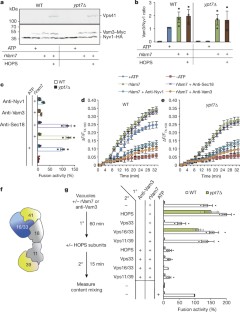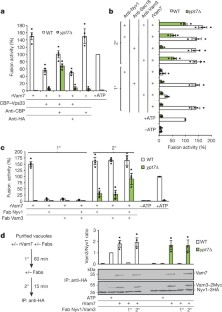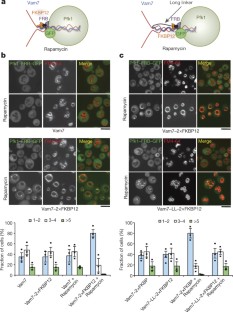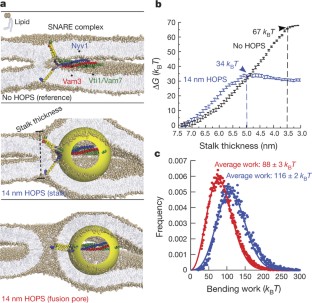 References
Gao, Y. et al. Single reconstituted neuronal SNARE complexes zipper in three distinct stages. Science 337, 1340–1343 (2012)

Zhang, X. et al. Stability, folding dynamics, and long-range conformational transition of the synaptic t-SNARE complex. Proc. Natl Acad. Sci. USA 113, E8031–E8040 (2016)

Reese, C., Heise, F. & Mayer, A. Trans-SNARE pairing can precede a hemifusion intermediate in intracellular membrane fusion. Nature 436, 410–414 (2005)

Chernomordik, L. V. & Kozlov, M. M. Protein–lipid interplay in fusion and fission of biological membranes. Annu. Rev. Biochem. 72, 175–207 (2003)

Cohen, F. S. & Melikyan, G. B. The energetics of membrane fusion from binding, through hemifusion, pore formation, and pore enlargement. J. Membr. Biol. 199, 1–14 (2004)

Shin, J., Lou, X., Kweon, D.-H. & Shin, Y.-K. Multiple conformations of a single SNAREpin between two nanodisc membranes reveal diverse pre-fusion states. Biochem. J. 459, 95–102 (2014)

Rizo, J. & Südhof, T. C. The membrane fusion enigma: SNAREs, Sec1/Munc18 proteins, and their accomplices—guilty as charged? Annu. Rev. Cell Dev. Biol. 28, 279–308 (2012)

Hernandez, J. M., Kreutzberger, A. J. B., Kiessling, V., Tamm, L. K. & Jahn, R. Variable cooperativity in SNARE-mediated membrane fusion. Proc. Natl Acad. Sci. USA 111, 12037–12042 (2014)

Baker, R. W. et al. A direct role for the Sec1/Munc18-family protein Vps33 as a template for SNARE assembly. Science 349, 1111–1114 (2015)

Orr, A., Wickner, W., Rusin, S. F., Kettenbach, A. N. & Zick, M. Yeast vacuolar HOPS, regulated by its kinase, exploits affinities for acidic lipids and Rab:GTP for membrane binding and to catalyze tethering and fusion. Mol. Biol. Cell 26, 305–315 (2015)

Kuhlee, A., Raunser, S. & Ungermann, C. Functional homologies in vesicle tethering. FEBS Lett. 589, 2487–2497 (2015)

Zick, M. & Wickner, W. The tethering complex HOPS catalyzes assembly of the soluble SNARE Vam7 into fusogenic trans-SNARE complexes. Mol. Biol. Cell 24, 3746–3753 (2013)

Price, A., Seals, D., Wickner, W. & Ungermann, C. The docking stage of yeast vacuole fusion requires the transfer of proteins from a cis-SNARE complex to a Rab/Ypt protein. J. Cell Biol. 148, 1231–1238 (2000)

Xu, H., Jun, Y., Thompson, J., Yates, J. & Wickner, W. HOPS prevents the disassembly of trans-SNARE complexes by Sec17p/Sec18p during membrane fusion. EMBO J. 29, 1948–1960 (2010)

Thorngren, N., Collins, K. M., Fratti, R. A., Wickner, W. & Merz, A. J. A soluble SNARE drives rapid docking, bypassing ATP and Sec17/18p for vacuole fusion. EMBO J. 23, 2765–2776 (2004)

Pieren, M., Schmidt, A. & Mayer, A. The SM protein Vps33 and the t-SNARE Habc domain promote fusion pore opening. Nat. Struct. Mol. Biol. 17, 710–717 (2010)

Schwartz, M. L. & Merz, A. J. Capture and release of partially zipped trans-SNARE complexes on intact organelles. J. Cell Biol. 185, 535–549 (2009)

Bröcker, C. et al. Molecular architecture of the multisubunit homotypic fusion and vacuole protein sorting (HOPS) tethering complex. Proc. Natl Acad. Sci. USA 109, 1991–1996 (2012)

Orr, A., Song, H., Rusin, S. F., Kettenbach, A. N. & Wickner, W. HOPS catalyzes the interdependent assembly of each vacuolar SNARE into a SNARE complex. Mol. Biol. Cell 28, 975–983 (2017)

Yu, H. et al. Reconstituting intracellular vesicle fusion reactions: the essential role of macromolecular crowding. J. Am. Chem. Soc. 137, 12873–12883 (2015)

Haruki, H., Nishikawa, J. & Laemmli, U. K. The anchor-away technique: rapid, conditional establishment of yeast mutant phenotypes. Mol. Cell 31, 925–932 (2008)

Michaillat, L., Baars, T. L. & Mayer, A. Cell-free reconstitution of vacuole membrane fragmentation reveals regulation of vacuole size and number by TORC1. Mol. Biol. Cell 23, 881–895 (2012)

Cabrera, M. et al. Vps41 phosphorylation and the Rab Ypt7 control the targeting of the HOPS complex to endosome–vacuole fusion sites. Mol. Biol. Cell 20, 1937–1948 (2009)

LaGrassa, T. J. & Ungermann, C. The vacuolar kinase Yck3 maintains organelle fragmentation by regulating the HOPS tethering complex. J. Cell Biol. 168, 401–414 (2005)

Carr, C. M. & Rizo, J. At the junction of SNARE and SM protein function. Curr. Opin. Cell Biol. 22, 488–495 (2010)

Fisher, R. J., Pevsner, J. & Burgoyne, R. D. Control of fusion pore dynamics during exocytosis by Munc18. Science 291, 875–878 (2001)

Morgera, F. et al. Regulation of exocytosis by the exocyst subunit Sec6 and the SM protein Sec1. Mol. Biol. Cell 23, 337–346 (2012)

Hashizume, K., Cheng, Y.-S., Hutton, J. L., Chiu, C.-H. & Carr, C. M. Yeast Sec1p functions before and after vesicle docking. Mol. Biol. Cell 20, 4673–4685 (2009)

Grote, E., Carr, C. M. & Novick, P. J. Ordering the final events in yeast exocytosis. J. Cell Biol. 151, 439–452 (2000)

Zick, M. & Wickner, W. T. A distinct tethering step is vital for vacuole membrane fusion. Elife 3, e03251 (2014)

Zick, M., Orr, A., Schwartz, M. L., Merz, A. J. & Wickner, W. T. Sec17 can trigger fusion of trans-SNARE paired membranes without Sec18. Proc. Natl Acad. Sci. USA 112, E2290–E2297 (2015)

Risselada, H. J., Bubnis, G. & Grubmüller, H. Expansion of the fusion stalk and its implication for biological membrane fusion. Proc. Natl Acad. Sci. USA 111, 11043–11048 (2014)

Janke, C. et al. A versatile toolbox for PCR-based tagging of yeast genes: new fluorescent proteins, more markers and promoter substitution cassettes. Yeast 21, 947–962 (2004)

Longtine, M. S. et al. Additional modules for versatile and economical PCR-based gene deletion and modification in Saccharomyces cerevisiae. Yeast 14, 953–961 (1998)

Kuznetsova, I. M., Turoverov, K. K. & Uversky, V. N. What macromolecular crowding can do to a protein. Int. J. Mol. Sci. 15, 23090–23140 (2014)

Mage, M. G. in Immunochemical Techniques Vol. 70 (eds Vunakis, H. V. & Langone, J. ) 142–150 (Elsevier, 1980)

Ostrowicz, C. W. et al. Defined subunit arrangement and Rab interactions are required for functionality of the HOPS tethering complex. Traffic 11, 1334–1346 (2010)

Hess, B., Kutzner, C., van der Spoel, D. & Lindahl, E. GROMACS 4: algorithms for highly efficient, load-balanced, and scalable molecular simulation. J. Chem. Theory Comput. 4, 435–447 (2008)

Monticelli, L. et al. The MARTINI coarse-grained force field: extension to proteins. J. Chem. Theory Comput. 4, 819–834 (2008)

Marrink, S. J., Risselada, H. J., Yefimov, S., Tieleman, D. P. & de Vries, A. H. The MARTINI force field: coarse grained model for biomolecular simulations. J. Phys. Chem. B 111, 7812–7824 (2007)

Risselada, H. J., Kutzner, C. & Grubmüller, H. Caught in the act: visualization of SNARE-mediated fusion events in molecular detail. ChemBioChem 12, 1049–1055 (2011)

Hub, J. S., De Groot, B. L. & van der Spoel, D. g_wham—a free weighted histogram analysis implementation including robust error and autocorrelation estimates. J. Chem. Theory Comput. 6, 3713–3720 (2010)

Mayer, A. & Wickner, W. Docking of yeast vacuoles is catalyzed by the Ras-like GTPase Ypt7p after symmetric priming by Sec18p (NSF). J. Cell Biol. 136, 307–317 (1997)

Wang, L., Merz, A. J., Collins, K. M. & Wickner, W. Hierarchy of protein assembly at the vertex ring domain for yeast vacuole docking and fusion. J. Cell Biol. 160, 365–374 (2003)

Karunakaran, S., Sasser, T., Rajalekshmi, S. & Fratti, R. A. SNAREs, HOPS and regulatory lipids control the dynamics of vacuolar actin during homotypic fusion in S. cerevisiae. J. Cell Sci. 125, 1683–1692 (2012)

Merz, A. J. & Wickner, W. T. Resolution of organelle docking and fusion kinetics in a cell-free assay. Proc. Natl. Acad. Sci. USA. 101, 11548–11553 (2004)

Lürick, A. et al. Multivalent Rab interactions determine tether-mediated membrane fusion. Mol. Biol. Cell 28, 322–332 (2016)

Jackson, M. B. Minimum membrane bending energies of fusion pores. J. Membr. Biol. 231, 101–115 (2009)

Ryham, R. J., Ward, M. A. & Cohen, F. S. Teardrop shapes minimize bending energy of fusion pores connecting planar bilayers. Phys. Rev. E 88, 062701 (2013)

D'Agostino, M., Risselada, H. J. & Mayer, A. Steric hindrance of SNARE transmembrane domain organization impairs the hemifusion-to-fusion transition. EMBO Rep. 17, 1590–1608 (2016)

Pieren, M., Desfougères, Y., Michaillat, L., Schmidt, A. & Mayer, A. Vacuolar SNARE protein transmembrane domains serve as nonspecific membrane anchors with unequal roles in lipid mixing. J. Biol. Chem. 290, 12821–12832 (2015)
Acknowledgements
We thank V. Comte and J. Gao for the purification of proteins and antibodies. This work was supported by grants from the DFG (SFB 944, to C.U.), State of Lower Saxony (life@nano, to H.J.R) and SNF and ERC to A.M. HLRN is acknowledged for CPU time.
Ethics declarations
Competing interests
The authors declare no competing financial interests.
Additional information
Publisher's note: Springer Nature remains neutral with regard to jurisdictional claims in published maps and institutional affiliations.
Extended data figures and tables
Supplementary information
This file contains a Supplementary Discussion, Supplementary References, Supplementary Tables 1-2 and Supplementary Figure 1. (PDF 1222 kb)
About this article
Cite this article
D'Agostino, M., Risselada, H., Lürick, A. et al. A tethering complex drives the terminal stage of SNARE-dependent membrane fusion. Nature 551, 634–638 (2017). https://doi.org/10.1038/nature24469
Received:

Accepted:

Published:

Issue Date:

DOI: https://doi.org/10.1038/nature24469
Comments
By submitting a comment you agree to abide by our Terms and Community Guidelines. If you find something abusive or that does not comply with our terms or guidelines please flag it as inappropriate.