Abstract
Developmental pathways that orchestrate the fleeting transition of endothelial cells into haematopoietic stem cells remain undefined. Here we demonstrate a tractable approach for fully reprogramming adult mouse endothelial cells to haematopoietic stem cells (rEC-HSCs) through transient expression of the transcription-factor-encoding genes Fosb, Gfi1, Runx1, and Spi1 (collectively denoted hereafter as FGRS) and vascular-niche-derived angiocrine factors. The induction phase (days 0–8) of conversion is initiated by expression of FGRS in mature endothelial cells, which results in endogenous Runx1 expression. During the specification phase (days 8–20), RUNX1+ FGRS-transduced endothelial cells commit to a haematopoietic fate, yielding rEC-HSCs that no longer require FGRS expression. The vascular niche drives a robust self-renewal and expansion phase of rEC-HSCs (days 20–28). rEC-HSCs have a transcriptome and long-term self-renewal capacity similar to those of adult haematopoietic stem cells, and can be used for clonal engraftment and serial primary and secondary multi-lineage reconstitution, including antigen-dependent adaptive immune function. Inhibition of TGFβ and CXCR7 or activation of BMP and CXCR4 signalling enhanced generation of rEC-HSCs. Pluripotency-independent conversion of endothelial cells into autologous authentic engraftable haematopoietic stem cells could aid treatment of haematological disorders.
Your institute does not have access to this article
Relevant articles
Open Access articles citing this article.
Vashe Chandrakanthan

,

Prunella Rorimpandey

…

John E. Pimanda

Nature Cell Biology Open Access 28 July 2022

Artem Adamov

,

Yasmin Natalia Serina Secanechia

&

Christophe Lancrin

Scientific Reports Open Access 16 July 2022

Wei Shan

,

Qin Yu

…

He Huang

Stem Cell Research & Therapy Open Access 19 June 2021
Access options
Subscribe to Nature+
Get immediate online access to the entire Nature family of 50+ journals
Subscribe to Journal
Get full journal access for 1 year
$199.00
only $3.90 per issue
All prices are NET prices.
VAT will be added later in the checkout.
Tax calculation will be finalised during checkout.
Buy article
Get time limited or full article access on ReadCube.
$32.00
All prices are NET prices.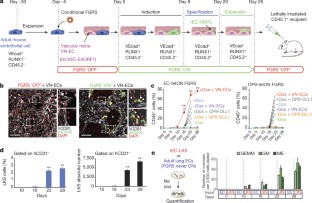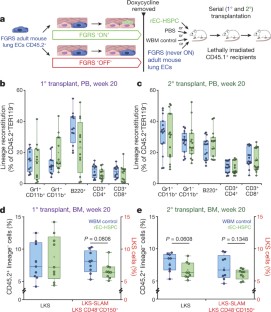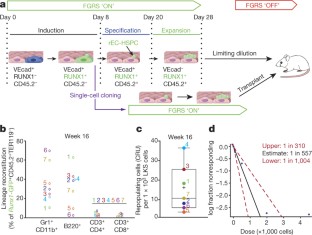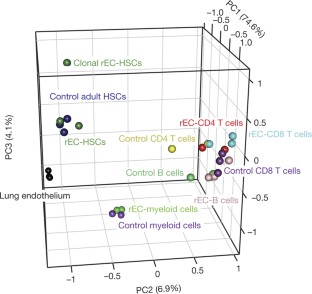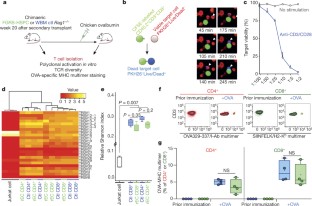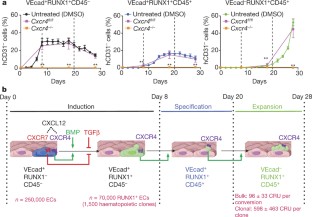 References
Wahlster, L. & Daley, G. Q. Progress towards generation of human haematopoietic stem cells. Nat. Cell Biol. 18, 1111–1117 (2016)

Sturgeon, C. M., Ditadi, A., Clarke, R. L. & Keller, G. Defining the path to hematopoietic stem cells. Nat. Biotechnol. 31, 416–418 (2013)

Tashiro, K. et al. Promotion of hematopoietic differentiation from mouse induced pluripotent stem cells by transient HoxB4 transduction. Stem Cell Res. 8, 300–311 (2012)

Rafii, S. et al. Human ESC-derived hemogenic endothelial cells undergo distinct waves of endothelial to hematopoietic transition. Blood 121, 770–780 (2013)

Batta, K., Florkowska, M., Kouskoff, V. & Lacaud, G. Direct reprogramming of murine fibroblasts to hematopoietic progenitor cells. Cell Reports 9, 1871–1884 (2014)

Doulatov, S. et al. Induction of multipotential hematopoietic progenitors from human pluripotent stem cells via respecification of lineage-restricted precursors. Cell Stem Cell 13, 459–470 (2013)

Elcheva, I. et al. Direct induction of haematoendothelial programs in human pluripotent stem cells by transcriptional regulators. Nat. Commun. 5, 4372 (2014)

Pereira, C. F. et al. Induction of a hemogenic program in mouse fibroblasts. Cell Stem Cell 13, 205–218 (2013)

Sandler, V. M. et al. Reprogramming human endothelial cells to haematopoietic cells requires vascular induction. Nature 511, 312–318 (2014)

Pulecio, J. et al. Conversion of human fibroblasts into monocyte-like progenitor cells. Stem Cells 32, 2923–2938 (2014)

Butler, J. M. et al. Development of a vascular niche platform for expansion of repopulating human cord blood stem and progenitor cells. Blood 120, 1344–1347 (2012)

Ding, B. S. et al. Inductive angiocrine signals from sinusoidal endothelium are required for liver regeneration. Nature 468, 310–315 (2010)

Butler, J. M. & Rafii, S. Generation of a vascular niche for studying stem cell homeostasis. Methods Mol. Biol. 904, 221–233 (2012)

Kobayashi, H. et al. Angiocrine factors from Akt-activated endothelial cells balance self-renewal and differentiation of haematopoietic stem cells. Nat. Cell Biol. 12, 1046–1056 (2010)

Mendelson, A. & Frenette, P. S. Hematopoietic stem cell niche maintenance during homeostasis and regeneration. Nat. Med. 20, 833–846 (2014)

Morrison, S. J. & Scadden, D. T. The bone marrow niche for haematopoietic stem cells. Nature 505, 327–334 (2014)

Rafii, S., Butler, J. M. & Ding, B. S. Angiocrine functions of organ-specific endothelial cells. Nature 529, 316–325 (2016)

Sasine, J. P., Yeo, K. T. & Chute, J. P. Concise review: paracrine functions of vascular niche cells in regulating hematopoietic stem cell fate. Stem Cells Transl. Med. 6, 482–489 (2017)

Butler, J. M. et al. Endothelial cells are essential for the self-renewal and repopulation of Notch-dependent hematopoietic stem cells. Cell Stem Cell 6, 251–264 (2010)

Riddell, J. et al. Reprogramming committed murine blood cells to induced hematopoietic stem cells with defined factors. Cell 157, 549–564 (2014)

Boisset, J. C. et al. In vivo imaging of haematopoietic cells emerging from the mouse aortic endothelium. Nature 464, 116–120 (2010)

Zovein, A. C. et al. Fate tracing reveals the endothelial origin of hematopoietic stem cells. Cell Stem Cell 3, 625–636 (2008)

Nguyen, P. D. et al. Haematopoietic stem cell induction by somite-derived endothelial cells controlled by meox1. Nature 512, 314–318 (2014)

Li, Y. et al. Inflammatory signaling regulates embryonic hematopoietic stem and progenitor cell production. Genes Dev. 28, 2597–2612 (2014)

Espín-Palazón, R. et al. Proinflammatory signaling regulates hematopoietic stem cell emergence. Cell 159, 1070–1085 (2014)

Gritz, E. & Hirschi, K. K. Specification and function of hemogenic endothelium during embryogenesis. Cell. Mol. Life Sci. 73, 1547–1567 (2016)

Slukvin, I. I. Generating human hematopoietic stem cells in vitro exploring endothelial to hematopoietic transition as a portal for stemness acquisition. FEBS Lett. 590, 4126–4143 (2016)

Seandel, M. et al. Generation of a functional and durable vascular niche by the adenoviral E4ORF1 gene. Proc. Natl Acad. Sci. USA 105, 19288–19293 (2008)

Rafii, S. et al. Human bone marrow microvascular endothelial cells support long-term proliferation and differentiation of myeloid and megakaryocytic progenitors. Blood 86, 3353–3363 (1995)

Lorsbach, R. B. et al. Role of RUNX1 in adult hematopoiesis: analysis of RUNX1-IRES-GFP knock-in mice reveals differential lineage expression. Blood 103, 2522–2529 (2004)

Zhou, F. et al. Tracing haematopoietic stem cell formation at single-cell resolution. Nature 533, 487–492 (2016)

Kinkel, S. A. et al. Jarid2 regulates hematopoietic stem cell function by acting with polycomb repressive complex 2. Blood 125, 1890–1900 (2015)

Redmond, D., Poran, A. & Elemento, O. Single-cell TCRseq: paired recovery of entire T-cell alpha and beta chain transcripts in T-cell receptors from single-cell RNAseq. Genome Med. 8, 80 (2016)

Orkin, S. H. & Zon, L. I. Hematopoiesis and stem cells: plasticity versus developmental heterogeneity. Nat. Immunol. 3, 323–328 (2002)

Jaffredo, T. et al. From hemangioblast to hematopoietic stem cell: an endothelial connection? Exp. Hematol. 33, 1029–1040 (2005)

Hirschi, K. K. Hemogenic endothelium during development and beyond. Blood 119, 4823–4827 (2012)

Ng, E. S. et al. Differentiation of human embryonic stem cells to HOXA+ hemogenic vasculature that resembles the aorta–gonad–mesonephros. Nat. Biotechnol. 34, 1168–1179 (2016)

Souilhol, C. et al. Inductive interactions mediated by interplay of asymmetric signalling underlie development of adult haematopoietic stem cells. Nat. Commun. 7, 10784 (2016)

Yzaguirre, A. D., de Bruijn, M. F. & Speck, N. A. The role of Runx1 in embryonic blood cell formation. Adv. Exp. Med. Biol. 962, 47–64 (2017)

Rafii, S. et al. Isolation and characterization of human bone marrow microvascular endothelial cells: hematopoietic progenitor cell adhesion. Blood 84, 10–19 (1994)

Roden, M. M., Lee, K. H., Panelli, M. C. & Marincola, F. M. A novel cytolysis assay using fluorescent labeling and quantitative fluorescent scanning technology. J. Immunol. Methods 226, 29–41 (1999)

Israely, E. et al. Akt suppression of TGFβ signaling contributes to the maintenance of vascular identity in embryonic stem cell-derived endothelial cells. Stem Cells 32, 177–190 (2014)

Raphael Lis, Karrasch C. C. & Rafii, S. In vitro conversion of endothelial cells into haematopoietic stem cells. Protoc. Exch. http://dx.doi.org/10.1038/protex.2017.033 (2017)
Acknowledgements
We thank J. Downing at St Jude Hospital for providing the Runx1-IRES-GFP reporter mice. Floxed Cxcr4 mice were provided by Y.-R. Zou (the Feinstein Institute for Medical Research). We are grateful to V. Sandler for constructive discussions. R.L., W.S., K.S., and S.R. are supported by Ansary Stem Cell Institute (ASCI), New York State Department of Health grants (NYSDOH) (C026878, C028117, C029156, C030160), NIH-R01 (DK095039, HL119872, HL128158, HL115128, HL099997) and U54 CA163167, the Starr foundation TRI-Institution stem cell core project, Tri-Institutional Stem Cell Initiative grants (TRI-SCI#2013-032, #2014-023, #2016-013, and fellowships), R.L., A.R.T., and S.R. by the Qatar National Priorities Research Program (NPRP 8-1898-3-392, NPRP 6-131-3-268), B.K. by NIH-T32 HD060600. J.M.B. is supported by the ASCI, TRI-SCI #2013-022 and #2014-004, Leukemia & Lymphoma Society (LLS) grant 0859-15, and NIH-R01 (CA204308, HL133021); J.M.S. by the ASCI, Taub Foundation Grants Program, TRI-SCI#2014-023 and #2016-024, LLS grant 2299-14, (NYSDOH) C029156, C030160, ECRIP, and NIH R01 (HL119872, HL128158) and by Cancer Research & Treatment Fund (CR&T), J.M.S. and S.R. by the ECRIP and NYSDOH, and N.A.S. by NIH-RO1 HL091724.
Ethics declarations
Competing interests
S.R. is the founder of and a non-paid consultant for Angiocrine Bioscience. J.M.B. receives research funding from Angiocrine Bioscience, and M.G. is an employee of Angiocrine Bioscience.
Additional information
Publisher's note: Springer Nature remains neutral with regard to jurisdictional claims in published maps and institutional affiliations.
Extended data figures and tables
Supplementary information
Adult lung ECs were isolated from Runx1-IRES-GFP. Then, Runx1-IRES-GFP adult lung ECs were transduced with FGRS and co-cultured with VN-ECs (HUVEC-E4ORF1). VN-ECs were discriminated from FGRS-transduced Runx1-IRES-GFP adult lung ECs by anti-human CD31 (hCD31) live staining (red). Live confocal images were acquired every 45 min for the duration of the experiment (original magnification 10x). (MOV 4710 kb)
About this article
Cite this article
Lis, R., Karrasch, C., Poulos, M. et al. Conversion of adult endothelium to immunocompetent haematopoietic stem cells. Nature 545, 439–445 (2017). https://doi.org/10.1038/nature22326
Received:

Accepted:

Published:

Issue Date:

DOI: https://doi.org/10.1038/nature22326
Comments
By submitting a comment you agree to abide by our Terms and Community Guidelines. If you find something abusive or that does not comply with our terms or guidelines please flag it as inappropriate.