Abstract
We report that, in the rat, administering insulin-like growth factor II (IGF-II, also known as IGF2) significantly enhances memory retention and prevents forgetting. Inhibitory avoidance learning leads to an increase in hippocampal expression of IGF-II, which requires the transcription factor CCAAT enhancer binding protein β and is essential for memory consolidation. Furthermore, injections of recombinant IGF-II into the hippocampus after either training or memory retrieval significantly enhance memory retention and prevent forgetting. To be effective, IGF-II needs to be administered within a sensitive period of memory consolidation. IGF-II-dependent memory enhancement requires IGF-II receptors, new protein synthesis, the function of activity-regulated cytoskeletal-associated protein and glycogen-synthase kinase 3 (GSK3). Moreover, it correlates with a significant activation of synaptic GSK3β and increased expression of GluR1 (also known as GRIA1) α-amino-3-hydroxy-5-methyl-4-isoxasolepropionic acid receptor subunits. In hippocampal slices, IGF-II promotes IGF-II receptor-dependent, persistent long-term potentiation after weak synaptic stimulation. Thus, IGF-II may represent a novel target for cognitive enhancement therapies.
Your institute does not have access to this article
Relevant articles
Open Access articles citing this article.
Hye In Sim

,

Dae Hyun Kim

&

Mikyung Kim

Future Journal of Pharmaceutical Sciences Open Access 14 March 2022

Denisse Sepúlveda

,

Felipe Grunenwald

…

Rene L. Vidal

Scientific Reports Open Access 07 February 2022

Masahiro Tomioka

,

Moon Sun Jang

&

Yuichi Iino

Communications Biology Open Access 11 January 2022
Access options
Subscribe to Journal
Get full journal access for 1 year
$199.00
only $3.90 per issue
All prices are NET prices.
VAT will be added later in the checkout.
Tax calculation will be finalised during checkout.
Buy article
Get time limited or full article access on ReadCube.
$32.00
All prices are NET prices.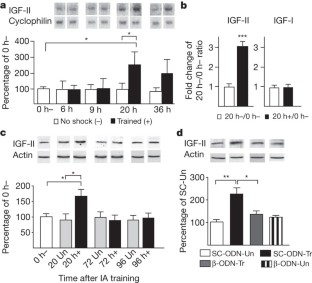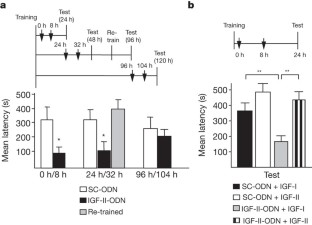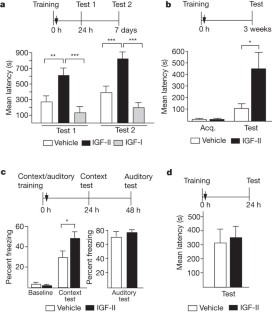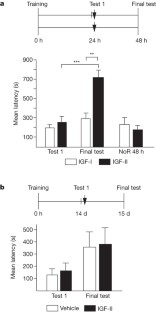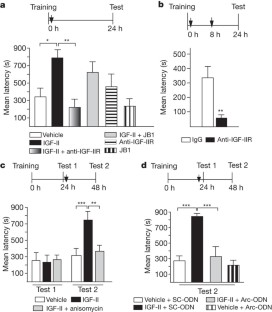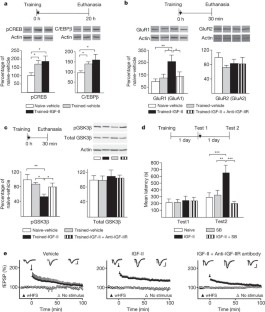 References
McGaugh, J. L. Memory–a century of consolidation. Science 287, 248–251 (2000)

Alberini, C. M. Transcription factors in long-term memory and synaptic plasticity. Physiol. Rev. 89, 121–145 (2009)

Kandel, E. R. The molecular biology of memory storage: a dialog between genes and synapses. Biosci. Rep. 21, 565–611 (2001)

Silva, A. J., Kogan, J. H., Frankland, P. W. & Kida, S. CREB and memory. Annu. Rev. Neurosci. 21, 127–148 (1998)

Bailey, C. H. & Kandel, E. R. Structural changes accompanying memory storage. Annu. Rev. Physiol. 55, 397–426 (1993)

Kida, S. et al. CREB required for the stability of new and reactivated fear memories. Nature Neurosci. 5, 348–355 (2002)

Milekic, M. H., Pollonini, G. & Alberini, C. M. Temporal requirement of C/EBPβ in the amygdala following reactivation but not acquisition of inhibitory avoidance. Learn. Mem. 14, 504–511 (2007)

Nader, K., Schafe, G. E. & Le Doux, J. E. Fear memories require protein synthesis in the amygdala for reconsolidation after retrieval. Nature 406, 722–726 (2000)

Shamblott, M. J., Leung, S., Greene, M. W. & Chen, T. T. Characterization of a teleost insulin-like growth factor II (IGF-II) gene: evidence for promoter CCAAT/enhancer-binding protein (C/EBP) sites, and the presence of hepatic C/EBP. Mol. Mar. Biol. Biotechnol. 7, 181–190 (1998)

Russo, V. C., Gluckman, P. D., Feldman, E. L. & Werther, G. A. The insulin-like growth factor system and its pleiotropic functions in brain. Endocr. Rev. 26, 916–943 (2005)

Hawkes, C. & Kar, S. The insulin-like growth factor-II/mannose-6-phosphate receptor: structure, distribution and function in the central nervous system. Brain Res. Brain Res. Rev. 44, 117–140 (2004)

Kitraki, E., Bozas, E., Philippidis, H. & Stylianopoulou, F. Aging-related changes in IGF-II and c-fos gene expression in the rat brain. Int. J. Dev. Neurosci. 11, 1–9 (1993)

Kar, S., Chabot, J. G. & Quirion, R. Quantitative autoradiographic localization of [125I]insulin-like growth factor I, [125I]insulin-like growth factor II, and [125I]insulin receptor binding sites in developing and adult rat brain. J. Comp. Neurol. 333, 375–397 (1993)

Taubenfeld, S. M. et al. Fornix-dependent induction of hippocampal CCAAT enhancer-binding protein β and δ co-localizes with phosphorylated cAMP response element-binding protein and accompanies long-term memory consolidation. J. Neurosci. 21, 84–91 (2001)

Taubenfeld, S. M., Milekic, M. H., Monti, B. & Alberini, C. M. The consolidation of new but not reactivated memory requires hippocampal C/EBPβ. Nature Neurosci. 4, 813–818 (2001)

Liang, K. C. et al. Post-training amygdaloid lesions impair retention of an inhibitory avoidance response. Behav. Brain Res. 4, 237–249 (1982)

Alberini, C. M. Mechanisms of memory stabilization: are consolidation and reconsolidation similar or distinct processes? Trends Neurosci. 28, 51–56 (2005)

Nader, K., Schafe, G. E. & LeDoux, J. E. The labile nature of consolidation theory. Nature Rev. Neurosci. 1, 216–219 (2000)

Eisenberg, M. & Dudai, Y. Reconsolidation of fresh, remote, and extinguished fear memory in medaka: old fears don't die. Eur. J. Neurosci. 20, 3397–3403 (2004)

Milekic, M. H. & Alberini, C. M. Temporally graded requirement for protein synthesis following memory reactivation. Neuron 36, 521–525 (2002)

Suzuki, A. et al. Memory reconsolidation and extinction have distinct temporal and biochemical signatures. J. Neurosci. 24, 4787–4795 (2004)

Litvin, O. O. & Anokhin, K. V. Mechanisms of memory reorganization during retrieval of acquired behavioral experience in chicks: the effects of protein synthesis inhibition in the brain. Neurosci. Behav. Physiol. 30, 671–678 (2000)

Debiec, J., LeDoux, J. E. & Nader, K. Cellular and systems reconsolidation in the hippocampus. Neuron 36, 527–538 (2002)

Nissley, S. P. & Rechler, M. M. Somatomedin/insulin-like growth factor tissue receptors. Clin. Endocrinol. Metab. 13, 43–67 (1984)

Bramham, C. R., Worley, P. F., Moore, M. J. & Guzowski, J. F. The immediate early gene Arc/Arg3. 1: regulation, mechanisms, and function. J. Neurosci. 28, 11760–11767 (2008)

Whitlock, J. R., Heynen, A. J., Shuler, M. G. & Bear, M. F. Learning induces long-term potentiation in the hippocampus. Science 313, 1093–1097 (2006)

Slipczuk, L. et al. BDNF activates mTOR to regulate GluR1 expression required for memory formation. PLoS ONE 4, e6007 (2009)

Kessels, H. W. & Malinow, R. Synaptic AMPA receptor plasticity and behavior. Neuron 61, 340–350 (2009)

Wei, J., Liu, W. & Yan, Z. Regulation of AMPA receptor trafficking and function by glycogen synthase kinase 3. J. Biol. Chem. 285, 26369–26376 (2010)

Scalia, P. et al. Regulation of the Akt/glycogen synthase kinase-3 axis by insulin-like growth factor-II via activation of the human insulin receptor isoform-A. J. Cell. Biochem. 82, 610–618 (2001)

Dajani, R. et al. Crystal structure of glycogen synthase kinase 3β: structural basis for phosphate-primed substrate specificity and autoinhibition. Cell 105, 721–732 (2001)

Cooke, S. F. & Bliss, T. V. Plasticity in the human central nervous system. Brain 129, 1659–1673 (2006)

Alberini, C. M., Milekic, M. H. & Tronel, S. Mechanisms of memory stabilization and de-stabilization. Cell. Mol. Life Sci. 63, 999–1008 (2006)

Milner, B., Squire, L. R. & Kandel, E. R. Cognitive neuroscience and the study of memory. Neuron 20, 445–468 (1998)

Maviel, T., Durkin, T. P., Menzaghi, F. & Bontempi, B. Sites of neocortical reorganization critical for remote spatial memory. Science 305, 96–99 (2004)

Nadel, L. & Land, C. Memory traces revisited. Nature Rev. Neurosci. 1, 209–212 (2000)

Garcia-Osta, A. et al. Musk expressed in the brain mediates cholinergic responses, synaptic plasticity, and memory formation. J. Neurosci. 26, 7919–7932 (2006)

Muravieva, E. V. & Alberini, C. M. Limited efficacy of propranolol on the reconsolidation of fear memories. Learn. Mem. 17, 306–313 (2010)

Tronel, S. & Alberini, C. M. Persistent disruption of a traumatic memory by postretrieval inactivation of glucocorticoid receptors in the amygdala. Biol. Psychiatry 62, 33–39 (2007)

Tsankova, N. M., Kumar, A. & Nestler, E. J. Histone modifications at gene promoter regions in rat hippocampus after acute and chronic electroconvulsive seizures. J. Neurosci. 24, 5603–5610 (2004)

Tsokas, P. et al. Local protein synthesis mediates a rapid increase in dendritic elongation factor 1A after induction of late long-term potentiation. J. Neurosci. 25, 5833–5843 (2005)

Elizalde, P. V. et al. Involvement of insulin-like growth factors-I and -II and their receptors in medroxyprogesterone acetate-induced growth of mouse mammary adenocarcinomas. J. Steroid Biochem. Mol. Biol. 67, 305–317 (1998)

Guzowski, J. F. et al. Inhibition of activity-dependent Arc protein expression in the rat hippocampus impairs the maintenance of long-term potentiation and the consolidation of long-term memory. J. Neurosci. 20, 3993–4001 (2000)

Pietrzkowski, Z. et al. Inhibition of cellular proliferation by peptide analogues of insulin-like growth factor 1. Cancer Res. 52, 6447–6451 (1992)

Quesada, A. & Micevych, P. E. Estrogen interacts with the IGF-1 system to protect nigrostriatal dopamine and maintain motoric behavior after 6-hydroxdopamine lesions. J. Neurosci. Res. 75, 107–116 (2004)

Milekic, M. H., Brown, S. D., Castellini, C. & Alberini, C. M. Persistent disruption of an established morphine conditioned place preference. J. Neurosci. 26, 3010–3020 (2006)

Xu, C. M. et al. Glycogen synthase kinase 3β in the nucleus accumbens core mediates cocaine-induced behavioral sensitization. J. Neurochem. 111, 1357–1368 (2009)

Elkobi, A. et al. ERK-dependent PSD-95 induction in the gustatory cortex is necessary for taste learning, but not retrieval. Nature Neurosci. 11, 1149–1151 (2008)

Lo, J. H. & Chen, T. T. CCAAT/enhancer binding protein β2 is involved in growth hormone-regulated insulin-like growth factor-II gene expression in the liver of rainbow trout (Oncorhynchus mykiss). Endocrinology 151, 2128–2139 (2001)

van Dijk, M. A., Rodenburg, R. J., Holthuizen, P. & Sussenbach, J. S. The liver-specific promoter of the human insulin-like growth factor II gene is activated by CCAAT/enhancer binding protein (C/EBP). Nucleic Acids Res. 20, 3099–3104 (1992)
Acknowledgements
Acknowledgments This work was supported by grants R01-MH065635, R01-MH074736, NARSAD, the Hirschl Foundation and Philoctetes Foundation awarded to C.M.A., F31-MH816213 to D.Y.C., and T32-MH087004 to S.A.S.; R21-DA29298 and R01-GM054508 to R.D.B. We thank M. Baxter for assistance with statistical analyses. We thank J. Feng, J.-W. Koo and C.-Y. Lu for technical assistance. We thank A. Suzuki and A. Arguello for comments on the manuscript. We thank R. Miller and the Center for Comparative Medicine and Surgery Facility at Mount Sinai School of Medicine for technical support.
Ethics declarations
Competing interests
Patent pending on IGF-II as a strategy to enhance memory.
Supplementary information
The file contains Supplementary Figures 1-12 with legends and Supplementary Tables 1-6. This file was replaced on 17 October 2011. (PDF 612 kb)
About this article
Cite this article
Chen, D., Stern, S., Garcia-Osta, A. et al. A critical role for IGF-II in memory consolidation and enhancement. Nature 469, 491–497 (2011). https://doi.org/10.1038/nature09667
Received:

Accepted:

Published:

Issue Date:

DOI: https://doi.org/10.1038/nature09667
Comments
By submitting a comment you agree to abide by our Terms and Community Guidelines. If you find something abusive or that does not comply with our terms or guidelines please flag it as inappropriate.