Abstract
Titan was once thought to have global oceans of light hydrocarbons on its surface1,2,3,4,5, but after 40 close flybys of Titan by the Cassini spacecraft, it has become clear that no such oceans exist6. There are, however, features similar to terrestrial lakes and seas7, and widespread evidence for fluvial erosion8,9, presumably driven by precipitation of liquid methane from Titan's dense, nitrogen-dominated atmosphere10. Here we report infrared spectroscopic data, obtained by the Visual and Infrared Mapping Spectrometer11 (VIMS) on board the Cassini spacecraft, that strongly indicate that ethane, probably in liquid solution with methane, nitrogen and other low-molecular-mass hydrocarbons, is contained within Titan's Ontario Lacus.
Relevant articles
Open Access articles citing this article.
Sébastien Rodriguez

,

Sandrine Vinatier

…

Robert A. West

Experimental Astronomy Open Access 11 January 2022

Giuseppe Mitri

,

Jason Barnes

…

Peter Wurz

Experimental Astronomy Open Access 22 July 2021

Brooke Thompson

,

Kayla Burt

…

Sarah E. Maurer

Scientific Reports Open Access 28 November 2019
Access options
Subscribe to Journal
Get full journal access for 1 year
$199.00
only $3.90 per issue
All prices are NET prices.
VAT will be added later in the checkout.
Tax calculation will be finalised during checkout.
Buy article
Get time limited or full article access on ReadCube.
$32.00
All prices are NET prices.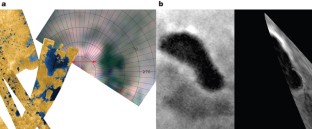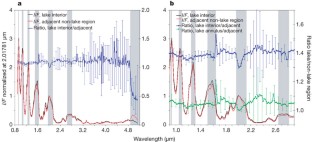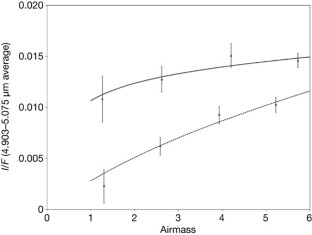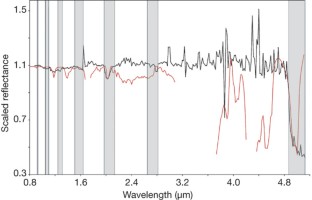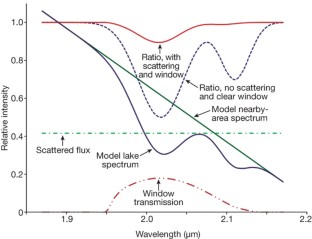 References
Lunine, J. I., Stevenson, D. J. & Yung, Y. L. Ethane ocean on Titan. Science 222, 1229–1230 (1983)

Lunine, J. I. Does Titan have an ocean—a review of current understanding of Titan's surface. Rev. Geophys. 31, 133–149 (1993)

Lunine, J. I. Does Titan have oceans? Am. Sci. 82, 134–143 (1994)

Dermott, S. F. & Sagan, C. Tidal effects of disconnected hydrocarbon seas on Titan. Nature 374, 238–240 (1995)

Sagan, C. & Dermott, S. F. The tide in the seas of Titan. Nature 300, 731–733 (1982)

Porco, C. C. et al. Imaging of Titan from the Cassini spacecraft. Nature 434, 159–168 (2005)

Stofan, E. R. et al. The lakes of Titan. Nature 445, 61–64 (2007)

Elachi, C. et al. Cassini radar views the surface of Titan. Science 308, 970–974 (2005)

Elachi, C. et al. Titan radar mapper observations from Cassini's T-3 fly-by. Nature 441, 709–713 (2006)

Tomasko, M. G. et al. Rain, winds and haze during the Huygens probe's descent to Titan's surface. Nature 438, 765–778 (2005)

Brown, R. H. et al. The Cassini Visual and Infrared Mapping Spectrometer investigation. Space Sci. Rev. 115, 111–168 (2004)

Griffith, C. A., Owen, T. & Wagener, R. Titan's surface and troposphere, investigated with ground-based, near-infrared observations. Icarus 93, 362–378 (1991)

Griffith, C. A., Owen, T., Geballe, T. R., Rayner, J. & Rannou, P. Evidence for the exposure of water ice on Titan's surface. Science 300, 628–630 (2003)

Smith, B. A. et al. A new look at the Saturn System—the Voyager-2 images. Science 215, 504–537 (1982)

Smith, B. A. et al. Encounter with Saturn—Voyager-1 imaging science results. Science 212, 163–191 (1981)

Brown, R. H. & Cruikshank, D. P. Determination of the composition and state of icy surfaces in the outer solar system. Annu. Rev. Earth Planet. Sci. 25, 243–277 (1997)

Lopes, R. M. C. et al. The lakes and seas of Titan. Eos 88, 569–570 (2007)

Barnes, J. W. et al. A 5-micron-bright spot on Titan: evidence for surface diversity. Science 310, 92–95 (2005)

Soderblom, L. A. et al. Correlations between Cassini VIMS spectra and RADAR SAR images: Implications for Titan's surface composition and the character of the Huygens Probe landing site. Planet. Space Sci. 55, 2025–2036 (2008)

Barnes, J. W. et al. Global-scale surface spectral variations on Titan seen from Cassini/VIMS. Icarus 186, 242–258 (2007)

Grundy, W. M., Schmitt, B. & Quirico, E. The temperature-dependent spectrum of methane ice I between 0.7 and 5 μm and opportunities for near-infrared remote thermometry. Icarus 155, 486–496 (2002)

Clark, R. N. et al. Detection of widespread aromatic and aliphatic hydrocarbons on Titan. Icarus (in the press)

Clark, R. N., Curchin, J. M., Hoefen, T. M. & Swayze, G. A. Reflectance spectroscopy of organic compounds. I: Alkanes. J. Geophys. Res. (submitted)

Mitri, G., Showman, A. P., Lunine, J. I. & Lorenz, R. D. Hydrocarbon lakes on Titan. Icarus 186, 385–394 (2007)

Clark, R. N. & Lucey, P. G. Spectral properties of ice–particulate mixtures: Implications for remote sensing. I: Intimate mixtures. J. Geophys. Res. 89, 6341–6348 (1984)

Clark, R. N. & McCord, T. B. The Galilean satellites: New near-infrared reflectance measurements (0.65–2.5 μm) and a 0.325–4.08 μm summary. Icarus 43, 323–339 (1980)

Brown, R. H., Cruikshank, D. P., Tokunage, A. T. & Smith, R. G. Search for volatiles on icy satellites. I: Europa. Icarus 74, 262–271 (1988)

Prinn, R. G. & Fegley, B. Kinetic inhibition of CO and N2 reduction in circumplanetary nebulae—implications for satellite composition. Astrophys. J. 249, 308–317 (1981)

Lewis, J. S. Chemistry of planets. Annu. Rev. Phys. Chem. 24, 339–351 (1973)
About this article
Cite this article
Brown, R., Soderblom, L., Soderblom, J. et al. The identification of liquid ethane in Titan's Ontario Lacus. Nature 454, 607–610 (2008). https://doi.org/10.1038/nature07100
Received:

Accepted:

Issue Date:

DOI: https://doi.org/10.1038/nature07100
Comments
By submitting a comment you agree to abide by our Terms and Community Guidelines. If you find something abusive or that does not comply with our terms or guidelines please flag it as inappropriate.