Abstract
This study aimed to investigate role of long noncoding RNA PTENP1 regulating PTEN expression via miR-19b to affect breast cancer (BC) progression. We measured expressions of PTENP1, miR-19b and PTEN in 65 matched BC cancerous and noncancerous tissues by quantitative real-time fluorescence PCR (qRT-PCR) and investigated the biological effects of PTENP1 in BC MDA-MB-231 cells by several in vitro experiments including CCK8, wound healing, transwell and Annexin V-FITC/PI analysis. Besides, the competing endogenous RNA (ceRNA) activity of PTENP1 on miR-19b was detected by luciferase reporter assay, and the expressions of related genes and proteins were determined by western blot assay and qRT-PCR. Increased PTENP1 and PTEN and decreased miR-19b were observed in BC tissues and cell lines. Further, PTENP1 and PTEN are direct targets of miR-19b, and overexpressed PTENP1 in MDA-MB-231 cells could supress cell proliferation, migration and invasion and promote cell apoptosis. Moreover, PTENP1 could upregulate PTEN via its ceRNA interaction on miR-19b, as well as induced the upregulation of p53 and downregulation of p-AKT. Enhanced PTENP1 could inhibit BC cell growth, metastasis and tumourigenicity by inhibiting miR-19b and facilitating PTEN in BC, thereby may represent a novel target for diagnosis and treatment of BC.
Relevant articles
Open Access articles citing this article.
Change Qi

,

Jianwei Liu

…

Xiaomei Han

Biology Direct Open Access 06 January 2022

Xue Gao

,

Tao Qin

…

Lianhong Li

Journal of Experimental & Clinical Cancer Research Open Access 13 June 2019
Access options
Subscribe to Journal
Get full journal access for 1 year
$119.00
only $9.92 per issue
All prices are NET prices.
VAT will be added later in the checkout.
Tax calculation will be finalised during checkout.
Buy article
Get time limited or full article access on ReadCube.
$32.00
All prices are NET prices.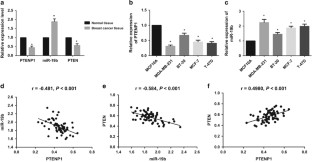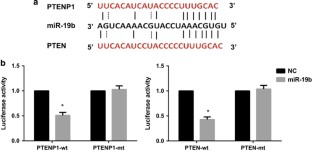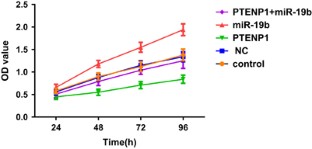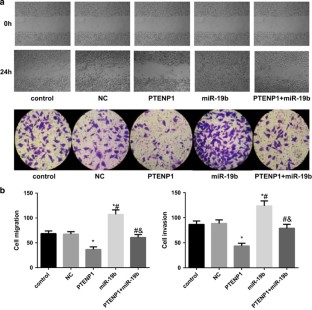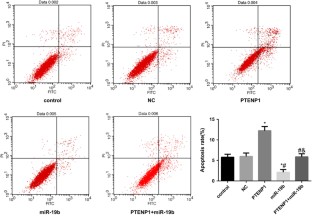 References
Lukong KE . Understanding breast cancer—The long and winding road. BBA Clin 2017; 7: 64–77.

Akarolo-Anthony SN, Ogundiran TO, Adebamowo CA . Emerging breast cancer epidemic: evidence from Africa. Breast Cancer Res 2010; 12: S8.

Zhang X, Ren D, Guo L, Wang L, Wu S, Lin C et al. Thymosin beta 10 is a key regulator of tumorigenesis and metastasis and a novel serum marker in breast cancer. Breast Cancer Res 2017; 19: 15.

Stopeck AT, Brown-Glaberman U, Wong HY, Park BH, Barnato SE, Gradishar WJ et al. The role of targeted therapy and biomarkers in breast cancer treatment. Clin Exp Metastasis 2012; 29: 807–819.

Kung JT, Colognori D, Lee JT . Long noncoding RNAs: past, present, and future. Genetics 2013; 193: 651–669.

Chen WK, Yu XH, Yang W, Wang C, He WS, Yan YG et al. lncRNAs: novel players in intervertebral disc degeneration and osteoarthritis. Cell Prolif 2017; 50.

Huang T, Liu HW, Chen JQ, Wang SH, Hao LQ, Liu M et al. The long noncoding RNA PVT1 functions as a competing endogenous RNA by sponging miR-186 in gastric cancer. Biomed Pharmacother 2017; 88: 302–308.

Gibb EA, Vucic EA, Enfield KS, Stewart GL, Lonergan KM, Kennett JY et al. Human cancer long non-coding RNA transcriptomes. PloS One 2011; 6: e25915.

Sun H, Wang G, Peng Y, Zeng Y, Zhu QN, Li TL et al. H19 lncRNA mediates 17beta-estradiol-induced cell proliferation in MCF-7 breast cancer cells. Oncol Rep 2015; 33: 3045–3052.

Hou P, Zhao Y, Li Z, Yao R, Ma M, Gao Y et al. LincRNA-ROR induces epithelial-to-mesenchymal transition and contributes to breast cancer tumorigenesis and metastasis. Cell Death Dis 2014; 5: e1287.

Huang J, Zhou N, Watabe K, Lu Z, Wu F, Xu M et al. Long non-coding RNA UCA1 promotes breast tumor growth by suppression of p27 (Kip1). Cell Death Dis 2014; 5: e1008.

Pickard MR, Williams GT . Regulation of apoptosis by long non-coding RNA GAS5 in breast cancer cells: implications for chemotherapy. Breast Cancer Res Treat 2014; 145: 359–370.

Guo X, Deng L, Deng K, Wang H, Shan T, Zhou H et al. Pseudogene PTENP1 suppresses gastric cancer progression by modulating PTEN. Anticancer Agents Med Chem 2016; 16: 456–464.

Song MS, Salmena L, Pandolfi PP . The functions and regulation of the PTEN tumour suppressor. Nat Rev Mol Cell Biol 2012; 13: 283–296.

Tay Y, Kats L, Salmena L, Weiss D, Tan SM, Ala U et al. Coding-independent regulation of the tumor suppressor PTEN by competing endogenous mRNAs. Cell 2011; 147: 344–357.

Wang L, Zhang N, Wang Z, Ai DM, Cao ZY, Pan HP . Pseudogene PTENP1 functions as a competing endogenous RNA (ceRNA) to regulate PTEN expression by sponging miR-499-5p. Biochemistry 2016; 81: 739–747.

Poliseno L, Salmena L, Zhang J, Carver B, Haveman WJ, Pandolfi PP . A coding-independent function of gene and pseudogene mRNAs regulates tumour biology. Nature 2010; 465: 1033–1038.

Gao L, Ren W, Zhang L, Li S, Kong X, Zhang H et al. PTENp1, a natural sponge of miR-21, mediates PTEN expression to inhibit the proliferation of oral squamous cell carcinoma. Mol Carcinog 2016; 56: 1322–1334.

Yu G, Yao W, Gumireddy K, Li A, Wang J, Xiao W et al. Pseudogene PTENP1 functions as a competing endogenous RNA to suppress clear-cell renal cell carcinoma progression. Mol Cancer Therapeut 2014; 13: 3086–3097.

Gandevia B, Tovell A . Declaration of Helsinki. Med J Aust 1964; 2: 320–321.

Xu Y, Li F, Wu T, Xu Y, Yang H, Dong Q et al. LncSubpathway: a novel approach for identifying dysfunctional subpathways associated with risk lncRNAs by integrating lncRNA and mRNA expression profiles and pathway topologies. Oncotarget 2017; 8: 15453–15469.

Lei R, Xue M, Zhang L, Lin Z . Long noncoding RNA MALAT1-regulated microRNA 506 modulates ovarian cancer growth by targeting iASPP. Onco Targets Ther 2017; 10: 35–46.

Shi F, Xiao F, Ding P, Qin H, Huang R . Long noncoding RNA highly up-regulated in liver cancer predicts unfavorable outcome and regulates metastasis by MMPs in triple-negative breast cancer. Arch Med Res 2016; 47: 446–453.

Conte F, Fiscon G, Chiara M, Colombo T, Farina L, Paci P . Role of the long non-coding RNA PVT1 in the dysregulation of the ceRNA-ceRNA network in human breast cancer. PLoS One 2017; 12: e0171661.

Chen DQ, Zheng XD, Cao Y, He XD, Nian WQ, Zeng XH et al. Long non-coding RNA LINC00628 suppresses the growth and metastasis and promotes cell apoptosis in breast cancer. Eur Rev Med Pharmacol Sci 2017; 21: 275–283.

Zhang HY, Liang F, Zhang JW, Wang F, Wang L, Kang XG . Effects of long noncoding RNA-ROR on tamoxifen resistance of breast cancer cells by regulating microRNA-205. Cancer Chemother Pharmacol 2017; 79: 327–337.

Silva JM, Boczek NJ, Berres MW, Ma X, Smith DI . LSINCT5 is over expressed in breast and ovarian cancer and affects cellular proliferation. RNA Biol 2011; 8: 496–505.

Zhou Y, Zhang X, Klibanski A . MEG3 noncoding RNA: a tumor suppressor. J Mol Endocrinol 2012; 48: R45–R53.

Zhang Z, Zhu Z, Watabe K, Zhang X, Bai C, Xu M et al. Negative regulation of lncRNA GAS5 by miR-21. Cell Death Differ 2013; 20: 1558–1568.

Olive V, Bennett MJ, Walker JC, Ma C, Jiang I, Cordon-Cardo C et al. miR-19 is a key oncogenic component of mir-17-92. Genes Dev 2009; 23: 2839–2849.

Liu M, Yang R, Urrehman U, Ye C, Yan X, Cui S et al. MiR-19b suppresses PTPRG to promote breast tumorigenesis. Oncotarget 2016; 7: 64100–64108.

Xu J, Tang Y, Bei Y, Ding S, Che L, Yao J et al. miR-19b attenuates H2O2-induced apoptosis in rat H9C2 cardiomyocytes via targeting PTEN. Oncotarget 2016; 7: 10870–10878.

Liang Z, Li Y, Huang K, Wagar N, Shim H . Regulation of miR-19 to breast cancer chemoresistance through targeting PTEN. Pharm Res 2011; 28: 3091–3100.

Zhang R, Guo Y, Ma Z, Ma G, Xue Q, Li F et al. Long non-coding RNA PTENP1 functions as a ceRNA to modulate PTEN level by decoying miR-106b and miR-93 in gastric cancer. Oncotarget 2017; 8: 26079–26089.

Zakikhani M, Blouin MJ, Piura E, Pollak MN . Metformin and rapamycin have distinct effects on the AKT pathway and proliferation in breast cancer cells. Breast Cancer Res Treatment 2010; 123: 271–279.

Kamada R, Toguchi Y, Nomura T, Imagawa T, Sakaguchi K . Tetramer formation of tumor suppressor protein p53: Structure, function, and applications. Biopolymers 2016; 106: 598–612.

Kumar M, Lu Z, Takwi AA, Chen W, Callander NS, Ramos KS et al. Negative regulation of the tumor suppressor p53 gene by microRNAs. Oncogene 2011; 30: 843–853.

Li X, Xie W, Xie C, Huang C, Zhu J, Liang Z et al. Curcumin modulates miR-19/PTEN/AKT/p53 axis to suppress bisphenol A-induced MCF-7 breast cancer cell proliferation. Phytother Res 2014; 28: 1553–1560.
Acknowledgements
We appreciate the reviewers for their useful comments in this paper.
Ethics declarations
Competing interests
The authors declare no conflict of interest.
About this article
Cite this article
Li, RK., Gao, J., Guo, LH. et al. PTENP1 acts as a ceRNA to regulate PTEN by sponging miR-19b and explores the biological role of PTENP1 in breast cancer. Cancer Gene Ther 24, 309–315 (2017). https://doi.org/10.1038/cgt.2017.29
Received:

Revised:

Accepted:

Published:

Issue Date:

DOI: https://doi.org/10.1038/cgt.2017.29