Abstract
Elimination of senescent cells (senolysis) was recently reported to improve normal and pathological changes associated with aging in mice1,2. However, most senolytic agents inhibit antiapoptotic pathways3, raising the possibility of off-target effects in normal tissues. Identification of alternative senolytic approaches is therefore warranted. Here we identify glycoprotein nonmetastatic melanoma protein B (GPNMB) as a molecular target for senolytic therapy. Analysis of transcriptome data from senescent vascular endothelial cells revealed that GPNMB was a molecule with a transmembrane domain that was enriched in senescent cells (seno-antigen). GPNMB expression was upregulated in vascular endothelial cells and/or leukocytes of patients and mice with atherosclerosis. Genetic ablation of Gpnmb-positive cells attenuated senescence in adipose tissue and improved systemic metabolic abnormalities in mice fed a high-fat diet, and reduced atherosclerotic burden in apolipoprotein E knockout mice on a high-fat diet. We then immunized mice against Gpnmb and found a reduction in Gpnmb-positive cells. Senolytic vaccination also improved normal and pathological phenotypes associated with aging, and extended the male lifespan of progeroid mice. Our results suggest that vaccination targeting seno-antigens could be a potential strategy for new senolytic therapies.
This is a preview of subscription content
Access options
Subscribe to Nature+
Get immediate online access to the entire Nature family of 50+ journals
Subscribe to Journal
Get full journal access for 1 year
$119.00
only $9.92 per issue
All prices are NET prices.
VAT will be added later in the checkout.
Tax calculation will be finalised during checkout.
Buy article
Get time limited or full article access on ReadCube.
$32.00
All prices are NET prices.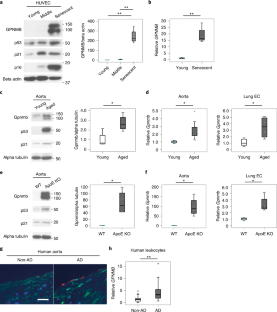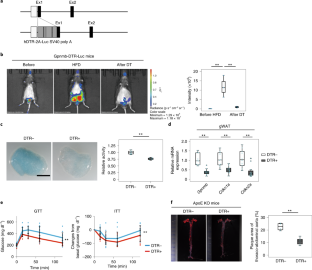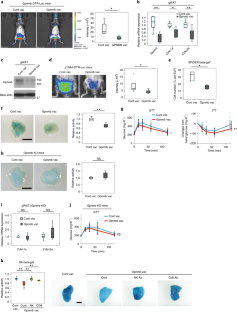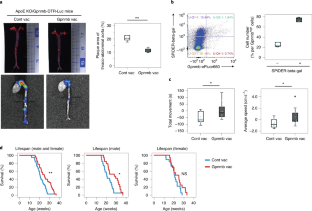 Data availability
All data are available from the authors upon reasonable request. Additional materials, including the source data, are available online. RNAseq data and gene expression data obtained in these studies were deposited in the Gene Expression Omnibus database (GSE155680 for HUVECs and GSE155596 for ApoE KO mice).
References
Baker, D. J. et al. Naturally occurring p16(Ink4a)-positive cells shorten healthy lifespan. Nature 530, 184–189 (2016).

Xu, M. et al. Senolytics improve physical function and increase lifespan in old age. Nat. Med. 24, 1246–1256 (2018).

Kirkland, J. L. & Tchkonia, T. Senolytic drugs: from discovery to translation. J. Intern. Med. 288, 518–536 (2020).

Campisi, J. Senescent cells, tumor suppression, and organismal aging: good citizens, bad neighbors. Cell 120, 513–522 (2005).

Childs, B. G. et al. Senescent cells: an emerging target for diseases of ageing. Nat. Rev. Drug Discov. 16, 718–735 (2017).

Minamino, T. et al. Endothelial cell senescence in human atherosclerosis: role of telomere in endothelial dysfunction. Circulation 105, 1541–1544 (2002).

Minamino, T. & Komuro, I. Vascular cell senescence: contribution to atherosclerosis. Circ. Res. 100, 15–26 (2007).

Minamino, T. et al. A crucial role for adipose tissue p53 in the regulation of insulin resistance. Nat. Med. 15, 1082–1087 (2009).

Shimizu, I., Yoshida, Y., Suda, M. & Minamino, T. DNA damage response and metabolic disease. Cell Metab. 20, 967–977 (2014).

Barrett, T. et al. NCBI GEO: archive for functional genomics data sets-update. Nucleic Acids Res. 41, D991–D995 (2013).

Kanehisa, M. et al. KEGG for linking genomes to life and the environment. Nucleic Acids Res. 36, D480–D484 (2008).

Krogh, A., Larsson, B., von Heijne, G. & Sonnhammer, E. L. Predicting transmembrane protein topology with a hidden Markov model: application to complete genomes. J. Mol. Biol. 305, 567–580 (2001).

Jiang, S. S. et al. Gene expression profiling suggests a pathological role of human bone marrow-derived mesenchymal stem cells in aging-related skeletal diseases. Aging (Albany NY) 3, 672–684 (2011).

Hashimoto, M. et al. Elimination of p19(ARF)-expressing cells enhances pulmonary function in mice. JCI Insight 1, e87732 (2016).

Roos, C. M. et al. Chronic senolytic treatment alleviates established vasomotor dysfunction in aged or atherosclerotic mice. Aging Cell 15, 973–977 (2016).

Palmer, A. K. et al. Targeting senescent cells alleviates obesity-induced metabolic dysfunction. Aging Cell 18, e12950 (2019).

Aguayo-Mazzucato, C. et al. Acceleration of beta cell aging determines diabetes and senolysis improves disease outcomes. Cell Metab. 30, 129–142.e124 (2019).

Weterman, M. A. et al. nmb, a novel gene, is expressed in low-metastatic human melanoma cell lines and xenografts. Int. J. Cancer 60, 73–81 (1995).

Safadi, F. F. et al. Cloning and characterization of osteoactivin, a novel cDNA expressed in osteoblasts. J. Cell. Biochem. 84, 12–26 (2001).

Shikano, S., Bonkobara, M., Zukas, P. K. & Ariizumi, K. Molecular cloning of a dendritic cell-associated transmembrane protein, DC-HIL, that promotes RGD-dependent adhesion of endothelial cells through recognition of heparan sulfate proteoglycans. J. Biol. Chem. 276, 8125–8134 (2001).

Chung, J. S., Dougherty, I., Cruz, P. D. Jr. & Ariizumi, K. Syndecan-4 mediates the coinhibitory function of DC-HIL on T cell activation. J Immunol 179, 5778–5784 (2007).

Chung, J. S., Sato, K., Dougherty, I. I., Cruz, P. D. Jr. & Ariizumi, K. DC-HIL is a negative regulator of T lymphocyte activation. Blood 109, 4320–4327 (2007).

Anderson, M. G. et al. Mutations in genes encoding melanosomal proteins cause pigmentary glaucoma in DBA/2J mice. Nat. Genet. 30, 81–85 (2002).

Katayama, A. et al. Beneficial impact of Gpnmb and its significance as a biomarker in nonalcoholic steatohepatitis. Sci. Rep. 5, 16920 (2015).

Oike, Y. et al. Angiopoietin-related growth factor antagonizes obesity and insulin resistance. Nat. Med. 11, 400–408 (2005).

Tchkonia, T. et al. Increased TNFalpha and CCAAT/enhancer-binding protein homologous protein with aging predispose preadipocytes to resist adipogenesis. Am. J. Physiol. Endocrinol. Metab. 293, E1810–E1819 (2007).

Ieronimakis, N., Balasundaram, G. & Reyes, M. Direct isolation, culture and transplant of mouse skeletal muscle derived endothelial cells with angiogenic potential. PLoS ONE 3, e0001753 (2008).
Acknowledgements
This work was supported by a Grant-in-Aid for Scientific Research (A) (20H00533) from MEXT, AMED under grant number JP20ek0210114, and AMED-CREST under grant number JP20gm1110012, and Moonshot Research and Development Program (21zf0127003s0201), MEXT Supported Program for the Strategic Research Foundation at Private Universities Japan, Private University Research Branding Project, and Leading Initiative for Excellent Young Researchers, and grants from the Takeda Medical Research Foundation, the Vehicle Racing Commemorative Foundation, Ono Medical Research Foundation and the Suzuken Memorial Foundation (to T.M.). Support was also provided by a Grant-in-Aid for Scientific Research (C) from MEXT (18K08063) and a grant from the Suzuken Memorial Foundation, the SENSHIN Medical Research Foundation and the MSD Life Science Foundation (to M.S.). All funders had no role in study design, data collection and analysis, decision to publish or preparation of the manuscript.
Ethics declarations
Competing interests
The authors declare no competing interests.
Peer review information
Nature Aging thanks Jeffrey Miller and the other, anonymous, reviewer(s) for their contribution to the peer review of this work.
Additional information
Publisher's note Springer Nature remains neutral with regard to jurisdictional claims in published maps and institutional affiliations.
Supplementary information
Supplementary Table 1, Fig. 1 and Data.
About this article
Cite this article
Suda, M., Shimizu, I., Katsuumi, G. et al. Senolytic vaccination improves normal and pathological age-related phenotypes and increases lifespan in progeroid mice. Nat Aging 1, 1117–1126 (2021). https://doi.org/10.1038/s43587-021-00151-2
Received:

Accepted:

Published:

Issue Date:

DOI: https://doi.org/10.1038/s43587-021-00151-2
Further reading
Masayoshi Suda
Ippei Shimizu
Tohru Minamino

Scientific Reports (2022)