Abstract
Soil fertility investments in sub-Saharan Africa, where budgetary resources are scarce, must be well targeted. Using a causal forest algorithm and an experimental maize trial dataset matched with geocoded rainfall, temperature and soils data, we modelled site-specific, ex ante distributions of yield response and economic returns to fertilizer use. Yield response to fertilizer use was found to vary with growing season temperature and precipitation and soil conditions. Fertilizer use profitability—defined as clearing a 30% internal rate of return in at least 70% of the years—was robust to growing season climate and the fertilizer-to-maize price ratio in several locations but not in roughly a quarter of the analysed area. The resulting profitability-assessment tool can support decision makers when climate conditions at planting are unknown and sheds light on the profitability determinants of different regions, which is key for effective smallholder farm productivity-enhancing strategies.
Access options
Subscribe to Nature+
Get immediate online access to the entire Nature family of 50+ journals
Subscribe to Journal
Get full journal access for 1 year
$119.00
only $9.92 per issue
All prices are NET prices.
VAT will be added later in the checkout.
Tax calculation will be finalised during checkout.
Buy article
Get time limited or full article access on ReadCube.
$32.00
All prices are NET prices.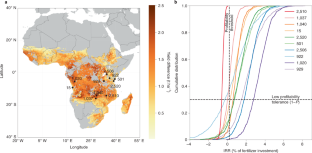 Data availability
Data used in this study are openly available, and we have provided citations that include a either a DOI or URL at the point in the methods section where each dataset is described. Our processed estimation dataset is available on Github (https://github.com/julianneq/Africa_Fertilizer_Profitability).
Code availability
All of the code that we have written, including code to generate our estimation dataset, estimate the fertilizer response function, simulate fertilizer response in trial sites and across sub-Saharan Africa, analyse sensitivity of profitability to the diiferent predictors and generate the manuscript tables and figures, are available on Github (https://github.com/julianneq/Africa_Fertilizer_Profitability).
References
Rural Development Report 2016: Fostering Inclusive Rural Transformation (IFAD, 2016).

Evenson, R. E. & Gollin, D. Assessing the impact of the Green Revolution, 1960 to 2000. Science 300, 758–762 (2003).

McArthur, J. W. & McCord, G. C. Fertilizing growth: agricultural inputs and their effects in economic development. J. Dev. Econ. 127, 133–152 (2017).

Gollin, D., Hansen, C. W. & Wingender, A. Two blades of grass: The Impact of the green revolution. J. Polit. Econ. 129, 2344–2384 (2021).

Fuglie, K. O. Is agricultural productivity slowing? Glob. Food Sec. 17, 73–83 (2018).

World Development Indicators (World Bank Group, 2020); http://databank.worldbank.org/

Sheahan, M. & Barrett, C. B. Ten striking facts about agricultural input use in sub-Saharan Africa. Food Policy 67, 12–25 (2017).

Sanchez, P. A. En route to plentiful food production in Africa. Nat. Plants 1, 2014–2015 (2015).

FAOSTAT Statistical Database (Food and Agriculture Organization of the United Nations, 2020); https://www.fao.org/faostat/en/#home

Jayne, T. S., Mason, N. M., Burke, W. J. & Ariga, J. Review: taking stock of Africa's second-generation agricultural input subsidy programs. Food Policy 75, 1–14 (2018).

Burke, W. J., Frossard, E., Kabwe, S. & Jayne, T. S. Understanding fertilizer adoption and effectiveness on maize in Zambia. Food Policy 86, 101721 (2019).

Cedrez, C. B., Chamberlin, J., Guo, Z. & Hijmans, R. J. Spatial variation in fertilizer prices in sub-Saharan Africa. PLoS ONE 15, 1–20 (2020).

Chavas, J.-P. & Holt, M. T. Economic behavior under uncertainty: a joint analysis of risk preferences and technology. Rev. Econ. Stat. 78, 329–335 (1996).

Hurley, T., Koo, J. & Tesfaye, K. Weather risk: how does it change the yield benefits of nitrogen fertilizer and improved maize varieties in sub-Saharan Africa? Agric. Econ. 49, 711–723 (2018).

Lobell, D. B., Banziger, M., Magorokosho, C. & Vivek, B. Nonlinear heat effects on African maize as evidenced by historical yield trials. Nat. Clim. Change 1, 42–45 (2011).

Lipper, L. et al. Climate-smart agriculture for food security. Nat. Clim. Change 4, 1068–1072 (2014).

Neufeldt, H. et al. Beyond climate-smart agriculture: toward safe operating spaces for global food systems. Agric. Food Sec. 2, 1–6 (2013).

Harou, A. P., Liu, Y., Barrett, C. B. & You, L. Variable returns to fertiliser use and the geography of poverty: experimental and simulation evidence from Malawi. J. Afr. Econ. 26, 342–371 (2017).

Vanlauwe, B. & Giller, K. Popular myths around soil fertility management in sub-Saharan Africa. Agric. Ecosyst. Environ. 116, 34–46 (2006).

Athey, S. & Wager, S. Estimating treatment effects with causal forests: an application. Observational Studies 5, 37–51 (2019).

Athey, S., Tibshirani, J. & Wager, S. Generalized random forests. Ann. Stat. 47, 1148–1178 (2019).

Shepherd, M., Ghani, A., Rajendram, G., Carlson, B. & Pirie, M. Soil total nitrogen concentration explains variation in pasture response to spring nitrogen fertiliser across a single farm. Nutr. Cycling in Agroecosyst. 101, 377–390 (2015).

Mallarino, A. P., Sawyer, J. E. & Barnhart, S. K. A General Guide for Crop Nutrient and Limestone Recommendations in Iowa. Report No. PM 1688 (Iowa State Univ. Extension and Outreach, 2013).

Mamo, M., Wortmann, C. S. & Shapiro, C. A. G03-1504 Lime Use for Soil Acidity Management (Historical Materials from Univ. of Nebraska-Lincoln Extension, 2003).

Feder, G., Just, R. E. & Zilberman, D. Adoption of agricultural innovations in developing countries: a survey. Econ. Dev. Cult. Change 33, 255–298 (1985).

Morris, M., Kelly, V. A., Kopicki, R. J. & Byerlee, D. Fertilizer Use in African Agriculture: Lessons Learned and Good Practice Guidelines (World Bank, 2007).

From Agronomic Data to Farmer Recommendations: An Economics Training Manual 27 (CIMMYT, 1988).

Lobell, D. Climate Change and Agricultural Adaptation. in Frontiers in Food Policy: Perspectives on sub-Saharan Africa (eds. Falcon, W., Naylor, R.) Ch. 9 (Create Space, 2014).

Hengl, T. et al. SoilGrids250m: global gridded soil information based on machine learning. PLoS ONE https://doi.org/10.1371/journal.pone.0169748 (2017).

Hyslop, D. R. & Imbens, G. W. Bias from classical and other forms of measurement error. J. Bus. Econ. Stat. 19, 475–481 (2001).

Yanggen, D. et al. Incentives for Fertilizer Use in sub-Saharan Africa: A Review of Empirical Evidence on Fertilizer Response and Profitability. International Development Working Paper 70 (Michigan State Univ., 1998).

Heisey, P. W. & Mwangi, W. in Africa's Emerging Maize Revolution (eds Byerlee, D. & Eicher, C.K.) 193–212 (Lynne Rienner Publishers, 1997).

Vanlauwe, B., Tittonell, P. & Mukalama, J. Within-farm soil fertility gradients affect response of maize to fertiliser application in western Kenya. Nutr. Cycling Agroecosyst. 76, 171–182 (2006).

Vanlauwe, B. et al. Agronomic use efficiency of N fertilizer in maize-based systems in sub-Saharan Africa within the context of integrated soil fertility management. Plant Soil 339, 35–50 (2011).

Korecha, D. & Barnston, A. G. Predictability of June–September rainfall in Ethiopia. Mon. Weather Rev. 135, 628–650 (2007).

Burke, M. B., Lobell, D. B. & Guarino, L. Shifts in African crop climates by 2050, and the implications for crop improvement and genetic resources conservation. Glob. Environ. Change 19, 317–325 (2009).

Foster, A. D. & Rosenzweig, M. R. Microeconomics of technology adoption. Ann. Rev. Econ. 2, 395–424 (2010).

Duflo, E., Kremer, M. & Robinson, J. Nudging farmers to use fertilizer: theory and experimental evidence from Kenya. Am. Econ. Rev. 101, 2350–2390 (2011).

Bold, T., Kaizzi, K., Svensson, J. & Yanagizawa-Drott, D. Lemon tecnologies and adoption: measurement, theory, and evidence from agricultural markets in Uganda. Q. J. Econ. 132, 1055–1100 (2017).

Conley, T. G. & Udry, C. R. Learning about a new technology: pineapple in Ghana. Am. Econ. Rev. 100, 35–69 (2010).

Marenya, P. P. & Barrett, C. B. State-conditional fertilizer yield response on western Kenyan farms. Am. J. Agric. Econ. 91, 991–1006 (2009).

Suri, T. Selection and comparative advantage in technology adoption. Econometrica 79, 159–209 (2011).

Anderson, J. R. & Hardaker, J. B. Risk aversion in economic decision making: Pragmatic guides for consistent choice by natural resource managers. in Risk and Uncertainty in Environmental and Natural Resource Economics (eds Wesseler, J. et al.) 171–188 (Edward Elgar Publishing, 2003).

Emerick, K., De Janvry, A., Sadoulet, E. & Dar, M. H. Technological innovations, downside risk, and the modernization of agriculture. Am. Econ. Rev. 106, 1537–1561 (2016).

Dercon, S. & Christiaensen, L. Consumption risk, technology adoption and poverty traps: evidence from Ethiopia. J. Dev. Econ. 96, 159–173 (2011).

Harou, A. et al. The joint effects of information and financing constraints on technology adoption: Evidence from a field experiment in rural Tanzania. J. Dev. Econ. 155, 102702 (2022).

Palm, C., Neill, C., Lefebvre, P. & Tully, K. Targeting sustainable intensification of maize-based agriculture in East Africa. Trop. Conserv. Sci. 10, 1–4 (2017).

Wortmann, C. S. et al. Maize–nutrient response functions for Eastern and Southern Africa. Dryad https://doi.org/10.5061/dryad.fg15tg2 (2018).

Wortmann, C. S. et al. Maize–nutrient response functions for Eastern and Southern Africa. Agron. J. 110, 2070–2079 (2018).

International maize trial network data series. CIMMYT https://data.cimmyt.org/dataverse/root (2020).

Smale, M., Byerlee, D. & Jayne, T. in An African Green Revolution (eds Otsuka, K. & Larson, D. F.) Ch. 8 (Springer, 2013).

Bänziger, M., Setimela, P. S., Hodson, D. & Vivek, B. Breeding for improved abiotic stress tolerance in maize adapted to southern Africa. Agric. Water Manag. 80, 212–224 (2006).

Van der Velde, M. et al. African crop yield reductions due to increasingly unbalanced nitrogen and phosphorus consumption. Glob. Change Biol. 20, 1278–1288 (2014).

Bänziger, M., Betrán, F. & Lafitte, H. Efficiency of high-nitrogen selection environments for improving maize for low-nitrogen target environments. Crop Sci. 37, 1103–1109 (1997).

Bänziger, M., Edmeades, G. & Lafitte, H. Selection for drought tolerance increases maize yields across a range of nitrogen levels. Crop Sci. 39, 1035–1040 (1999).

Kihara, J., Bolo, P., Kinyua, M. & Piikki, K. Micronutrient deficiencies in African soils and the human nutritional nexus: opportunities with staple crops. Environ. Geochem. Health 42, 3015–3033 (2020).

Magdoff, F. & van Es, H. Building Soils for Better Crops 2nd edn (Sustainable Agriculture Network, 2000).

Bationo, A. et al. in Knowing the African Soils to Improve Fertilizer Recommendations (eds Batiano, A. et al.) 19–42 (Springer, 2012).

Sarkar, A. N. & Wynjones, R. G. Effect of rhizosphere pH on the availability and uptake of Fe, Mn and Zn. Plant Soil 66, 361–372 (1982).

Tully, K. L., Hickman, J., McKenna, M., Neill, C. & Palm, C. A. Effects of fertilizer on inorganic soil N in East Africa maize systems: vertical distributions and temporal dynamics. Ecol. Appl. 26, 1907–1919 (2016).

CELL5M: A Multidisciplinary Geospatial Database for Africa South of the Sahara (Harvest Choice, International Food Policy Research Institute & Univ. of Minnesota, 2017).

You, L. et al. What is the Irrigation Potential for Africa? (International Food Policy Research Institute, 2010).

Haefele, S. M. et al. Factors affecting rice yield and fertilizer response in rainfed lowlands of northeast Thailand. Field Crops Res. 98, 39–51 (2006).

Lobell, D. B. & Schlenker, W. Robust negative impacts of climate change on African agriculture. Environ. Res. Lett. 5, 14010 (2010).

Uyovbisere, E. O. & Lombim, G. Efficient fertilizer use for increased crop production: the sub-humid Nigeria experience. Fertilizer Res. 29, 81–94 (1991).

Near surface meteorological variables from 1979 to 2019 derived from bias-corrected reanalysis. European Centre for Medium-Range Weather Forecasts https://cds.climate.copernicus.eu/cdsapp/#!/dataset/derived-near-surface-meteorological-variables?tab=overview (2020).

Roberts, M. J., Schlenker, W. & Eyer, J. Agronomic weather measures in econometric models of crop yield with implications for climate change. Am. J. Agric. Econ. 95, 236–243 (2013).

Food Price Monitoring and Analysis (FPMA) Tool. Food and Agriculture Organization of the United Nations https://fpma.apps.fao.org/giews/food-prices/tool/public/#/home (2021).

Retail fertilizer prices. AfricaFertilizer.org Initiative https://africafertilizer.org/ (2021).

Commodity prices. World Bank https://www.worldbank.org/en/research/commodity-markets (2021).

Minten, B., Koru, B. & Stifel, D. The last mile(s) in modern input distribution: pricing, profitability, and adoption. Agric. Econ. 44, 629–646 (2013).

Fertilizer Supply and Costs in Africa (Chemonics and International Fertilizer Development Center, 2007).

Yamano, T. & Arai, A. in The Maize Farm–Market Price Spread in Kenya and Uganda (eds Yamano, T. et al.) 23–38 (Springer, 2011).

MIX Market Data. World Bank https://datacatalog.worldbank.org/search/dataset/0038647 (2021).

Tibshirani, J., Athey, S. & Wager, S. grf: Generalized Random Forests. R package version 1.1.0 https://CRAN.R-project.org/package=grf (2020).

R Core Team R: A Language and Environment for Statistical Computing (R Foundation for Statistical Computing, 2019).

Ichami, S. M., Shepherd, K. D., Sila, A. M., Stoorvogel, J. J. & Hoffland, E. Fertilizer response and nitrogen use efficiency in African smallholder maize farms. Nutr. Cycling Agroecosyst. 113, 1–19 (2019).

Imbens, G. W. & Rubin, D. B. Causal Inference in Statistics, Social, and Biomedical Sciences (Cambridge Univ. Press, 2015).

Lindsey, C. & Sheather, S. Variable selection in linear regression. Stata J. 13, 65–76 (2013).

Spielman, D. J., Kelemwork, D. & Alemu, D. in Food and Agriculture in Ethiopia: Progress and Policy Challenges (eds Dorosh, P. & Rashid, S.) 84–122 (Univ. of Pennsylvania Press, 2012).

Nziguheba, G. et al. The African Green Revolution: results from the Millennium Villages Project. Adv. Agron. 109, 75–115 (2010).

Porteous, O. High trade costs and their consequences: an estimated dynamic model of African agricultural storage and trade. Am. Econ. J.: Appl. Econ. 11, 327–366 (2019).

Porteous, O. Trade and agricultural technology adoption: evidence from Africa. J. Dev. Econ. 144, 102440 (2020).

Koo, J. & Pardey, P. G. HarvestChoice: Supporting Strategic Investment Choices in Agricultural Technology Development and Adoption (International Food Policy Research Institute, 2020).

Campolongo, F., Saltelli, A. & Cariboni, J. From screening to quantitative sensitivity analysis. A unified approach. Comput. Phys. Commun. 182, 978–988 (2011).
Acknowledgements
We are grateful to the International Food Policy Research Institute for partially funding this research. We thank C. Barrett for his leadership and guidance and J. Woodard and L. Verteramo for collaboration on earlier related research focused on Ethiopia. Initial seed funding was provided through the National Science Foundation Integrative Graduate Education and Research Traineeship (IGERT) program. We also thank S. Gameda, J. Warner, T. Benson, J. Koo, B. Minten, A. S. Taffesse and S. Rashid of the International Food Policy Research Institute for their contributions to this effort. We thank C. Wortmann for generously sharing data. We are also grateful to S. Kidanu, J. Reid and K. Bomba of the Ethiopian Agricultural Transformation Agency, M. Sheahan, D. Lobell, L. Xue, A. Perello, D. Flannelly, Z. Zeng, J. Mullen, D. Levine and E. Tjernstrom. Any errors are our own.
Ethics declarations
Competing interests
The authors declare no competing interests.
Peer review
Peer review information
Nature Food thanks David Lobell, Aurelie Harou and Jordan Chamberlin for their contribution to the peer review of this work.
Additional information
Publisher's note Springer Nature remains neutral with regard to jurisdictional claims in published maps and institutional affiliations.
Supplementary information
Supplementary Discussion: previous attempts to understand fertilizer use in sub-Saharan Africa.
About this article
Cite this article
McCullough, E.B., Quinn, J.D. & Simons, A.M. Profitability of climate-smart soil fertility investment varies widely across sub-Saharan Africa. Nat Food 3, 275–285 (2022). https://doi.org/10.1038/s43016-022-00493-z
Received:

Accepted:

Published:

Issue Date:

DOI: https://doi.org/10.1038/s43016-022-00493-z