Abstract
The EAT–Lancet Commission has proposed a global benchmark diet to guide the shift towards healthy and sustainable dietary patterns. Yet it is unclear whether consumers' choices are convergent with those guidelines. Applying an advanced statistical analysis, we mapped the diet gap of 15 essential foods in 172 countries from 1961 to 2018. We found that countries at the highest level of development have an above-optimal consumption of animal products, fats and sugars but a sub-optimal consumption of legumes, nuts and fruits. Countries suffering from limited socio-economic progress primarily rely on carbohydrates and starchy roots. Globally, a gradual change towards healthy and sustainable dietary targets can be observed for seafood, milk products, poultry and vegetable oils. We show that if all countries adopted the EAT–Lancet diet, the water footprint would fall by 12% at a global level but increase for nearly 40% of the world's population.
This is a preview of subscription content
Access options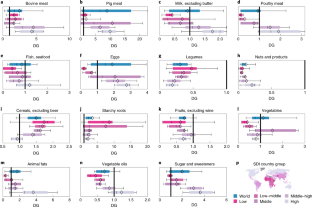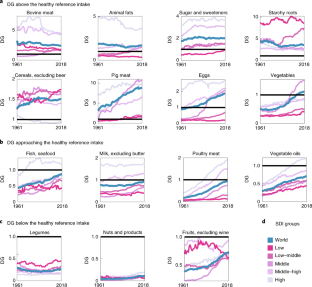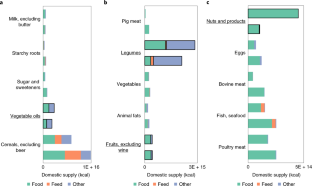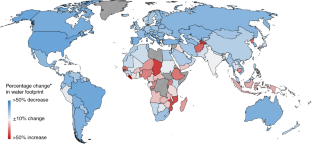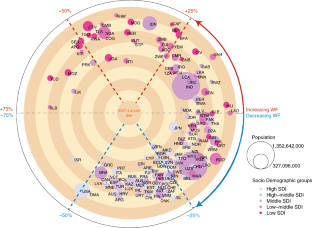 Data availability
All data used in this study are from publicly available sources. Country data on food supply are from the FAOSTAT, available at http://www.fao.org/faostat/en/#data. Country data on agricultural water footprints are from the CWASI database, available for download at https://www.watertofood.org/download/. The datasets and codes generated in the current study are available from the corresponding author on reasonable request. Source data are provided with this paper.
Code availability
The codes developed for the analyses and to generate results are available from the corresponding author on reasonable request.
References
Willett, W. et al. Food in the Anthropocene: the EAT–Lancet Commission on healthy diets from sustainable food systems. Lancet 393, 447–492 (2019).

Sustainable Healthy Diets: Guiding Principles (Food and Agriculture Organization, 2019).

Hirvonen, K., Bai, Y., Headey, D. & Masters, W. A. Affordability of the EAT–Lancet reference diet: a global analysis. Lancet Glob. Health 8, e59–e66 (2020).

Sringmann, M. et al. Options for keeping the food system within environmental limits. Nature 562, 519–525 (2018).

Poore, J. & Nemecek, T. Reducing food's environmental impacts through producers and consumers. Science 360, 987–992 (2018).

Vanham, D., Mekonnen, M. M. & Hoekstra, A. Y. Treenuts and groundnuts in the EAT–Lancet reference diet: concerns regarding sustainable water use. Glob. Food Sec. 24, 100357 (2020).

Semba, R. D. et al. Adoption of the 'planetary health diet' has different impacts on countries' greenhouse gas emissions. Nat. Food 1, 481–484 (2020).

Springmann, M. et al. The healthiness and sustainability of national and global food based dietary guidelines: modelling study. BMJ 370, m2322 (2020).

Find your way to eat greener, not too much and be active! (Swedish National Food Agency, 2015).

Tuomisto, H. L. The complexity of sustainable diets. Nat. Ecol. Evol. 3, 720–721 (2019).

Mekonnen, M. & Hoekstra, A. The green, blue and grey water footprint of crops and derived crop products. Hydrol. Earth Syst. Sci. Discuss. 8, 763–809 (2011).

Tuninetti, M., Tamea, S., D'Odorico, P., Laio, F. & Ridolfi, L. Global sensitivity of high-resolution estimates of crop water footprint. Water Resour. Res. 51, 8257–8272 (2015).

Tamea, S., Tuninetti, M., Soligno, I. & Laio, F. Virtual water trade and water footprint of agricultural goods: the 1961–2016 CWASI database. Earth Syst. Sci. Data 13, 2025–2051 (2021).

D'Odorico, P. et al. The global food–energy–water nexus. Rev. Geophys. 56, 456–531 (2018).

D'Odorico, P. et al. Global virtual water trade and the hydrological cycle: patterns, drivers, and socio-environmental impacts. Env. Res. Lett. 14, 053001 (2019).

FAOSTAT (Food and Agriculture Organization); http://faostat.fao.org

Gustavsson, J., Cederberg, C., Sonesson, U., Van Otterdijk, R. & Meybeck, A. Global Food Losses and Food Waste—Extent, Causes and Prevention (Food and Agriculture Organization, 2011).

Kummu, M. et al. Lost food, wasted resources: global food supply chain losses and their impacts on freshwater, cropland and fertiliser use. Sci. Total Environ. 438, 477–489 (2012).

Global Burden of Disease Study 2015 (GBD 2015) Socio–Demographic Index (SDI) 1980–2015 (Institute for Health Metrics and Evaluation, 2015); http://ghdx.healthdata.org/record/ihme-data/gbd-2015-socio-demographic-index-sdi-1980%E2%80%932015

Afshin, A. et al. Health effects of dietary risks in 195 countries, 1990–2017: a systematic analysis for the Global Burden of Disease Study 2017. Lancet 393, 1958–1972 (2019).

Bennett, M. K. International contrasts in food consumption. Geogr. Rev. 31, 365–376 (1941).

Aune, D., Ursin, G. & Veierød, M. Meat consumption and the risk of type 2 diabetes: a systematic review and meta-analysis of cohort studies. Diabetologia 52, 2277–2287 (2009).

Micha, R., Michas, G. & Mozaffarian, D. Unprocessed red and processed meats and risk of coronary artery disease and type 2 diabetes—an updated review of the evidence. Curr. Atheroscler. Rep. 14, 515–524 (2012).

Béné, C. et al. Five priorities to operationalize the EAT–Lancet Commission report. Nat. Food 1, 457–459 (2020).

Vermeulen, S. J., Park, T., Khoury, C. K. & Béné, C. Changing diets and the transformation of the global food system. Ann. N. Y. Acad. Sci. 1478, 3–17 (2020).

Miller, V. et al. Availability, affordability, and consumption of fruits and vegetables in 18 countries across income levels: findings from the prospective urban rural epidemiology (pure) study. Lancet Glob. Health 4, e695–e703 (2016).

Costello, C. et al. The future of food from the sea. Nature 588, 95–100 (2020).

Allan, J. A. Virtual water—the water, food, and trade nexus. Useful concept or misleading metaphor? Water Int. 28, 106–113 (2003).

Tuninetti, M., Ridolfi, L. & Laio, F. Ever-increasing agricultural land and water productivity: a global multi-crop analysis. Environ. Res. Lett. 15, 0940a2 (2020).

Roache, S. A. & Gostin, L. O. The untapped power of soda taxes: incentivizing consumers, generating revenue, and altering corporate behavior. Int. J. Health Policy Manag. 6, 489–493 (2017).

Mason-D'Croz, D. et al. Gaps between fruit and vegetable production, demand, and recommended consumption at global and national levels: an integrated modelling study. Lancet Planet. Health 3, e318–e329 (2019).

Herforth, A. & Ahmed, S. The food environment, its effects on dietary consumption, and potential for measurement within agriculture–nutrition interventions. Food Sec. 7, 505–520 (2015).

Downs, S. M., Ahmed, S., Fanzo, J. & Herforth, A. Food environment typology: advancing an expanded definition, framework, and methodological approach for improved characterization of wild, cultivated, and built food environments toward sustainable diets. Foods 9, 532 (2020).

The State of Food Security and Nutrition in the World 2020 (FAO, IFAD, UNICEF, WFP and WHO, 2020).

Geyik, O., Hadjikakou, M., Karapinar, B. & Bryan, B. A. Does global food trade close the dietary nutrient gap for the world's poorest nations? Glob. Food Sec. 28, 100490 (2021).

Taillie, L. S., Reyes, M., Colchero, M. A., Popkin, B. & Corvalán, C. An evaluation of Chile's law of food labeling and advertising on sugar-sweetened beverage purchases from 2015 to 2017: a before-and-after study. PLoS Med. 17, e1003015 (2020).

Davis, K. F. et al. Alternative cereals can improve water use and nutrient supply in India. Sci. Adv. 4, eaao1108 (2018).

Nutritive Factors (Food and Agriculture Organization, 2012); http://www.fao.org/economic/the-statistics-division-ess/publications-studies/publications/nutritive-factors/en/

Human Energy Requirements: Report of a Joint FAO/WHO/UNU Expert Consultation (Food and Agriculture Organization, 2004).

United Nations, Department of Economic and Social Affairs, Population Division. World Population Prospects 2019 https://population.un.org/wpp/DataQuery/ (2019).

Tuninetti, M., Ridolfi, L. & Laio, F. Charting out the future agricultural trade and its impact on water resources. Sci. Total Env. 714, 136626 (2020).

Herrero, M. et al. Biomass use, production, feed efficiencies, and greenhouse gas emissions from global livestock systems. Proc. Natl Acad. Sci. USA 110, 20888–20893 (2013).

Aldaya, M., Chapagain, A., Hoekstra, A. & Mekonnen, M. The Water Footprint Assessment Manual: Setting the Global Standard (Taylor & Francis, 2012).

Tamea, S., Tuninetti, M., Soligno, I. & Laio, F. CWASI Database: Virtual Water Trade and Consumptive Water Footprint of Agricultural Products (1961–2016) (Zenodo, 2020); https://doi.org/10.5281/zenodo.3987468

Kastner, T., Kastner, M. & Nonhebel, S. Tracing distant environmental impacts of agricultural products from a consumer perspective. Ecol. Econ. 70, 1032–1040 (2011).
Acknowledgements
We are grateful to L. Mistura, F.J. Comendador and Matteo B. Bertagni for their valuable comments on the manuscript.
Ethics declarations
Competing interests
The authors declare no competing interests.
Peer review
Peer review information
Nature Food thanks James Bentham and the other, anonymous, reviewer(s) for their contribution to the peer review of this work.
Additional information
Publisher's note Springer Nature remains neutral with regard to jurisdictional claims in published maps and institutional affiliations.
Supplementary information
About this article
Cite this article
Tuninetti, M., Ridolfi, L. & Laio, F. Compliance with EAT–Lancet dietary guidelines would reduce global water footprint but increase it for 40% of the world population. Nat Food 3, 143–151 (2022). https://doi.org/10.1038/s43016-021-00452-0
Received:

Accepted:

Published:

Issue Date:

DOI: https://doi.org/10.1038/s43016-021-00452-0