Abstract
Homeostasis maintains serum metabolites within physiological ranges. For glucose, this requires insulin, which suppresses glucose production while accelerating its consumption. For other circulating metabolites, a comparable master regulator has yet to be discovered. Here we show that, in mice, many circulating metabolites are cleared via the tricarboxylic acid cycle (TCA) cycle in linear proportionality to their circulating concentration. Abundant circulating metabolites (essential amino acids, serine, alanine, citrate, 3-hydroxybutyrate) were administered intravenously in perturbative amounts and their fluxes were measured using isotope labelling. The increased circulating concentrations induced by the perturbative infusions hardly altered production fluxes while linearly enhancing consumption fluxes and TCA contributions. The same mass action relationship between concentration and consumption flux largely held across feeding, fasting and high- and low-protein diets, with amino acid homeostasis during fasting further supported by enhanced endogenous protein catabolism. Thus, despite the copious regulatory machinery in mammals, circulating metabolite homeostasis is achieved substantially through mass action-driven oxidation.
Relevant articles
Open Access articles citing this article.
Hosung Bae

,

Katie Lam

&

Cholsoon Jang

Experimental & Molecular Medicine Open Access 08 September 2022

Lake-Ee Quek

,

Michelle van Geldermalsen

…

Jeff Holst

Oncogene Open Access 18 July 2022
Access options
Subscribe to Nature+
Get immediate online access to Nature and 55 other Nature journal
Subscribe to Journal
Get full journal access for 1 year
$99.00
only $8.25 per issue
All prices are NET prices.
VAT will be added later in the checkout.
Tax calculation will be finalised during checkout.
Buy article
Get time limited or full article access on ReadCube.
$32.00
All prices are NET prices.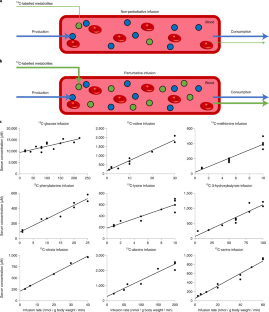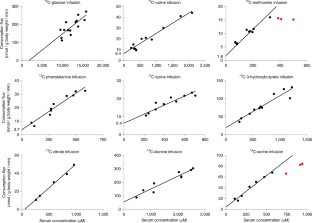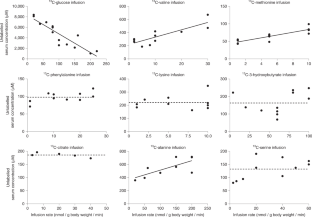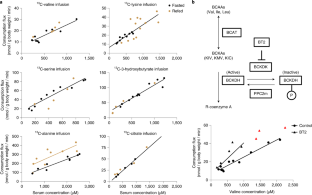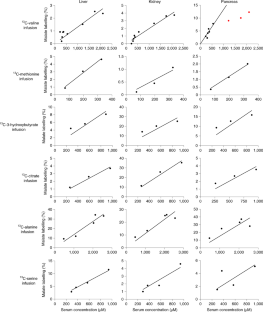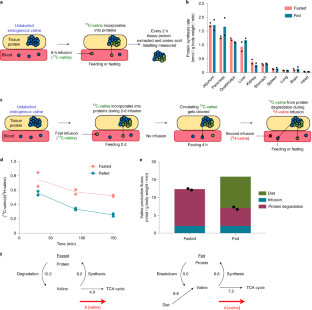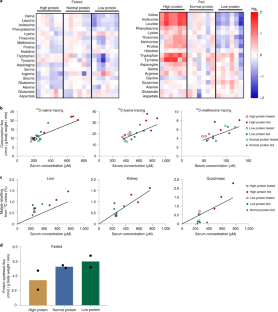 Data availability
All data and materials will be provided on reasonable request to the lead corresponding author (joshr@princeton.edu). Source data are provided with this paper.
References
Smith, D. A. & Dalvie, D. Why do metabolites circulate? Xenobiotica 42, 107–126 (2012).

Green, C. L. & Lamming, D. W. Regulation of metabolic health by essential dietary amino acids. Mech. Ageing Dev. 177, 186–200 (2019).

Balkau, B. et al. High blood glucose concentration is a risk factor for mortality in middle-aged nondiabetic men: 20-year follow-up in the Whitehall Study, the Paris Prospective Study, and the Helsinki Policemen Study. Diabetes Care 21, 360–367 (1998).

Bjørnholt, J. V. et al. Fasting blood glucose: an underestimated risk factor for cardiovascular death. Results from a 22-year follow-up of healthy nondiabetic men. Diabetes Care 22, 45–49 (1999).

Newgard, C. B. et al. A branched-chain amino acid-related metabolic signature that differentiates obese and lean humans and contributes to insulin resistance. Cell Metab. 9, 311–326 (2009).

Jervis, G. A. Studies on phenylpyruvic oligophrenia; the position of the metabolic error. J. Biol. Chem. 169, 651–656 (1947).

Gietzen, D. W. & Rogers, Q. R. Nutritional homeostasis and indispensable amino acid sensing: a new solution to an old puzzle. Trends Neurosci. 29, 91–99 (2006).

Bröer, S. & Bröer, A. Amino acid homeostasis and signalling in mammalian cells and organisms. Biochem. J. 474, 1935–1963 (2017).

McAninch, E. A. & Bianco, A. C. Thyroid hormone signaling in energy homeostasis and energy metabolism. Ann. N. Y. Acad. Sci. 1311, 77–87 (2014).

Mullur, R., Liu, Y.-Y. & Brent, G. A. Thyroid hormone regulation of metabolism. Physiol. Rev. 94, 355–382 (2014).

Kalra, S. & Gupta, Y. The insulin:glucagon ratio and the choice of glucose-lowering drugs. Diabetes Ther. 7, 1–9 (2016).

Aronoff, S. L., Berkowitz, K., Shreiner, B. & Want, L. Glucose metabolism and regulation: beyond insulin and glucagon. Diabetes Spectr. 17, 183–190 (2004).

Breckenridge, S. M., Cooperberg, B. A., Arbelaez, A. M., Patterson, B. W. & Cryer, P. E. Glucagon, in concert with insulin, supports the postabsorptive plasma glucose concentration in humans. Diabetes 56, 2442–2448 (2007).

Hayashi, Y. & Yusuke, S. Regulation of amino acid metabolism and α-cell proliferation by glucagon. J. Diabetes Investig. 9, 464–472 (2018).

Galsgaard, K. D. et al. Glucose and amino acid metabolism in mice depend mutually on glucagon and insulin receptor signaling. Am. J. Physiol. Endocrinol. Metab. 316, E660–E673 (2019).

Joshi, M. A. et al. Impaired growth and neurological abnormalities in branched-chain α-keto acid dehydrogenase kinase-deficient mice. Biochem. J. 400, 153–162 (2006).

Neinast, M. D. et al. Quantitative analysis of the whole-body metabolic fate of branched-chain amino acids. Cell Metab. 29, 417–429.e4 (2019).

Hui, S. et al. Glucose feeds the TCA cycle via circulating lactate. Nature 551, 115–118 (2017).

Donner, C. C., Fraze, E., Chen, Y. D. & Reaven, G. M. Quantitation of insulin-stimulated glucose disposal in patients with non-insulin-dependent diabetes mellitus. Diabetes 34, 831–835 (1985).

Chen, Y. D., Jeng, C. Y., Hollenbeck, C. B., Wu, M. S. & Reaven, G. M. Relationship between plasma glucose and insulin concentration, glucose production, and glucose disposal in normal subjects and patients with non-insulin-dependent diabetes. J. Clin. Invest. 82, 21–25 (1988).

Begg, D. P. & Woods, S. C. The endocrinology of food intake. Nat. Rev. Endocrinol. 9, 584 (2013).

Alberti, K. G., Johnston, D. G., Gill, A., Barnes, A. J. & Orskov, H. Hormonal regulation of ketone-body metabolism in man. Biochem. Soc. Symp. 43, 163–182 (1978).

Brosnan, J. T. & Brosnan, M. E. Branched-chain amino acids: enzyme and substrate regulation. J. Nutr. 136, 207S–211S (2006).

Tso, S.-C. et al. Benzothiophene carboxylate derivatives as novel allosteric inhibitors of branched-chain α-ketoacid dehydrogenase kinase. J. Biol. Chem. 289, 20583–20593 (2014).

Brown, R. P., Delp, M. D., Lindstedt, S. L., Rhomberg, L. R. & Beliles, R. P. Physiological parameter values for physiologically based pharmacokinetic models. Toxicol. Ind. Health 13, 407–484 (1997).

Chaix, A., Lin, T., Le, H. D., Chang, M. W. & Panda, S. Time-restricted feeding prevents obesity and metabolic syndrome in mice lacking a circadian clock. Cell Metab. 29, 303–319.e4 (2019).

Adamovich, Y., Ladeuix, B., Golik, M., Koeners, M. P. & Asher, G. Rhythmic oxygen levels reset circadian clocks through HIF1α. Cell Metab. 25, 93–101 (2017).

Chevalier, S., Gougeon, R., Kreisman, S. H., Cassis, C. & Morais, J. A. The hyperinsulinemic amino acid clamp increases whole-body protein synthesis in young subjects. Metabolism 53, 388–396 (2004).

Davis, T. A. et al. Stimulation of protein synthesis by both insulin and amino acids is unique to skeletal muscle in neonatal pigs. Am. J. Physiol. Endocrinol. Metab. 282, E880–E890 (2002).

Caso, G. et al. The increase in human muscle protein synthesis induced by food intake is similar when assessed with the constant infusion and flooding techniques. J. Nutr. 136, 1504–1510 (2006).

Sinturel, F. et al. Diurnal oscillations in liver mass and cell size accompany ribosome assembly cycles. Cell 169, 651–663.e14 (2017).

Hackett, S. R. et al. Systems-level analysis of mechanisms regulating yeast metabolic flux. Science 354, aaf2786 (2016).

Cornish-Bowden, A. & Cárdenas, M. L. Glucokinase: a monomeric enzyme with positive cooperativity. Front. Diabetes 16, 125–134 (2004).

Lowry, O. H., Carter, J., Ward, J. B. & Glaser, L. The effect of carbon and nitrogen sources on the level of metabolic intermediates in Escherichia coli. J. Biol. Chem. 246, 6511–6521 (1971).

Garland, P. B., Randle, P. J. & Newsholme, E. A. Citrate as an intermediary in the inhibition of phosphofructokinase in rat heart muscle by fatty acids, ketone bodies, pyruvate, diabetes and starvation. Nature 200, 169–170 (1963).

Balestri, F., Barsotti, C., Lutzemberger, L., Camici, M. & Ipata, P. L. Key role of uridine kinase and uridine phosphorylase in the homeostatic regulation of purine and pyrimidine salvage in brain. Neurochem. Int. 51, 517–523 (2007).

Egger, G., Liang, G., Aparicio, A. & Jones, P. A. Epigenetics in human disease and prospects for epigenetic therapy. Nature 429, 457–463 (2004).

Kerscher, O., Felberbaum, R. & Hochstrasser, M. Modification of proteins by ubiquitin and ubiquitin-like proteins. Annu. Rev. Cell Dev. Biol. 22, 159–180 (2006).

Dohmen, R. J. SUMO protein modification. Biochim. Biophys. Acta 1695, 113–131 (2004).

Scott, M., Gunderson, C. W., Mateescu, E. M., Zhang, Z. & Hwa, T. Interdependence of cell growth and gene expression: origins and consequences. Science 330, 1099–1102 (2010).

Schaechter, M., Maaløe, O. & Kjeldgaard, N. O. Dependency on medium and temperature of cell size and chemical composition during balanced grown of Salmonella typhimurium. Microbiology 19, 592–606 (1958).

Cayley, S., Lewis, B. A., Guttman, H. J. & Record, M. T. Jr Characterization of the cytoplasm of Escherichia coli K-12 as a function of external osmolarity: implications for protein–DNA interactions in vivo. J. Mol. Biol. 222, 281–300 (1991).

McGarry, J. D., Mannaerts, G. P. & Foster, D. W. A possible role for malonyl-CoA in the regulation of hepatic fatty acid oxidation and ketogenesis. J. Clin. Invest. 60, 265–270 (1977).

Rubio, V., Britton, H. G. & Grisolia, S. Mitochondrial carbamoyl phosphate synthetase activity in the absence of N-acetyl-L-glutamate. Mechanism of activation by this cofactor. Eur. J. Biochem. 134, 337–343 (1983).

Bouskila, M. et al. Allosteric regulation of glycogen synthase controls glycogen synthesis in muscle. Cell Metab. 12, 456–466 (2010).

Lu, W. et al. LC–MS and GC–MS based metabolomics platform for cancer research. Cancer Metab. 2, P41 (2014).

Su, X., Lu, W. & Rabinowitz, J. D. Metabolite spectral accuracy on orbitraps. Anal. Chem. 89, 5940–5948 (2017).
Acknowledgements
S.H. was supported by a National Institutes of Health (NIH) grant (no. 4R00DK117066). T.G.A. was supported by NIH grant no. DK109714 and a U.S. Department of Agriculture National Institute of Food and Agriculture grant no. NC1184-NJ14240. C.J. was supported by NIH grant no. 1R01AA02912. This work was supported by the NIH Pioneer (no. 1DP1DK113643) and Paul G. Allen Family Foundation grants (no. 0034665) and Ludwig Cancer Research.
Ethics declarations
Competing interests
J.D.R. is a cofounder and stockholder in Toran and Serien Therapeutics and advisor to and stockholder in Agios Pharmaceuticals, Kadmon, Bantam Pharmaceutical, Colorado Research Partners, Rafael Pharmaceuticals, Barer Institute and L.E.A.F. Pharmaceuticals. The other authors declare no competing interests.
Peer review information
Nature Metabolism thanks Adam Rose and the other, anonymous, reviewers for their contribution to the peer review of this work. Alfredo Gimenez-Cassina and George Caputa were the primary handling editors.
Additional information
Publisher's note Springer Nature remains neutral with regard to jurisdictional claims in published maps and institutional affiliations.
Supplementary information
Supplementary Tables 1–7.
About this article
Cite this article
Li, X., Hui, S., Mirek, E.T. et al. Circulating metabolite homeostasis achieved through mass action. Nat Metab 4, 141–152 (2022). https://doi.org/10.1038/s42255-021-00517-1
Received:

Accepted:

Published:

Issue Date:

DOI: https://doi.org/10.1038/s42255-021-00517-1