Incorporating one-carbon molecules into metabolic engineering has involved altering central metabolism, which must overcome metabolic regulation. Developing one-carbon metabolic pathways that are orthogonal to central metabolism offers a promising alternative for bioproduct synthesis. Here, Chou, Lee, Zhu et al. describe an orthogonal pathway that has the potential for bioproduct synthesis from one-carbon molecules and can be independent of central metabolism.
Access options
Subscribe to Journal
Get full journal access for 1 year
$119.00
only $9.92 per issue
All prices are NET prices.
VAT will be added later in the checkout.
Tax calculation will be finalised during checkout.
Rent or Buy article
Get time limited or full article access on ReadCube.
from$8.99
All prices are NET prices.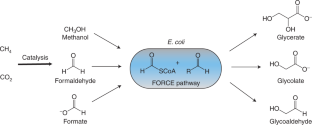 References
1.

Jiang, W. et al. Nat. Chem. Biol. 17, 845–855 (2021).

2.

Clomburg, J. M., Crumbley, A. M. & Gonzalez, R. Science 355, aag0804 (2017).

3.

Chou, A., Lee, S. H., Zhu, F., Clomburg, J. M. & Gonzalez, R. Nat. Metab. https://doi.org/10.1038/s42255-021-00453-0 (2021).

4.

Chou, A., Clomburg, J. M., Qian, S. & Gonzalez, R. Nat. Chem. Biol. 15, 900–906 (2019).

5.

Chen, F. Y.-H., Jung, H.-W., Tsuei, C.-Y. & Liao, J. C. Cell 182, 933–946.e14 (2020).

6.

Har, J. R. G., Agee, A., Bennett, R. K., Papoutsakis, E. T. & Antoniewicz, M. R. Appl. Microbiol. Biotechnol. 105, 869–876 (2021).

7.

Kim, S. et al. Nat. Chem. Biol. 16, 538–545 (2020).

8.

Sánchez-Andrea, I. et al. Nat. Commun. 11, 5090 (2020).
Acknowledgements
S.W.S. is supported by Laboratory Directed Research and Development funding from Lawrence Berkeley National Laboratory.
Ethics declarations
Competing interests
The authors declare no competing interests.
About this article
Cite this article
Singer, S.W. A new path for one-carbon conversion. Nat Metab 3, 1286–1287 (2021). https://doi.org/10.1038/s42255-021-00461-0