Abstract
The intrahepatic milieu is inhospitable to intraportal islet allografts1,2,3, limiting their applicability for the treatment of type 1 diabetes. Although the subcutaneous space represents an alternate, safe and easily accessible site for pancreatic islet transplantation, lack of neovascularization and the resulting hypoxic cell death have largely limited the longevity of graft survival and function and pose a barrier to the widespread adoption of islet transplantation in the clinic. Here we report the successful subcutaneous transplantation of pancreatic islets admixed with a device-free islet viability matrix, resulting in long-term euglycaemia in diverse immune-competent and immuno-incompetent animal models. We validate sustained normoglycaemia afforded by our transplantation methodology using murine, porcine and human pancreatic islets, and also demonstrate its efficacy in a non-human primate model of syngeneic islet transplantation. Transplantation of the islet–islet viability matrix mixture in the subcutaneous space represents a simple, safe and reproducible method, paving the way for a new therapeutic paradigm for type 1 diabetes.
Relevant articles
Open Access articles citing this article.
Daniel M. Tremmel

,

Sara Dutton Sackett

…

Jon S. Odorico

Scientific Reports Open Access 03 May 2022

Annalisa Sforza

,

Vera Vigorelli

…

Maria Cristina Vinci

Cardiovascular Diabetology Open Access 09 April 2022

Shadab Abadpour

,

Chencheng Wang

…

Hanne Scholz

Current Transplantation Reports Open Access 25 June 2021
Access options
Subscribe to Nature+
Get immediate online access to the entire Nature family of 50+ journals
Subscribe to Journal
Get full journal access for 1 year
$99.00
only $8.25 per issue
All prices are NET prices.
VAT will be added later in the checkout.
Tax calculation will be finalised during checkout.
Buy article
Get time limited or full article access on ReadCube.
$32.00
All prices are NET prices.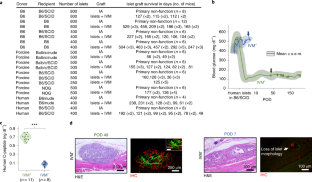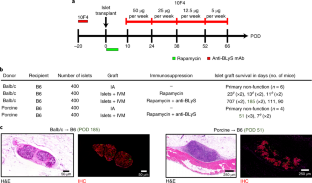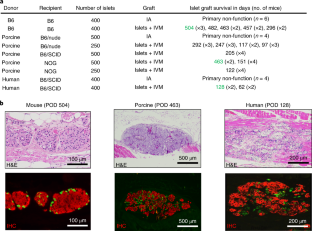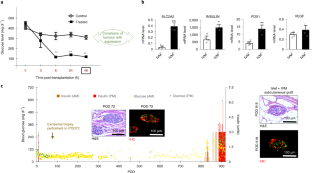 Data availability
Raw and processed exosome sequencing data have been submitted to GEO (accession no. GSE145593). Any additional information supporting the data within this paper and the findings of this study are available from the corresponding authors upon request. Source data are provided with this paper.
References
Kawahara, T. et al. Portal vein thrombosis is a potentially preventable complication in clinical islet transplantation. Am. J. Transpl. 11, 2700–2707 (2011).

Moberg, L. et al. Production of tissue factor by pancreatic islet cells as a trigger of detrimental thrombotic reactions in clinical islet transplantation. Lancet 360, 2039–2045 (2002).

Walsh, T. J., Eggleston, J. C. & Cameron, J. L. Portal hypertension, hepatic infarction, and liver failure complicating pancreatic islet autotransplantation. Surgery 91, 485–487 (1982).

Hering, B. J. et al. Phase 3 trial of transplantation of human islets in type 1 diabetes complicated by severe hypoglycemia. Diabetes Care 39, 1230–1240 (2016).

Ricordi, C. & Strom, T. B. Clinical islet transplantation: advances and immunological challenges. Nat. Rev. Immunol. 4, 259–268 (2004).

Smink, A. M., Faas, M. M. & de Vos, P. Toward engineering a novel transplantation site for human pancreatic islets. Diabetes 62, 1357–1364 (2013).

Ao, Z., Matayoshi, K., Lakey, J. R., Rajotte, R. V. & Warnock, G. L. Survival and function of purified islets in the omental pouch site of outbred dogs. Transplantation 56, 524–529 (1993).

Vlahos, A. E., Cober, N. & Sefton, M. V. Modular tissue engineering for the vascularization of subcutaneously transplanted pancreatic islets. Proc. Natl Acad. Sci. USA 114, 9337–9342 (2017).

Pepper, A. R. et al. A prevascularized subcutaneous device-less site for islet and cellular transplantation. Nat. Biotechnol. 33, 518–523 (2015).

Cantarelli, E. et al. Bone marrow as an alternative site for islet transplantation. Blood 114, 4566–4574 (2009).

Pepper, A. R. et al. Long-term function and optimization of mouse and human islet transplantation in the subcutaneous device-less site. Islets 8, 186–194 (2016).

Pepper, A. R. et al. Transplantation of human pancreatic endoderm cells reverses diabetes post transplantation in a prevascularized subcutaneous site. Stem Cell Rep. 8, 1689–1700 (2017).

Odorico, J. et al. Report of the key opinion leaders meeting on stem cell-derived beta cells. Transplantation 102, 1223–1229 (2018).

Juang, J.-H., Hsu, B. R.-S. & Kuo, C.-H. Islet transplantation at subcutaneous and intramuscular sites. Transplant. Proc. 37, 3479–3481 (2005).

Lacy, P. E., Hegre, O. D., Gerasimidi-Vazeou, A., Gentile, F. T. & Dionne, K. E. Maintenance of normoglycemia in diabetic mice by subcutaneous xenografts of encapsulated islets. Science 254, 1782–1784 (1991).

Smink, A. M. & de Vos, P. Therapeutic strategies for modulating the extracellular matrix to improve pancreatic islet function and survival after transplantation. Curr. Diab. Rep. 18, 39 (2018).

Van Deijnen, J. H., Van Suylichem, P. T., Wolters, G. H. & Van Schilfgaarde, R. Distribution of collagens type I, type III and type V in the pancreas of rat, dog, pig and man. Cell Tissue Res. 277, 115–121 (1994).

Vlahos, A. E. et al. Endothelialized collagen based pseudo-islets enables tuneable subcutaneous diabetes therapy. Biomaterials 232, 119710 (2020).

Stephens, C. H. et al. In situ type I oligomeric collagen macroencapsulation promotes islet longevity and function in vitro and in vivo. Am. J. Physiol. Endocrinol. Metab. 315, E650–E661 (2018).

Parsons, R. F. et al. Murine islet allograft tolerance upon blockade of the B-lymphocyte stimulator, BLyS/BAFF. Transplantation 93, 676–685 (2012).

Lucas-Clerc, C., Massart, C., Campion, J. P., Launois, B. & Nicol, M. Long-term culture of human pancreatic islets in an extracellular matrix: morphological and metabolic effects. Mol. Cell. Endocrinol. 94, 9–20 (1993).

Weber, L. M. & Anseth, K. S. Hydrogel encapsulation environments functionalized with extracellular matrix interactions increase islet insulin secretion. Matrix Biol. 27, 667–673 (2008).

Jiang, K. et al. 3-D physiomimetic extracellular matrix hydrogels provide a supportive microenvironment for rodent and human islet culture. Biomaterials 198, 37–48 (2019).

Kale, J., Osterlund, E. J. & Andrews, D. W. BCL-2 family proteins: changing partners in the dance towards death. Cell Death Differ. 25, 65–80 (2018).

Portha, B., Tourrel-Cuzin, C. & Movassat, J. Activation of the GLP-1 receptor signalling pathway: a relevant strategy to repair a deficient beta-cell mass. Exp. Diabetes Res. 2011, 376509 (2011).

Xiong, X., Shao, W. & Jin, T. New insight into the mechanisms underlying the function of the incretin hormone glucagon-like peptide-1 in pancreatic β-cells: the involvement of the Wnt signaling pathway effector β-catenin. Islets 4, 359–365 (2012).

Tomas, A., Jones, B. & Leech, C. New insights into beta-cell GLP-1 receptor and cAMP signaling. J. Mol. Biol. 432, 1347–1366 (2020).

Vallabhajosyula, P. et al. Tissue-specific exosome biomarkers for noninvasively monitoring immunologic rejection of transplanted tissue. J. Clin. Invest. 127, 1375–1391 (2017).

Wu, J. & Yan, L.-J. Streptozotocin-induced type 1 diabetes in rodents as a model for studying mitochondrial mechanisms of diabetic β cell glucotoxicity. Diabetes Metab. Syndr. Obes. 8, 181–188 (2015).

Scholz, J. L. et al. BLyS inhibition eliminates primary B cells but leaves natural and acquired humoral immunity intact. Proc. Natl Acad. Sci. USA 105, 15517–15522 (2008).

Ricordi, C. et al. National Institutes of Health-sponsored Clinical Islet Transplantation Consortium Phase 3 Trial: manufacture of a complex cellular product at eight processing facilities. Diabetes 65, 3418–3428 (2016).

Liu, C. et al. B lymphocyte-directed immunotherapy promotes long-term islet allograft survival in nonhuman primates. Nat. Med. 13, 1295–1298 (2007).

Avrahami, D. et al. Targeting the cell cycle inhibitor p57Kip2 promotes adult human β cell replication. J. Clin. Invest. 124, 670–674 (2014).

Bankhead, P. et al. QuPath: open source software for digital pathology image analysis. Sci. Rep. 7, 16878 (2017).

Agarwal, D., Mukherjee, S., Bhattacharya, B. B. & Zhang, N. R. Distribution-free multisample test based on optimal matching with applications to single cell genomics. J. Am. Stat. Assoc. https://doi.org/10.1080/01621459.2020.1791131 (2020).

Wang, J., Vasaikar, S., Shi, Z., Greer, M. & Zhang, B. WebGestalt 2017: a more comprehensive, powerful, flexible and interactive gene set enrichment analysis toolkit. Nucleic Acids Res. 45, W130–W137 (2017).
Acknowledgements
We thank S. Rostami, B. Koeberlein and G. Quinn for their valuable assistance in data collection and development of animal models. We thank Y. J. Wang for assistance with the islet β-cell BrdU staining experiments. We also acknowledge the support of J. Schug, Technical Director of the Next-Generation Sequencing Core at the University of Pennsylvania, for exosome sequencing analysis. We thank members of the Pancreatic Islet Isolation Team at the University of Pennsylvania (Y. Li, Z. Min and X. Zuo). D.A. thanks the Blavatnik Family Foundation for the Graduate Student Fellowship he received during his MD/PhD training. We also thank the National Institutes of Health for award nos. NIH/NIDDK DK070430, NIH/NIAID AI-102430 and NIH/NIDDK UC4–112217 (HPAP), and the NIDDK IIDP for the grant (Beckman Research Center, no. 10028044) awarded to A.N.
Ethics declarations
Competing interests
The authors declare no competing interests.
Additional information
Peer review information Primary Handling Editor: Christoph Schmitt.
Publisher's note Springer Nature remains neutral with regard to jurisdictional claims in published maps and institutional affiliations.
Supplementary information
A visual protocol for preparation of the IVM, illustrating its individual constituents.
About this article
Cite this article
Yu, M., Agarwal, D., Korutla, L. et al. Islet transplantation in the subcutaneous space achieves long-term euglycaemia in preclinical models of type 1 diabetes. Nat Metab 2, 1013–1020 (2020). https://doi.org/10.1038/s42255-020-0269-7
Received:

Accepted:

Published:

Issue Date:

DOI: https://doi.org/10.1038/s42255-020-0269-7