Abstract
Channelrhodopsins are used widely for optical control of neurons, in which they generate photoinduced proton, sodium or chloride influx. Potassium (K+) is central to neuron electrophysiology, yet no natural K+-selective light-gated channel has been identified. Here, we report kalium channelrhodopsins (KCRs) from Hyphochytrium catenoides. Previously known gated potassium channels are mainly ligand- or voltage-gated and share a conserved K+-selectivity filter. KCRs differ in that they are light-gated and have independently evolved an alternative K+ selectivity mechanism. The KCRs are potent, highly selective of K+ over Na+, and open in less than 1 ms following photoactivation. The permeability ratio PK/PNa of 23 makes H. catenoides KCR1 (HcKCR1) a powerful hyperpolarizing tool to suppress excitable cell firing upon illumination, demonstrated here in mouse cortical neurons. HcKCR1 enables optogenetic control of K+ gradients, which is promising for the study and potential treatment of potassium channelopathies such as epilepsy, Parkinson's disease and long-QT syndrome and other cardiac arrhythmias.
Relevant articles
Open Access articles citing this article.
Fei Lin

,

Ruijing Tang

…

Shiqiang Gao

Pflügers Archiv - European Journal of Physiology Open Access 05 September 2023

Takefumi Morizumi

,

Kyumhyuk Kim

…

Oliver P. Ernst

Nature Communications Open Access 20 July 2023

Keiichi Kojima

,

Shiho Kawanishi

…

Yuki Sudo

Scientific Reports Open Access 28 April 2023
Access options
Access Nature and 54 other Nature Portfolio journals
Get Nature+, our best-value online-access subscription
$29.99 / 30 days
cancel any time
Subscribe to this journal
Receive 12 print issues and online access
$209.00 per year
only $17.42 per issue
Rent or buy this article
Prices vary by article type
from$1.95
to$39.95
Prices may be subject to local taxes which are calculated during checkout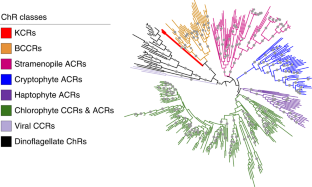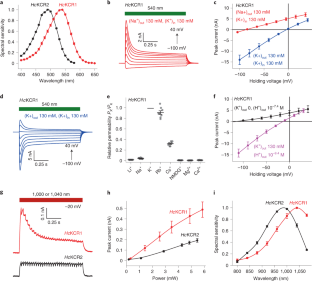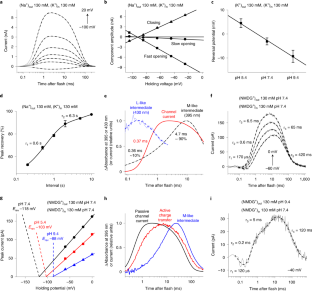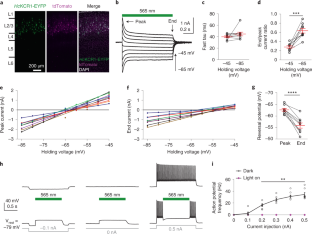 Data availability
The file 'hyphochytrium_catenoides_predicted_proteins_renamed_modified.fasta' that contains the sequence information of predicted H. catenoides proteins is available from https://www.ebi.ac.uk/biostudies/studies/S-BSST46. The whole genome shotgun sequences FLMG00000000.1 and CAFC00000000.2 are available from https://www.ncbi.nlm.nih.gov/nuccore/FLMG00000000.1 and https://www.ncbi.nlm.nih.gov/nuccore/CAFC00000000.2, respectively. The sequences of HcKCR1 and HcKCR2 expression constructs are available from GenBank (accession numbers MZ826861 and MZ826862, respectively). The plasmids encoding HcKCR1-mCherry, HcKCR2-mCherry, HcKCR1-EYFP and HcKCR2-EYFP in a mammalian expression vector backbone are available from Addgene (plasmids 177336, 177337, 182021 and 182022, respectively). Source data are provided with this paper.
References
MacKinnon, R. Potassium channels. FEBS Lett. 555, 62–65 (2003).

Mironenko, A., Zachariae, U., de Groot, B. L. & Kopec, W. The persistent question of potassium channel permeation mechanisms. J. Mol. Biol. 433, 167002 (2021).

Sineshchekov, O. A., Jung, K.-H. & Spudich, J. L. Two rhodopsins mediate phototaxis to low- and high-intensity light in Chlamydomonas reinhardtii. Proc. Natl Acad. Sci. USA 99, 8689–8694 (2002).

Nagel, G. et al. Channelrhodopsin-1: a light-gated proton channel in green algae. Science 296, 2395–2398 (2002).

Nagel, G. et al. Channelrhodopsin-2, a directly light-gated cation-selective membrane channel. Proc. Natl Acad. Sci. USA 100, 13940–13945 (2003).

Deisseroth, K. Optogenetics. Nat. Methods 8, 26–29 (2011).

Sineshchekov, O. A., Govorunova, E. G., Li, H. & Spudich, J. L. Bacteriorhodopsin-like channelrhodopsins: alternative mechanism for control of cation conductance. Proc. Natl Acad. Sci. USA 114, E9512–E9519 (2017).

Boyden, E. S., Zhang, F., Bamberg, E., Nagel, G. & Deisseroth, K. Millisecond-timescale, genetically targeted optical control of neural activity. Nat. Neurosci. 8, 1263–1268 (2005).

Govorunova, E. G., Sineshchekov, O. A., Liu, X., Janz, R. & Spudich, J. L. Natural light-gated anion channels: a family of microbial rhodopsins for advanced optogenetics. Science 349, 647–650 (2015).

Mahn, M., Prigge, M., Ron, S., Levy, R. & Yizhar, O. Biophysical constraints of optogenetic inhibition at presynaptic terminals. Nat. Neurosci. 19, 554–556 (2016).

Messier, J. E., Chen, H., Cai, Z. L. & Xue, M. Targeting light-gated chloride channels to neuronal somatodendritic domain reduces their excitatory effect in the axon. eLife 7, e38506 (2018).

Richards, R. & Dempski, R. E. Re-introduction of transmembrane serine residues reduce the minimum pore diameter of channelrhodopsin-2. PLoS One 7, e50018 (2012).

Alberio, L. et al. A light-gated potassium channel for sustained neuronal inhibition. Nat. Methods 15, 969–976 (2018).

Beck, S. et al. Synthetic light-activated ion channels for optogenetic activation and inhibition. Front. Neurosci. 12, 643 (2018).

Bernal Sierra, Y. A. et al. Potassium channel-based optogenetic silencing. Nat. Commun. 9, 4611 (2018).

Leonard, G. et al. Comparative genomic analysis of the 'pseudofungus' Hyphochytrium catenoides. Open Biol. 8, 170184 (2018).

Tucker, K., Sridharan, S., Adesnik, H. & Brohawn, S. G. Cryo-EM structures of the channelrhodopsin ChRmine in lipid nanodiscs. Preprint at BioRxiv https://doi.org/10.1101/2021.11.21.469454 (2021).

Kishi, K. E. et al. Structural basis for channel conduction in the pump-like channelrhodopsin ChRmine. Cell 185, 672–689.e623 (2022).

Hille, B. Ion Channels of Excitable Membranes (Sinauer Associates, 2001).

Eisenman, G. & R, H. Ionic selectivity revisited: the role of kinetic and equilibrium processes in ion permeation through channels. J. Membr. Biol. 76, 197–225 (1983).

Feldbauer, K. et al. Channelrhodopsin-2 is a leaky proton pump. Proc. Natl Acad. Sci. USA 106, 12317–12322 (2009).

Sineshchekov, O. A., Govorunova, E. G., Wang, J., Li, H. & Spudich, J. L. Intramolecular proton transfer in channelrhodopsins. Biophys. J. 104, 807–817 (2013).

Sineshchekov, O. A., Govorunova, E. G., Li, H. & Spudich, J. L. Gating mechanisms of a natural anion channelrhodopsin. Proc. Natl Acad. Sci. USA 112, 14236–14241 (2015).

Kuhne, J. et al. Unifying photocycle model for light adaptation and temporal evolution of cation conductance in channelrhodopsin-2. Proc. Natl Acad. Sci. USA 116, 9380–9389 (2019).

Ernst, O. P. et al. Microbial and animal rhodopsins: structures, functions, and molecular mechanisms. Chem. Rev. 114, 126–163 (2014).

Kandori, H. Biophysics of rhodopsins and optogenetics. Biophys. Rev. 12, 355–361 (2020).

Lanyi, J. K. Proton transfers in the bacteriorhodopsin photocycle. Biochim. Biophys. Acta 1757, 1012–1018 (2006).

Dreier, M. A. et al. Time-resolved spectroscopic and electrophysiological data reveal insights in the gating mechanism of anion channelrhodopsin. Commun. Biol. 4, 578 (2021).

Verhoefen, M. K. et al. The photocycle of channelrhodopsin-2: ultrafast reaction dynamics and subsequent reaction steps. ChemPhysChem 11, 3113–3122 (2010).

Govorunova, E. G., Sineshchekov, O. A. & Spudich, J. L. Structurally distinct cation channelrhodopsins from cryptophyte algae. Biophys. J. 110, 2302–2304 (2016).

Yamauchi, Y. et al. Molecular properties of a DTD channelrhodopsin from Guillardia theta. Biophys. Physicobiol. 14, 57–66 (2017).

Sineshchekov, O. A. et al. Conductance mechanisms of rapidly desensitizing cation channelrhodopsins from cryptophyte algae. mBio 11, e00657–00620 (2020).

Oppermann, J. et al. MerMAIDs: a family of metagenomically discovered marine anion-conducting and intensely desensitizing channelrhodopsins. Nat. Commun. 10, 3315 (2019).

Klapoetke, N. C. et al. Independent optical excitation of distinct neural populations. Nat. Methods 11, 338–346 (2014).

Govorunova, E. G. et al. RubyACRs, non-algal anion channelrhodopsins with highly red-shifted absorption. Proc. Natl Acad. Sci. USA 117, 22833–22840 (2020).

Hoffmann, M. et al. Color tuning in rhodopsins: the mechanism for the spectral shift between bacteriorhodopsin and sensory rhodopsin II. J. Am. Chem. Soc. 128, 10808–10818 (2006).

Wiegert, J. S., Mahn, M., Prigge, M., Printz, Y. & Yizhar, O. Silencing neurons: tools, applications, and experimental constraints. Neuron 95, 504–529 (2017).

Plugge, B. et al. A potassium channel protein encoded by chlorella virus PBCV-1. Science 287, 1641–1644 (2000).

Prakash, R. et al. Two-photon optogenetic toolbox for fast inhibition, excitation and bistable modulation. Nat. Methods 9, 1171–1179 (2012).

Adesnik, H. & Abdeladim, L. Probing neural codes with two-photon holographic optogenetics. Nat. Neurosci. 24, 1356–1366 (2021).

Papagiakoumou, E. et al. Scanless two-photon excitation of channelrhodopsin-2. Nat. Methods 7, 848–854 (2010).

Govorunova, E. G. et al. Cation and anion channelrhodopsins: sequence motifs and taxonomic distribution. MBio 12, e0165621 (2021).

Krogh, A., Larsson, B., von Heijne, G. & Sonnhammer, E. L. Predicting transmembrane protein topology with a hidden Markov model: application to complete genomes. J. Mol. Biol. 305, 567–580 (2001).

Minh, B. Q. et al. IQ-TREE 2: new models and efficient methods for phylogenetic inference in the genomic era. Mol. Biol. Evol. 37, 1530–1534 (2020).

Hoang, D. T., Chernomor, O., von Haeseler, A., Minh, B. Q. & Vinh, L. S. UFBoot2: improving the ultrafast bootstrap approximation. Mol. Biol. Evol. 35, 518–522 (2018).

Letunic, I. & Bork, P. Interactive Tree Of Life (iTOL) v5: an online tool for phylogenetic tree display and annotation. Nucleic Acids Res. 49, W293–W296 (2021).

Spudich, J. L. LogPro. Zenodo https://doi.org/10.5281/zenodo.6461999 (2022).

Waschuk, S. A., Bezerra, A. G. J., Shi, L. & Brown, L. S. Leptosphaeria rhodopsin: bacteriorhodopsin-like proton pump from a eukaryote. Proc. Natl Acad. Sci. USA 102, 6879–6883 (2005).

Xue, M., Atallah, B. V. & Scanziani, M. Equalizing excitation-inhibition ratios across visual cortical neurons. Nature 511, 596–600 (2014).
Acknowledgements
This work was supported by the National Institutes of Health grants R35GM140838 (J.L.S.), U01NS118288 (M.X., J.L.S. and F.St.-P.), R01EB027145 (F.St.-P.), U01NS113294 (F.St.-P.), and P50HD103555 (Baylor College of Medicine Intellectual and Developmental Disabilities Research Center, Neurovisualization Core); National Science Foundation grants 1707359 and 1935265 (F.St.-P.); Robert A. Welch Foundation Endowed Chair AU-0009 (J.L.S.); Welch Foundation grant Q-2016-20190330 (F.St.-P.); McKnight Endowment Fund for Neuroscience (M.X.); Natural Sciences and Engineering Research Council of Canada Discovery Grant RGPIN-2018-04397 (L.S.B.); a Klingenstein-Simons Fellowship Award in Neuroscience (F.St.-P.). M.X. is a Caroline DeLuca Scholar. F.St.-P. is a Scholar of the McNair Medical Foundation. The funders had no role in study design, data collection and analysis, decision to publish or preparation of the manuscript.
Ethics declarations
Competing interests
The authors declare no competing interests.
Peer review
Peer review information
Nature Neuroscience thanks Anna Morini, Ofer Yizhar and the other, anonymous, reviewer(s) for their contribution to the peer review of this work.
Additional information
Publisher's note Springer Nature remains neutral with regard to jurisdictional claims in published maps and institutional affiliations.
Supplementary information
Supplementary Tables 1–3.
About this article
Cite this article
Govorunova, E.G., Gou, Y., Sineshchekov, O.A. et al. Kalium channelrhodopsins are natural light-gated potassium channels that mediate optogenetic inhibition. Nat Neurosci 25, 967–974 (2022). https://doi.org/10.1038/s41593-022-01094-6
Received:

Accepted:

Published:

Issue Date:

DOI: https://doi.org/10.1038/s41593-022-01094-6