Abstract
The exome sequences of approximately 8,000 children with autism spectrum disorder (ASD) and/or attention deficit hyperactivity disorder (ADHD) and 5,000 controls were analyzed, finding that individuals with ASD and individuals with ADHD had a similar burden of rare protein-truncating variants in evolutionarily constrained genes, both significantly higher than controls. This motivated a combined analysis across ASD and ADHD, identifying microtubule-associated protein 1A (MAP1A) as a new exome-wide significant gene conferring risk for childhood psychiatric disorders.
Access options
Subscribe to Journal
Get full journal access for 1 year
$59.00
only $4.92 per issue
All prices are NET prices.
VAT will be added later in the checkout.
Tax calculation will be finalised during checkout.
Rent or Buy article
Get time limited or full article access on ReadCube.
from$8.99
All prices are NET prices.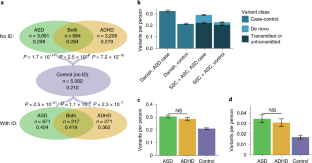 Data availability
Supplementary data are available as supplementary files to this manuscript (see Supplementary Tables 1, 3 and 5) or at the iPSYCH download page: http://ipsych.au.dk/downloads. For inquiries about more detailed data, contact iPSYCH lead investigator A.D.B. (anders@biomed.au.dk).
Code availability
Hail (0.1) and R scripts used to handle and analyze these data are available upon reasonable request from F.K.S. (satterst@broadinstitute.org).
References
1.

Hallmayer, J. et al. Genetic heritability and shared environmental factors among twin pairs with autism. Arch. Gen. Psychiatry 68, 1095–1102 (2011).

2.

Gaugler, T. et al. Most genetic risk for autism resides with common variation. Nat. Genet. 46, 881–885 (2014).

3.

Larsson, H., Chang, Z., D'Onofrio, B. M. & Lichtenstein, P. The heritability of clinically diagnosed attention deficit hyperactivity disorder across the lifespan. Psychol. Med. 44, 2223–2229 (2014).

4.

Pedersen, C. B. et al. The iPSYCH2012 case–cohort sample: new directions for unravelling genetic and environmental architectures of severe mental disorders. Mol. Psychiatry 23, 6–14 (2018).

5.

Hollegaard, M. V. et al. Robustness of genome-wide scanning using archived dried blood spot samples as a DNA source. BMC Genet. 12, 58 (2011).

6.

Hollegaard, M. V. et al. Archived neonatal dried blood spot samples can be used for accurate whole genome and exome-targeted next-generation sequencing. Mol. Genet. Metab. 110, 65–72 (2013).

7.

Grove, J. et al. Identification of common genetic risk variants for autism spectrum disorder. Nat. Genet. 51, 431–444 (2019).

8.

Demontis, D. et al. Discovery of the first genome-wide significant risk loci for attention deficit/hyperactivity disorder. Nat. Genet. 51, 63–75 (2019).

9.

Neale, B. M. et al. Patterns and rates of exonic de novo mutations in autism spectrum disorders. Nature 485, 242–245 (2012).

10.

De Rubeis, S. et al. Synaptic, transcriptional and chromatin genes disrupted in autism. Nature 515, 209–215 (2014).

11.

Iossifov, I. et al. The contribution of de novo coding mutations to autism spectrum disorder. Nature 515, 216–221 (2014).

12.

Samocha, K. E. et al. A framework for the interpretation of de novo mutation in human disease. Nat. Genet. 46, 944–950 (2014).

13.

Sanders, S. J. et al. Insights into autism spectrum disorder genomic architecture and biology from 71 risk loci. Neuron 87, 1215–1233 (2015).

14.

Lek, M. et al. Analysis of protein-coding genetic variation in 60,706 humans. Nature 536, 285–291 (2016).

15.

Kosmicki, J. A. et al. Refining the role of de novo protein-truncating variants in neurodevelopmental disorders by using population reference samples. Nat. Genet. 49, 504–510 (2017).

16.

Jacquemont, S. et al. A higher mutational burden in females supports a 'female protective model' in neurodevelopmental disorders. Am. J. Hum. Genet. 94, 415–425 (2014).

17.

Samocha, K. E. et al. Regional missense constraint improves variant deleteriousness prediction. Preprint at bioRxiv https://doi.org/10.1101/148353 (2017).

18.

Martin, H. C. et al. Quantifying the contribution of recessive coding variation to developmental disorders. Science 362, 1161–1164 (2018).

19.

Neyman, J. & Scott, E. On the use of c(α) optimal tests of composite hypothesis. Bull. Int. Stat. Inst. 41, 477–497 (1966).

20.

Neale, B. M. et al. Testing for an unusual distribution of rare variants. PLoS Genet. 7, e1001322 (2011).

21.

Myers, R. A. et al. A population genetic approach to mapping neurological disorder genes using deep resequencing. PLoS Genet. 7, e1001318 (2011).

22.

Deciphering Developmental Disorders Study. Prevalence and architecture of de novo mutations in developmental disorders. Nature 542, 433–438 (2017).

23.

Slager, R. E., Newton, T. L., Vlangos, C. N., Finucane, B. & Elsea, S. H. Mutations in RAI1 associated with Smith–Magenis syndrome. Nat. Genet. 33, 466–468 (2003).

24.

Martin, J. et al. Biological overlap of attention-deficit/hyperactivity disorder and autism spectrum disorder: evidence from copy number variants. J. Am. Acad. Child Adolesc. Psychiatry 53, 761–770 (2014).

25.

Ronald, A., Simonoff, E., Kuntsi, J., Asherson, P. & Plomin, R. Evidence for overlapping genetic influences on autistic and ADHD behaviours in a community twin sample. J. Child Psychol. Psychiatry 49, 535–542 (2008).

26.

Chien, Y. L. et al. ADHD-related symptoms and attention profiles in the unaffected siblings of probands with autism spectrum disorder: focus on the subtypes of autism and Asperger's disorder. Mol. Autism 8, 37 (2017).

27.

World Health Organization. The ICD-10 Classification of Mental and Behavioural Disorders: Diagnostic Criteria for Research. (World Health Organization, 1993).

28.

Hannelius, U. et al. Phenylketonuria screening registry as a resource for population genetic studies. J. Med. Genet. 42, e60 (2005).

29.

Hollegaard, M. V. et al. Whole genome amplification and genetic analysis after extraction of proteins from dried blood spots. Clin. Chem. 53, 1161–1162 (2007).

30.

Poulsen, J. B. et al. High-quality exome sequencing of whole-genome amplified neonatal dried blood spot DNA. PLoS One 11, e0153253 (2016).

31.

McKenna, A. et al. The Genome Analysis Toolkit: a MapReduce framework for analyzing next-generation DNA sequencing data. Genome Res. 20, 1297–1303 (2010).

32.

Kalia, S. S. et al. Recommendations for reporting of secondary findings in clinical exome and genome sequencing, 2016 update (ACMG SFv2.0): a policy statement of the American College of Medical Genetics and Genomics. Genet. Med. 19, 249–255 (2017).

33.

McLaren, W. et al. The Ensembl variant effect predictor. Genome Biol. 17, 122 (2016).
Acknowledgements
The iPSYCH project is funded by the Lundbeck Foundation (grant nos. R102-A9118 and R155-2014-1724) and the universities and university hospitals of Aarhus and Copenhagen. The DNSB resource at the Statens Serum Institut was supported by the Novo Nordisk Foundation. Sequencing of iPSYCH samples was supported by grants from the Simons Foundation (grant no. SFARI 311789 to M.J.D.) and the Stanley Foundation. Other support for this study was received from the National Institute of Mental Health (grant nos. 5U01MH094432-02, 5U01MH111660-02 and U01MH100229 to M.J.D.). Computational resources for handling and statistical analysis of iPSYCH data on the GenomeDK and Computerome HPC facilities were provided by, respectively, the Centre for Integrative Sequencing, iSEQ, Aarhus University, Denmark (grant to A.D.B.) and iPSYCH.
Ethics declarations
Competing interests
T.M.W. has acted as advisor and lecturer to the pharmaceutical company H. Lundbeck A/S. B.M.N. is a member of the scientific advisory board at Deep Genomics and is a consultant for Camp4 Therapeutics, Takeda Pharmaceuticals and Biogen Inc.
Additional information
Publisher's note Springer Nature remains neutral with regard to jurisdictional claims in published maps and institutional affiliations.
Integrated supplementary information
Supplementary information
About this article
Cite this article
Satterstrom, F.K., Walters, R.K., Singh, T. et al. Autism spectrum disorder and attention deficit hyperactivity disorder have a similar burden of rare protein-truncating variants. Nat Neurosci 22, 1961–1965 (2019). https://doi.org/10.1038/s41593-019-0527-8
Received:

Accepted:

Published:

Issue Date: