Abstract
The importance of neuronal ensembles, termed engram cells, in storing and retrieving memory is increasingly being appreciated, but less is known about how these engram cells operate within neural circuits. Here we tagged engram cells in the ventral CA1 region of the hippocampus (vCA1) and the core of the nucleus accumbens (AcbC) during cocaine conditioned place preference (CPP) training and show that the vCA1 engram projects preferentially to the AcbC and that the engram circuit from the vCA1 to the AcbC mediates memory recall. Direct activation of the AcbC engram while suppressing the vCA1 engram is sufficient for cocaine CPP. The AcbC engram primarily consists of D1 medium spiny neurons, but not D2 medium spiny neurons. The preferential synaptic strengthening of the vCA1→AcbC engram circuit evoked by cocaine conditioning mediates the retrieval of cocaine CPP memory. Our data suggest that the vCA1 engram stores specific contextual information, while the AcbC D1 engram and its downstream network store both cocaine reward and associated contextual information, providing a potential mechanism by which cocaine CPP memory is stored.
Access options
Subscribe to Journal
Get full journal access for 1 year
$225.00
only $18.75 per issue
All prices are NET prices.
VAT will be added later in the checkout.
Rent or Buy article
Get time limited or full article access on ReadCube.
from$8.99
All prices are NET prices.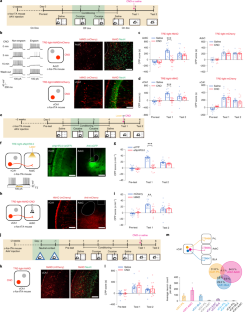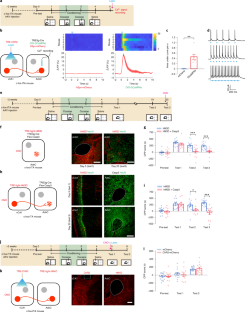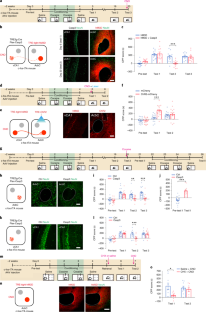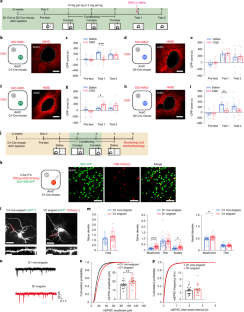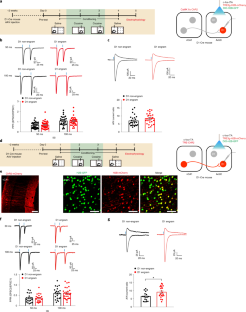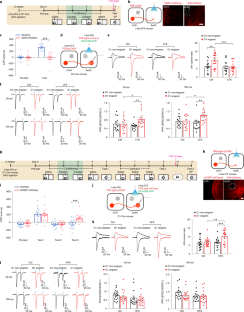 Data availability
The data that support the findings of this study are available from the corresponding authors upon reasonable request.
Code availability
Custom Matlab code is available on reasonable request from L.M.
References
1.

Tonegawa, S., Liu, X., Ramirez, S. & Redondo, R. Memory engram cells have come of age. Neuron 87, 918–931 (2015).

2.

Josselyn, S. A. Continuing the search for the engram: examining the mechanism of fear memories. J. Psychiatry Neurosci. 35, 221–228 (2010).

3.

Reijmers, L. G., Perkins, B. L., Matsuo, N. & Mayford, M. Localization of a stable neural correlate of associative memory. Science 317, 1230–1233 (2007).

4.

Tonegawa, S., Morrissey, M. D. & Kitamura, T. The role of engram cells in the systems consolidation of memory. Nat. Rev. Neurosci. 19, 485–498 (2018).

5.

Denny, C. A. et al. Hippocampal memory traces are differentially modulated by experience, time, and adult neurogenesis. Neuron 83, 189–201 (2014).

6.

Liu, X. et al. Optogenetic stimulation of a hippocampal engram activates fear memory recall. Nature 484, 381–385 (2012).

7.

Zhou, Y. et al. CREB regulates excitability and the allocation of memory to subsets of neurons in the amygdala. Nat. Neurosci. 12, 1438–1443 (2009).

8.

Han, J. H. et al. Selective erasure of a fear memory. Science 323, 1492–1496 (2009).

9.

Ryan, T. J., Roy, D. S., Pignatelli, M., Arons, A. & Tonegawa, S. Memory. Engram cells retain memory under retrograde amnesia. Science 348, 1007–1013 (2015).

10.

Josselyn, S. A., Kohler, S. & Frankland, P. W. Finding the engram. Nat. Rev. Neurosci. 16, 521–534 (2015).

11.

Tonegawa, S., Pignatelli, M., Roy, D. S. & Ryan, T. J. Memory engram storage and retrieval. Curr. Opin. Neurobiol. 35, 101–109 (2015).

12.

Lowel, S. & Singer, W. Selection of intrinsic horizontal connections in the visual cortex by correlated neuronal activity. Science 255, 209–212 (1992).

13.

Munakata, Y. & Pfaffly, J. Hebbian learning and development. Dev. Sci. 7, 141–148 (2004).

14.

Roy, D. S., Muralidhar, S., Smith, L. M. & Tonegawa, S. Silent memory engrams as the basis for retrograde amnesia. Proc. Natl Acad. Sci. USA 114, E9972–E9979 (2017).

15.

Choi, J. H. et al. Interregional synaptic maps among engram cells underlie memory formation. Science 360, 430–435 (2018).

16.

Kim, W. B. & Cho, J. H. Encoding of discriminative fear memory by input-specific LTP in the amygdala. Neuron 95, 1129–1146 e1125 (2017).

17.

Tanaka, K. Z. et al. Cortical representations are reinstated by the hippocampus during memory retrieval. Neuron 84, 347–354 (2014).

18.

Huganir, R. L. & Nicoll, R. A. AMPARs and synaptic plasticity: the last 25 years. Neuron 80, 704–717 (2013).

19.

Diering, G. H., Gustina, A. S. & Huganir, R. L. PKA-GluA1 coupling via AKAP5 controls AMPA receptor phosphorylation and cell-surface targeting during bidirectional homeostatic plasticity. Neuron 84, 790–805 (2014).

20.

Kessels, H. W. & Malinow, R. Synaptic AMPA receptor plasticity and behavior. Neuron 61, 340–350 (2009).

21.

Bagot, R. C. et al. Ventral hippocampal afferents to the nucleus accumbens regulate susceptibility to depression. Nat. Commun. 6, 7062 (2015).

22.

Nicola, S. M. The nucleus accumbens as part of a basal ganglia action selection circuit. Psychopharmacology 191, 521–550 (2007).

23.

Pignatelli, M. & Bonci, A. Role of dopamine neurons in reward and aversion: a synaptic plasticity perspective. Neuron 86, 1145–1157 (2015).

24.

Joseph, M. H., Datla, K. & Young, A. M. The interpretation of the measurement of nucleus accumbens dopamine by in vivo dialysis: the kick, the craving or the cognition? Neurosci. Biobehav. Rev. 27, 527–541 (2003).

25.

Miller, C. A. & Marshall, J. F. Molecular substrates for retrieval and reconsolidation of cocaine-associated contextual memory. Neuron 47, 873–884 (2005).

26.

Otis, J. M., Fitzgerald, M. K. & Mueller, D. Inhibition of hippocampal beta-adrenergic receptors impairs retrieval but not reconsolidation of cocaine-associated memory and prevents subsequent reinstatement. Neuropsychopharmacology 39, 303–310 (2014).

27.

Degoulet, M., Stelly, C. E., Ahn, K. C. & Morikawa, H. L-type Ca2+ channel blockade with antihypertensive medication disrupts VTA synaptic plasticity and drug-associated contextual memory. Mol. Psychiatry 21, 394–402 (2016).

28.

Calipari, E. S. et al. In vivo imaging identifies temporal signature of D1 and D2 medium spiny neurons in cocaine reward. Proc. Natl Acad. Sci. USA 113, 2726–2731 (2016).

29.

Bertran-Gonzalez, J. et al. Opposing patterns of signaling activation in dopamine D1 and D2 receptor-expressing striatal neurons in response to cocaine and haloperidol. J. Neurosci. 28, 5671–5685 (2008).

30.

Kim, J., Park, B. H., Lee, J. H., Park, S. K. & Kim, J. H. Cell type-specific alterations in the nucleus accumbens by repeated exposures to cocaine. Biol. Psychiatry 69, 1026–1034 (2011).

31.

Sjulson, L., Peyrache, A., Cumpelik, A., Cassataro, D. & Buzsaki, G. Cocaine place conditioning strengthens location-specific hippocampal coupling to the nucleus accumbens. Neuron 98, 926–934.e5 (2018).

32.

Lobo, M. K. et al. Cell type-specific loss of BDNF signaling mimics optogenetic control of cocaine reward. Science 330, 385–390 (2010).

33.

Graziane, N. M. et al. Opposing mechanisms mediate morphine- and cocaine-induced generation of silent synapses. Nat. Neurosci. 19, 915–925 (2016).

34.

Tzschentke, T. M. Measuring reward with the conditioned place preference (CPP) paradigm: update of the last decade. Addict. Biol. 12, 227–462 (2007).

35.

Sun, Y., Chen, G., Zhou, K. & Zhu, Y. A conditioned place preference protocol for measuring incubation of craving in rats. J. Vis. Exp. https://doi.org/10.3791/58384 (2018).

36.

Dong, Y. et al. Cocaine-induced potentiation of synaptic strength in dopamine neurons: behavioral correlates in GluRA −/− mice. Proc. Natl Acad. Sci. USA 101, 14282–14287 (2004).

37.

Di Chiara, G. & Imperato, A. Drugs abused by humans preferentially increase synaptic dopamine concentrations in the mesolimbic system of freely moving rats. Proc. Natl Acad. Sci. USA 85, 5274–5278 (1988).

38.

Cowansage, K. K. et al. Direct reactivation of a coherent neocortical memory of context. Neuron 84, 432–441 (2014).

39.

Jones, E. G. Santiago Ramon y Cajal and the Croonian lecture, March 1894. Trends Neurosci. 17, 190–192 (1994).

40.

Morris, R.G. D.O. Hebb: The Organization of Behavior, Wiley: New York; 1949. Brain Res. Bull. 50, 437 (1999).

41.

Konorski, J. Mechanisms of learning. Sym. Soc. Exp. Biol. 4, 408–431 (1950).

42.

Liu, X. et al. β-Arrestin-biased signaling mediates memory reconsolidation. Proc. Natl Acad. Sci. USA 112, 4483–4488 (2015).

43.

Mondello, S. E., Jefferson, S. C., O'Steen, W. A. & Howland, D. R. Enhancing Fluorogold-based neural tract tracing. J. Neurosci. Methods 270, 85–91 (2016).

44.

Ting, J. T., Daigle, T. L., Chen, Q. & Feng, G. Acute brain slice methods for adult and aging animals: application of targeted patch clamp analysis and optogenetics. Methods Mol. Biol. 1183, 221–242 (2014).

45.

Zhao, S. et al. Cell type-specific channelrhodopsin-2 transgenic mice for optogenetic dissection of neural circuitry function. Nat. Methods 8, 745–752 (2011).

46.

Redondo, R. L. et al. Bidirectional switch of the valence associated with a hippocampal contextual memory engram. Nature 513, 426–430 (2014).

47.

Lee, J., Finkelstein, J., Choi, J. Y. & Witten, I. B. Linking cholinergic interneurons, synaptic plasticity, and behavior during the extinction of a cocaine-context association. Neuron 90, 1071–1085 (2016).

48.

Huang, B. et al. β-Arrestin-biased beta-adrenergic signaling promotes extinction learning of cocaine reward memory. Sci. Signal. 11, eaam5402 (2018).

49.

Kitamura, T. et al. Engrams and circuits crucial for systems consolidation of a memory. Science 356, 73–78 (2017).

50.

Dobi, A., Margolis, E. B., Wang, H. L., Harvey, B. K. & Morales, M. Glutamatergic and nonglutamatergic neurons of the ventral tegmental area establish local synaptic contacts with dopaminergic and nondopaminergic neurons. J. Neurosci. 30, 218–229 (2010).

51.

Franklin, K. B. J. & Paxinos, G. The Mouse Brain in Stereotaxic Coordinates (Academic Press, 2013).

52.

Dumitriu, D., Rodriguez, A. & Morrison, J. H. High-throughput, detailed, cell-specific neuroanatomy of dendritic spines using microinjection and confocal microscopy. Nat. Protoc. 6, 1391–1411 (2011).

53.

Yuste, R. & Bonhoeffer, T. Genesis of dendritic spines: insights from ultrastructural and imaging studies. Nat. Rev. Neurosci. 5, 24–34 (2004).

54.

Rodriguez, A., Ehlenberger, D. B., Dickstein, D. L., Hof, P. R. & Wearne, S. L. Automated three-dimensional detection and shape classification of dendritic spines from fluorescence microscopy images. PLoS One 3, e1997 (2008).

55.

Rodriguez, A., Ehlenberger, D. B., Hof, P. R. & Wearne, S. L. Rayburst sampling, an algorithm for automated three-dimensional shape analysis from laser scanning microscopy images. Nat. Protoc. 1, 2152–2161 (2006).

56.

Li, Y. et al. Serotonin neurons in the dorsal raphe nucleus encode reward signals. Nat. Commun. 7, 10503 (2016).

57.

Guo, Q. et al. Multi-channel fiber photometry for population neuronal activity recording. Biomed. Opt. Express 6, 3919–3931 (2015).

58.

Gunaydin, L. A. et al. Natural neural projection dynamics underlying social behavior. Cell 157, 1535–1551 (2014).

59.

Martin-Fernandez, M. et al. Synapse-specific astrocyte gating of amygdala-related behavior. Nat. Neurosci. 20, 1540–1548 (2017).
Acknowledgements
This research was supported by grants from the National Natural Science Foundation of China (31430033, 31930046 and 91632307 to L.M., 31771176 and 31571036 to X.L.), the Ministry of Science and Technology (2015CB553501 to L.M.), the Shanghai Municipal Science and Technology Major Project (2018SHZDZX01 to L.M.) and the ZJLab.
Ethics declarations
Competing interests
The authors declare no competing interests.
Additional information
Peer review information Nature Neuroscience thanks Denise Cai, Yan Dong, and the other, anonymous, reviewer(s) for their contribution to the peer review of this work.
Publisher's note Springer Nature remains neutral with regard to jurisdictional claims in published maps and institutional affiliations.
Integrated supplementary information
Supplementary information
Supplementary Figs. 1–12 and Supplementary Table 1.
About this article
Cite this article
Zhou, Y., Zhu, H., Liu, Z. et al. A ventral CA1 to nucleus accumbens core engram circuit mediates conditioned place preference for cocaine. Nat Neurosci 22, 1986–1999 (2019) doi:10.1038/s41593-019-0524-y
Received

Accepted

Published

Issue Date