Abstract
It was recently reported that a magnetic actuator, Magneto, can control neuronal firings at magnetic strength as low as 50 mT (ref. 1), offering an exciting non-invasive approach to manipulating neuronal activity in a variety of research and clinical applications. We investigated whether Magneto can be used to manipulate electric properties of Purkinje cells in the cerebellum, which play critical roles in motor learning and emotional behaviors2. Surprisingly, we found that the application of a magnetic field did not change any electrical properties of Purkinje cells expressing Magneto, raising serious doubt about the previous claim that Magneto can readily be used as a magnetic actuator1.
This is a preview of subscription content
Access options
Subscribe to Journal
Get full journal access for 1 year
$59.00
only $4.92 per issue
All prices are NET prices.
VAT will be added later in the checkout.
Tax calculation will be finalised during checkout.
Rent or Buy article
Get time limited or full article access on ReadCube.
from$8.99
All prices are NET prices.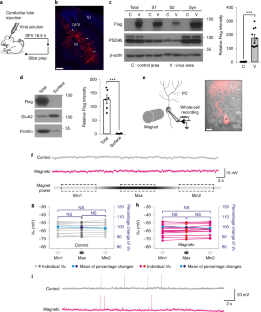 Data availability
The data that support the findings of this study are available from the corresponding author upon reasonable request.
Code availability
No custom algorithm, software, or code was used in the present work.
References
1.

Wheeler, M. A. et al. Genetically targeted magnetic control of the nervous system. Nat. Neurosci. 19, 756–761 (2016).

2.

Strata, P. The emotional cerebellum. Cerebellum 14, 570–577 (2015).

3.

Jia, F., Miao, H., Zhu, X. & Xu, F. Pseudo-typed Semliki Forest virus delivers EGFP into neurons. J. Neurovirol. 23, 205–215 (2017).

4.

Zhou, J. H. et al. Ablation of TFR1 in Purkinje cells inhibits mGlu1 trafficking and impairs motor coordination, but not autistic-like behaviors. J. Neurosci. 37, 11335–11352 (2017).

5.

Raman, I. M. & Bean, B. P. Ionic currents underlying spontaneous action potentials in isolated cerebellar Purkinje neurons. J. Neurosci. 19, 1663–1674 (1999).

6.

Nolan, M. F. et al. The hyperpolarization-activated HCN1 channel is important for motor learning and neuronal integration by cerebellar Purkinje cells. Cell 115, 551–564 (2003).

7.

Belmeguenai, A. et al. Intrinsic plasticity complements long-term potentiation in parallel fiber input gain control in cerebellar Purkinje cells. J. Neurosci. 30, 13630–13643 (2010).

8.

Shinomoto, S. et al. Relating neuronal firing patterns to functional differentiation of cerebral cortex. PLoS Comput. Biol. 5, e1000433 (2009).

9.

Zhou, L. et al. Celecoxib ameliorates seizure susceptibility in autosomal dominant lateral temporal epilepsy. J. Neurosci. 38, 3346–3357 (2018).
Acknowledgments
We thank Z.-Y. Feng for her suggestions in statistics and the Core Facilities of Zhejiang University Institute of Neuroscience for technical assistance. This work was supported by grants from the National Natural Science Foundation of China (grant nos. 81625006 and 31820103005) to Y.S. and (grant nos. 31771197 and 91632303) to F.Q.X., the Natural Science Foundation of Zhejiang Province (grant no. Z15C090001) to Y.S. and (grant no. LQ17C090001) to N.W., the Non-profit Central Research Institute Fund of Chinese Academy of Medical Sciences (grant nos. 2017PT31038 and 2018PT31041) to Y.S. and China Postdoctoral Science Foundation (grant no. 2018M640550) to L.Z.
Ethics declarations
Competing interests
The authors declare no competing interests.
Additional information
Publisher's note: Springer Nature remains neutral with regard to jurisdictional claims in published maps and institutional affiliations.
Integrated supplementary information
Supplementary information
About this article
Cite this article
Xu, FX., Zhou, L., Wang, XT. et al. Magneto is ineffective in controlling electrical properties of cerebellar Purkinje cells. Nat Neurosci 23, 1041–1043 (2020). https://doi.org/10.1038/s41593-019-0475-3
Received:

Accepted:

Published:

Issue Date: